(Last Updated On: February 21, 2023)
FEBRUARY 21, 2023 | FAT TUESDAY | PACZKI DAY | FASTNACHT DAY | NATIONAL STICKY BUN DAY | NATIONAL GRAIN-FREE DAY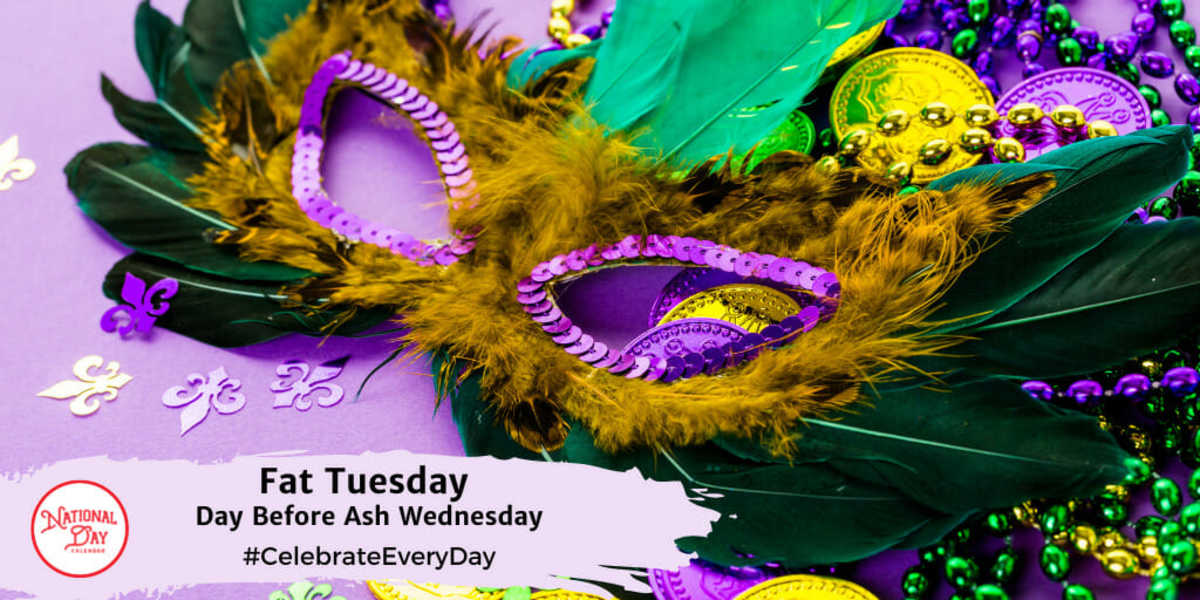 FAT TUESDAY
The last day of Carnival and the day before Ash Wednesday, Fat Tuesday is the intertwining of a period of festivals and feasts that lead to a time of fasting and reflection. Also known as Shrove Tuesday and Mardi Gras, this enduring celebration has many traditions and deep roots around the world. Read more…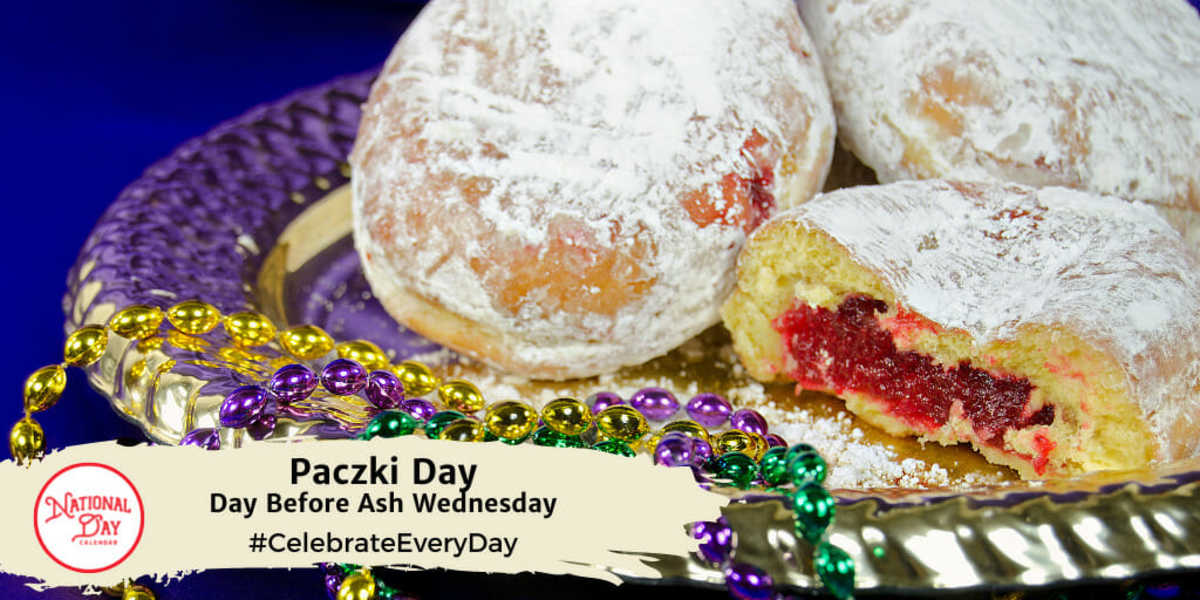 PACZKI DAY
The sweet holiday of Paczki Day takes place the day before Ash Wednesday. The Polish tradition of indulging in fried dough filled with jams, custards or other sweet surprises dates back to the Middle Ages. Read more…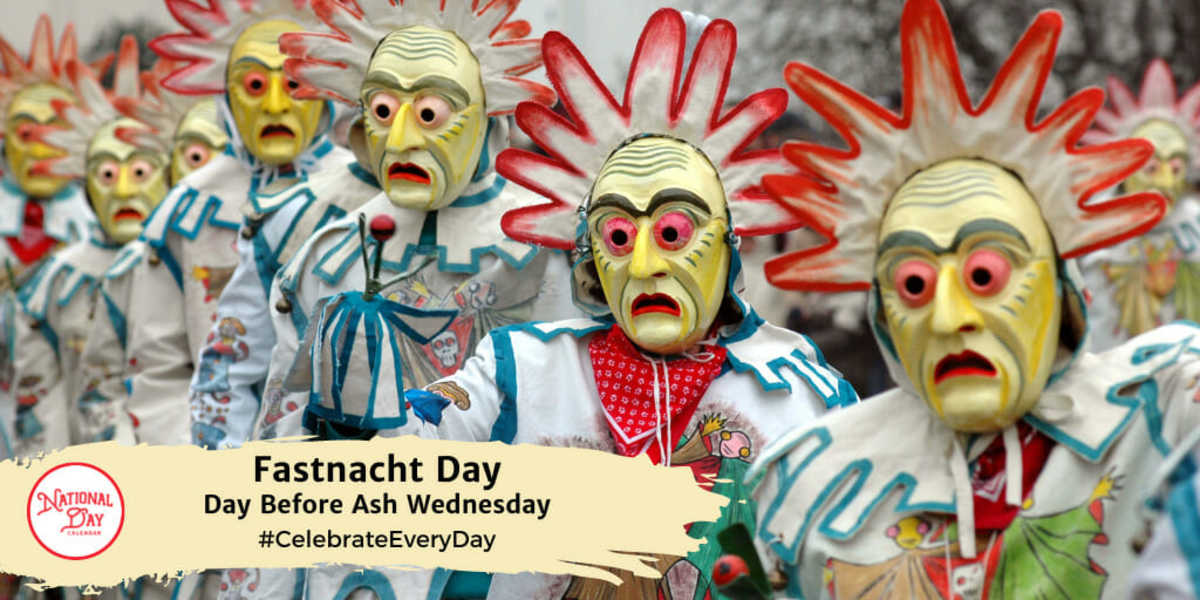 FASTNACHT DAY
With deep roots in Germany, Fastnacht Day is a pre-Lenten celebration that takes place the day before Ash Wednesday. Read more…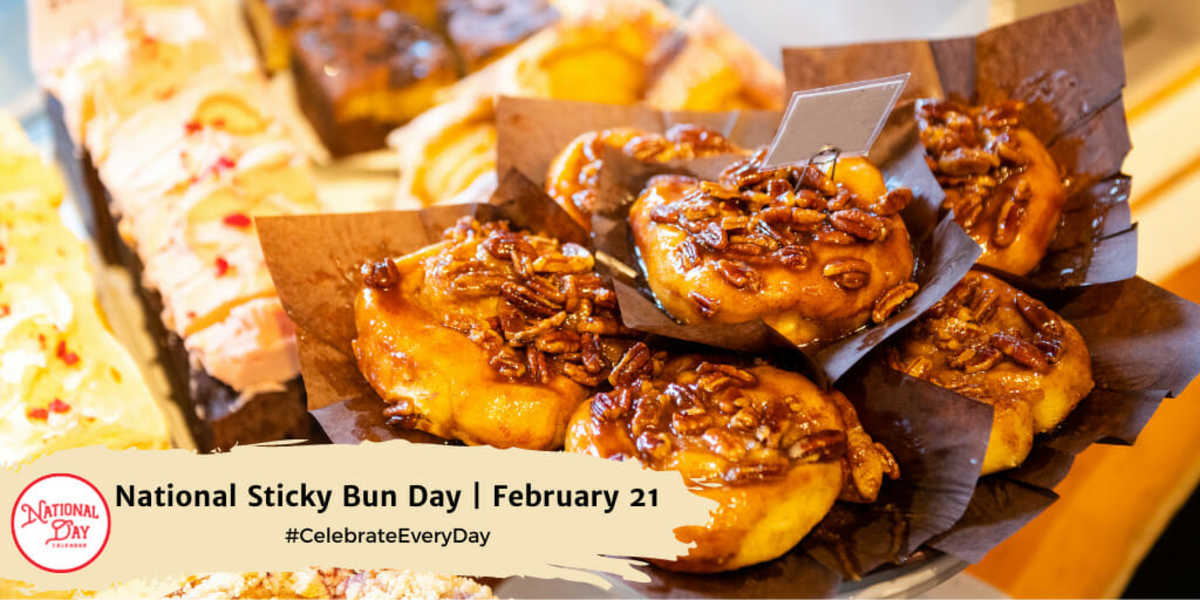 NATIONAL STICKY BUN DAY
National Sticky Bun Day on February 21st recognizes a delicious pastry that comes rolled up and dripping with a sweet, sugary topping. They're perfect with a hot cup of coffee in the morning or as an after-dinner sweet! Read more…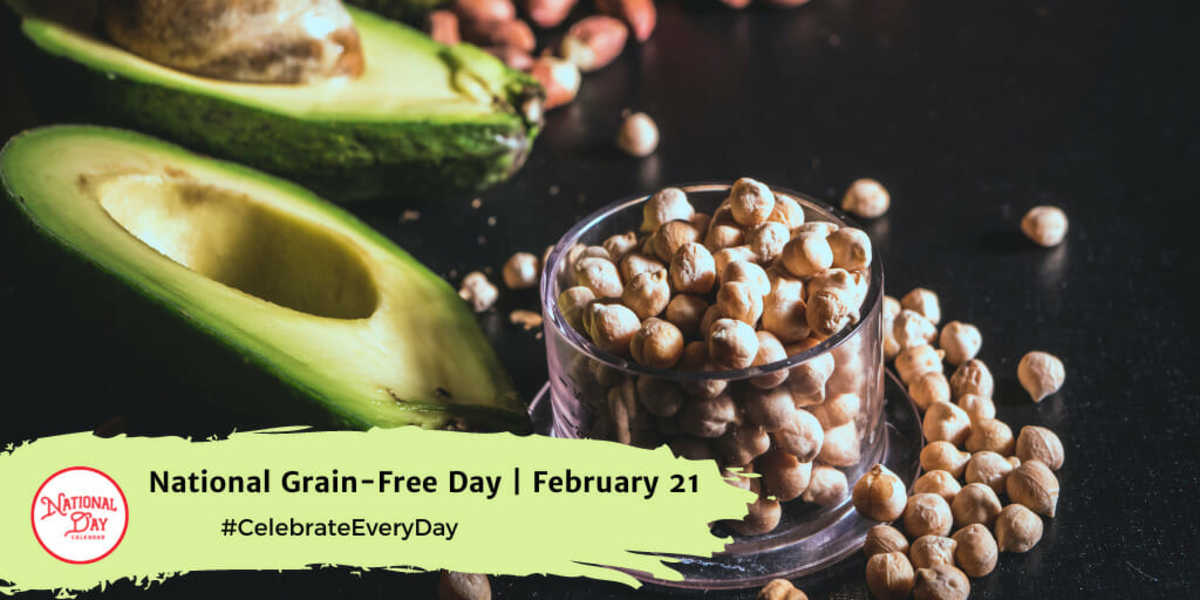 NATIONAL GRAIN-FREE DAY
National Grain-Free Day on February 21st inspires families and friends to gather and enjoy each others' company over grain-free meals. What a remarkable way to devote an entire day to loved ones who cope with dietary limitations. Not only does the day create a way to recognize the difficulties of a restricted diet, but it celebrates the family and brings everyone back into the kitchen for a meal designed just for them. Read more…
On Deck for February 22, 2023
National Days
National California Day
National Cook a Sweet Potato Day
National Margarita Day
National Supermarket Employee Day
Ash Wednesday – Changes annually
Recipe of the Day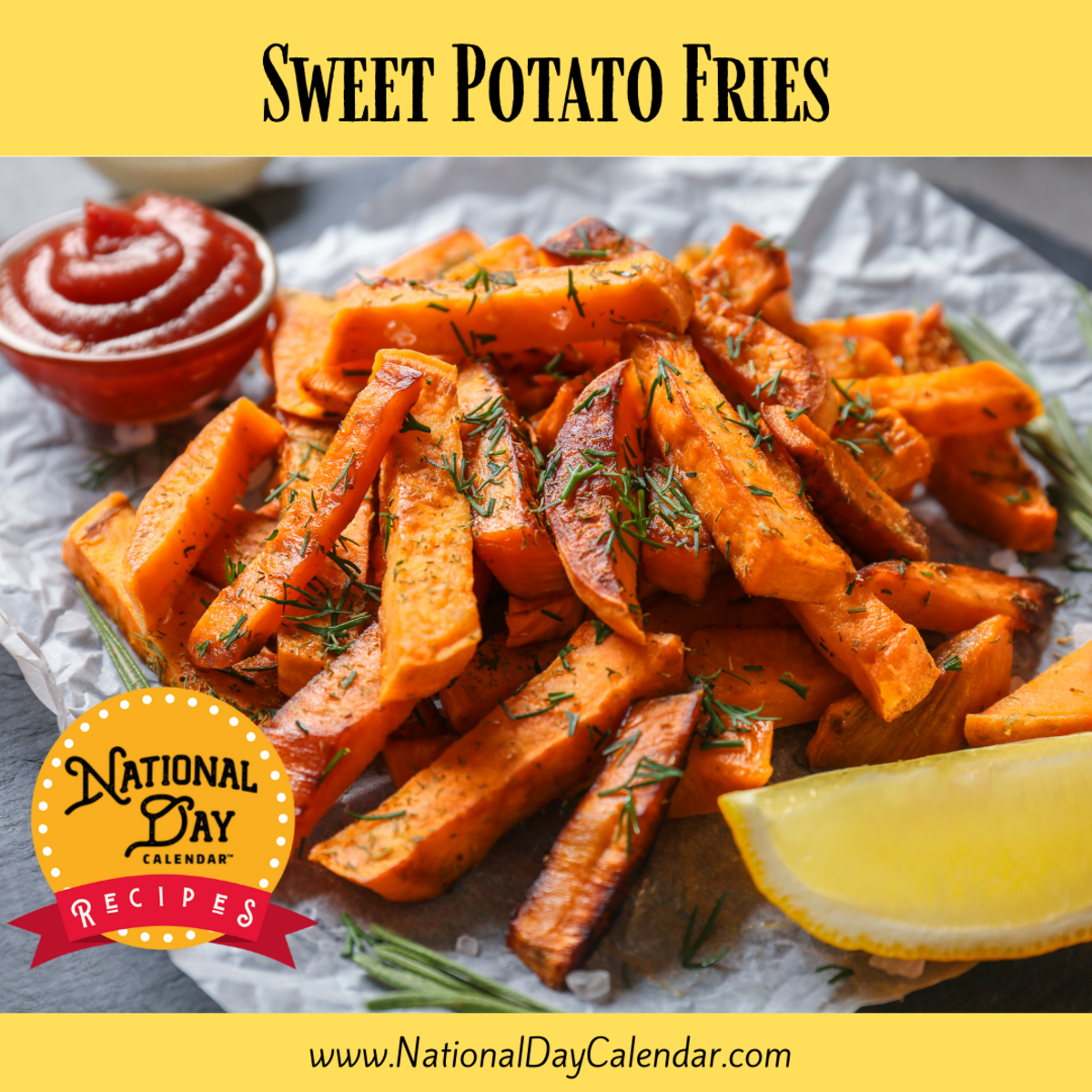 Sweet Potato Fries
Prep: 10 minutes
Cook: 30 minutes
Total Prep: 40 minutes
Servings: 4-6
Ingredients:
4 Sweet Potatoes
4 tablespoons olive oil
3 tablespoons corn starch
1/2 teaspoon salt
1/4 teaspoon pepper
1 tablespoon fresh rosemary leaves, minced
Instructions:
Heat oven to 425°F.
Peel and cut sweet potatoes into 1/2 inch wide sticks.
Place sticks into a sieve and rinse. Place on a baking sheet. Drizzle with olive oil.
In a small bowl, mix corn starch, salt, pepper, and rosemary.
Dust potatoes with the cornstarch mixture and toss and until evenly coated.
Bake for 25-30 minutes. Halfway through baking, turn fries over with a spatula.
Serve hot.
Recipe credit:
Michele S. – North Dakota
February 21st Celebrated History
1828
The Cherokee Phoenix newspaper issued its first issue in New Echota, Cherokee Nation. Located in modern-day Gordon County, Georgia, the newspaper was edited by Elias Boudinot and printed in both English and Cherokee, using the written language created by Sequoya in the early 1800s. The newspaper would add the name Indian Advocate. Over the years, printing would stop due to funding and their forced removal west. However, today, the newspaper continues and also has an online presence.
1885
On a frigid day in February, honor guests and military leaders gathered to dedicate the Washington Monument. During the ceremonies, President Chester Arthur accepted the monument on behalf of the people. The 555-foot tall obelisk opened to the public on October 9, 1888, after construction was completed.
1865
The United States Patent Office issues patent no. 46,454 to blacksmith John Deere for the "improvement in plows." Deere designed the curved and polished steel blade to precisely cut through the prairie soils. Today the design is known as a self-scouring steel plow. Unlike previous methods, the sticky clay comes away from the plow blade as it cuts through the soil instead of adhering to it and gumming up the blades.
1878
The New Haven District Telephone Company issued the first telephone directory in the United States. The directory listed approximately 50 subscribers, advertisements, and instructions for using the telephone. Absent from the directory? Telephone numbers.
1925
Harold W. Ross published the first issue of the weekly magazine, the New Yorker. Ross was also the magazine's editor until he died in 1951.
1965
While speaking at the Audubon Ballroom during an Organization of Afro-American Unity meeting, Malcolm X is assassinated. Three members of the Nation of Islam were convicted of the crime: Thomas Hagan, Muhammad Abdul Aziz, and Khalil Islam. Only Thomas Hagan admitted involvement.
February 21st Celebrated Birthdays
Erma Bombeck – 1927
"A friend doesn't go on a diet because you are fat." Erma Bombeck. The American humorist syndicated her newspaper column "At Wit's End" in 1965. She also published several books including At Wit's End, The Grass Is Always Greener Over The Septic Tank, and A Marriage Made in Heaven…or Too Tired for an Affair.
Nina Simone – 1933
The Grammy-nominated R&B artist was a prolific performer and produced an enormous volume of work during her career. Recordings like "I Put a Spell on You," "You'll Go to Hell," and "Four Women" among others earned her critical success.
Chuck Palahniuk – 1962
Author of Fight Club (1996), Chuck Palahniuk has published more than a dozen novels, graphic novels, and short stories. The freelance journalist's first novel, Fight Club, was also made into a film.
Scott and Mark Kelly – 1964
The identical twin astronauts participated in a landmark genomics study launched in 2015. While Scott Kelly spent nearly a year in space aboard the International Space Station, his brother Mark remained on Earth. The study examined the effects of space travel on DNA.
Jordan Peele – 1979
In 2003, the American actor and comedian found his rising star in the Fox comedy sketch series Mad TV. He is also known for Key & Peele and The Twilight Zone.
About National Day Calendar
National Day Calendar is the original and authoritative source for fun, unusual and unique National Days! Since our humble beginnings on National Popcorn Day in 2013, we have been tracking the National Days, National Weeks, National Months, and International Days. We became the first calendar of its kind to curate the days all in one place and tell their stories, too! Here at National Day Calendar, we are on a mission to Celebrate Every Day with you! And by you, we mean families, businesses, educators, and strangers we meet on the street. There's more than one day for everyone.
At National Day Calendar, we discovered the National Days have a way of inspiring us. We're honored to tell the stories behind the days and provide you with informational ways to incorporate the National Days into your business, family, schools, and home!