(Last Updated On: April 20, 2023)
APRIL 24, 2023 | NATIONAL BUCKET LIST DAY | NATIONAL PIGS-IN-A-BLANKET DAY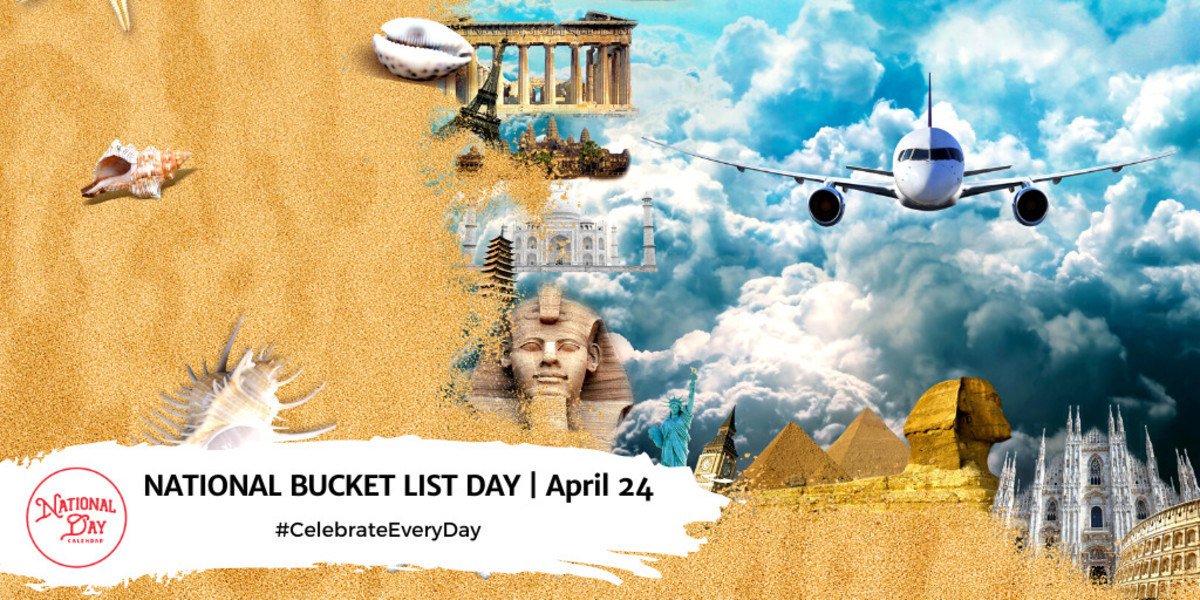 NATIONAL BUCKET LIST DAY
April 24 celebrates National Bucket List Day to remind us it's never too late to set new goals, go on a dream vacation, and inspire people around you to enjoy life to the fullest. Read more…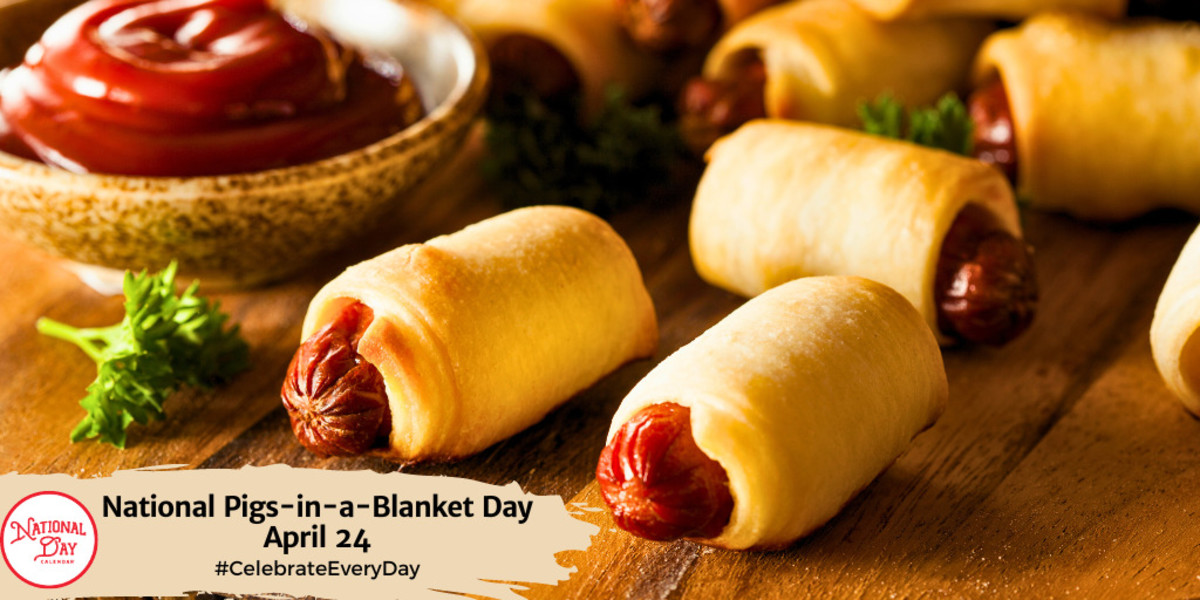 NATIONAL PIGS-IN-A-BLANKET DAY
On April 24, observe National Pigs-in-a-Blanket Day with just a few ingredients. Celebrated across the world, the term often refers to a variety of different dishes. In the United States, Pigs-in-a-Blanket is often hot dogs or sausages wrapped in biscuit or croissant dough and baked. Read more…
On Deck for April 25, 2023
National Days
National Hug A Plumber Day
National Dna Day
National Zucchini Bread Day
National East Meets West Day
National Telephone Day
National Library Workers Day
Recipe of the Day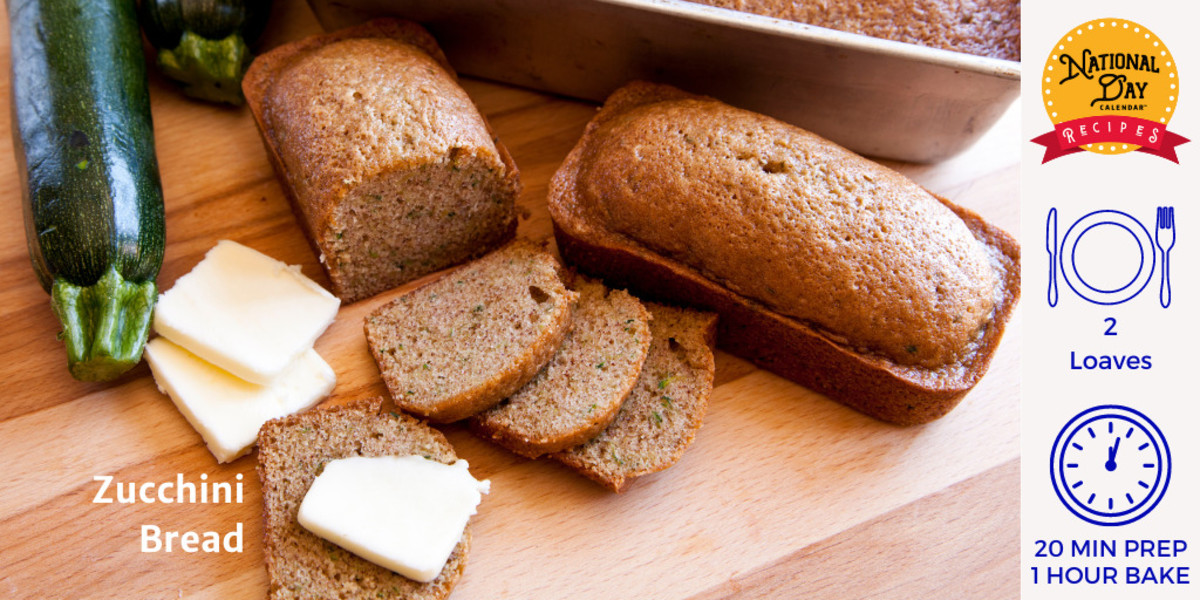 Zucchini Bread
Prep: 5 minutes
Cook: 1 hour
Servings: 2 loaves
Ingredients:
3 eggs
1 cup vegetable oil
2 cups sugar
2 cups grated zucchini
3 cups flour
1 cup chopped nuts (optional)
2 teaspoon vanilla
1 teaspoon baking powder
1 teaspoon cinnamon
1 teaspoon soda
1/2 teaspoon salt
Instructions:
Preheat oven to 325°F.
Prepare two loaf pans with a thin coat of butter and lightly dusting with flour.
In a large mixing bowl, beat eggs one at a time. Add sugar, oil, flour, soda, salt, baking powder, and cinnamon. Mix well. Add zucchini and nuts.
Transfer mixture to loaf pans.
Bake for 1 hour, 5 mins. Loaves are done when a toothpick inserted into the center comes out clean.
April 24th Celebrated History
1800
Congress approves funds for the creation of the Library of Congress.
1901
The Chicago White Stockings open the American League's inaugural season with a win at home. They beat the Cleveland Blues 8-2.
1967
Soviet cosmonaut Vladimir Komarov dies during the re-entry of the Soyuz 1. The controversial mission was launched under questionable conditions, and Komarov may have known his death was imminent.
April 24th Celebrated Birthdays
Robert Bailey Thomas – 1766
In 1792, Thomas began producing The Farmer's Almanac, one of the longest published periodicals in the United States. It was later called The Old Farmer's Almanac.
Faye Dancer – 1925
The right-handed outfielder played six seasons in the All American Girls Baseball League. Her speed lent her an advantage both in fielding and around the bases. Her best season for stealing bases was in 1948 when she stole 108 bases.
Barbara Streisand – 1942
The American singer, actress, and filmmaker's career has spanned seven decades. She has earned critical and popular acclaim on both stage and screen, winning awards across the spectrum. Her accolades include Oscars, Grammys, Emmys, and Tony awards among several others.
Chipper Jones – 1972
The third baseman played 23 years in Major League Baseball for the Atlanta Braves. In 1990, the Atlanta Braves drafted Jones in the first round, and in 1995 he brought home a World Series Championship. He's also an eight-time All-Star and a two-time Silver Slugger.
About National Day Calendar
National Day Calendar is the original and authoritative source for fun, unusual and unique National Days! Since our humble beginnings on National Popcorn Day in 2013, we have been tracking the National Days, National Weeks, National Months, and International Days. We became the first calendar of its kind to curate the days all in one place and tell their stories, too! Here at National Day Calendar, we are on a mission to Celebrate Every Day with you! And by you, we mean families, businesses, educators, and strangers we meet on the street. There's more than one day for everyone.
At National Day Calendar, we discovered the National Days have a way of inspiring us. We're honored to tell the stories behind the days and provide you with informational ways to incorporate the National Days into your business, family, schools, and home!