(Last Updated On: January 31, 2023)
NATIONAL WOMEN PHYSICIANS DAY
On February 3rd, honor the path that female doctors have paved since 1849 as we recognize National Women Physicians Day.
#NationalWomenPhysiciansDay
This day marks the birthday of Dr. Elizabeth Blackwell, the first woman to receive a medical degree in the United States in 1849. Dr. Blackwell initiated the movement that helped women gain entry and equality in the field of medicine.
If society will not admit of a woman's free development, then society must be remodeled. ~ Dr. Elizabeth Blackwell
The day celebrates the courage of Elizabeth Blackwell and the accomplishments of female physicians everywhere. At the same time, the day strives to bring improvements to the workplace for the growing number of women physicians entering the field of medicine.
While the number of women doctors gradually increased in the last two decades, 2016 statistics show 35% of physicians are women. A study published in JAMA Internal Medicine last year revealed that women doctors earn on average 8% less than their male counterparts. That discrepancy, along with nearly a third of women physicians reporting sexual harassment in the workplace and a large majority experiencing gender bias. Clearly, there is still work to be done.
National Women Physicians Day recognizes the strides made by generations of women doctors. The observance also recognizes that we must strike a balance that allows women to succeed professionally while supporting a family. Join National Women Physicians Day in celebrating these accomplishments and supporting women physicians as colleagues, friends, family, and doctors.
HOW TO OBSERVE NATIONAL WOMEN PHYSICIANS DAY
On February 3rd we are asking not only the medical community, but also our larger community of patients, families, and the public to celebrate National Women Physicians Day in hospitals and clinics, medical schools, and on social media. We are in an exciting time for medicine. We are connecting virtually and creating a collective voice that can be used to create positive changes for physicians and patients alike. Use  #IAMBLACKWELL, #WomensDocsInspire and #NWPD to share on social media. 
NATIONAL WOMEN PHYSICIANS DAY HISTORY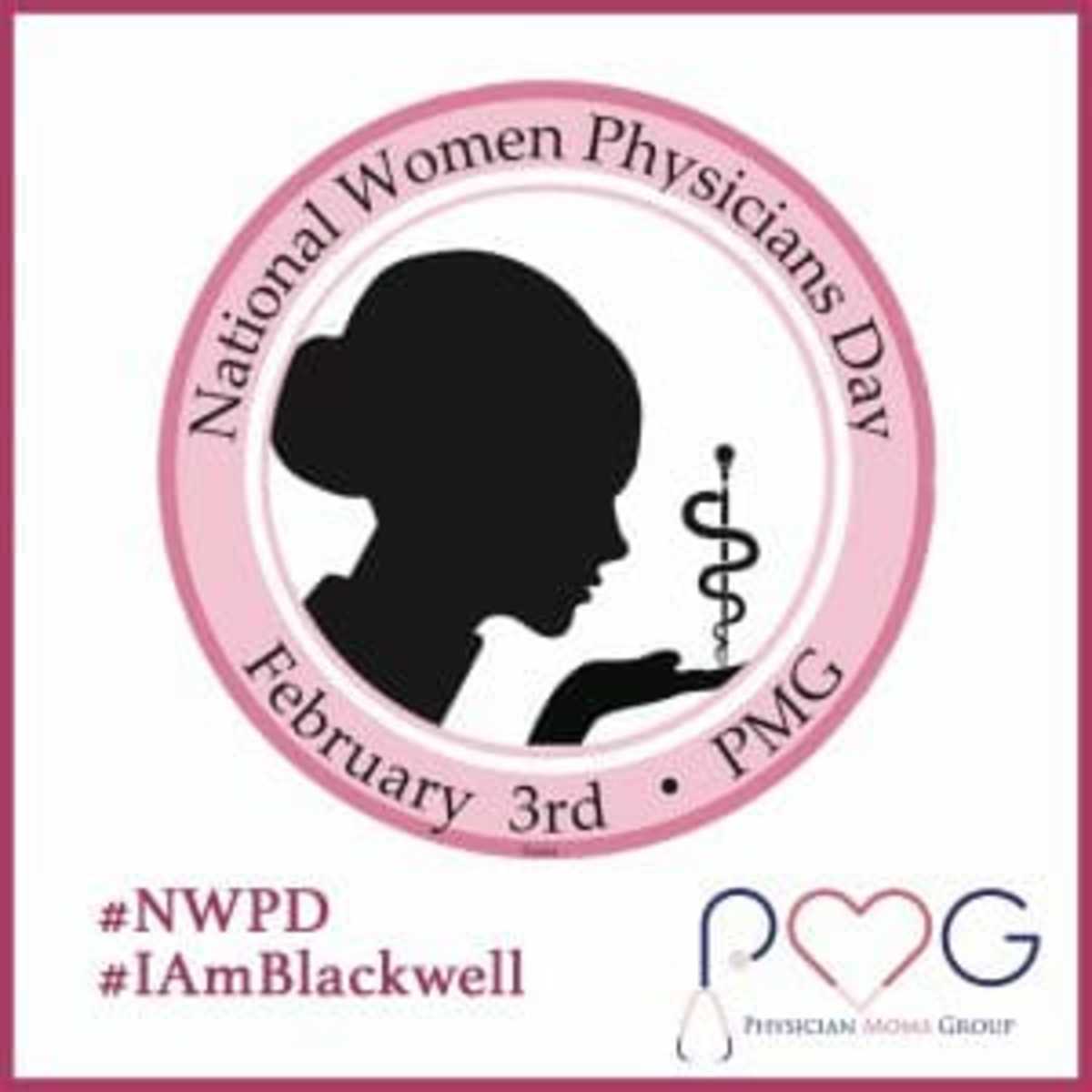 In an effort to raise awareness of the importance of a physician-led healthcare team and female physicians' roles in medicine, Physician Moms Group and Medelita founded February 3rd as National Women Physicians Day. Physician Moms Group successfully celebrated the first National Women Physicians Day on February 3, 2016. 
The Registrar at National Day Calendar® declared the observance in 2017.
About Physician Moms Group
Physician Moms Group (PMG) was founded in November 2014 by Dr. Hala Sabry to bring together women physicians, who are also parents, to collaborate and support each other while sharing their medical expertise in an open forum. The PMG's mission is to provide resources, a platform to network, and an opportunity to share information with like-minded individuals. The PMG network includes over 65,000 women physicians of all specialties across the globe. For more information, visit www.mypmg.org and follow them on Twitter @PhysicianMomsGp.
Women Physicians FAQ
Q. Who are some other notable women physicians from history?
A. There are many notable women physicians we could mention here, but we'll start with:
Rebecca Lee Crumpler (February 8, 1831 – March 9, 1895) – She became the first African-American woman to become a medical doctor in the United States.
Mary Edwards Walker (November 26, 1832 – February 21, 1919) – During the American Civil War, Walker served as the first female U.S. Army surgeon. She would earn the Medal of Honor, the only woman to receive the honor.
Virginia Apgar June 7, 1909 – August 7, 1974) – Anyone who has given birth in the last 70 years likely is familiar with the Apgar Score. Virginia Apgar developed the score to assess the health of newborn children within a minute of birth.
February 3rd Celebrated (and Not So Celebrated) History
1870
The states ratify the 15th Amendment which reads: "The right of citizens of the United States to vote shall not be denied or abridged by the United States or by any State on account of race, color, or previous condition of servitude."
1913 
The cost of the U.S. Civil War prompted the ratification of the 16th Amendment allowing the federal government to impose the first income tax on its citizens.
1959
Buddy Holly, Richie Valens, The Big Bopper, and pilot Roger Peterson died in a plane crash following a concert at the Surf Ballroom in Clear Lake, Iowa. They were headed to Moorhead, Minnesota in poor weather conditions. The day is known as The Day the Music Died.
1980
Celtics Rookie Larry Bird scores the first three-pointer in an All-Star game. East vs. West went into overtime, tied 134-134. He and Earvin Johnson tied it up again at 136-136 but when Bird sank the three-point shot, East never looked back.
February 3rd Celebrated (and Not So Celebrated) History
Horace Greeley – 1811
In 1841, the American newspaper editor and publisher founded the New York Tribune.
Elizabeth Blackwell – 1821
In 1849, Elizabeth Blackwell became the first woman to earn a medical degree in the United States. She became an advocate and mentor to other women seeking careers in the medical field.
Norman Rockwell – 1894
The American painter created illustrations for The Saturday Evening Post reflecting popular American culture. Rockwell also painted current events as reflected in his illustrations for Look magazine.
George Nissen – 1914
In the 1930s, the American gymnast invented the trampoline.
Inge Ruth Hardison – 1914
The American sculptor is best known for her collection entitled "Negro Giants in History." Included in the collection are busts of Harriet Tubman, Frederick Douglass, and Martin Luther King, Jr.
Honorable Mentions
James Michener – 1907
Blythe Danner – 1943
Nathan Lane – 1956
Maura Tierney – 1965
Sean Kingston – 1990