(Last Updated On: December 19, 2022)
DECEMBER 22, 2022 | NATIONAL RE-GIFTING DAY | NATIONAL DATE NUT BREAD DAY | FOREFATHERS' DAY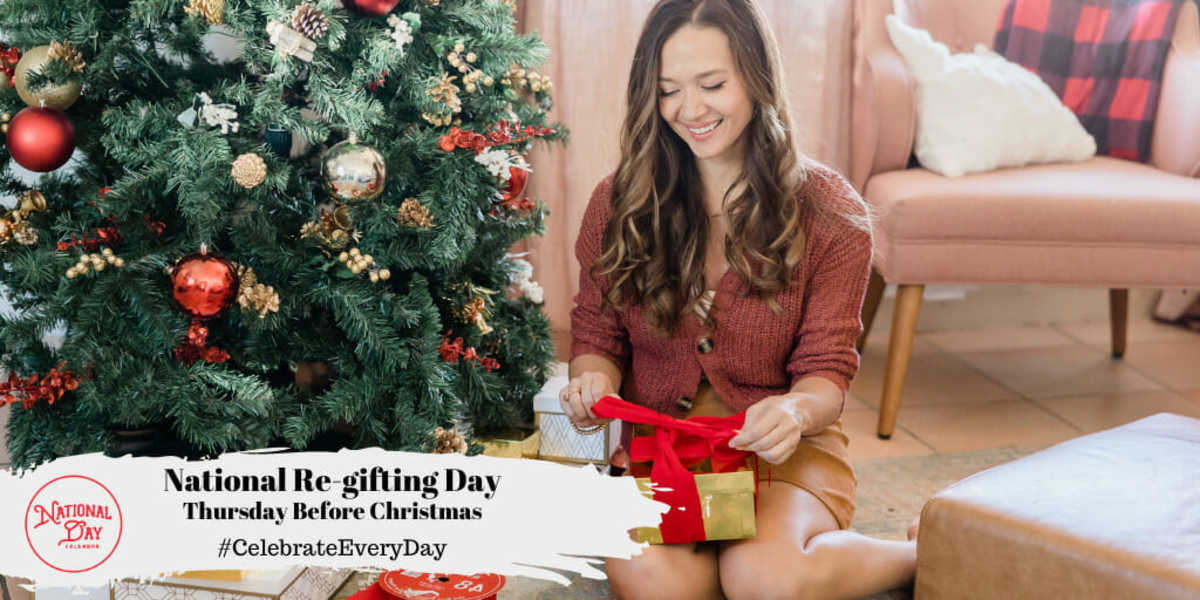 NATIONAL RE-GIFTING DAY
Each year on the Thursday before Christmas, people across the United States participate in National Re-gifting Day. The day acknowledges the office parties and the unique Christmas gift exchanges that they do. This particular December Thursday appears to be the most common day for companies to hold their annual employee/company Holiday parties. Read more…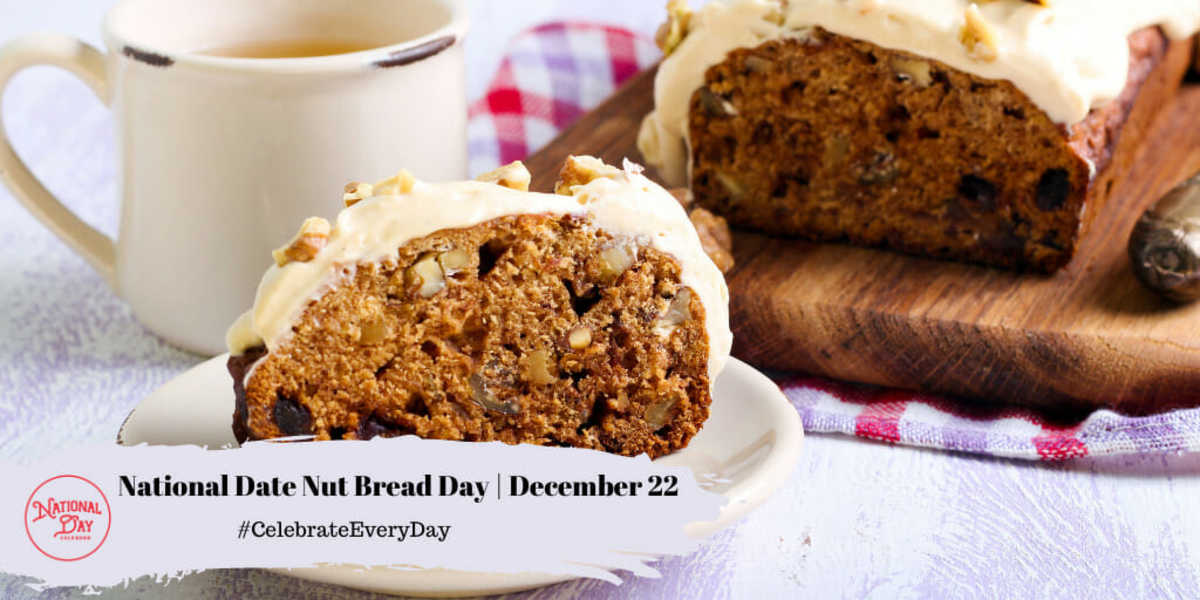 NATIONAL DATE NUT BREAD DAY
National Date Nut Bread Day on December 22nd delivers a baker's delight to celebrate. Incidentally, some sources also suggest the day is celebrated on September 8th, too. Read more…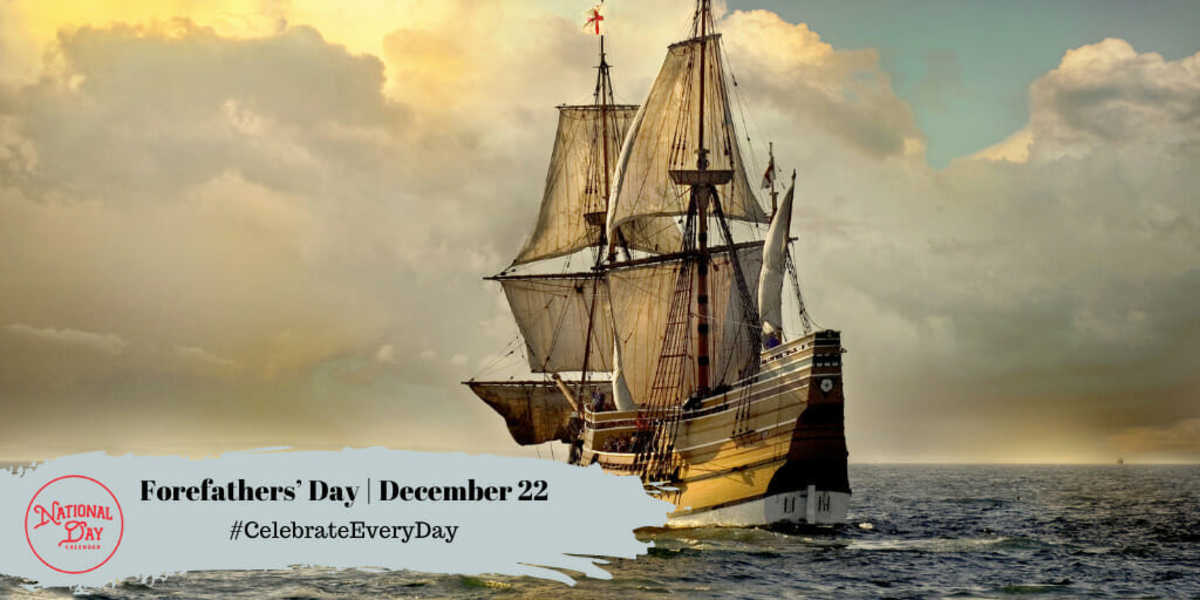 FOREFATHERS' DAY
Each year, Forefathers' Day commemorates the landing of the Pilgrim Fathers in Plymouth, Massachusetts, on December 21, 1620. The Old Colony Club of Plymouth, Massachusetts, introduced the observance in 1769. The town observes the holiday on December 22nd (unless on Sunday, then on the following Monday). Read more…
On Deck for December 23, 2022
National Days
NATIONAL ROOTS DAY
NATIONAL PFEFFERNUSSE DAY
FESTIVUS
Recipe of the Day
Peanut Butter Fudge
Prep: 5 minutes
Cook: 10 minutes
Total Prep: 15 minutes
Servings: 3 – 4 dozen
Ingredients:
2 cups sugar
1/2 cup milk
1 1/3 cup peanut butter
7-ounce jar marshmallow creme
Instructions:
Butter an 8-inch square pan and set it aside.
In a medium saucepan, bring sugar and milk to a boil; boil for 3 minutes.
Stir in peanut butter and marshmallow creme.
Pour into prepared pan.
Let set until firm.
Cut into squares.
December 22nd Celebrated History
1882
Long before Clark Griswold connected 250 strands of lights to decorate his house for Christmas, he must thank Edward H. Johnson. Thomas Edison hired Johnson in 1871 and by the time he founded the Edison Electric Light Company, Johnson was named as vice president. One of Johnson's favorite holidays was Christmas and in 1882, he put his electrical ingenuity to work. He hand-wired a string of 80 red, white, and blue bulbs the size of walnuts to his Christmas tree. Additional lights decorated his ceiling.
1932
The Mummy starring Boris Karloff, Zita Johann, and David Manners premieres. Directed by Karl Freund, the film is the first horror movie to feature a mummy.
1958
"The Chipmunk Song (Christmas Don't Be Late)" written by Ross Bagdasarian (also known as David Seville) and performed by the animated characters, The Chipmunks, Alvin, Simon, and Theodore reach #1 on the music charts. Released only weeks before, it would become a holiday favorite for generations.
2019
During a New Orleans Saints versus Tennessee Titans game, Saint wide receiver Michael Thomas set an NFL record for most catches in a season. He made his 144th catch and the Saints went on to win 38-28. The previous record was held by Marvin Harrison set in 2002.
December 22nd Celebrated Birthdays
Katharina "Käthe" Paulus – 1868
The German aeronaut achieved great heights when she invented the first collapsible parachute. During her career, she also invented a drag 'chute or a small parachute to help drag the main parachute out of the bag.
Arthur W. Mitchell – 1883
In 1935, Mitchell became the first African American elected to Congress on the Democratic ticket. He served in the House of Representatives for Illinois over four terms.
St. Elmo Brady – 1884
In 1916, Brady became the first African American to earn a Ph.D. in chemistry in the United States. Following his studies, he proceeded to establish curricula for undergraduate and graduate programs at Tuskegee, Howard University, Fisk University, and Tougaloo College.
Claudia Alta Taylor – 1912
The 38th First Lady of the United States is better known as Lady Bird Johnson. However, she began her role in Washington as the Second Lady to Vice President Lyndon B. Johnson. On November 22, 1963, Mrs. Johnson and the Vice President were in the car behind President Kennedy and the First Lady when the shots were fired. That day, Mrs. Johnson's life also changed.
Barbara Billingsley – 1915
The actress is best known for her role as June Cleaver on the television sitcom Leave It to Beaver.
Jerry Pinkney – 1939
Throughout his career, Jerry Pinkney has illustrated some of the most beloved children's classics. His work has been recognized by numerous awards including five Caldecott Honor Medals and five Coretta Scott King Awards.
About National Day Calendar
National Day Calendar is the original and authoritative source for fun, unusual and unique National Days! Since our humble beginnings on National Popcorn Day in 2013, we have been tracking the National Days, National Weeks, National Months, and International Days. We became the first calendar of its kind to curate the days all in one place and tell their stories, too! Here at National Day Calendar, we are on a mission to Celebrate Every Day with you! And by you, we mean families, businesses, educators, and strangers we meet on the street. There's more than one day for everyone.
At National Day Calendar, we discovered the National Days have a way of inspiring us. We're honored to tell the stories behind the days and provide you with informational ways to incorporate the National Days into your business, family, schools, and home!