(Last Updated On: May 12, 2023)
Today is the 241st day of the year (or August 29) and we are on a mission to celebrate National Sport Sampling Day. Today, we encourage kids and families alike, to try a new sport or play one they haven't in a long time. In fact, we want to provide and promote opportunities for every child to grow physically and emotionally through the power of sports.
#NationalSportSamplingDay
There is power in play. National Sport Sampling Day gives power to children who love to play sports by sampling more than one sport. Sampling more than one sport provides opportunity for children to grow physically and emotionally. Sampling new sports calls for action to enter into a world of new experiences and memories. On National Sport Sampling Day, we are inspiring kids to take action by exploring more than one sport.
5 Benefits of Sports
Teaches problem-solving skills.
Helps maintain healthy habits for both mind and body.
Builds self-esteem and boosts self-image.
Encourages new friendships.
Promotes learning to work with other people.
Some people view sports as a distraction to children and young adults. Playing sports requires time, dedication, and energy that could be better focused on school. However, children who play sports tend to actually be more focused on school because being successful in school allows them to play sports. In fact, playing sports promotes self-determination, good work ethic, and requires goals. All of which are the same as goals as any dedicated student.
The vision of 2-4-1 CARE is a world at play with individuals who are physically and emotionally well.

2-4-1CARE.ORG
Life's 2 Short 4 Just 1 Sport
There are many organizations around the world that support children in sports. One organization is the 2-4-1 CARE organization. Their mission is to provide all children equal opportunity to grow on an emotional and physical playing field, while using the power of sports to take action. Athletes and families can use their personal power to train, learn, and develop skills for their sport and to use in their life, too.
Being a child is about learning and experiencing new things. Sampling new sports is no exception. Children should never be tied to one specific sport, especially if there is opportunity to expand participating in something new. As an international movement, 2-4-1 CARE supports the bravery to explore other sports and bring fun back to playing.
What is 2-4-1 CARE?
National Sports Sampling Day celebrates the story of an organization that is becoming the most recognized sport sampling program in the country. As an inspiration proving that taking action is more powerful than not trying, 2-4-1 CARE is building their reputation by approaching sport-sampling in local schools and rec programs. While developing programs that focus on participating and encouragement, 2-4-1 Care serves the underserved and disenfranchised who may not otherwise be given the opportunity to try sports.
CARE
Culture, ability, relationship, and enjoyment are values that drive us to create and deliver quality programs. These programs produce positive outcomes for the families and communities that CARE:
C is for Culture. The value of culture starts with an understanding of respect for all cultures. Promoting equality within groups and communities brings positive success for all children participating.
A is for Ability. Valuing different abilities of each individual develops confidence and motivation to be active for life. Learning how to develop confidence sets a pace for finding individual abilities. Because abilities vary from child to child, spending time finding the talent of each child builds confidence.
R is for Relationship. Positive relationships are a great way to learn socially and emotionally. Discovering why sports and interactive play-based environments are important brings awareness and relationship skills, eventually guiding participants through sport participation and beyond.
E is for EnJOYment: Playing sports is competitive, but should always be fun and enJOYable for everyone. Maintaining an enjoyable experience while playing sports impacts each child emotionally. This emotional impact encourages each child to feel a sense of pride.
SPORT SAMPLING SUPPORT
Sign your child up for youth sports to begin learning the benefits of being involved in a sport.
Support a local youth sports club by volunteering to be a coach.
Get outside with your family and enjoy a game of soccer or baseball.
Host a family day for your friends and family and teach the children how to play a new game.
Support 2-4-1-CARE by donating your time, money, or resources to help those not otherwise able to participate in a local sport.
Share your special moments of physical play on social media using #NationalSportSamplingDay.
WELCOME 241CARE.ORG
In 2022, National Day Calendar began working with 2-4-1 Care to form National Sport Sampling Day. Each year on the 241st day of the year, we encourage kids and families alike, to try a new sport or appreciate the sport they already play.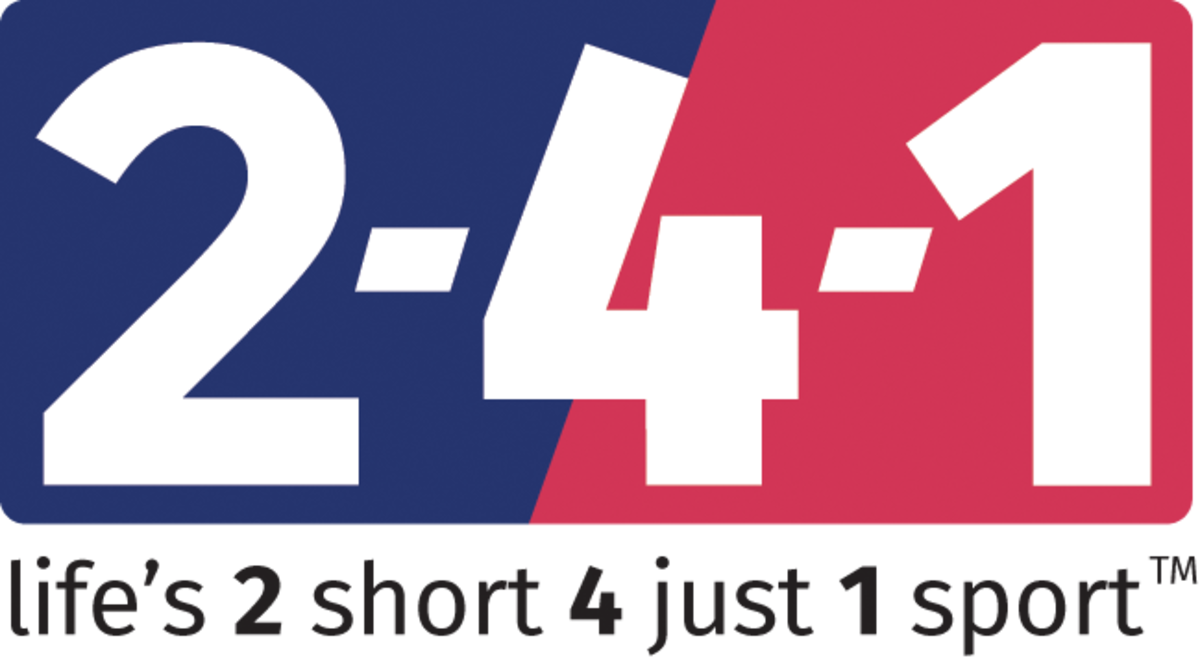 Brief History
In 2006, Steve and Kerry Boyle's nine-year-old daughter was told after a travel soccer team tryout that she was the coach's number 1 prospect. After continued conversations about the program and commitment, Steve mentioned their daughter was also showing interest in trying lacrosse. Steve was wondering if there would be a conflict in the spring. Unfortunately, the coach went silent. With a mix of anger and awkwardness, the coach said, "We're no longer interested in your daughter."
That defining moment led Steve and Kerry to wonder how a nine-year-old went from the number 1 prospect to no longer being allowed to participate. Was it really because she was interested in trying another sport? Instead of becoming angry, Steve and Kerry took that moment and made it into a movement. They came up with the tagline "Life's 2 Short 4 Just 1 Sport" and started a multi-sport small camp for girls in Hartford, Connecticut. Four short years later, the Aspen Institute's Sport and Society Program has recognized 2-4-1 as one of 8 model programs in the U.S. for their approach to Sport Sampling.
Our hope is that by trying a new sport, individuals may pursue it further or it will help them to appreciate the ones they already play but might take for granted.

Steve and Kerry Boyle, Founders of National Sport Sampling Day
Today, 2-4-1 CARE is a 501c3 with a mission to provide all children with the opportunity to grow physically and emotionally through the play-filled power of sport. The numbers "2-4-1" come from the tagline "Life's 2 Short 4 Just 1 Sport." The story of those numbers becoming the most recognized sport sampling program in the country is an inspiration, proving taking action is more powerful than simply complaining.
Signature Status
In 2021, the 2-4-1 CARE organization reached more than 5,000 children across North America through curriculum and programming. Unsurprisingly, Steve and Kerry had an increased desire to reach more children in underserved communities. They converted the entire organization to a 501c3, officially making 2-4-1 Sports a signature program.
Under 2-4-1 CARE, 2-4-1 Sports has a curriculum and programming in Colorado, Idaho, Pennsylvania, New York, Indiana, North Carolina, Connecticut, and Vancouver, Canada. 2-4-1 was recently identified as a national resource in Sport Sampling in the State of Play, Oakland report. Amazingly, the report as sponsored and announced by Stephen and Ayesha Curry's Eat.Play.Learn. Foundation.
Follow 2-4-1 CARE on any of their social media platforms to learn more and support their organization.
Related National Days on the Calendar