(Last Updated On: November 8, 2022)
In 2017, National Day Calendar® began celebrating each state in the order they entered the union starting the week of Independence Day and ending with Hawaii. We highlight a small part of each states' history, foods and the people who make up the state. Many states have their own state celebrations, and National Day Calendar's observances in no way replace them. There's so much more to explore, we can't help but celebrate our beautiful country even more!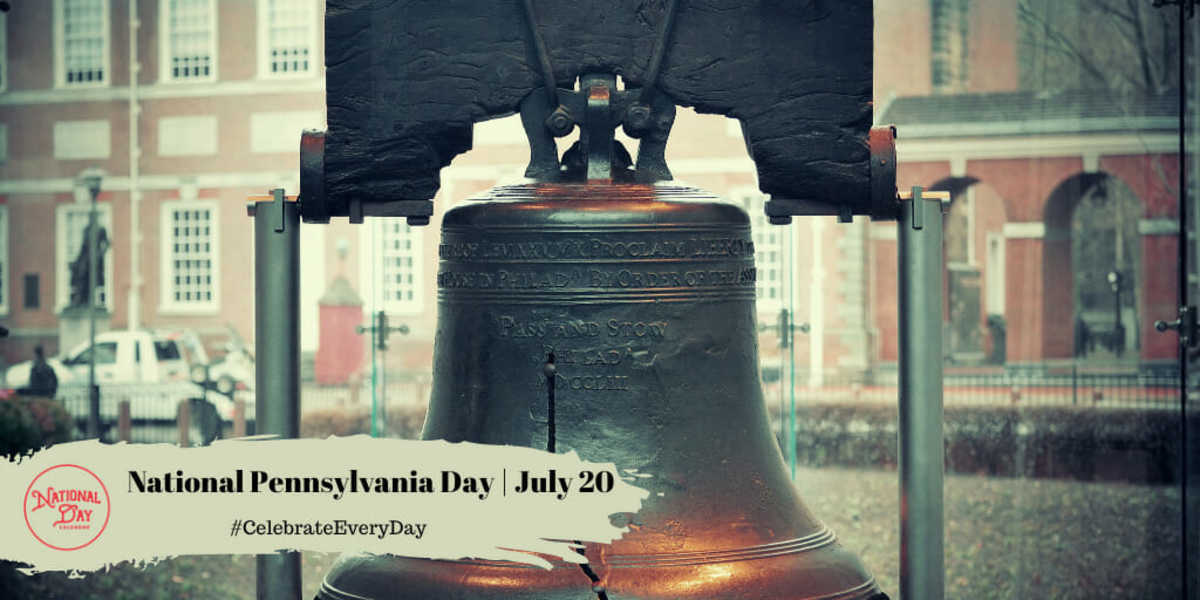 NATIONAL PENNSYLVANIA DAY | JULY 20
National Pennsylvania Day on July 20th recognizes the second state to join the Union. Once the home of the temporary capital of the United States in Philadelphia, Pennsylvania is also known as the Keystone State. While the source of the nickname has been forgotten, the meaning is not lost. Bridge builders know leaving the vital keystone out of their structure would be folly, leading to collapse.
#NationalPennsylvaniaDay
Keystone State
Pennsylvania played many roles that could be considered keystones. To begin with, its vote for independence split between eight delegates. Because of this, the split played a vital role in deciding to move toward independence and cementing the union of the newly formed country.
Throughout military operations, Pennsylvania provided forces to support the cause. In fact, Valley Forge tells the story of leadership and sacrifice of a young, developing army and citizenry.
As we know, the Declaration of Independence and the U.S. Constitution were signed in Philadelphia during its tenure as the temporary capital. It was geographically centered among the 13 original colonies.
Pennsylvania Flavor
We can eat our way through history, too! To understand Pennsylvania's flavor profile. We start in Lancaster County, which is the heart of the Pennsylvania Dutch country. German and Swiss immigrants brought with them a wide range of hearty recipes that they incorporated into the fresh ingredients available in Pennsylvania countryside. From pork and sauerkraut, to pot pies and scrapple, these dishes filled the tables with the bounty of the land.
Much of more of the sweeter side of Pennsylvania, Dutch flavor finds its way into restaurants than the savory flavored foods. For example, the whoopie pie, shoofly, and funnel cake are tourist and fair favorites found everywhere. Unfortunately, the home-cooked seasoning of chicken corn chowder or stuffed cabbage rolls are often not found in a restaurant.
Cheesesteak
For the best and original Philly Cheesesteak, there is only one place to go. Philadelphia, of course! Made with thinly sliced beef rib eye, sauteed onions, peppers and mushrooms, melted cheese, on a long, crusty Italian roll. A hot dog vendor, Pat Olivieri, created the cheesesteak in the 1930s. One cab driver caught a whiff and soon after Olivieri opened a restaurant. It's still there with competition across the street, a 24-hour a day rivalry for tourists and cheesesteak lovers to choose along with several others in the area.
Sweets
Head on over to Hershey to pick up all variety of chocolate and adventure. Don't stop there! Pennsylvania's sweet tooth has deep roots. From Twizzlers to Peeps, confectioners love Pennsylvania. Candy isn't the only sweet treat on the menu, though. In 1904, the banana split was invented in Latrobe, PA.
And more…
If your preference is more on the salty side, Pennsylvania has that covered, too. They've mastered soft and hard pretzels. They also have a terrific competition between four regional potato chip brands.
Full of regional festivals and local cuisine, Pennsylvania is also home to Kennett Square, otherwise known as the Mushroom Capital of the United States. Every year, in celebration, they shut down the town square for a mushroom festival. It's no wonder Pennsylvanian mushrooms make it into dishes around the world, even into your very own house.
HOW TO OBSERVE NATIONAL PENNSYLVANIA DAY
Join National Day Calendar as we celebrate National Pennsylvania Day by exploring the iconic, historic, and hidden treasures of this enchanting and complex state. Use #NationalPennsylvainaDay to share your experiences on social media.
The real-life legend that is Daniel Boone began in Pennsylvania on the Boone homestead in what is now Birdsboro.  Today, the homestead is host to historical tours, demonstrations and activities providing a look into young Daniel Boone's life. Born to Squire and Sarah (Morgan) Boone, he was the fourth son of six children in a Quaker family. It wasn't until he around 12 years old that his father purchased his first rifle which he soon mastered. The family left Pennsylvania for North Carolina in 1749 where Daniel began his own hunting business.
While many of us learned in school that Betsy Ross designed the first United States flag, there are no records confirming this. She was indeed a flag maker and roamed the same circles as George Washington. A resilient and resourceful woman, she survived three husbands, managed a business and household during an ever-changing time in history.
The 15th President of United States, James Buchanan is the only president elected from Pennsylvania.  He is also the only president to remain unmarried for his entire life.
The only president elected from Pennsylvania, James Buchanan's tenure as president left the nation in turmoil and on the cusp of war.
Born in Adams County, Pennsylvania, Mariah Mendenhall delivered 980 babies in Northern Indiana and never lost a mother in her care.  She nursed the people in her communities for more than 40 years.  Mendenhall lived a long 98 years and was an asset to those she provided care to.
Most known for her known for her novels Little Women and Little Men, the prolific author penned over 30 novels. Louisa May Alcott advocated for women's sufferage and wrote to the very end of her life.
[object HTMLBodyElement] Credited with 69 patents, Edward Acheson developed synthetic abrasives, perfected methods for making graphite and producing artificial diamonds. Many of his companies continue today.
Born Elizabeth Cochran in Cochran Mills, Bly made a name for herself when she went undercover as a mental patient on Blackwell's Island as an investigative journalist for the New York World. The exposè led to real change in the New York City mental health system.
The World also sent Bly on a Jules Verne style journey around the world, inspired by the author's novel Around the World in Eighty Days.
Journalist, composer and prolific playwright, Maxwell Anderson was born in Atlantic, Pennsylvania and educated in North Dakota and California. Credited with commercial success both on stage and screen, the playwright earned a Pulitzer Prize for Both Your Houses in 1933. The political drama set in Congress with a plot full of pork and deals finds a stage still today. Anderson's talents as a composer led him to collaborate with Kurt Weill, resulting in the popular standard "September Song" recorded by Frank Sinatra.
Samuel Barber gained musical recognition for his compositions during the 20th century. His distinctive, modern style earned him two Pulitzer Prizes and an international following.
The one-time president of Ford Motor Company, Lee Iacocca famously went on to successfully rescue Chrysler Corporation from bankruptcy.
A professional golfer, Palmer is widely regarded as one of the game's great athletes and the man who made golf marketable. Palmer won over 90 tournaments over five decades, including four Masters and two British Cups
One of the 20th century's most beloved Pulitzer Prize-winning author, John Updike wrote about the human condition in a broad range of formats. He published more than 20 novels, including the Rabbit series, Witches of Eastwick, numerous short stories, poems and essays. He was a frequent contributor to the New Yorker, book critic and art critic.
Also known as Mr. October for his postseason clutch hitting, Reggie Jackson was inducted into the National Baseball Hall of Fame in 1993. He spent the bulk of his career with the Oakland Athletics with three World Series wins and taking home MVP honors in 1973.
Then in 1977, after Jackson had signed with the Yankees, he added another series win and MVP honor to his name. Jackson and the Yankees earned another World Series Championship a year later.
During his career, he hit 563 home runs and 2584 hits with a batting average of .262.
[object HTMLBodyElement]
NORTH WEST
Presque Isle State Park – "With 11 miles of beaches and some of the world's greatest sunsets — it is definitely worth mentioning as a highlight of our great state." ~ Born and raised in Erie, Constance H. shares insight into the hidden treasure that is Presque Isle State Park.
EAST
Mercer Museum & Fonthill Castle – Doylestown
The Dream Garden – Philadelphia
Philadelphia Magic Gardens – Philadelphia
Cave of Kelpius – Philadelphia
American Treasure Tour – Oaks
Longwood Gardens – Kennett Square
Columcille Megalith Park – Bangor
CENTRAL
Leap the Dips – Altoona
Oldest operating rollercoaster
Horseshoe Curve – Blair County
National Watch & Clock Museum – Columbia
Railroaders Memorial Museum – Altoona
DelGrosso's Amusement and Water Park – Tipton
WEST
Living Dead Museum & Gift Shop – Evans City
Big Mac Museum – North Huntingdon