(Last Updated On: May 15, 2023)
NATIONAL PACK RAT DAY | MAY 17
Each year on May 17th, National Pack Rat Day encourages us to take a look at ourselves and see if we have "Pack Rat" tendencies within us. A Pack Rat holds on to, collects or hoards often unneeded items.
#NationalPackRatDay
According to Meriam Webster, the phrase pack rat dates back to 1885 and references a wood rat known for hoarding food and random objects. Today, the phrase is loosely used to describe people who do the same.
Many people even describe themselves as pack rats because they keep things they may need in the future, such as tools, boxes, and clothing. Have you ever cleaned out a closest and critically examined every item, tossing and donating things so that you had a clean space? Then days or weeks later discovered you needed one specific item you donated or tossed. It may be a document or container, but it never fails to happen. In the age of recycling, reusing, and repurposing, pack rats consider every item before they toss and donate.
The observance is an opportunity for the pack rat in all of us to examine our collecting tendencies. Do we really need t-shirts from 1975? When was the last time you used that L wrench that came with the pre-fabricated entertainment center you no longer own? Of course, the moment you sort through those toys and donate them, your only child will announce you're going to be grandparents. You didn't hold on to those pack rat tendencies long enough.
HOW TO OBSERVE NATIONAL PACK RAT DAY
Take a look around and maybe start cleaning out unwanted and unneeded items. If you need to, call a friend to come and help you get started. Share what you think makes you a pack rat. What do you save or collect? Use #NationalPackRatDay to post on social media.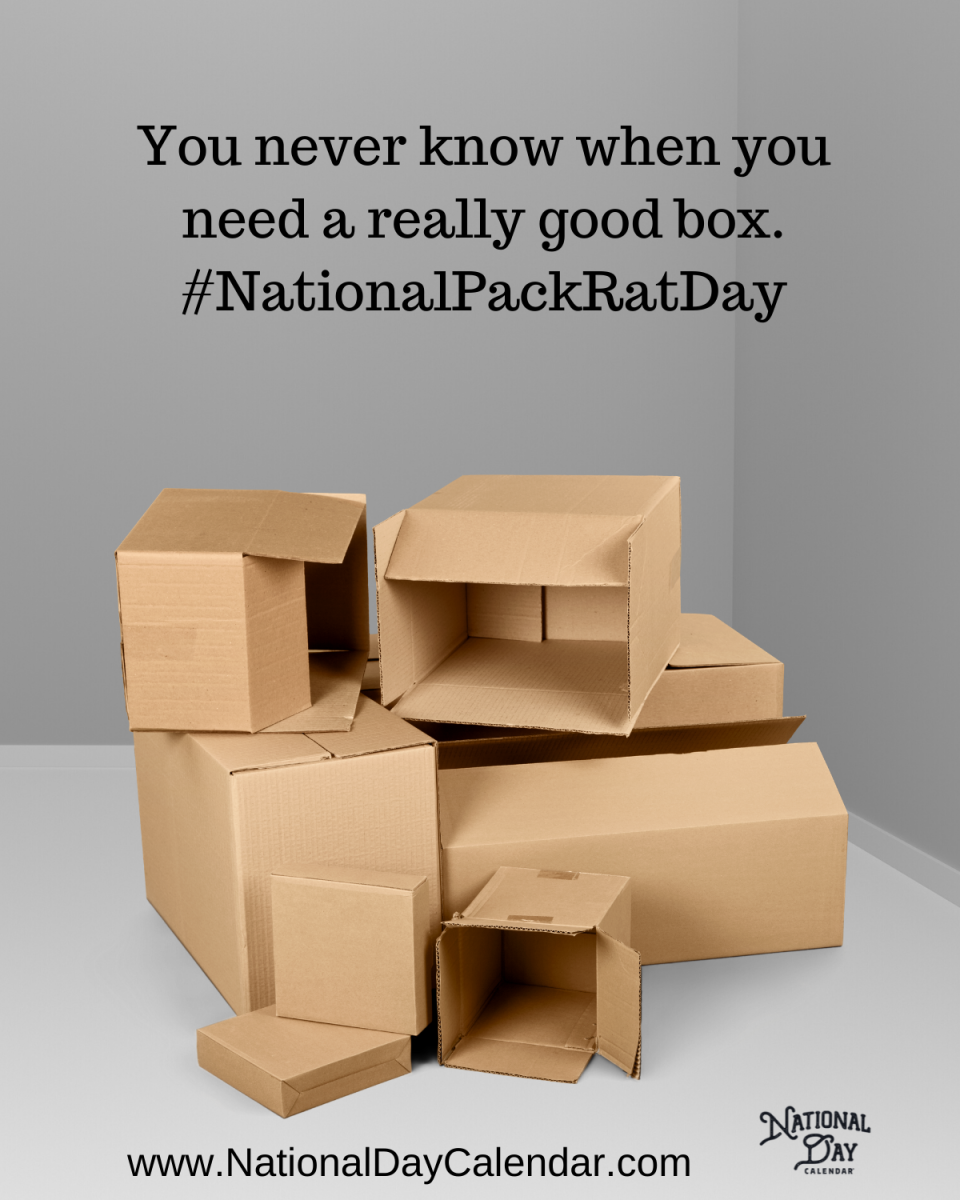 NATIONAL PACK RAT DAY HISTORY
National Day Calendar continues researching the origins of this cleanup holiday.
May 17th Celebrated History
1875
Churchill Downs holds the first Kentucky Derby. Aristides ridden by Oliver Lewis, wins the race in 2 minutes, 37 seconds, 3/4.
1897
The Holland VI is launched at the Navy's Lt. Lewis Nixon's Crescent Shipyard in Elizabeth, New Jersey. It became the Navy's first commissioned submarine in 1900 and renamed the USS Holland. Irish-American inventor John Philip Holland designed the submarine in 1896.
1954
The Supreme Court unanimously rules on the landmark case Brown v. Board of Education of Topeka determining that racial segregation in public schools is unconstitutional.
1954
The comedy duo Stan Laurel and Ollie Hardy came to an abrupt stop when Hardy suffered a heart attack. The two never performed together again.
2004
Massachusetts becomes the first state to legalize same-sex marriage.
May 17th Celebrated Birthdays
Cool Papa Bell – 1903
Considered to be one of the fasted baseball players who ever lived, Cool Papa Bell played centerfield in the Negro League from 1928-1945. He was elected to the National Baseball Hall of Fame in 1974.
Dennis Hopper – 1936
The American actor and filmmaker is known for directing the film Easy Rider and his performances in films such as Apocalypse Now, Blue Velvet, and Hoosiers.
Sugar Ray Leonard – 1956
The 1976 Olympic gold medalist, Sugar Ray Leonard, turned to professional boxing the following year. In 1987 he defeated "Marvelous" Marvin Hagler for the middleweight title. He was inducted into the Boxing Hall of Fame in 1997 after his retirement.
Mia Hamm – 1972
Mia Ham played professional soccer for 17 years winning two World Championships and two Olympic gold medals.