(Last Updated On: November 9, 2022)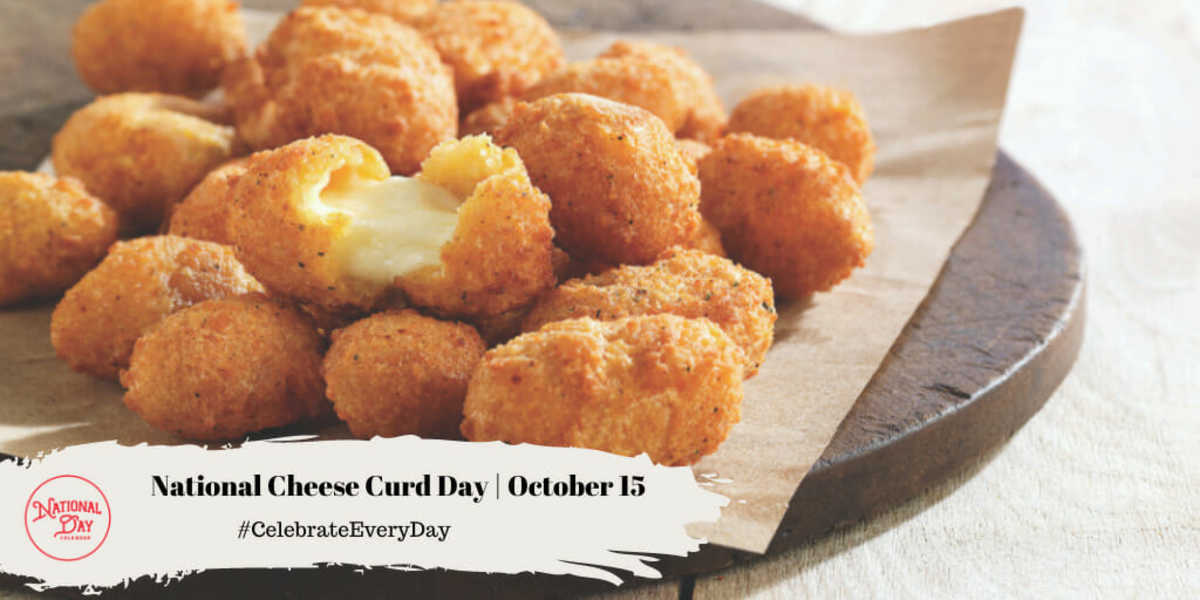 NATIONAL CHEESE CURD DAY | OCTOBER 15
On October 15th, National Cheese Curd Day celebrates the velvety goodness of cheese curds.
#NationalCheeseCurdDay
Cheese Curds are unique, funky, snackable little pieces of yellow or white Wisconsin cheddar cheese. Many restaurants coat and deep-fry them to a golden brown. When you bite into one, first expect a warm buttery crunch on the outside. The next delicious taste will be an ooey-gooey burst of dairyland delicacy on the inside.
What are they? Well, cheesemaking naturally creates cheese curds. Fresh ones squeak when you bite into them. Cheesemakers create different flavors to appease the growing number of people enjoying cheese curds.
Serve cheese curds in a variety of ways to reap the flavor benefits! Of course, you can always eat them fresh. Another includes the all-time favorite, deep-fried. Add dipping sauces for tasting options, too!! Choose from ranch, more cheese sauce, spicy siracha, tangy dill, barbeque, and more. Cheese curds find their way into recipes, also. Poutine has been popular for decades.
HOW TO OBSERVE NATIONAL CHEESE CURDS DAY
Go out to dinner and order some for your appetizer. You can also bring some fresh cheese curds home to snack on later. Share your favorite flavor of squeaky cheese and use #NationalCheeseCurdDay to post on social media. 
NATIONAL CHEESE CURD HISTORY
Culver's founded National Cheese Curd Day in 2015 to celebrate the delicious and snackable treat. 
National Day Calendar proclaimed the day to be observed on October 15th, annually.  Enjoy celebrating this National Day with family and friends!
About Culvers:
Culver's was founded in the Dairy State and proudly serves real Wisconsin Cheese Curds. Culver's and National Day Calendar have officially declared Oct. 15th National Cheese Curd Day to give this most delicious of Wisconsin treat gets the attention and adoration it deserves.
FAQ Cheese Curd
Q. Are cheese curds always made from cheddar cheese?
A. Cheesemakers usually make cheese curds from cheddar cheese. However, if you're making homemade cheese curds, you can use mozzarella.
Q. Do cheese curds come in different flavors?
A. Yes! While some cheese curds are served as a deep-fried appetizer, others are available fresh. Try flavors like garlic and herb, jalapeno, or ranch, or bacon.
Q. What can I make with cheese curds?
A. Cheese curds are an integral ingredient in poutine. Another great way to enjoy cheese curds is by marinating them and adding them to a salad.