(Last Updated On: February 3, 2022)
Shrimp Fettucini
Prep:  5 minutes
Cook:  15 minutes
Total Prep: 20 minutes
Serves 4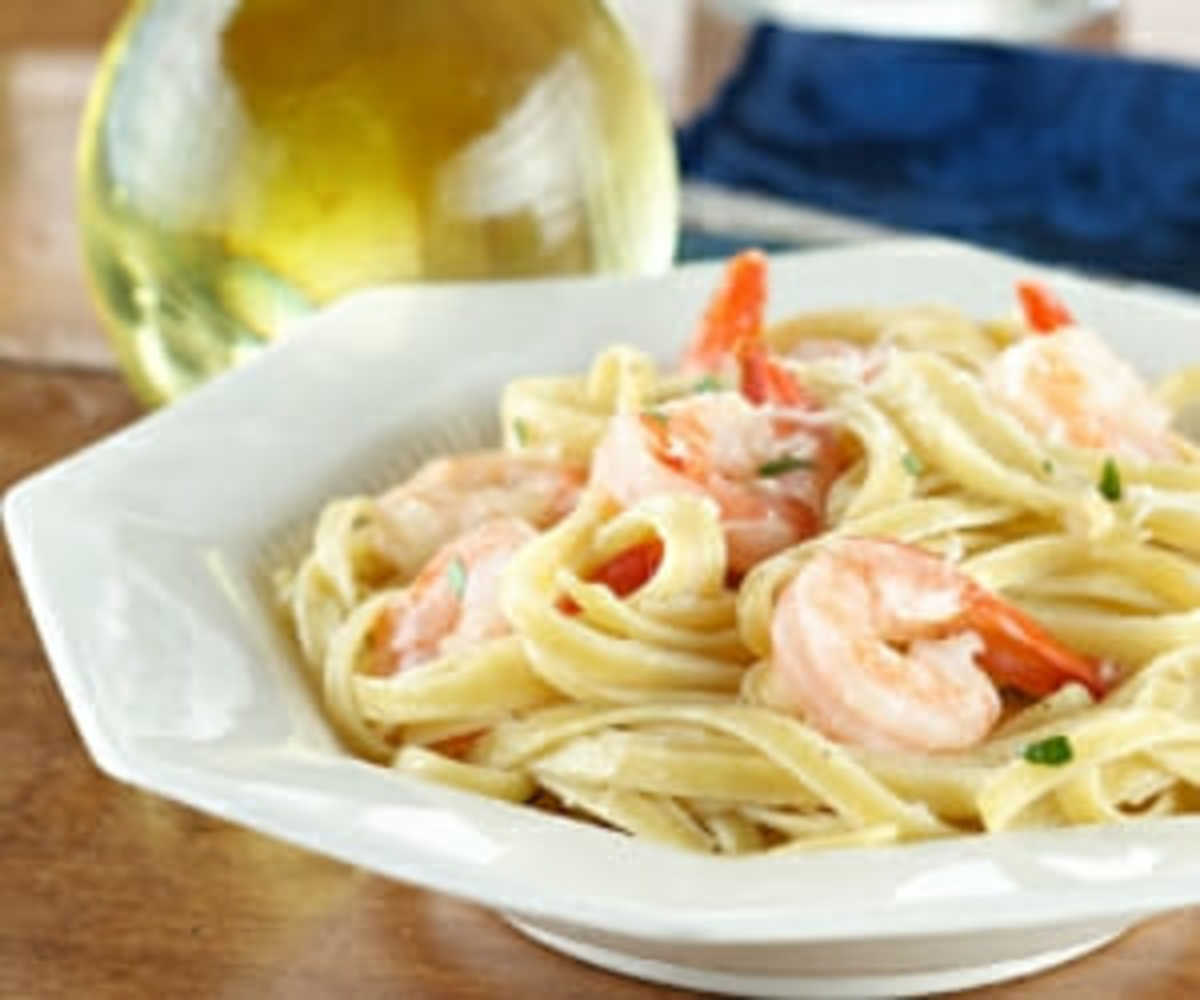 Ingredients:

8 ounces fettuccine
1 pound large shrimp, de-shelled and de-veined
1 tablespoon Cajun seasoning
2 tablespoons all-purpose flour
2 tablespoons butter
2 tablespoons olive oil
1 cup chicken broth
1 cup heavy cream
salt and pepper for taste
1/2 cup grated Parmesan cheese
1 tablespoon fresh chopped parsley
Instructions:
Cook your pasta according to the directions on the package.
Place uncooked shrimp in bowl and sprinkle shrimp with the entire tablespoon of cajun spice, and toss well.
Next, sprinkle all-purpose flour on top of the seasoned shrimp and toss well. Coat well.
Put butter and oil in a deep skillet and cook on high heat.
Add your shrimp to skillet and cook for about 2 minutes on each side.
Remove shrimp from skillet and set aside.
Add chicken broth and heavy cream to the same skillet, whisking continuously until remaining ingredients are added.
Season with salt and pepper (or additional cajun spice if you prefer!)
Still whisking, bring mixture to a boil.
Add Parmesan cheese.
Add fettuccine and shrimp back into the pot and toss.
Garnish with additional Parmesan cheese and parsley on top.
(Note to chef: try to buy a Cajun seasoning without salt to avoid making this recipe too salty.)
National Day Calendar® food holidays are a big deal with our followers and we are having fun compiling favorite recipes for everyone to enjoy. We are always looking out for great recipes. Use the submission form below if you would like to share one of your favorite recipes with the National Day Calendar® family! PLEASE MAKE SURE IT IS YOUR RECIPE OR YOU HAVE PERMISSION TO SHARE THE RECIPE. You might be surprised to know we just might publish the recipe giving credit to you!
[forminator_form id="389778″]