(Last Updated On: November 7, 2022)
In 2017, National Day Calendar
®

 

began celebrating each state in the order they entered the union starting the week of Independence Day and ending with Hawaii. We highlight a small part of each states' history, foods and the people who make up the state. Many states have their own state celebrations, and National Day Calendar's observances in no way replace them. There's so much more to explore, we can't help but celebrate our beautiful country even more!
NATIONAL WYOMING DAY | MAY 24
On May 24th, National Wyoming Day recognizes The Equality State.
#NationalWyomingDay
The 44th state to join the union, Wyoming territory led the nation and the world in granting women the right to vote. In 1869, the Wyoming territorial legislature passed a bill allowing women the right and the governor signed the bill on December 10, 1869. Twenty years later, Wyoming would approve the first state constitution including women's suffrage. They would be granted statehood in 1870.
In a vast open country where homesteaders had to rely on one another, man or woman, equality had real meaning, true grit. On July 10, 1890, Wyoming became a state.
It is also a country where massive towers seem to rise out of nowhere mysteriously. Devil's Tower stands starkly against brilliant blue skies or disappears into the fog. Depending on the day or its mood it can do either, or both. Explore the Native American legends surrounding the creation of the monolith, hike its trails, and wonder at its existence.
From Fossil Butte National Monument to Fort Laramie National Historic Site, Wyoming retells history. The state thrills and challenges visitors with its spectacular views in Yellowstone and Grand Teton National Park.
In The Cowboy State, rodeos provide opportunities to flex skills in the arena and amaze audiences in the stands. Whether they compete indoors or out, boots, jeans, and hats are recommended.
HOW TO OBSERVE National Wyoming Day

Join National Day Calendar as we explore The Equality State. Visit the towering Grand Tetons and learn about the resilient people who live in Wyoming. Follow the trails of dinosaurs and cowboys! Use #NationalWyomingDay to share on social media.
June Etta Downey spent her career as a psychologist studying personalities and handwriting. Her research led to some of the development of the Downey Individual Will-Temperament Test, an early personality inventories.
Curt Gowdy announced Major League Baseball games for the New York Yankees and Boston Red Sox. His career would later lead to national broadcasting with ABC and NBC Sports.
Recruited by J. Robert Oppenheimer, Robert Wilson headed the cyclotron group for the Manhattan Project. Wilson's artistic talents became integral in his later career when his eye for aesthetics enhanced the design of Fermilab.
Patricia MacLachlan – Author – (March 3, 1938 -)
Winner of the Newbery Medal for her novel, Sarah, Plain and Tall, Patricia MacLachlan has published more than fifty books for children and young readers.
Solomon Trujillo leads Australia's largest telecommunications and media company as Chief Executive Officer.
Author of the Revenant: A Novel of Revenge, Michael Punke has also served as Deputy United States Trade Representative and US Ambassador to the World Trade Organization. Punke has also published historical non-fiction works.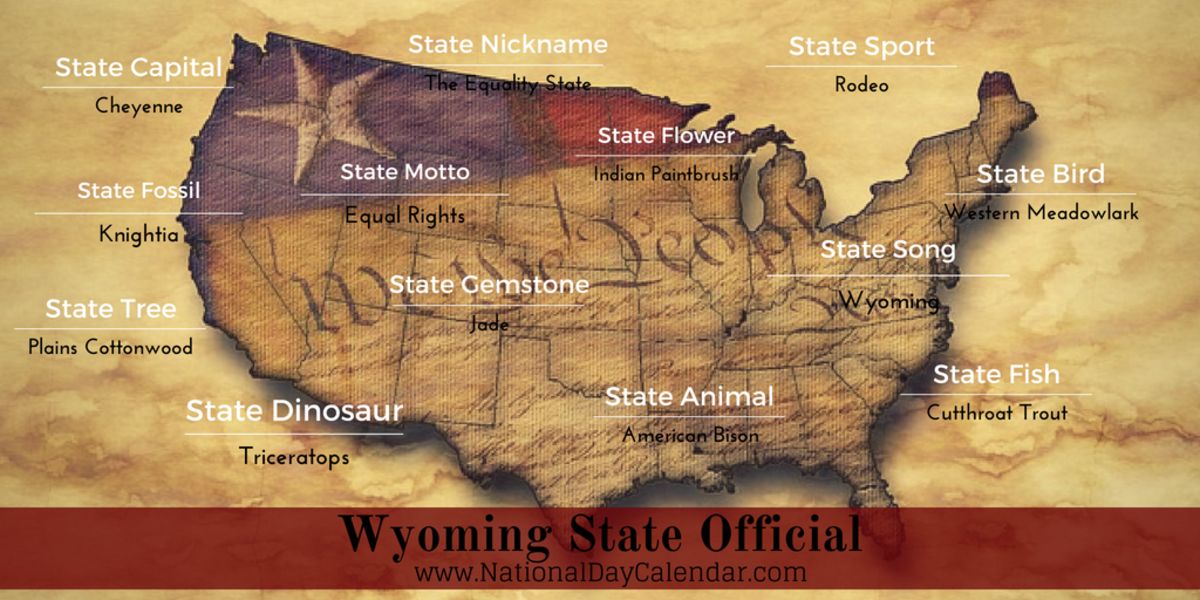 Hidden Treasures
Smith Mansion – CodyBighorn Medicine Wheel – Lovell
Fossil Bone Cabin – Medicine Bow
Ames Brothers Pyramid – Buford
Former World's Largest Jackalope – Douglas