In 2017, National Day Calendar
®

 

began celebrating each state in the order they entered the union starting the week of Independence Day and ending with Hawaii. We highlight a small part of each states' history, foods and the people who make up the state. Many states have their own state celebrations, and National Day Calendar's observances in no way replace them. There's so much more to explore, we can't help but celebrate our beautiful country even more!
NATIONAL VIRGINIA DAY
On September 14th, National Virginia Day recognizes one of the original 13 colonies and the 10th state to ratify the Constitution.
Mountains in the west stretch south and east toward swamps and islands. The population is as varied as the scenery, too. From the picturesque small towns of the Old Dominion state to bustling cities and cavernous valleys, the state's complex depth of history and topography creates unique and breathtaking experiences.
Virginia's proximity to Washington D.C. makes it ideal for government commuters and tourism to the U.S. Capital. Many of our nation's headquarters can be found in Virginia including the Central Intelligence Agency, National Fish and Wild Life Service, and the Department of Defense. Many of these agencies can be found in the world's largest office building, the Pentagon! In fact, more Virginians work for the U.S. government than any other state.
On National Virginia Day, we explore the people, the places, and the flavors that have developed long before European settlers arrived.
HOW TO OBSERVE #NationalVirginiaDay
Join National Day Calendar as we celebrate Virginia's enduring history and grand landscapes. Explore all of Virginia's delightful towns and exciting cities! Use #NationalVirginiaDay to share on social media.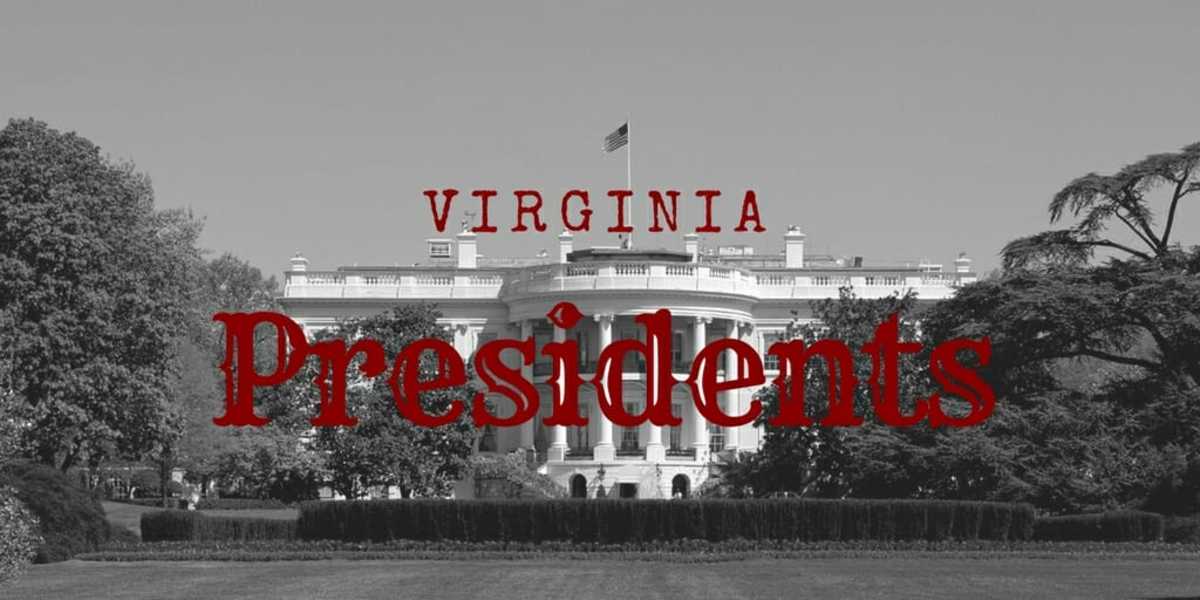 Virginia Presidents
As the earliest established colony, Virginia's roots run deep in the political process. More Virginians have been elected president than from any other state, including the first for a total of eight in all. A Virginian hasn't been elected since 1917 to the highest office of the United States.
George Washington
As the Commander in Chief of the Continental Army, George Washington's name was fresh in the minds of the colony's minds as a leader. When the time came to choose a president for their young nation, Washington easily won the election with John Adams earning the vice presidential seat with the second most number of votes. Washington served from 1789 to 1797, setting standards for many generations to come.
Thomas Jefferson
April 13, 1743 – July 4, 1826
The author of the Declaration of Independence, Thomas Jefferson served two terms from 1801 to 1809. During Jefferson's administration, the country doubled in size with the Louisana Purchase. With his signature, Jefferson launched the Corps of Discover which charged fellow Virginian Meriwether Lewis and William Clark with charting the vast newly acquired territory to the west.
James Madison
March 16, 1751 – June 28, 1836
Considered the "Father of the Constitution," James Madison served two terms from 1809 to 1817. During his terms, tensions between the French and British increased over trade. By 1812, the country was at war, one that destroyed the wreaked havoc on the new capital for most of Madison's second term.
James Monroe
April 28, 1758 – July 4, 1831
William Henry Harrison
February 9, 1773 – April 4, 1841
William Henry Harrison served one term of his presidency from March to April of 1841 before succumbing to pneumonia. His term is the shortest in United States history.
John Tyler
March 29, 1790 – January 18, 1862
John Tyler assumed the remainder of William Henry Harrison's term after his death after just one month. Tyler was the first Vice President to take the oath office due to a vacancy in the White House. More than a decade after his term as president, the rumblings of civil war were more apparent than ever. While Tyler attempted to moderate a compromise in Washington, when war broke out, he voted for succession. He was later elected to the Confederate Senate but died before he could take office.
Zachary Taylor
November 24, 1784 – July 9, 1850
Zachary Taylor served just over a year of his term from 1849 to 1850 before his death. While Taylor was a slave owner, his desire to keep the country whole drove him to support the admission of new free states as opposed to slave states to the union.
Woodrow Wilson
December 28, 1856 – February 3, 1924
Woodrow Wilson served two significant terms from 1913 to 1921. The war in Europe dominated both of Wilson's terms. While keeping campaign promises during his first term to remain neutral, the U.S. entered the Great War during Wilson's second administration. Domestically, Wilson's oversaw labor reform and supported suffrage efforts gaining women the right to vote in 1920.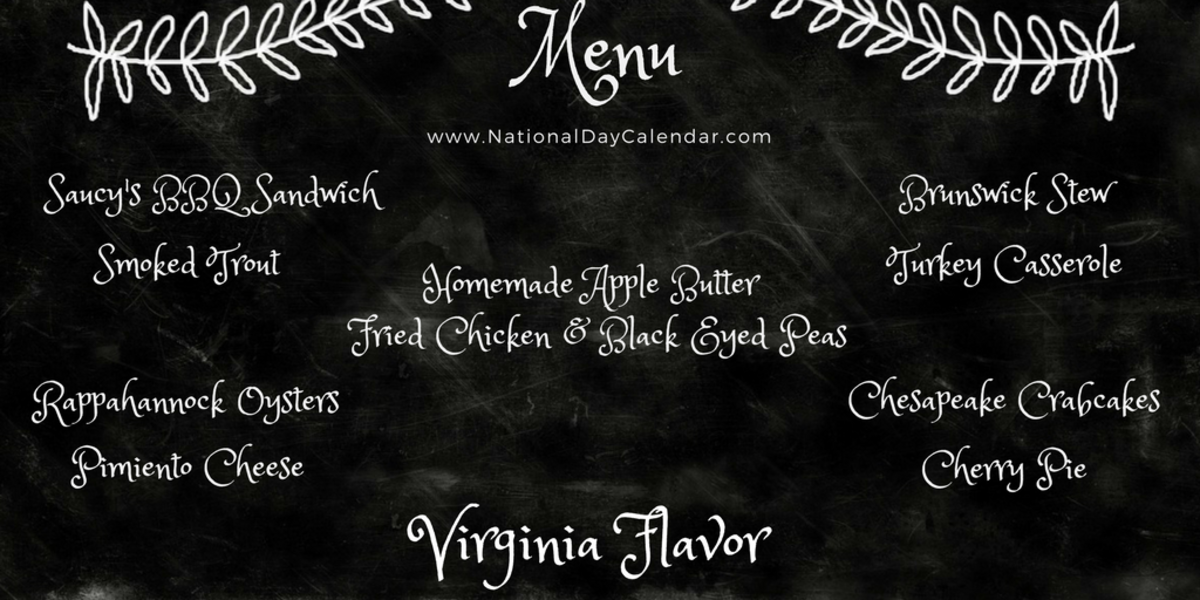 Virginia Flavor
The farm rich land of Virginia supplies a menu full of orchard delights, delicacies from the sea and classic bbq. Virginia's Rappahannock River and the Chesapeake Bay makes for excellent access to fresh Rappahannock oysters and crab. Add excellent opportunities for trout fishing, anglers and seafood lovers rejoice! When in the South, BBQ is a purification ritual. Fried chicken with black-eyed peas is on the menu, too. We all know the first president was born here, so it should be no surprise that cherry pie the must have dessert – even if he didn't chop down that tree. Make sure to enjoy some homemade apple butter. It's an excellent spread on English muffins for breakfast or added to waffles. Sub the jelly on your PB&J at lunch; it's divine. Makes a great snack, too!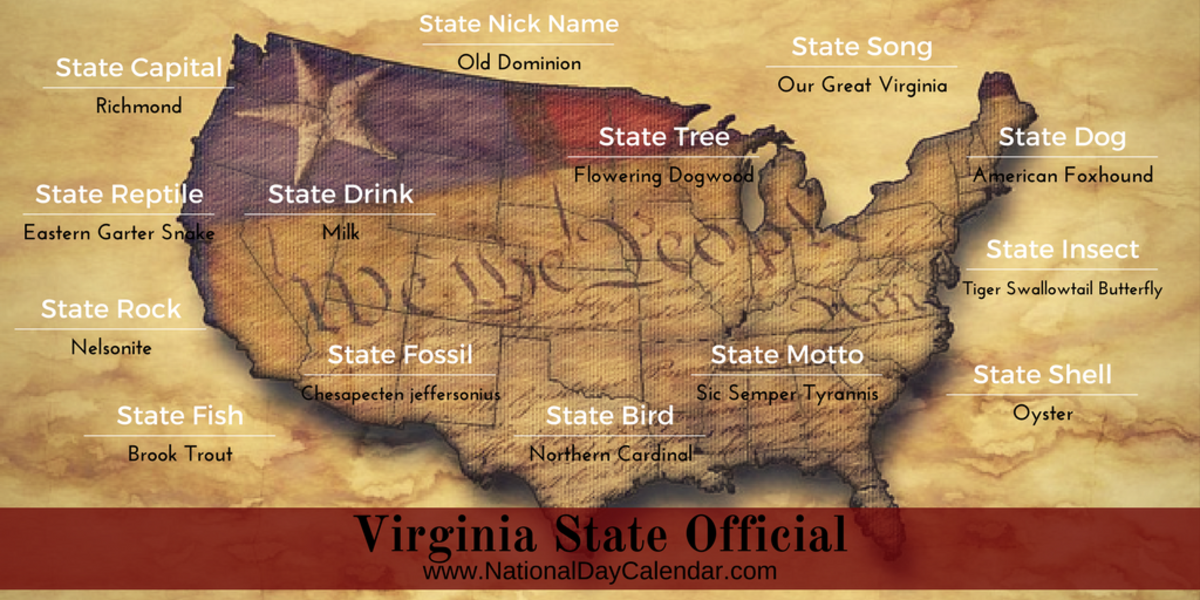 Pocahontas - Native American Historical Figure - (1596 - March 1617)
The life story of the daughter of a Powhatan Chief has become American fairy tale legend. The truth of Pocahontas' life, however, is a grief stricken tragedy. Read more about her life at
Indian Country Today
.
Meriwether Lewis - Explorer - (August 18, 1774 - October 11, 1809)
Along with William Clark, Meriwether Lewis lead the Corp of Discovery 3,700 miles from St. Louis, Missouri to the Pacific Ocean and back.The expedition mapped, explored and recorded much of the newly acquired territory of the Louisiana Purchase. They arrived at the mouth of the Columbia River near the Oregon and Washington borders on November 15, 1805.
Booker T. Washington - Civil Rights Activist - (April 5, 1856 - November 14, 1915)
Born a slave, Booker T. Washington persevered after the Civil War putting himself through school. He became the first principal of the Tuskegee Normal and Industrial Institute in 1881. Washington held this position until his death in 1915. Throughout his time at that school, (now Tuskegee University), Washington was recognized for his advancement of African American education, though he was often criticized for his public support of segregation and racial subservience.
Edith Wilson - First Lady - (October 15, 1872 - December 28, 1961)
Edith Wilson was the second wife of President Woodrow Wilson. Married during the course of his first term, Mrs. Wilson became indispensable during the last 18 months of his second term when the President fell ill. The First Lady reviewed all correspondence and assisted President Wilson while he recovered from what was later determined to be his second stroke. Historians today suggest Mrs. Wilson even made official decisions on behalf of the President, in effect acting in his stead.
Willa Cather - Author - (December 7, 1873 - April 24, 1947)
At the age of 9, Willa Cather moved to the prairies of Nebraska with her family. The change in landscapes and the pioneer and immigrant cultures set the backgrounds for her many of her novels.
Patsy Cline -Singer - (September 8, 1932 – March 5, 1963)
Born Virginia Patterson Hensley, Patsy Cline became a household name in 1957 with the song "Walking After Midnight" when she appeared on Arthur Godfrey's Talent Scouts television show. She continued to release hit songs until her tragic death in 1963.
Gabby Douglas - Olympian - (December 31, 1995 - )
At the 2012 London Summer Olympics, Gabby Douglas made Olympic history by becoming the first woman of color and the first African-American gymnast to become the Individual All-Around Champion. She also won gold medals in both the team and individual all-around competitions. Douglas was the first African-American in Olympic history to take home both of these honors.
There are over 1,500 national days. Don't miss a single one. Celebrate Every Day with National Day Calendar!