(Last Updated On: November 9, 2022)
In 2017, National Day Calendar
®

 

began celebrating each state in the order they entered the union starting the week of Independence Day and ending with Hawaii. We highlight a small part of each states' history, foods and the people who make up the state. Many states have their own state celebrations, and National Day Calendar's observances in no way replace them. There's so much more to explore, we can't help but celebrate our beautiful country even more!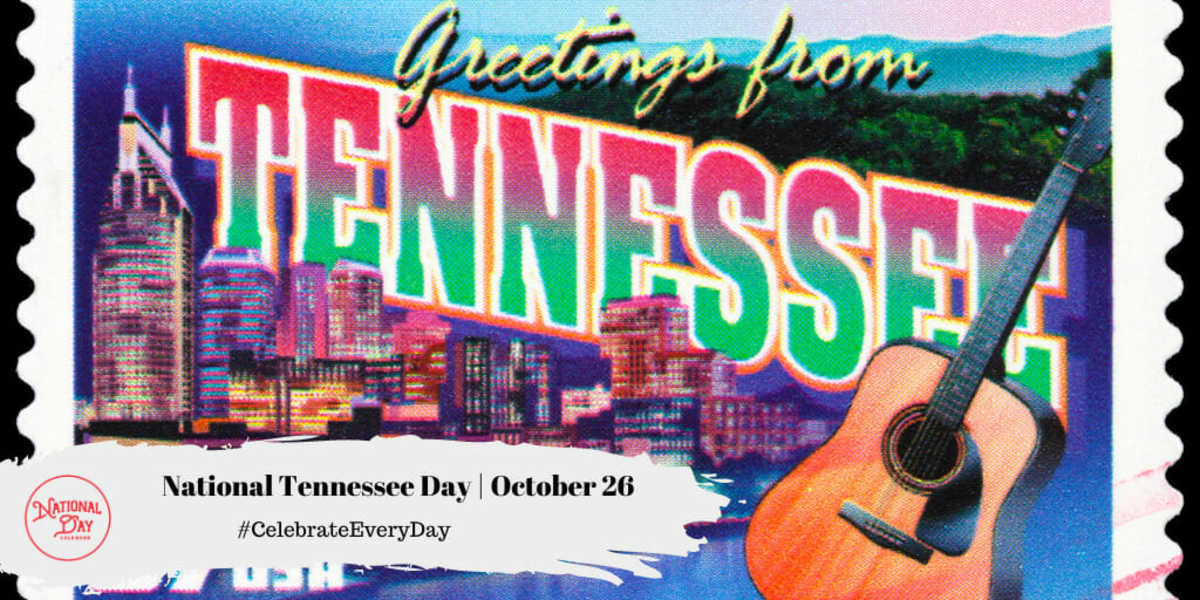 NATIONAL TENNESSEE DAY
National Tennessee Day recognizes the Volunteer State on October 26. Tennessee was the 16th state admitted to the union. The great state brings with it the Great Smoky Mountains, centers for blues and country music, and depth of history that surges through art.
#NationalTennessee Day
As the gateway to the deep south, Tennessee experienced heavy burdens during the Civil War. As a slaveholding state with many Union sympathizers and Union occupying units, Tennessee was often as divided as the country during the war.  It was the only state to have a battle or skirmish in every county.
Two anchor cities, Memphis and Nashville, provide abundant talent and draw even more. It should be no surprise the music and entertainment industry thrive in Tennessee. For more than 75 years The Grand Ole Opry has provided a cornerstone of radio performances. thrilling audiences of all ages.
The state lays claim to royalty, too! The King of Rock and Roll made his home at Graceland. Today it is the most frequently visited private residence visited after the Whitehouse. The Queen of Soul, Aretha Franklin was born in Memphis, too.
The region is brimming with waterfalls, trails, and wildlife. The Great Smoky Mountains provide plenty of opportunities to get out and explore.
HOW TO OBSERVE NATIONAL TENNESSEE DAY
Join National Day Calendar as we recognize Tennessee's outstanding voices, art, and history. Delight in all of Tennessee's talent and adventure. Use #NationalTennesseeDay to share on social media.
For a complete list of Tennessee State and National Parks & Historic Sites visit www.tnstateparks.com and www.nps.gov.  Check out a few of the featured sites around the state below. 
Paris Landing – Buchanan
Reelfoot Lake – Tiptonville
Tims Ford – Franklin
Fall Creek Falls – Spencer
Ruby Falls – Chattanooga
Tennessee State Museum – Nashville
Country Music Hall of Fame Museum – Nashville
Parthenon – Nashville
Cheekwood Botanical Garden – Nashville
Tennessee Military Museum – Nashville
Graceland – Memphis
Museum of Appalachia – Clinton
The Hermitage – Nashville
Memphis Rock N' Soul – Memphis
Alex Haley House and Museum – Henning

International Rock-A-Billy Hall of Fame – Jackson
Lost Cove Settlement – Erwin
Spaceship House – Signal Mountain
Slave Haven – Memphis


The boy born on the Tennessee frontier, David Crocket, grew to legendary proportions in the ink of writers and in the West. During his time in Congress, he built up that reputation. While serving with other volunteer Texan soldiers, Crocket died at The Alamo.
Sequoyah brought written language to the Cherokee Nation when he developed an alphabet for the Cherokee language. The achievement wasn't without trials. Accused of sorcery, both Sequoyah and his daughter were almost sentenced to death before they proved they were communicating with written words.
Provided an education when it was rare to do so, Sarah Childress Polk was more than prepared to be part of the political atmosphere as a First Lady. History remembers her as both knowledgeable, poised and able regarding both domestic and social responsibilities.
A central comedic figure of the Grand Ole Opry, Minnie Pearl entertained the country for more than 50 years. She toured the country with her own brand of backwoods humor, music and storytelling. She took her show on the road and also appeared on television shows like Hee Haw.
Archie Campbell's hayseed character brought his brand of humor to the Grand Ole Opry stage and Hee Haw television show as well as touring road shows to generations of fans.
Johnny Cash wrote the hardships of his life into his music. The talented musician's tumultuous career lead to a broad variety of music and acting awards.
Morgan Freeman first started his acting career on the soap opera, Another World and the PBS children's show, The Electric Company. His enduring career spans more than 45 years.
With 18 Grammy Awards, the Queen of Soul earned more than R-E-S-P-E-C-T. Aretha Franklin started singing at a young age in the Baptist church of her father's congregation. She would go on to be an R&B legend who continues to collaborate with artists across genres today.
One of the country's most enduring performers, Dolly Parton debuted her first album in 1967. The Grammy Award-winning singer-songwriter was inducted into the Grand Ole Opry in 1969.