(Last Updated On: November 8, 2022)
In 2017, National Day Calendar® began celebrating each state (including National South Carolina Day) in the order they entered the union, starting the week of Independence Day and ending with Hawaii. We highlight a small part of each states' history, foods, and the people who make up the state. Many states have their own state celebrations, and National Day Calendar's observances do not replace them. There's so much more to explore; we can't help but celebrate our beautiful country even more!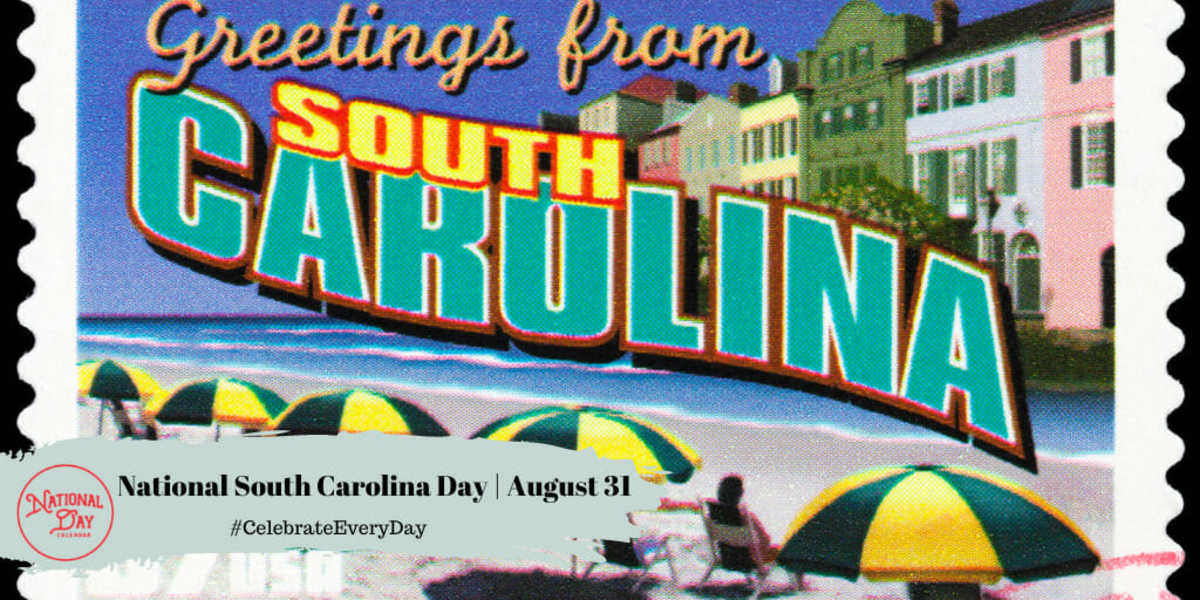 NATIONAL SOUTH CAROLINA DAY | AUGUST 31
On August 31, National South Carolina Day recognizes The Palmetto State and her unique landscapes, bold personalities, and long history.
Catawbas and Cherokee were some of the first to greet Spanish and French explorers in the 16th century. Their tribes dotted the land with villages. The Englished established the first successful settlement near present-day Charleston. Named Carolina initially after King Charles I, the colony later split into North and South Carolina in 1710. Following in the footsteps of the previous colonies, South Carolina would become the eighth state to ratify the constitution.
Though South Carolina may have been more removed from some of the Revolutionary concerns than states like Massachusetts and Connecticut, it hosted some pivotal, if seemingly small, battles. They all begin with the hard-fought and devastating loss at Charles Town. What is now known as the Siege of Charleston is the largest battle ever in the state. Not even Civil War battles compare. While the British claimed the city and some 5,000 prisoners, the course was set for victories to the west at Cowpens and King's Mountain.
Slavery and the Civil War play a significant role in South Carolina's complex social, political, and economic profile. Yet, South Carolina reflects much of its beauty of South Carolina in its soulful music and emotive art expressing the voices of generations.
Harleston Green in Charleston established the first golf club in the United States in 1786.
With 187 miles of Atlantic coastline, South Carolina is more than ideal for a beach getaway. With idyllic oceanfront towns, historical tours, delicious seafood, and golf, everyone has a little bit of adventure.
HOW TO OBSERVE NATIONAL SOUTH CAROLINA DAY
Explore all of South Carolina's beauty, culture, and history on August 31. Join National Day Calendar as we celebrate South Carolina's hospitality, stunning landscapes, and dynamic people.  Use #NationalSouthCarolinaDay to share on social media.
Known as the Swamp Fox, militia leader during the American Revolution Francis Marion earned his nickname by cunningly avoiding capture through the South Carolina swamps late in 1780.
The Grimke sisters' abolitionist and feminist beliefs led them North to Pennsylvania to join the Quakers'Society of Friends. As a result, they became the first women to testify before a state legislature on the subject of blacks' rights.
The first African American graduate student admitted to Johns Hopkins University, Kelly Miller had a brilliant mind for mathematics. Despite these strengths, tuition increases and civil rights barriers prevented him from attaining his Masters Degree from Johns Hopkins. Kelly returned to Howard University and earned a Master of Arts in Mathematics and a law degree. He turned his attention to the social sciences quickly became a central figure at Howard University for his entire career as Dean of the College of Arts and Science and wrote prolifically on his views of race.
The first southern novelist to win a Pulitzer Prize, Julia Peterkin's novel Scarlet Sister Mary (1928) portrayed a strong-willed and lively black woman in pursuit of her dreams. Peterkins would publish six novels in her lifetime.
James Strom Thurmond was the oldest person to ever serve in the United States Senate. The Senator began his career as a teacher in the public school system then turned to law. During World War II, he served in Europe. Elected on the Democratic ticket as South Carolina's Governor in 1947, Thurmond would be appointed to the U.S. Senate in 1954 under a write in campaign – again as a Democrat. In 1964, Thurmond abandoned the Democratic party in face of their stance on Civil Rights. He remained a Republican until his term of service in 2003.
The FBI agent responsible for capturing Public Enemy #1, Melvin Purvis made a short but notorious career arresting some of the more dangerous gangsters of his time. Credited with the arrests of John Dillinger and Charles Arthur Floyd, AKA "Pretty Boy Floyd", among others, Purvis would leave the FBI under controversy.
William Westmoreland directed U.S. military strategy during much of the Vietnam War. Selected by President Lyndon Johnson, Westmoreland commanded the U.S. Military Assistance Command in Vietnam. Following the devastating Tet Offensive, Westmoreland was replaced by his deputy commander, General Creighton W. Adams.
Universally known as the "Godfather of Soul," the dynamic American singer-songwriter began his early career with gospel and R&B groups. His flamboyant style, tenacity and talent led him to chart hits. In 1965, Brown won his first Grammy Award for "Papa's Got a Brand New Bag" for Best R&B Recording.
As a talented athlete, Althea Gibson broke racial barriers in the fields of women's tennis and golf. In 1951, She became the first African American to play Wimbledon. In 1964, Gibson became the first African American woman to play on the LPGA Tour.
Chubby Checker is best known for recording the most popular version of the dance tune, "The Twist."  Still popular today, the song has provided Checker with many twists and turns in his life.

South Carolina Flavor
South Carolinians and southerners in particular like their iced tea. Finding a good sweet tea anywhere else in the country can be a challenge.
Another South Carolina feast is a Beaufort Stew. Also known as a Lowcountry Boil, this simple but flavorful dish combines shrimp, corn on the cob, sausage, and potatoes. Once boiled, the entire meal is served on a paper-covered table. Invite the whole family over and dive in for all the deliciousness!
Get one of the ultimate comfort foods in South Carolina. The Palmetto State specializes in baking macaroni and cheese that's especially comforting and cheesy.
Black-eyed peas served with rice and bacon is transformed into a dish known as Hoppin' John. In the South, Black-eyed peas are said to bring good luck when eaten on New Year's Day.
The Southern delicacy of Pimento Cheese finds its way into high-class events or lazy afternoon picnics. It's referred to as "Carolina caviar" and can be a garnish or a dip.

Mars Bluff Crater – Florence
Drayton Hall – Charleston County
Forty Acre Rock Heritage Preserve – Lancaster County
Stumphouse Tunnel & Issaqueena Falls – Walhalla