(Last Updated On: November 9, 2022)
In 2017, National Day Calendar
®

 

began celebrating each state in the order they entered the union starting the week of Independence Day and ending with Hawaii. We highlight a small part of each states' history, foods and the people who make up the state. Many states have their own state celebrations, and National Day Calendar's observances in no way replace them. There's so much more to explore, we can't help but celebrate our beautiful country even more!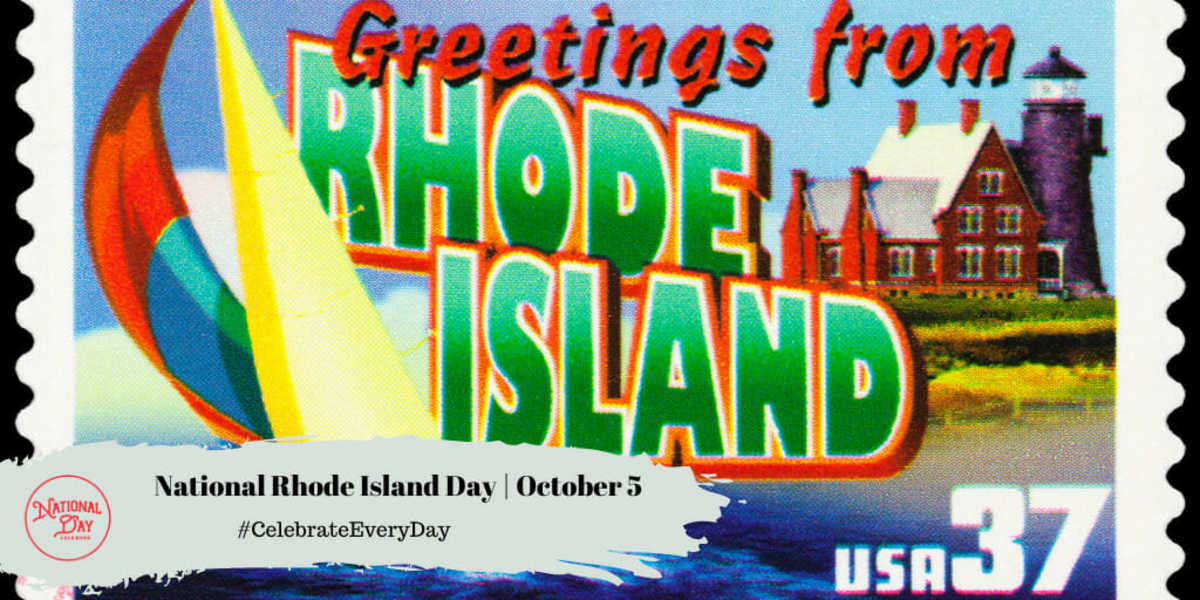 NATIONAL RHODE ISLAND DAY | OCTOBER 5
Wrapping up the original 13 colonies, National Rhode Island Day on October 5th recognizes the last colony to join the Union. The Ocean State joined the union on May 4, 1776.
#NationalRhodeIslandDay
Persecuted for his beliefs in Massachusetts, Roger Williams established the Rhode Island colony in 1636 at Providence seeking religious and political freedom.
While the colony was the first to renounce British rule, Rhode Island was the only state absent from the Constitutional Convention in Philadelphia in 1787. Rhode Island delayed signing the Constitution, preferring the addition of a bill of rights. It wasn't until the Constitution was ratified by nine previous states and the threat of taxation on her exports that Rhode Island finally ratified the document and became the 13th state.
The textile industry boomed in the mid-1800s after Samuel Slater founded the first textile mill in Pawtucket in 1790. Rhode Island made producing cloth into a lucrative national and export business.
Lawn tennis has been a long-held pastime by Rhode Islanders and is clearly part of the fabric of their history. The National Lawn Tennis Hall of Fame and Museum was founded in 1954 by Jimmy Van Alen at the Newport Casino. The location in Newport, Rhode Island held the first U.S. national championship for tennis in 1881.
Despite being the smallest state, the Ocean State jams over 400 miles of coastline in its 1212 square miles. With numerous public and private beaches, Rhode Island ocean views and adventure abound.
HOW TO OBSERVE NATIONAL RHODE ISLAND DAY
Join National Day Calendar as we recognize Rhode Island's industry, beauty, and history. Explore her shores and find out more about her people. There is much to see! Use #NationalRhodeIslandDay to share on social media.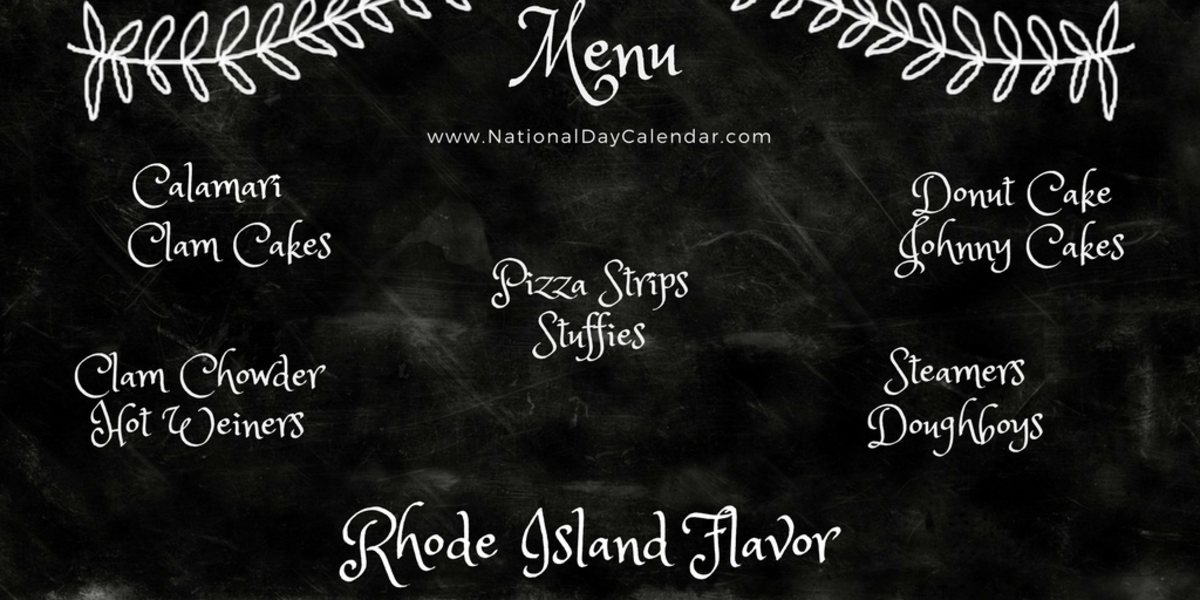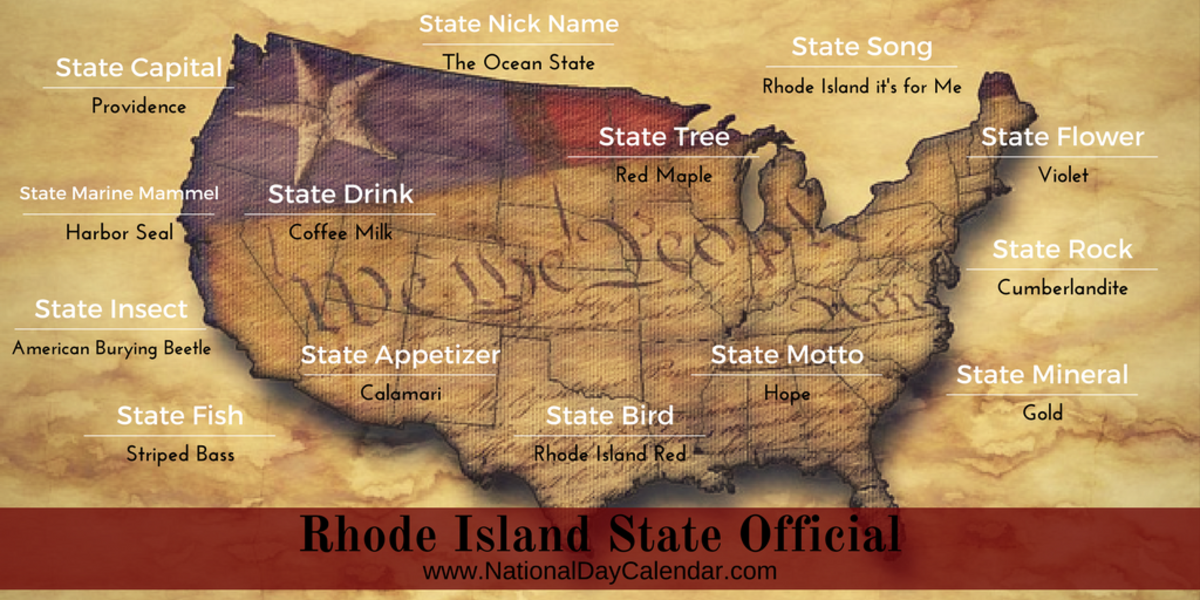 For a complete list of Rhode Island State and National Parks & Historic Sites visit www.riparks.com and www.nps.gov.  Check out a few of the featured sites around the state below. 
Blackstone River Valley
Roger Williams National Memorial
Goddard Memorial State Park – East Greenwich
Lincoln Woods State Park – Lincoln
Colt STate Park – Bristol
Pulaski State Park and Recreational Area – Chepachet
Fishermen's Memorial State Park – Narragansett
Beavertail State Park – Jamestown
Fort Wetherill – Jamestown
MUSEUMS
Providence Children's Museum – Providence
John Brown House – Providence
Museum of Work and Culture – Woonsocket
Naval War College Museum – Newport
Haffenreffer Museum of Anthropology – Providence
Slater Mill Historic Site – Pawtucket
National Museum of American Illustration – Newport
Herreshoff Marine Museum – Bristol
Tomaquag Indian Memorial Museum – Exeter
International Tennis Hall of Fame – Newport
Coggeshall Farm Museum – Coventry

Green Animals Topiary Garden – Portsmouth
Grave of Mercy Brown – Exeter
Belcourt Castle – Newport
Little Neck Cemetary – East Providence
The youngest of eight brigadier generals in the Continental Army, Nathanael Greene became General Washington's most reliable military leader during the Revolutionary War.
Noted businesswoman, Christiana Carteaux Bannister assisted runaway slaves alongside her husband while living in Massachusetts. When they returned to Providence, RI after the Civil War, Christiana continued her activism and entrepreneurship. For a woman born to slaves, her achievements were particularly noteworthy during this era.

Annie Smith Peck gained notoriety after becoming interested in mountain climbing and hiking first Mount Shasta in California then the Matterhorn in Switzerland. Smith continued her climbing pursuits until she was 82 years old.
The first Major League player to be intentionally walked with the bases loaded, Napoleon Lajoie posed a threat in the batter's box and on the field. As an all-around player, Lajoie's career began with the Philadelphia Phillies in 1896. During his career, he would play for four teams, but would primarily be remembered for winning the first Triple Crown in American League History with the Philadelphia Athletics.
His longest stint would be with the Cleveland Indians from 1902 to 1914 during which time he would also manage. Lajoie was inducted into the Baseball Hall of Fame in 1937.
H.P. Lovecraft's supernatural creatures wreaked terror on the pages of his of his horror stories.
The transcendentalist poet, Sarah Whitman wrote progressive poems about suffrage, women's rights and feminism. Whitman was also the unrequited love interest of Edgar Allen Poe.
Comic book writer, Don McGregor, brought a thrilling new series to the Marvel family through Black Panther. Interestingly, he started off as a proofreader who challenged the editorial staff for a better concept. The challenge was returned, leaving McGregor with the task of turning the project into a creative success.
The celebrity carpenter of This Old House and The New Yankee Workshop has been providing home improvement advice since 1979.