(Last Updated On: November 9, 2022)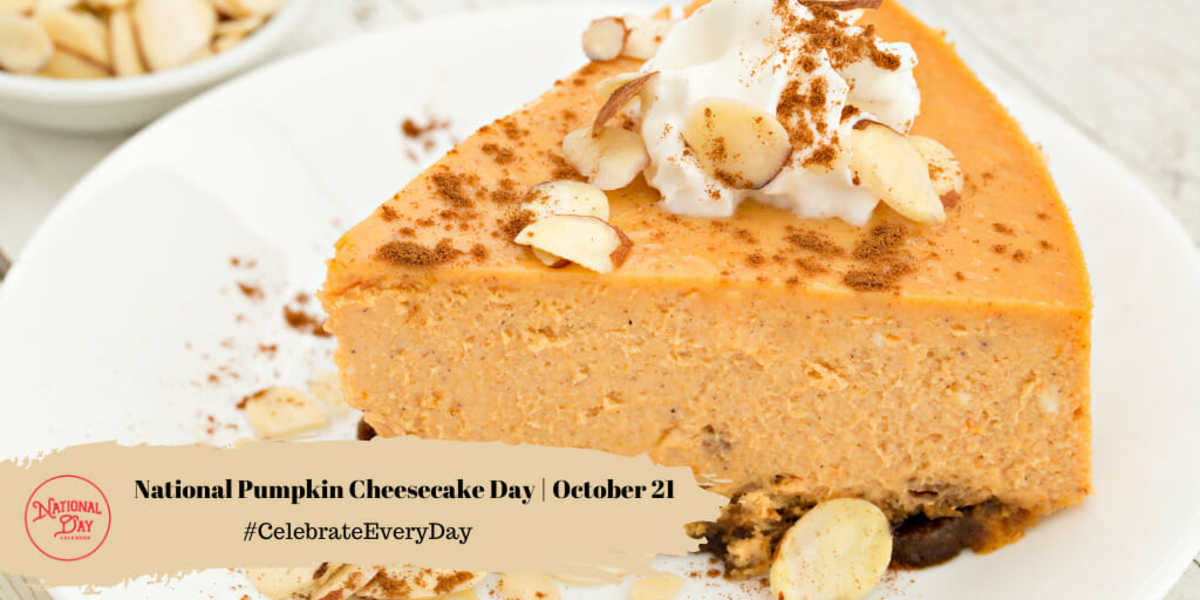 NATIONAL PUMPKIN CHEESECAKE DAY
Each year on October 21st, National Pumpkin Cheesecake Day ushers in the flavors of fall. Cheesecake is one of America's favorite desserts and by adding pumpkin, we celebrate the essential flavoring of the season. 
#PumpkinCheesecakeDay
This sweet dessert mixes fresh soft cheese, cream cheese or cottage cheese, eggs, and sugar to create a base. The crust is made from crushed graham crackers, crushed cookies, pastry, or sponge cake. Pumpkin may be added to cheesecake recipes in various ways. For example, it may be swirled throughout, mixed thoroughly with all ingredients, or layered. Bakers prepare cheesecakes both baked or unbaked. Some bakers flavor cheesecakes and top them with fruit, fruit sauce, chocolate, or whipped cream.

An ancient form of cheesecake may have been a popular dish in ancient Greece. The earliest attested mention of cheesecake is by the Greek physician, Aegimus. He wrote a book on the art of making cheesecakes.
James Kraft developed a form of pasteurized cream cheese in 1912. In 1928, Kraft acquired the Philadelphia trademark and marketed pasteurized Philadelphia Cream Cheese. 
North America has several different styles of cheesecakes:
New York-style cheesecake

Pennsylvania Dutch-style cheesecake

Philadelphia-style

Farmer cheese cheesecake

Country-style cheesecake

Lactose-free cheesecake

Cheesecake Kludys

Chicago Style Cheesecake

Savory cheesecake
HOW TO OBSERVE PUMPKIN CHEESECAKE DAY
Try one of the following recipes to celebrate:

Pumpkin Cheesecake Bars
Chocolate Pumpkin Cheesecake Bars
Caramel Pecan Pumpkin Cheesecake Bites
Pumpkin Cheesecake
Use #PumpkinCheesecakeDay to post on social media.
NATIONAL PUMPKIN CHEESECAKE DAY HISTORY
National Day Calendar® continues researching the origins of this sweet dessert. 
Pumpkin Cheesecake FAQ
Q. How many pumpkins does the United States produce?
A. Each year, the United States produces 1.5 billion pounds of pumpkins?
Q. Which state produces the most pumpkins?
A. Illinois produces more pumpkins than any other state.
Q. What is the world's largest pumpkin?
A. In 2021, Italian Stefano Cutrupi claimed the title of the world's largest pumpkin when his gargantuan gourd weighed in at 2703 pounds (1,226 kg).
Q. When is National Pumpkin Day?
A. National Pumpkin Day is on October 26th each year, just in time to carve a jack-o-lantern.
Q. How many calories are in pumpkin cheesecake?
A. A 4oz serving of pumpkin cheesecake contains approximately 320 calories.
Q. Is pumpkin spice used to make pumpkin cheesecake?
A. Yes. Pumpkin spice adds flavor to pumpkin cheesecake.
October 21st Celebrated History
1879 
In his Menlo Park, NJ laboratory, Thomas Edison demonstrates the first lasting electric lightbulb. After 1,200 unsuccessful experiments that did not hold up or were short-lived, led Edison to a bulb that burned 40 hours. By the end of the year, Edison would demonstrate the durable bulb to the public.
1940 
Ernest Hemmingway publishes the novel For Whom the Bell Tolls. Considered one of the best war novels ever written, the story follows a young American soldier attached to a guerilla unit during the Spanish Civil War.
1963 
The Trimline phone designed by Henry Dreyfuss was installed in a home for the first time. The phone's design offered a freedom that hadn't been possible on previous phones, though the phone was still corded. With the dial on the handset instead of the base unit, users could dial and disconnect without being near the base unit.
2014 
Trevor Hunt carved 109 pumpkins in one hour, setting a world record. The record-breaking display took place during the filming of The Meredith Vieira Show in New York City.
October 21st Celebrated Birthdays
Alfred Nobel – 1833
The Swedish chemist and engineer invented dynamite using nitroglycerine. Upon his death, Nobel's will instructed that a bulk of his massive fortune be used to recognize those who "…conferred the greatest benefit to humankind." Today, the world regards the Nobel Prize as the pinnacle of achievement.
Mary Blair – 1911
The American artist and animator's influences and style can be seen in Disney films such as Alice in Wonderland, Peter Pan, and Cinderella.
William A. Mitchell – 1911
As a food chemist, Mitchell developed some of the most iconic convenience foods and snacks we enjoy today. Pop Rocks candy began as an idea for an instantly self-carbonating drink mix. Every Pie Day, millions of Americans celebrate with a dollop of Cool Whip. Yep. He made that, too. His products have even been to space. Tang anyone?
Samuel W. Alderson – 1914
The physicist and engineer developed the first crash-test dummy designed for automobiles. As more people hit the roads after the advent of the automobile, the country came to realize the need for safety measures. In 1966, Congress passed the National Traffic and Motor Vehicle Safety Act which defined safety standards on vehicles, highway design, and more. Enter Samuel Alderson. Before creating crash-test dummies for the automotive industry (aka anthropomorphic test devices), Alderson developed them for the U.S. military and NASA.
Dizzy Gillespie – 1917
The daring jazz trumpeter, composer, and bandleader was one of the pioneers of bebop. He's known for his sense of humor, puffed cheeks, and playing a bent trumpet. Some of his notable songs include "Ooh-Shoo-Be-Doo-Bee," "Blue 'N' Boogie," and "Salt Peanuts." In 1995, Gillespie was inducted into the Grammy Hall of Fame.
Ursula LeGuin – 1929
The prolific science fiction author is the author of the Earthsea series which follows a young wizard named Ged Sparrowhawk and his adventures at a wizarding school. Publishing began on the 6 book series in 1968 with A Wizard of Earthsea.
Judith Sheindlin – 1942
The former Manhattan family court judge began presiding on the reality television show Judge Judy in 1996. For 25 seasons, she listened to the stories provided by the defendant and the plaintiff, espoused her wisdom, and made rulings.
Ronald McNair – 1950
In 1978, the physicist joined NASA as one of three men selected as the first African American astronaut. His first space flight was aboard the space shuttle Challenger mission STS-41B on February 3, 1984. His next mission aboard Challenger was STS-51L. Due to O-ring issues, the shuttle exploded 73 seconds after launch killing all 7 astronauts on board.
Carrie Fisher – 1956
The actress exploded onto the big screen in 1977 as Leigh in the Star Wars series. Her career spanned 47 years and continues to influence movie-goes today.