(Last Updated On: January 18, 2023)
NATIONAL PIE DAY
National Pie Day on January 23rd celebrates one of the Nations' favorite desserts. No matter how you slice it, pie in just about any form makes a crowd happy. Fruit pies, berry pies, cream pies – they are mouthwatering servings of homemade goodness. 
#NationalPieDay
Each week we offer a new poll of a popular National Day… National Pie Day poll results are in!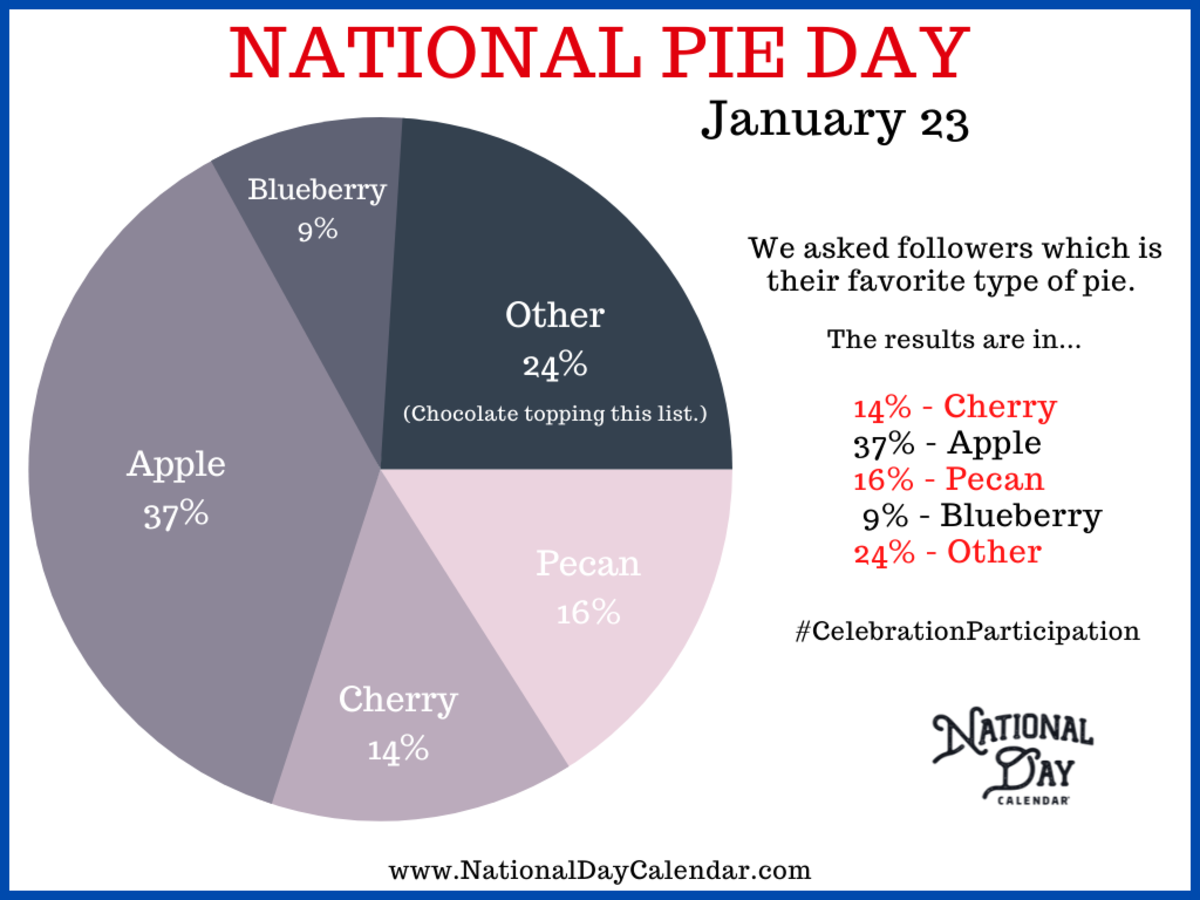 National Pie Day simply celebrates the pie. Everyone is invited to bake their favorite pie, but more importantly, the day reminds us to enjoy eating pies! The only other question to ask is, will it be al a mode?
Did you know, the first pies appeared around 9500 BC in the Egyptian Neolithic period or New Stone Age? So, humans have been eating pies for a very long time. And with so many to choose from, we shouldn't have any problem finding one we like. After all, we celebrate the day twice a year (plus their cousin National Pi Day). 
Click play and enjoy a story about National Pie Day featuring our founder, Marlo Anderson. If you enjoy the 2-minute show, subscribe with your favorite podcast player.
Fun Tidbit – Pie throwing:
Cream-filled or topped pies are favorite props for humor. Throwing a pie in a person's face has been a staple of film comedy since Ben Turpin received one in Mr. Flip in 1909.
HOW TO OBSERVE NATIONAL PIE  DAY
Check out our Celebration Deals page for the latest National Pie Day offers. If you know of a tasty Pie Day offer that isn't listed yet, Contact Us and let us know! We will get it listed as soon as possible. We don't want you to miss out on a delicious slice.
The day also offers a perfect opportunity to give a shout-out to your favorite bakery. They always serve up the best and flakiest crusts. And we know, sometimes that bakery is known as Grandma's House. Use the holiday to honor her by learning to bake her best recipes. Take a lesson or two from the master! Or try a new recipe together.
No matter how you celebrate, be sure to use #NationalPieDay to post on social media.
NATIONAL PIE DAY HISTORY
The American Pie Council created National Pie Day in 1986 to commemorate Crisco's 75th anniversary of "serving foods to families everywhere."
Pie FAQ
Q. Can cake people celebrate National Pie Day, too?
A. Yes. Have your cake and eat your pie, too.
Q. Why are pies round?
A. There are a few reasons why pies are round. First, when forming the dough and rolling it out, a circle is a more natural result of this process. Also, the dough used to be wrapped around the ingredients much like hand pies are still made today. A round shape bakes more evenly, too. Now, if a pie was squared, mathematically there'd be more pie.
Q. Does National Pie Day only celebrate dessert pies?
A. No. The day celebrates all kinds of pies. So, you can have one for any meal of the day and dessert, too!
January 23rd Celebrated (and Not So Celebrated) History
1849
Elizabeth Blackwell receives her medical degree from Geneva Medical College becoming the first woman to earn a medical degree. Blackwell would serve as a mentor for many women seeking admittance into the medical field.
1907
Kansas elects the first Native American Senator. During his career as a politician, Charles Curtis would serve as the Senate Majority Leader, support the 19th Amendment and become the first Native American Vice President when Herbert Hoover won the election in 1928.
1930
After discovering the ninth planet, Clyde Tombaugh photographs Pluto. The 24-year-old was assigned the systematic task of searching the galaxy for the planet after predictions by other astronomers. Tombaugh made his discovery at Lowell Observatory in Flagstaff, Arizona. Pluto has since been demoted to a dwarf planet.
1943
The talented jazz star, Duke Ellington makes his Carnegie Hall debut. Ellington premiered Black, Brown, and Beige that night and would make it a tradition to debut a new song each year at his Carnegie Hall concerts.
1973
President Richard Nixon addresses the nation to announce that a Vietnam peace agreement had been reached in Paris.
1986
The Rock and Roll Hall of Fame in Cleveland, Ohio, inducts its first ten members: Chuck Berry, James Brown, Ray Charles, Sam Cooke, Fats Domino, The Everly Brothers, Buddy Holly, Jerry Lee Lewis, Little Richard, and Elvis Presley.
January 23rd Celebrated (and Not So Celebrated) Birthdays
John Hancock – 1737
The American patriot served as the president of the Second Continental Congress. He was also the first signer of the Declaration of Independence, his large signature leading to terrific if untrue, tales.
Edouard Manet – 1832
The artist was a French modernist, impressionist painter. Some of his notable works include, "The Balcony," "The barque of Dante," and "Lola de Valence."
John Browning – 1855
Instrumental to the American gun industry for fifty years, Browning developed many of the basic designs still used today.
Cordelia Knott – 1890
In the 1920s, Knott along with her husband opened a roadside fruit stand in California. Their entrepreneurial spirit would expand to include an amusement park known today as Knott's Berry Farm.
William Arthur Lewis – 1915
The 1979 Nobel Prize-winner pioneered the field of Development Economics. He was also Princeton University's first black full professor, serving twenty years.
Gertrude Belle Elion – 1918
The Nobel Prize-winning scientist began her career as a lab assistant. Throughout her career, Elion's innovative work would impact the treatment of a wide spectrum of diseases including leukemia, malaria, and AIDS.
Ed Roberts – 1939
Roberts was a pioneering activist of the disabilities rights movement. In 1955 at the age of 14, polio paralyzed him. After graduating high school in 1959, he pursued a degree in political science from the University of California Berkeley. In fact, he was the first student to attend the school who used a wheelchair. During his career with the California Department of Rehabilitation, Roberts earned the nickname "Godfather of Independent Living."