(Last Updated On: November 8, 2022)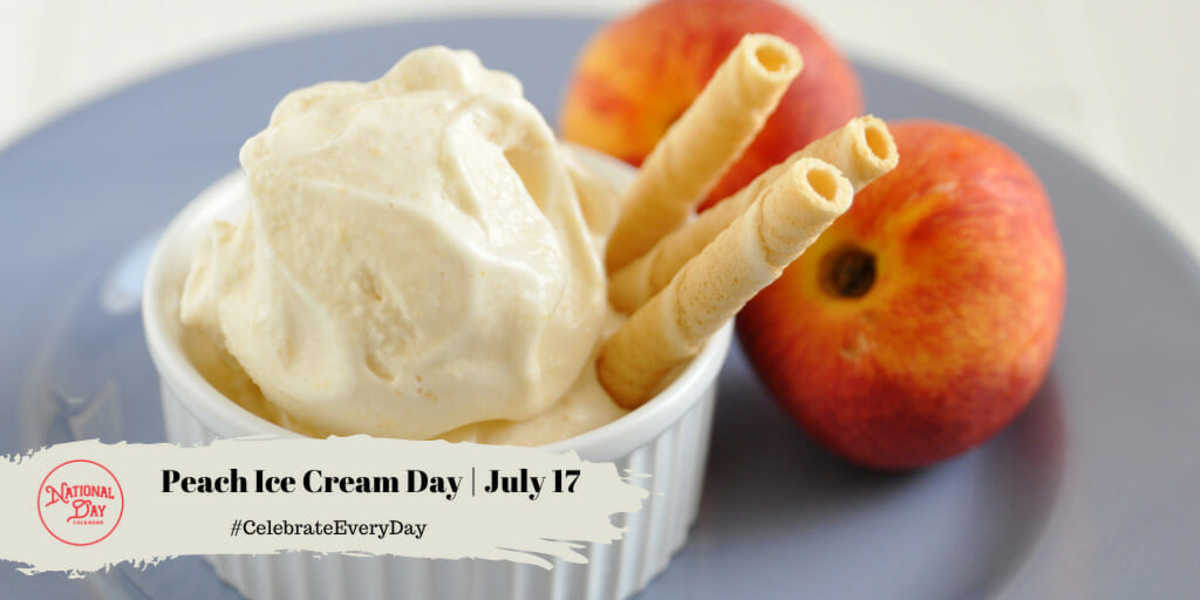 NATIONAL PEACH ICE CREAM DAY | JULY 17
National Peach Ice Cream Day on July 17th sweetens the day with a few scoops at the peak of peach season. 
#PeachIceCreamDay
Since peaches begin peaking in July, this celebration comes just in time. It also lands right in the middle of National Ice Cream Month. So, it's an excellent time to add peach ice cream to the growing list of flavors to choose from when it comes to frozen, creamy treats. 
Generally speaking, there are two types of peaches – freestone and clingstone. The difference has to do with how the flesh comes away from the stone or the pit in the middle of the peach. When the meat comes away freely from the stone, the peach is a freestone peach; if the flesh clings to it, it's a clingstone.
While Georgia may be the first state to come to mind when we think of peaches, California actually leads the nation in production. In the United States, 20 states produce peaches commercially. Besides California and Georgia, the other two top producers are South Carolina and New Jersey. Pennsylvania and Washington grow a lot of peaches, too.
This sweet stone fruit makes delicious ice cream when it's very ripe and full of peachy juices. However, you don't have to use fresh peaches to make this ice cream. Buy frozen peaches if the grocery or farmer's markets don't have them in yet. The family will love making homemade ice cream together. The best part will be eating up the finished product on a hot summer day. 
HOW TO OBSERVE NATIONAL PEACH ICE CREAM DAY
Grab your ice cream maker and invite your friends and neighbors over for an old-fashioned ice cream social! Give this homemade peach ice cream recipe a try. If you need tips for picking fresh peaches visit Frog Hollow for an easy guide to the best peaches. 
You can also visit an ice cream parlor and order a dish or cone. Don't hesitate to add sprinkles or some pecans.
Share your own on social media using #PeachIceCreamDay.

NATIONAL PEACH ICE CREAM DAY HISTORY
The origin of Peach Ice Cream Day is currently unknown.
July 17th Celebrated History
1902
Engineer and inventor, Willis Carrier designs the first modern air conditioner.
1938
Pilot Douglas Corrigan departs from Brooklyn, New York in his Curtiss Robin aircraft. His destination was home to California, but he somehow ended up in Ireland.
1955
Disneyland opens in Anaheim, California.
1962
The House of Representatives convenes a special subcommittee of the House Committee on Science and Astronautics. Two of the Mercury Thirteen (women who passed two of the three testing phases created by Dr. William Lovelace) appeared before the committee to testify regarding gender discrimination. Jerrie Cobb and Janey Hart presented their cases to the committee in the hopes of being permitted to join the space program and continue into phase three with NASA. Jackie Cochran, who had sponsored the privately funded phase one and two testings, also testified. However, her testimony, along with others, suggested the women were not qualified for the Mercury program.
July 17th Celebrated  Birthdays
Phyliss Diller – 1917
The American comedic legend was one of the first women to launch a stand-up career. She brought audiences to laughter and tears with her bold and witty one-liners in the 50s, 60s and 70s.
Nils Bohlin – 1920
In 1962, the Swedish engineer received a U.S. patent for his invention of the three-point seat belt.
Toni Stone – 1921
Toni Stone became the first woman to play professional baseball when she was signed to the Negro American League's Indianapolis Clowns in 1953. For the Clowns, she played second base and maintained a respectable .243 batting average. In 1991, Stone was inducted into the Women's Sports Hall of Fame.
Diahann Carroll – 1935
In 1962, the American actress and singer of stage and screen won a Tony Award for her role in the musical No Strings. Carroll became known for her roles in the films Carmen Jones and Porgy and Bess as well as several television shows including the drama Julia.