(Last Updated On: March 28, 2023)
NATIONAL NEW YORK DAY | SEPTEMBER 21
As we continue our tour of the states, September 21st brings us to National New York Day, honoring the Empire State.
#NationalNewYorkDay
People & Places
The Lenape people populated the land now known as New York. They're also known as the Delaware Indians. Their settlements also spread across New Jersey, Pennsylvania, and parts of Delaware and Connecticut. However, the Dutch were the first Europeans to settle the area and named it New Netherland.
Settlements and trading posts developed up and down the Hudson River. Albany, the state capital, was once called Beverwijck and the center of the fur trade. In 1624, the Dutch established a settlement on Nutten Island named New Amsterdam. Two years later, they would move to Manhattan Island, and the colony flourished.
Over time, the settlement exchanged hands between the Dutch and British several times, each without bloodshed. The first exchange, in 1664, would name it New York.
Independence & Influence
After declaring independence, the colonies later created the Articles of Confederation. Soon they discovered a stronger governing document was needed.
While New York sent three delegates to the Constitutional Convention in 1787, only Alexander Hamilton remained to sign the final document. A Federalist, Hamilton held strong opinions that could potentially influence the framing of the young nation's new governing document. For one, Hamilton supported a life term of service for the President.
From the timeless halls of Ellis Island to the epic beauty of Niagara Falls and breathtaking Adirondacks, New York is infused with grand vistas and endless historical paths to retrace. With New York City as the epitome of a melting pot long before the term was coined, the state is full of inspiration for artists, sparks intelligent debate and philosophical discussion.
HOW TO OBSERVE NATIONAL NEW YORK DAY
Join National Day Calendar as we celebrate National New York Day and the state's impressive spaces, historic places, and iconic personalities. Explore all New York has to offer! Use #NationalNewYorkDay to share on social media.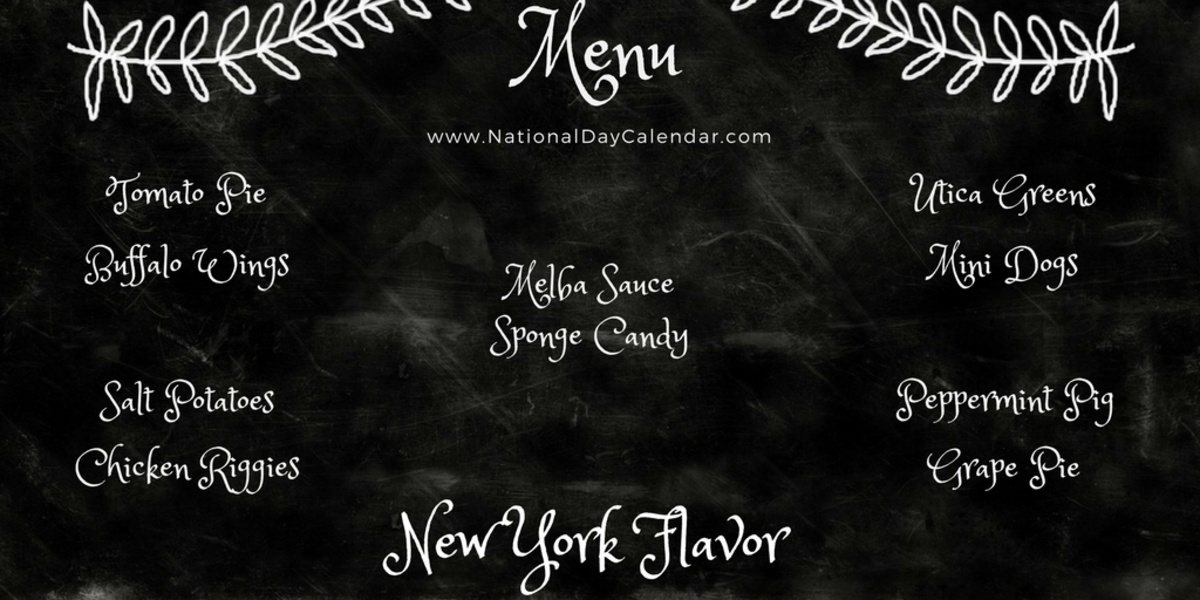 NEW YORK FLAVOR
Nailing down New York food is like trying to see all the important sites in one long weekend. It's just not possible. So, we'll just name a few and you'll just have to graze your way through the state tasting the rest.
Wings
Now we all enjoy a good buffalo wing at a tailgate or any party for that matter. But authentic buffalo wings come from Buffalo, New York.
Peppermint Pig
Out of Saratoga Springs, the Saratoga Sweets Candy Company makes a holiday favorite called the Peppermint Pig. The pink confection brings with it 100 plus years of tradition at Christmastime.
Tomato Pie
A slice of tomato pie hits the spot when hunger hits with the right amount of cheese, sauce and crust. But according to some, you can't get a good tomato pie in any state but New York.
Waldorf Salad
For a fresh crisp twist, Waldorf Salad with apples and walnuts has been around for more than a century. Created at the Waldorf-Astoria hotel, this salad has several versions today but is a classic!
Etc…
One other historic New York City restaurant's chefs are responsible for some pretty famous household recipes – Eggs Benedict, Lobster Newburgh and Baked Alaska – Delmonico's.
From here, you're on your own. Taste your way through the flavors of New York with pleasure!
Bannerman's Castle – BeaconBannerman's Castle – Beacon
Old Dutch Church at Sleepy Hollow – Sleepy Hollow
Buffalo Central Terminal – Buffalo
Abandoned Girl Scout Camp – Sodus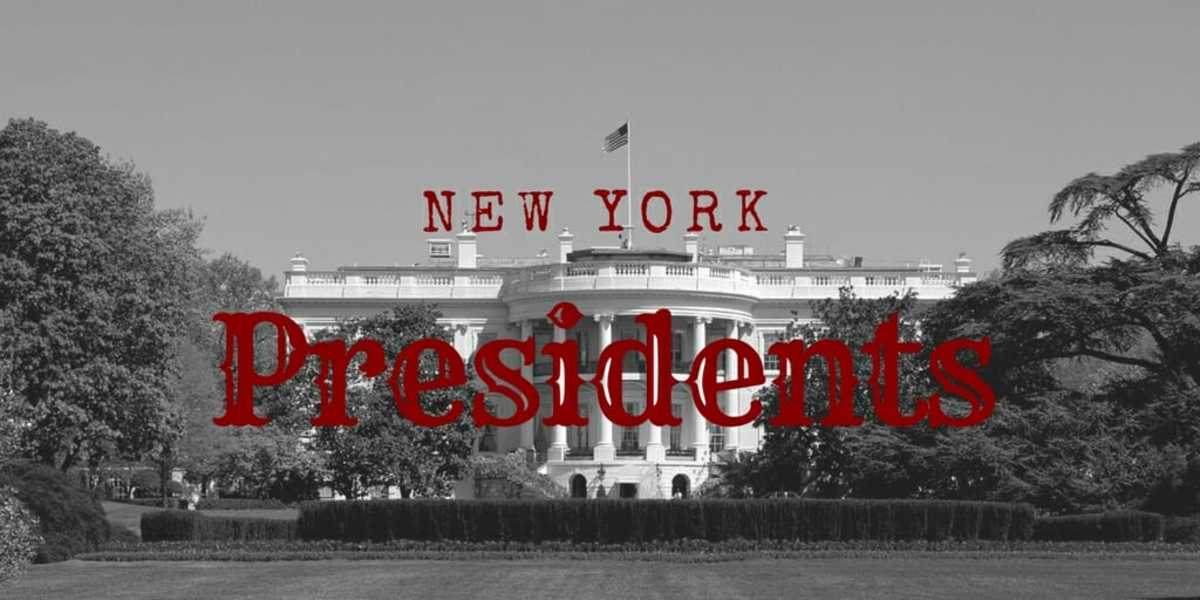 New York Presidents
As the founder of the Democratic Party, Martin Van Buren was the 8th President of the United States. He served one term and was the first President born in the U.S. free from British rule.
A member of the Whig Party and the last to be elected to the White House, Millard Fillmore was the 13th President of the United States. He served from 1850 to 1853, after the death of President Taylor.
The Nobel Peace Prize-winning Theodore Roosevelt served as the 26th and youngest President in United States history. He served from 1901 to 1909. Roosevelt assumed President McKinley's term after his assassination in 1901. As a veteran of the Spanish American War in the Rough Rider Regiment and his experiences on the frontier in the Dakota Territory matched his exciting persona.
As the 32nd President of the United States, Franklin Delano Roosevelt served four terms, more than any other U.S. President. He established sweeping social programs and led the country through World War II during his presidency.
Serving his first term as President of the United States in 2017, Donald Trump is the 45th Commander in Chief.
Notable People
Often given credit for the poem A Visit from St. Nicolas, Clement Clarke Moore was a poet, author and professor at General Theological Seminary of the Protestant Episcopal Church. Generations of families know the Christmastime poem A Visit from St. Nicolas by heart.
Norman Rockwell's art was known for depicting the life of the American Dream. The Saturday Evening Post often featured his paintings and illustrations.
The transcendentalist and prolific poet, Walt Whitman began his career as a printer and journalist. Author of Leaves of Grass, he published the volume of poems himself.
Before Rosa Parks, there was Elizabeth Jennings Graham. Born free in New York City, Graham led a life of activism and education. In 1854, Graham boarded a streetcar that did not allow African Americans. The trolly conductor allowed her to ride as long others didn't complain. Later, she refused to leave the streetcar and was forcibly removed. At the time, no laws governed segregation in New York. When her father brought a case on her behalf against the Third Avenue Railway Company, the court found in Elizabeth Jennings Graham's favor.
Eleanor Roosevelt exercised her role as First Lady unlike none before her. She was outspoken and active in politics, focusing on women's issues. After FDR's death, she served at the United Nations.
The talented artist, Louis Bouché, was born to a French designer.  Commissioned for numerous murals, his work can be seen at Eisenhower Presidential Museum, Robert F. Kennedy Department of Justice and Ellenville, New York Post Office to name a few.
Noted head coach of the Green Bay Packers, Vince Lombardi lead the team to five championships. In 1971, the NFL renamed the championship trophy in his honor to the "Vince Lombardi Super Bowl Trophy."