(Last Updated On: November 8, 2022)
In 2017, National Day Calendar
®

 

began celebrating each state in the order they entered the union starting the week of Independence Day and ending with Hawaii. We highlight a small part of each states' history, foods and the people who make up the state. Many states have their own state celebrations.  National Day Calendar's observances in no way replace them. There's so much more to explore; we can't help but celebrate our beautiful country even more!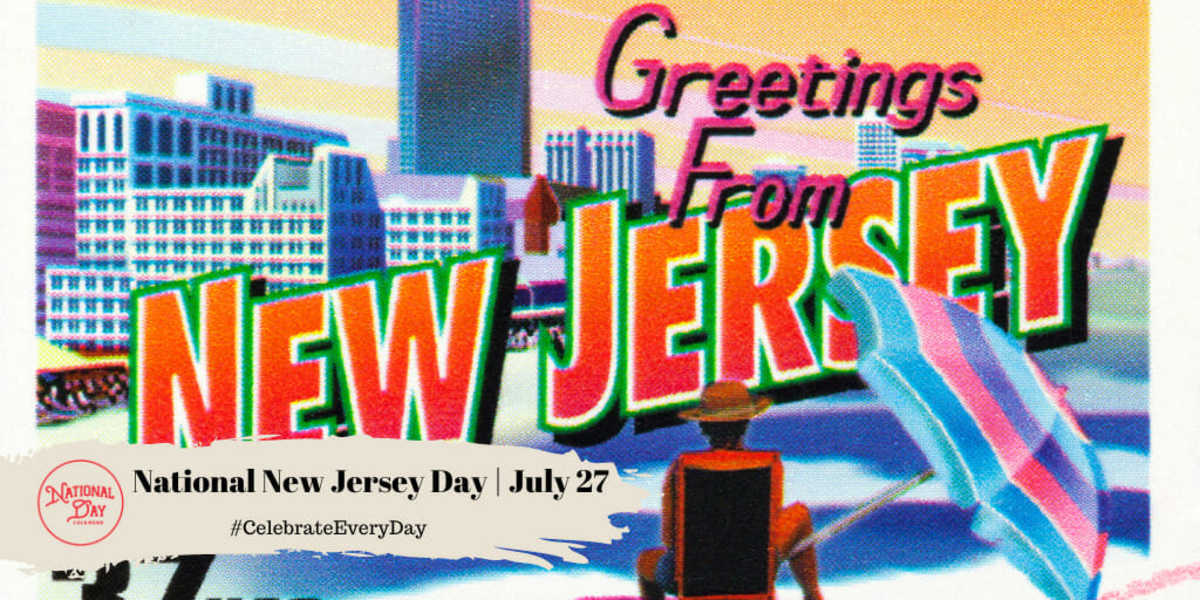 On July 27th, National New Jersey Day recognizes the third state to join the Union. Find out what's unique and captivating about the Garden State!
#NationalNewJerseyDay
Early History
When Giovanni Da Verrazzano first explored the shores of the Atlantic coast, he explored lands that included New Jersey. Da Verrazzano discovered diverse communities of people who were later called the Delaware Indians.
In 1660, the Dutch founded New Jersey's first European settlement, but in 1664 the British took control. At this time, the land was divided into half and named New Jersey after the Isle of Jersey in the English Channel.
Revolution
Leading up the American Revolution, the colony as a whole was equally divided in its loyalties to the crown. Colonists who remained undecided were just as likely to support the rebel cause as they were to support the king. The same applied to colonists in New Jersey.
Due to New Jersey's central location among the thirteen colonies, more battles during the Revolutionary War took place here than any other state.
While the state was the third to enter the union, New Jersey signed the Bill of Rights before any other state.
Industry and Innovation
During and after the war, New Jersey industry grew. Rapidly, innovation and technology took place in New Jersey. One well-known innovator found a home in Menlo Park. There, Thomas Edison nourished his ingenuity.
While industry and innovation grew, so did the state's population. Today New Jersey's population density thrives at the highest of any state in the United States.
While it may be an industrial powerhouse, its nickname the Garden State is precise. New Jersey supplies the world with cranberries, blueberries, and tomatoes.
New Jersey Flavor
While we thank New Jersey for a few delicious foods we can enjoy anywhere, the state produces a large number of dishes travel is a must.
During the summer months, enjoy the fresh blueberries from New Jersey. At the turn of the 20th century, the intuitive Elizabeth White helped domesticate the wild blueberries found along the Eastern seaboard. Today, blueberry production in New Jersey is a global business.
Pork roll is to New Jersey as carrots are to Bugs Bunny. The cured, smoked pork product creates debates between residents of the state. Trenton loves their pork roll so much, in fact, they hold an annual Pork Roll Festival. However, pork roll does exist west of the Delaware River.
Now, for most of these other dishes, come visit or pay for postage. Folks from New Jersey have a different idea about what a sloppy joe is. Tomato. To-mah-to. This one sounds delicious. Their version places slices of pastrami or corned beef (or both), coleslaw, Russian dressing, and swiss cheese layered between three slices of rye bread.
Also, New Jerseyan's make their pizza pie on the flip side. That is to say – they like their sauce on top. Its called tomato pie with seasoning crushed tomatoes on top of the other ingredients. Crust on the bottom, of course.
Lastly, saltwater taffy, sandy beaches, and long boardwalks of Atlantic City all go together. Both saltwater taffy and America's boardwalks got their start there.
HOW TO OBSERVE NATIONAL NEW JERSEY DAY
Join National Day Calendar in recognizing this unique and captivating state on National New Jersey Day.  Use #NationalNewJerseyDay to share on social media.
Each week following the week of Independence Day 2017, National Day Calendar will be announcing a National Day in honor of each state in the order they entered the union. We start with Delaware on July 13 and will complete the celebrations with Hawaii on June 27, 2018, allowing for some time off for the holidays.
Mary Ludwig is one of many women who later earned a nickname Molly Pitcher.  During the Revolutionary War, it was common for women to follow their husbands, brothers, and sons into battle to provide meals and medical. One of their many duties would be to haul pitchers of water from rivers and streams to the men during combat.
During the battle of Monmouth in June of 1778, Mary carried water as she normally would, but when her husband turned up wounded, she stepped in as his replacement. Joseph Martin Plumb witnessed her actions and recorded his observations. His eyewitness account included seeing an enemy cannon shot pass between Mary's legs, tearing her petticoat and leaving Mary unscathed. Mary returned to the cannon and began readying it to fire.
Will the real Molly Pitcher stand up?  She is likely every woman who followed a loved one into battle, who picked up arms to stave off the enemy.  The few records of those who earned the name allow the honor to be placed on these women.
Aaron Burr's infamous political career created quite the stir in the 19th century.
The 12th Amendment exists as a direct result of Burr's 1800 vice presidential run with Thomas Jefferson. The vice presidential candidate was never intended to receive any number of votes close to the presidential candidate.  However, in 1800, Jefferson and Burr received 73 electoral votes each.  Along with a previous contentious relationship with Alexander Hamilton and exerting his intention to be president, Burr threw the election into question.
In the end, the House of Representatives named Jefferson president and Burr vice president. Burr would blame the opinions expressed by Hamilton. Congress soon set in motion the 12 Amendment which changed how electoral votes are counted for president and vice president.
Burr's next big election ended in defeat, and he blamed Hamilton for the outcome.  Challenging Hamilton to a duel, Burr and Hamilton took up arms in Weehawken, New Jersey on July 11 that resulted in Hamilton's death.  Burr was later charged and acquitted, and his career never recovered.
Grover Cleveland first served as president in 1885. Serving as the 22nd and the 24th President of the United States, Cleveland terms as president were highlight by several points of interest.
He is the only president to serve two nonconsecutive terms. Benjamin Harrison served as the 23rd president.
During his first term, he became the first and only president to marry in the White House. It raised quite a stir, too. His bride, Frances Folsom, became the youngest first lady at the age of 21.
Cleveland comes in second place for the number of vetos cast. During his tenure, he used his veto power 584 times.
His social agendas were mixed. From the southern issues to immigration and suffrage, Cleveland often stood with his party but also changed his stance depending on the climate of the time.
Starting with their German born patriarch, John Augustus Roebling, the family's successful wire and cable business carried three generations through history and left quite an imprint on America.
The Roebling family moved to Trenton in 1848 where his third son, Charles, was born.
Headquartered in Trenton, Roebling's Sons Company designed, engineered or built several of the iconic suspension bridges around the world. Their cables made it possible for many of the technological advances of the time. Elevators, telephones and underwater cable are just a few of the achievements their company contributed to making possible.
All his sons played a role in the business. Washington served as a long time vice president of the company and Chief Engineer of the construction of the Brooklyn Bridge after the death of his father. His wife Emily became indispensable due to illness as a result of the work he did on the caissons.
Ferdinand served as president and as a savvy financial wizard grew the company. His sons followed in his footsteps as presidents of the business.
Charles's excelled in the engineering arena like his father. He managed the company's manufacturing operations. Charles' grandson served as president for nearly a decade in the 1940s and 1950s.
Dubbed the Blueberry Queen, Elizabeth Coleman White combined her observations of blueberries in Whitesbog, NJ with the research of Dr. Frederick V. Coville and helped make the domestication of wild blueberries possible. Her efforts led to the founding of the Blueberry Growers Cooperative Association. White was also integral in the operation of her family's cranberry farm, too.
William Carlos Williams began writing poetry while attending Horace Mann High School in New York. He became both a medical doctor and a prolific writer of poetry, prose and essays about American life.
In his lifetime, Williams earned a Bollingen Prize, an American Academy of Arts and Letters Gold Medal for Poetry and National Book Award for Poetry. In 1952 he was named the United States Poet Laureate. Posthumously he earned the Pulitzer Prize for Poetry.
The iconic voice of big band era crooned his way to stardom in the 1940s and 50s. With nicknames like The Sultan of Swoon, The Voice, Ol' Blue Eyes and The Chairman of the Board, Sinatra's career spanned five decades.
The four-star army general who led the Allied Forces to victory during the first Persian Gulf War, Norman Schwarzkopf was born in Trenton, New Jersey to H.Norman and Ruth Alice (Bowman) Schwarzkopf. His father served in both World War I and II and achieved the rank of Major General.
As an Army brat, Schwarzkopf followed his father around the world. He attended Valley Forge Military Academy and graduated West Point.
The highly decorated Schwarzkopf (also known as Stormin' Norman due to his reported temper) would earn the rank of general in the late 1970s after serving in Vietnam. During the Persian Gulf War, his leadership of the coalition forces led to a swift resolution of the war.
Born Judith Sussman, Judy Blume published her first book in 1969 after years of rejections. The illustrated children's book, The One in the Middle is a Green Kangaroo was followed by a string of novels for young readers. She had gone on to win a long list of awards for fiction for young adults and young readers.
Blume's books illustrate the daily strife and angst growing up often entails.  Sometimes those subject lines dabble in the controversial.  As a result, Blume has found her novels on lists for censorship despite their popularity. However, her popularity has not waned. Her books remain in print in nearly three dozen languages around the world.
Born John Francis Bongiovi Jr, the musician and founder of the rock band Bon Jovi knew early in his young life he wanted to be a rock star.
He's achieved more than that. Bon Jovi's first album went gold. The band earned both commercial and critical success over the years. Jon branched out to acting both on the silver screen and television. The band has reunited and continues to tour today.
Born Dana Owens in Newark, New Jersey, the talented Queen Latifah hails as Hip-Hops First Lady.
Her long list of credits includes numerous acting and musical awards. For her 2002 role in Chicago as Matron "Mama" Morton, she was the first female hip-hop artist nominated for an Academy Award.
Queen Latifah takes on her next role as executive producer on the set of MTV's Scream for the 2018 season.
Shaquille O'Neal was a first round overall pick out of Louisiana State University. The 7-foot 1-inch center went to the Orlando Magic. Over his 19 year career, he earned 4 NBA championships across 6 teams.
After retirement, O'Neal provides postgame analysis for NBA on TNT as well as other television endeavors. O'Neal also pursues his musical career, endorsements, and other business ventures.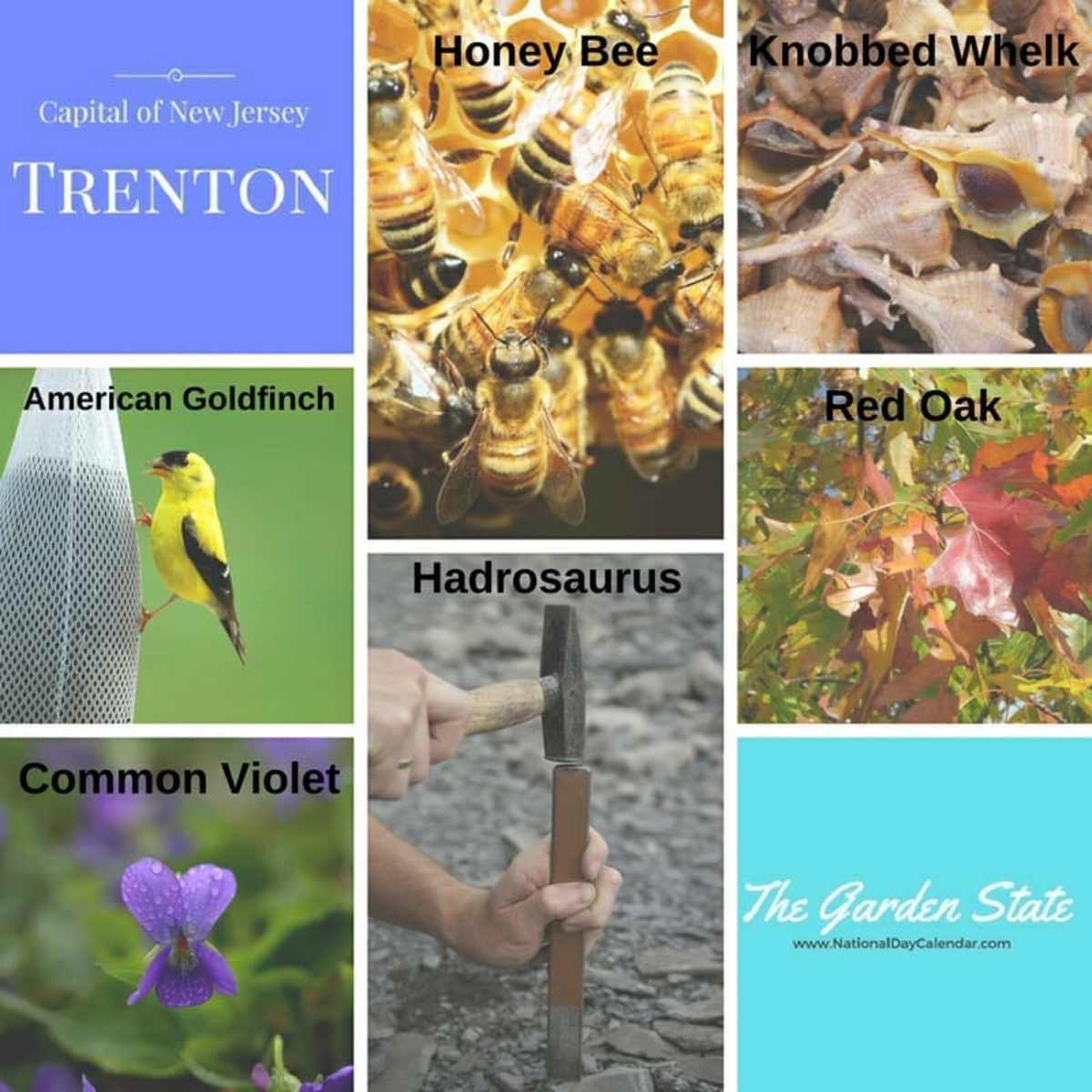 The Hindenburg Crash Site – Lakehurst
War of the Worlds Crash Site – West Windsor Township
Paranormal Museum – Ashbury Park
Diggerland USA – West Berlin
Navesink Twin Lights – Highlands
Basto Village – Egg Harbor City
Northlandz – Flemington
Amatol Ghost Town – Hammonton
Princeton Cemetery – Princeton