(Last Updated On: December 21, 2022)
NATIONAL NAIL POLISH DAY | JUNE 1
On June 1st each year, National Nail Polish Day primes us with every shade under the sun. Sandals and beaches mean manicures and pedicures, too.
#NationalNailPolishDay
From the French manicure to elaborate nail art, nail polish has come a long way since the bees' wax and gum Arabic used by the Chinese around 3,000 B.C. Egyptians in high societies used reddish brown henna to paint their nails. Through the years, nail polish has gone through several transformations. Around the nineteenth century, people began polishing their nails with tinted powders and pastes. They also buffed their fingernails to make them shiny.
Who invented nail polish?
Northam Warren invented in 1911. As known chemist, Warren first developed a liquid to remove dead cuticles without having to cut or scrape them. By 1916, he his invention led to the creation of a colorless nail polish. However, in 1920 a makeup artist by the name of Michelle Menard developed brush-on varnishes that had the same properties as automobile paint. The improvements Menard's formula were especially popular with flappers throughout the 1920s.
In 1932, Menard began her own cosmetic company, selling nail polish in a variety of colors. The company sold this new and improved type of nail polish at drugstores and department stores throughout the country. Since then, millions of women have painted their nails on a regular basis.
Not So Secret Facts
Why do people polish their nails?
People polish their nails because it makes their hands look more attractive. Painting your nails also protects them for breakage. Others paint their names to enjoy the relaxation that accompanies getting their nails done. With so many colors to choose from, nail polish is also a marvelous way to accessorize or accentuate an outfit.
Do nail polish colors signify different events?
Some people choose to wear a certain color of nail polish to match the season or their mood. And, there is also a shade or hue for every occasion. Vibrant reds, turquoises, and plums make summer nails shine during beach parties and weekend barbecues. The understated style of pale pinks and beiges, or a subtle moss, help women look workweek chic. For those elegant evenings, or just to make a statement, nail polish adds gold, silver and sparkle to even the most economic wardrobe.
While certain nail polish colors come and go, there are those that will never go out of style. For the last several years, the following nail polish colors have stood the test of time:
Jet black
Cherry red
Cool blue
Light lavender
Fine wine
Pure white
Chocolate brown
Iridescent rainbow
Nearly neon orange
Blackberry
Timeline Tidbits
Did you know?
In 1934, nail polish was often referred to as lacquer and cost 35 cents a bottle. Today, a bottle of nail polish costs anywhere from $2 to $25. The most expensive nail polish in the world costs $250,000. This nail polish is made with black diamonds. As opposed to only having three shades of red to choose from in the past, some companies make over 300 hundred different colors of nail polish. An opened bottle of nail polish only lasts a couple of years. To maximize its shelf life, you should store your nail polish in a dry space at room temperature.
What are some unconventional uses for nail polish?
Like most products, there are some unconventional uses for nail polish. For example, nail polish can be used to keep costume jewelry looking like new. Many people use it to stop a run or snag in your nylon stockings. Around the office, nail polish can be used to seal envelopes and color code your keyboard. At home, clear nail polish is used to threading a needle, stop a small tear in curtains and fill holes where pictures used to hang.
CELEBRATE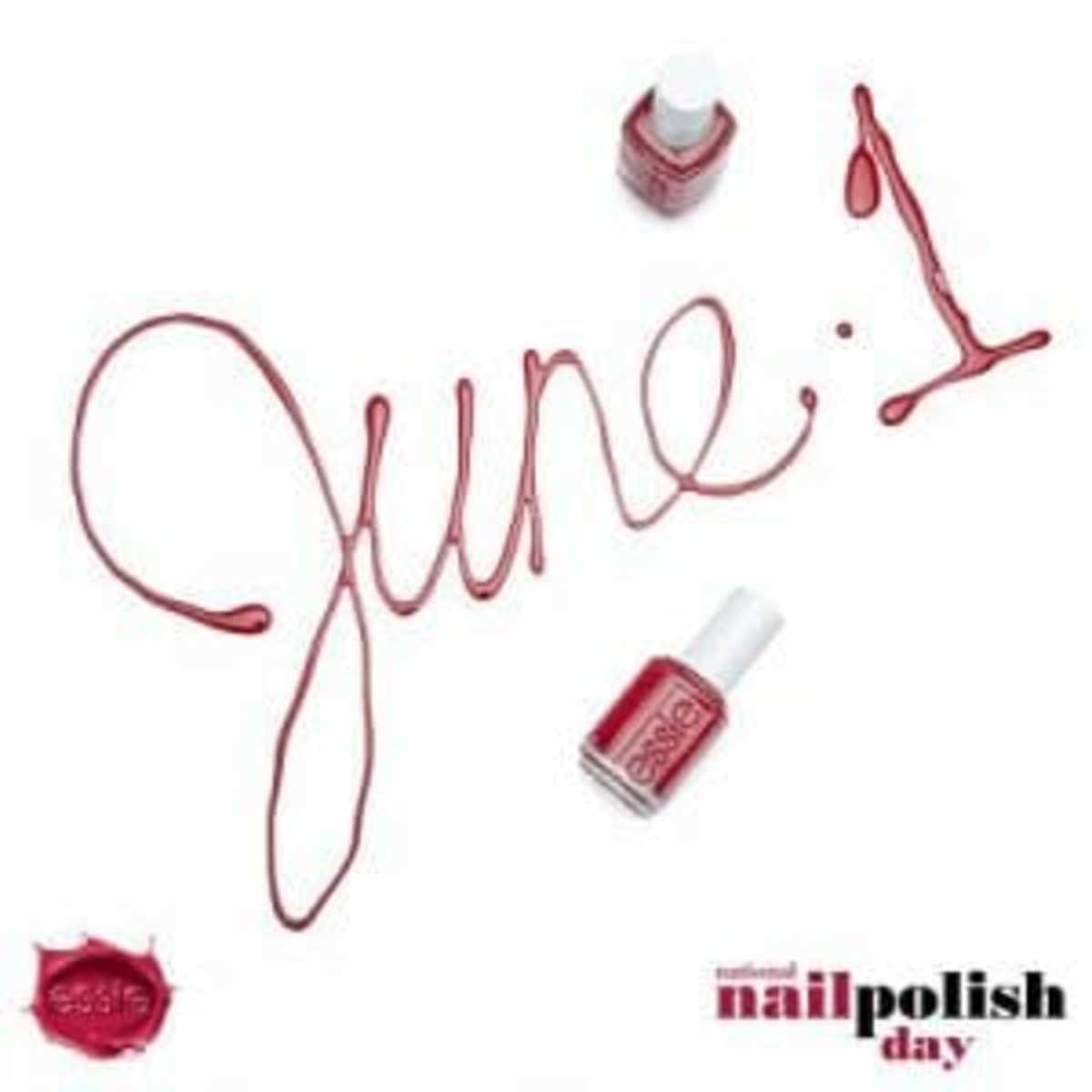 Join essie in celebrating the universal love of nail polish on National Nail Polish Day by sharing your manicures, favorite shades and personal #essielove story. Use #NationalNailPolishDay to share on social media.
HISTORY OF NATIONAL NAIL POLISH DAY
essie founded National Nail Polish Day on June 1st to celebrate the beginning of the nail-care season when everyone will be showing off their freshly painted nails! essie is the nail polish authority both at salons and in mass retailers.
About essie
The USA's nail salon expert since 1981, essie aims to inspire a love for the manicure experience. They do it with a wit and style that touches the hearts of women everywhere. essie is the go-to nail brand for beauty professionals, industry insiders, celebrities and fashion icons around the world. As the color authority, essie is center stage on runways around the world, offering highly-anticipated color collections that drive trends season after season. The salon-quality formula and catchy, whimsical name has led to the creation of more than 1,000 shades. essie is a leader in nail luxury, committed to high-quality standards with an award-winning line of polishes and nail care products for every woman and salon professional. Since its introduction by Essie Weingarten, essie has delighted the color-obsessed with a love shared all over the world.
In 2017, the Registrar at National Day Calendar declared National Nail Polish Day to be celebrated on June 1st, annually.