(Last Updated On: November 9, 2022)
In 2017, National Day Calendar
®

 

began celebrating each state in the order they entered the union starting the week of Independence Day and ending with Hawaii. We highlight a small part of each states' history, foods, and the people who make up the state. Many states have their own state celebrations, and National Day Calendar's observances do not replace them. There's so much more to explore; we can't help but celebrate our beautiful country even more!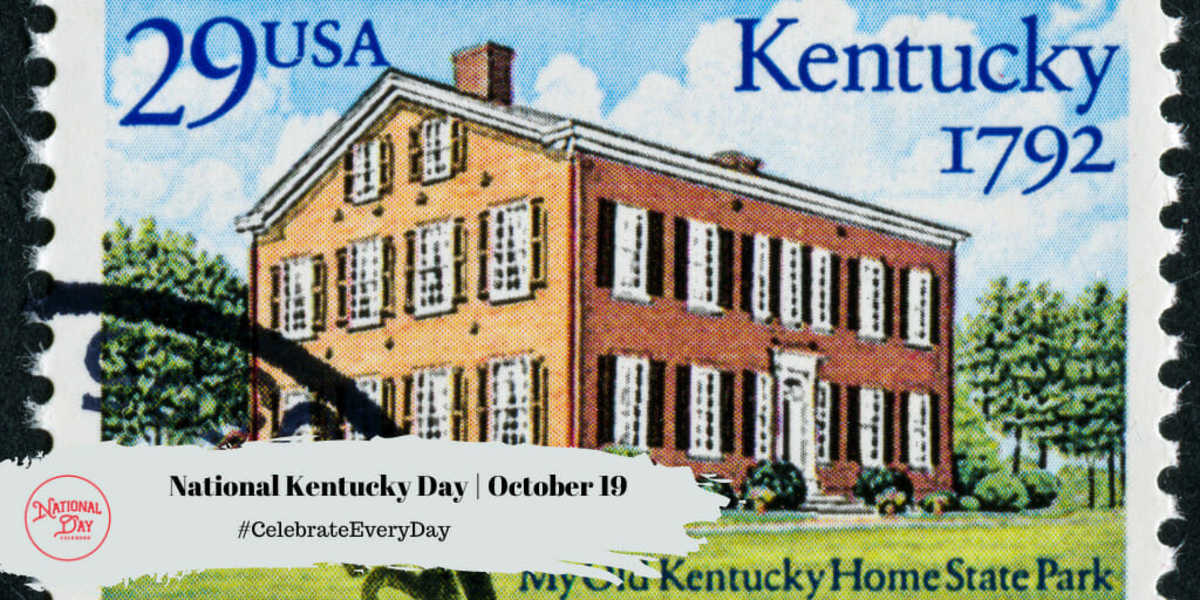 NATIONAL KENTUCKY DAY | OCTOBER 19
On October 19, National Kentucky Day recognizes the 15th state to be granted statehood.
#NationalKentuckyDay
The Bluegrass State became the first to enter the union west of the Appalachian Mountains. Home to the Kentucky Derby, Fort Knox, and the birthplace of one the nation's most beloved presidents, Kentucky is bordered by rivers on three of its four boundaries.
Musical roots run deep in Kentucky. There's opportunity from ancient history to modern-day to explore all variety of music the state holds dear. Of course, it's called The Bluegrass State for a reason!
When it comes to athletic pursuits, Kentuckians are skilled both on and off the court. The Kentucky Derby, one of the jewels of the Triple Crown, takes place in May every year in Louisville. Founded in 1875, the derby holds many traditions, including serving mint juleps.
On the court and the field, they keep up a fierce rivalry with their Hoosier neighbors.  Basketball, in particular, has held a strong tradition in the state.
Daniel Boone blazed trails through Kentucky, and several state parks and sites bear his name.  Along those paths are all the natural wonders of Kentucky. From the Mammoth Caves (they are mammoth because they're the longest in the world) to the national forests, crystal clear lakes, and magnificent waterfalls.
HOW TO OBSERVE NATIONAL KENTUCKY DAY
Join National Day Calendar as we recognize Kentucky's hidden treasures and natural beauty. Uncover tucked away places and find all Kentucky has to offer! Use #NationalKentuckyDay to share on social media.
For a complete list of Kentucky State and National Parks & Historic Sites visit www.parks.ky.gov and www.nps.gov.  Check out a few of the featured sites around the state below. 
Abraham Lincoln Birthplace – Hodgenville
Cumberland Gap – Middlesboro
Mammoth Cave – Mammoth Cave
Boone Station State Historic Site – Lexington
Carter Caves State Resort Park – Olive Hill
E.P. Tom Sawyer State Park – Louisville
Perryville Battlefield – Perryville
Wickliffe Mounds State Historic Site– Wickliffe
MUSEUMS
Kentucky Derby Museum – Lousiville
Louisville Slugger Museum & Factory – Louisville
KMAC Museum – Louisville
Muhammad Ali Center – Louisville
Creation Museum – Petersburg
Kentucky Museum – Bowling Green
Civil War Museum – Bardstown
General George Patton Museum of Leadership – Fort Knox
Bluegrass Heritage Museum – Winchester
Kentucky Music Hall of Fame and Museum – Mt Vernon
The Lincoln Museum – Hodgenville
African American Heritage Center – Franklin
Vent Haven Museum – Fort Mitchell
Troublesome Creek – Clayhole
Colonel Sanders Grave – Louisville
South Union Shaker Village – Auburn

The Great Emancipator, Abraham Lincoln, was the 16th President of the United States.
As a child, Lincoln experienced poverty, but a loving stepmother raised him and instilled a love of reading. In adulthood, Lincoln held many occupations. However, it wasn't until his late twenties that he passed the bar and began to practice law.
The prairie lawyer's success eventually led to the Illinois legislature and a term in Congress before he debated Stephen Douglas for a Senate seat and lost.  During those debates, Lincoln gained attention as a prospect for the 1860 presidential election.
Lincoln was elected to two tumultuous terms during the American Civil War. He saw the country through the war, freed the nation of slavery, and reunited a country. On April 14, 1865, a few months into his second term, while attending a performance at The Ford Theater, President Lincoln was assassinated by John Wilkes Booth.
Christopher "Kit" Carson gained recognition as a guide and tracker along the Oregon Trail. The frontiersman turned into a mythical character following the Mexican War as tales of his battles filled dimestore novels. The line blurs where truth and fiction meet.
One of horse racing's most successful jockeys, Isaac Burns Murphy developed racing strategy to win his races. Murphy was inducted into the National Museum of Racing's Hall of Fame in 1956.
Together Patty and Mildred Hill composed songs for children and published Song Stories for Kindergarten. The melody for one composition, Good Morning to All, gained worldwide fame by another name.  Sung at birthday celebrations for generations, Happy Birthday to You became the focus of a lawsuit in 2013 when the copyright came under the scrutiny of a class action lawsuit.
Regardless of the outcome of the lawsuit, the contributions of both Patty and Mildred Hill to the education of preschool and kindergarten aged children outweighs the questions brought forth long after their deaths.
Both sisters taught at the Louisville Experimental Kindergarten School. Mildred Hill was a lifelong composer, and Patty Hill dedicated her life to education and developing tools and resources for educators. She founded the National Association for Nursery Education (now known as the National Association for the Education of Young Children).
In 1996, both Patty and Mildred Hill were posthumously inducted into the Songwriters Hall of Fame.
Garrett Morgan's inventiveness led to lifesaving devices that saved lives for firefighters and military personnel. His canvas hood allowed rescuers to withstand smokey conditions longer allowing them to take in the fresher air and save lives.
John Scopes gained notoriety as the educator who broke a new Tennessee law for teaching evolution in the classroom. While the jury brought a guilty verdict, it was overturned by the supreme court two years later on a technicality. Despite this, Scopes never taught again. He later wrote a memoir, Center of the Storm, recounting his experience.
Professional basketball player, Clifford Hagan, played for the St. Louis Hawks and the Dallas Chaparrals. The small forward was inducted into the Basketball Hall of Fame in 1978.
The Coal Miner's Daughter, Loretta Lynn, found her legendary voice as a Grammy-winning singer-songwriter from Bucher Hollow, Kentucky.
Founder of gonzo journalism, Hunter S. Thompson immersed himself into his reporting, creating a new style of journalistic reporting. Thompson's best-known work, Fear and Loathing in Las Vegas, has been published by Random House and adapted to film.
There is only one man faster than Tyson Gay.  The Olympic sprinter ties for the second fastest man on Earth.
Harriette Simpson Arnow gained critical acclaim for her novel The Dollmaker and penned several short stories, essays and other novels.  Arnow mastered the Appalachian dialect in her fiction and created complex female characters.  Her stories unfolded much like John Steinbeck's did at the time, but with a female perspective, and Arnow received much less credit for her talent.