(Last Updated On: November 8, 2022)
In 2017, National Day Calendar® began celebrating each state in the order they entered the union starting the week of Independence Day and ending with Hawaii. We highlight a small part of each states' history, foods and the people who make up the state. Many states have their own state celebrations, and National Day Calendar's observances in no way replace them. There's so much more to explore, we can't help but celebrate our beautiful country even more!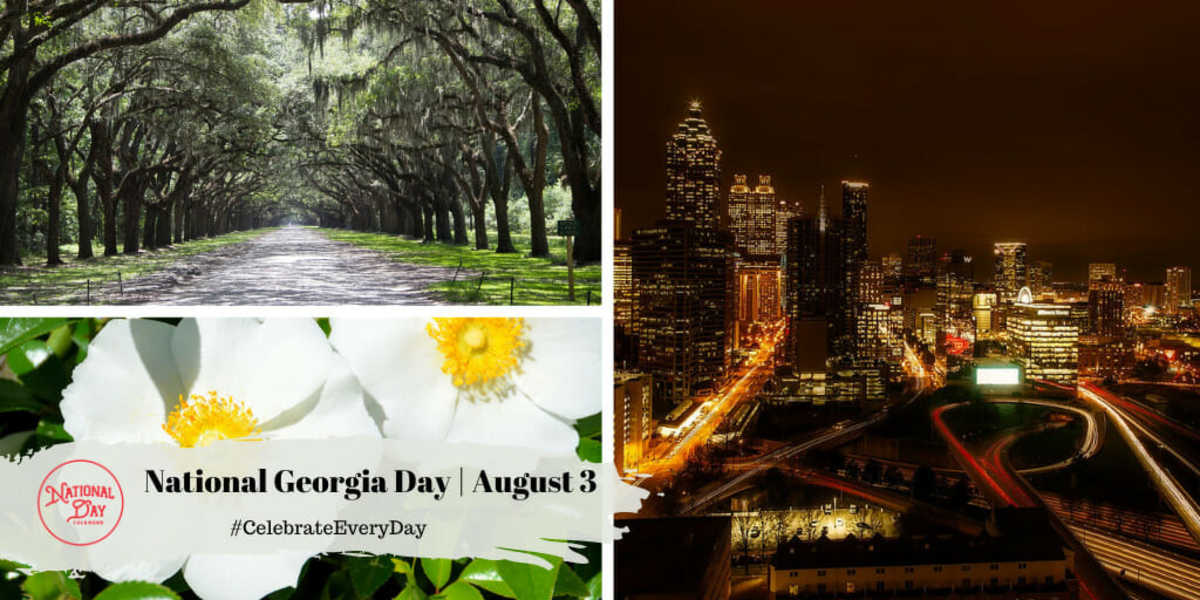 NATIONAL GEORGIA DAY
The 13th colony and the 4th state to enter the Union, National Georgia Day recognizes the natural wonders and immense complexities of this bastion of Southern culture.
#NationalGeorgiaDay
Georgia's founder, James Oglethorpe, settled the colony's first capital, Savannah. Georgia would go on to have four more capitals, Augusta, Louisville, Milledgeville and finally, Atlanta
Politically and socially, a divide has always seemed to exist. Considering Georgia was initially established as a barrier of fortification between South Carolina's southern border and the Spanish settled in Florida, perhaps Georgia lived up to destiny.
To Sign or Not to Sign
Georgia initially prohibited slavery in 1735. Of the 13 original colonies, she was the only one to do so. The prohibition lasted 15 years. Leading up the Revolution, Georgia leaned toward supporting the crown and was the single colony not in attendance at the First Continental Congress.
During the Second Continental Congress, Georgia first sent one delegate, Lyman Hall. However, Hall didn't vote because he only represented a single parish in Georgia. The colony later sent Button Gwinnett and George Walton as official delegates. All three signed the Declaration of Independence.
Wars were destructive for Georgia. Her people and the economy suffered, and the resistance to social change persisted.
During the 20th century, industrial and technological advancements found a niche in Georgia's economy. A hub for airlines, military bases and international corporations, Georgia rebounded once more.
National Georgia Day Flavor
When it comes to Georgia, words that come to mind include home-cookin' and comfort food. Don't be surprised by the serving size, the number of fried foods or desserts. Two things are certain, they're made from the heart, and they are delicious!
Just about anything can be fried, including okra, green tomatoes, chicken, seafood and Vidalia onions. Since 1986, those sweet onions grow in Vidalia and 20 Georgia counties, and nowhere else by Geogia law.
Peaches are to Georgia like sunshine is summer. Take a bite out a ripe one and let the juice run down your chin. Or, enjoy all the wonderful peach pastries or canned peaches Georgia has to offer.  From pies to jellies, there are so many ways to bring the flavor of Georgia home with you.
Grab a Coca-Cola and some boiled peanuts to enjoy the summer weather. Georgia is home to Coca-Cola and enjoying salty peanuts go back to the Civil War era.
Real BBQ finds a home in the South and in Georgia, you better show up early or you won't get served. When its done right, there's bound to be a limited supply, so it sells out early, too!
When the air is cool, a Brunswick stew is in order. With tomatoes, lima beans, corn, okra, potatoes, and chicken, beef or any game to be had, this one-dish meal will warm the whole family up on cold, Southern evening.
HOW TO OBSERVE NATIONAL GEORGIA DAY
Overall, Georgia's history is fertile for inspiration. Alongside the peach orchards and cotton fields surge crops of masterful artists, musicians, writers, and poets. Their experiences with the beauty, history, and humanity of Georgia fill the eyes and ears with more than can be appreciated in one visit.
Join National Day Calendar by exploring the sites, sounds, flavors and beauty of Georgia and use #NationalGeorgiaDay to share on social media.
Mediator, negotiator and diplomat, Tomochichi provided enormous assistance to colonists and his people during the arrival of General James Oglethorpe and others that followed. As a result of his relationships, Savannah was established as well as a Christian school at Irene with the aid of Benjamin Ingham.  Today, a marker in Savannah Wright Square honors his achievements.
The first woman to occupy a seat in the United States Senate in 1922, Rebecca Latimer Felton was appointed to fill the vacancy left by the death of her husband Thomas E. Watson. She served 24 hours while the Senate was in session before her replacement was elected. Felton had a full journalism and activist career before her appointment and had been instrumental in her husband's campaigns.
Juliette Gordon How created Girls Scouts of the USA in 1912. Fostering the potential of girls around the world and creating a global network, Gordon How soon established a movement that broke boundaries and developed generations of independent women. Today, the Girl Scouts of the USA services millions of members and their alumnae as a result of Gordon How's inspiring dedication.
An early Dead Ball Era outfielder from rural Narrows Georgia, Ty Cobb lead a controversial baseball career. His aggressive style and dominate personality made him no friends in the dugout. In the batter's box and on the field his strategic playing made him a master of the modern game of baseball.
Cobb spent a majority of his career with the Detroit Tigers. After 22 seasons, he spent his final two with Philadelphia.
In 1936, he was inducted into the National Baseball Hall of Fame.
The talented guitarist, blues singer and composer was something of an enigma until after his death in 1959. Recording under different names and labels with different artists, Willie Samuel McTell never saw much success during his lifetime though he produced a variety of sessions across several labels and was unquestionably gifted in each genre in which he performed.
[object HTMLBodyElement] The 39th president of the United States, James E. Carter served from 1977 to 1981 and earned a Nobel Peace Prize in 2002 for his diplomacy and advocacy during his term.
Carter graduated from the Naval Academy in Annapolis, Maryland in 1946 and served as an officer for seven years before returning to Georgia and starting a family.
His political career began in 1962 when he entered state government. Then in 1974, he announced his presidential candidacy. He served one term with Walter Mondale as his Vice President.
Inspirational and motivational civil rights activist, Martin Luther King Jr. became the youngest recipient of the Nobel Peace Prize in 1964 for his dedicated work for the movement. The prize came two years after his historic "I Have a Dream" speech during the 1963 March on Washington, D.C. for Jobs and Freedom.
King was assassinated on April 4, 1968, in Memphis, Tennessee.
Replacing the first, and currently the only African-American United State Supreme Court Justice, Clarence Thomas has served on the court since 1991.
The conservative attorney would grab headlines during his hearings due to accusations of harassment but would be confirmed by the slimmest of margins by the Senate.
Julia Roberts' star hit the big screen with Pretty Woman and never stopped shining. While she had earlier roles in films like Mystic Pizza and Steel Magnolias, her role with Richard Geer is the perennial favorite for romantic comedies. While she has an unquestionable talent for comedy,  serious dramatic films fit her wheelhouse, too. Today, movie goers continue to fill the theaters when Julia Roberts is on the bill.
Selected by the Carolina Panthers in the first round of the 2011 NFL Draft, quarterback Cam Newton played college football at Auburn University. He earned the Heisman Trophy in 2010 and the NFL Offensive Rookie of the year in 2011. He's been to the Pro Bowl three times and in 2015 earned the Bert Bell Award, NFL Offensive Player of the Year Award and NFL Most Valuable Player Award.
Titan I Missile – Cordele
Gold'n'Gem Grubbin – Cleveland
Giant Peanut Monument – Ashburn
The Big House – Macon
Habitat for Humanity's Global Village and Discovery Center – Americus
Pasaquan – Buena Vista
The Tree that Owns Itself – Athens
Rousakis Plaza Echo Square – Savannah
A Century of Hats – Savannah
Hindu Temple of Georgia – Fayetteville
Warm Springs