(Last Updated On: November 8, 2022)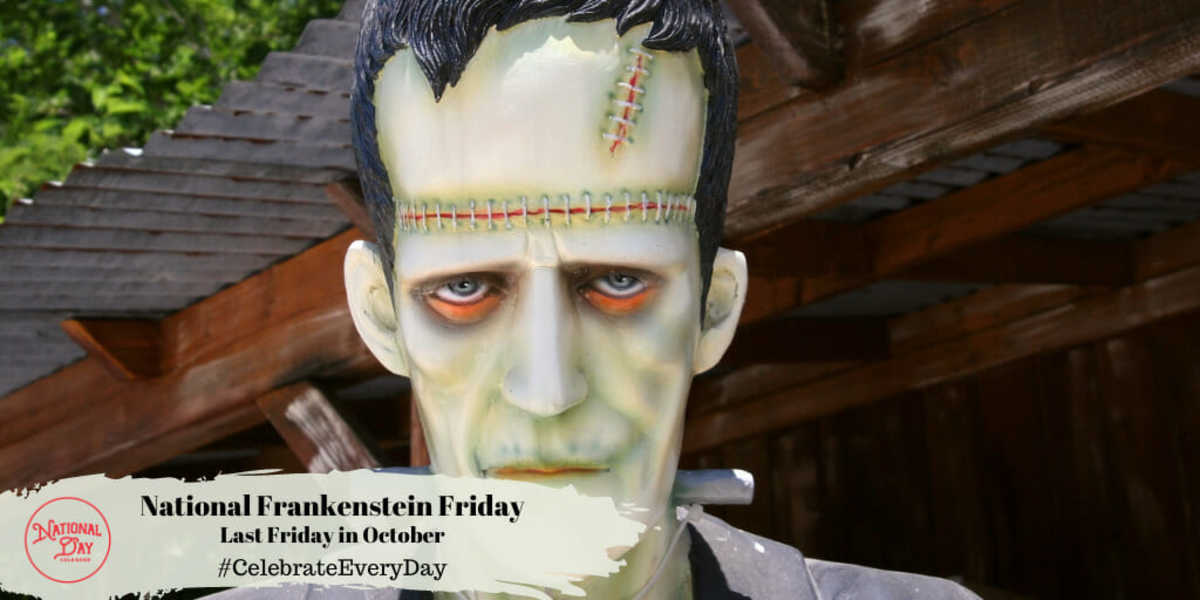 N

ATIONAL FRANKENSTEIN FRIDAY
National Frankenstein Friday, on the last Friday in October, recognizes author Mary Shelly, the novel Frankenstein, or the Modern Prometheus, her characters, Dr. Frankenstein and the monster. Dating back to the 1800s, Frankenstein's monster is one of the best-known horror characters of all time.
#FrankensteinFriday
The novel by Mary Wollstonecraft Shelley (1797-1851) tells the story of a young scientist, Victor Frankenstein. While she published the first edition of Frankenstein in 1818 anonymously, the first 500 copies sold out. However, the public believed her husband, Percy Shelley, to be the author. Then in 1823, Mary Shelley published a new edition under her name. Another edition in 1831 included Shelley's explanation about how the story came to be. This version is the one modern readers are the most familiar with today.

The film world has created more than 60 movies or shorts on the theme of Frankenstein. Edison Studios produced the very first film version, Frankenstein, in 1910.
According to some sources, the day is observed on August 30th in honor of Mary Shelley's birthday. 
HOW TO OBSERVE FRANKENSTEIN FRIDAY
We have many ideas about how to celebrate this holiday. Give one or several of them a try.
Watch a movie featuring Frankenstein or read the original book written by Mary Shelly. Dress as Dr. Frankenstein or his monster.

Find out who Frankenstein is on Frankenstein Friday.

Read both editions of the book. Seek out other novels by Mary Shelley or learn about her history.

Draw your version of Frankenstein's monster.

Write a poem in honor of the day. Attend a stage production of Frankenstein.

Bake cookies in the shape of the monster.

Conduct an electricity experiment in science class in honor of the day.

Host a Frankenstein party. Play trivia and hand out prizes.
Share your ideas to celebrate. Use #FrankensteinFriday to post on social media.
NATIONAL FRANKENSTEIN FRIDAY HISTORY
National Day Calendar® continues researching the origin of this novel day.
Frankenstein FAQ
Q. What are some other good, scary reads for fall?
A. You're looking for a good scare as the wind howls through the trees on a dark, autumn night by the fireplace, huh? Well, test your will and your wits with these:
The Turn of the Screw by Henry James
Interview with the Vampire by Anne Rice
The Stand by Stephen King
Beloved by Toni Morrison
The Tell-Tale Heart by Edgar Allan Poe
The Woman in Black by Susan Hill
Dracula by Bram Stoker
The Monkey's Paw by W.W. Jacobs
The Handmaid's Tale by Margaret Atwood
DATES
28 October 2022
27 October 2023
25 October 2024
31 October 2025
30 October 2026
29 October 2027
27 October 2028
26 October 2029