(Last Updated On: November 9, 2022)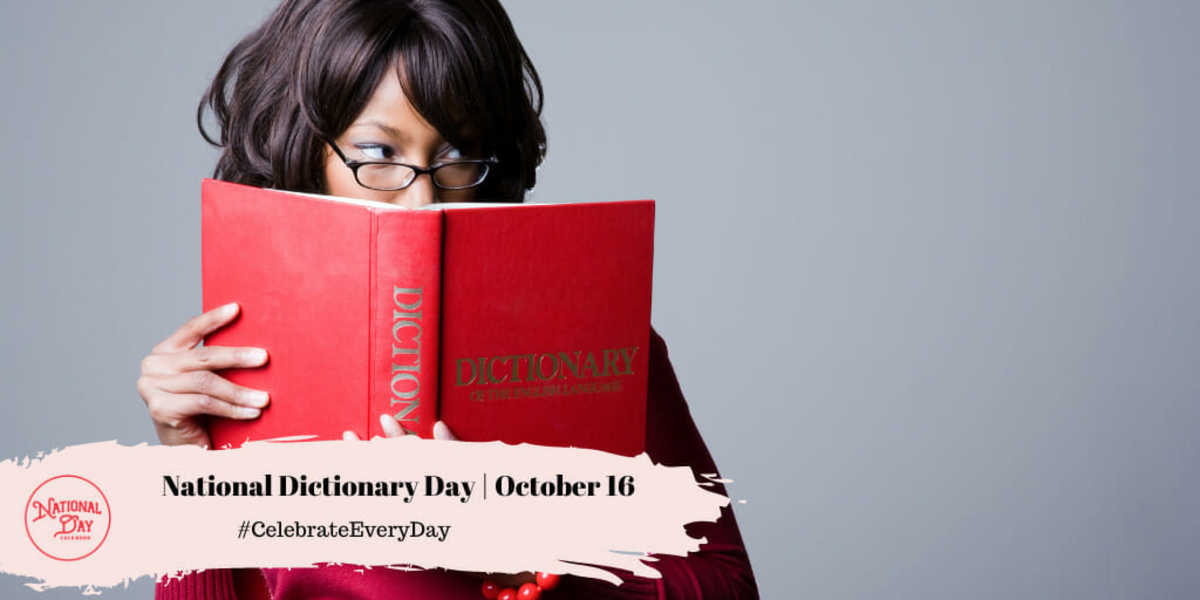 NATIONAL DICTIONARY DAY | OCTOBER 16
National Dictionary Day on October 16th defines celebration as it commemorates the birthday of Noah Webster. 
#NationalDictionaryDay
In 1806, American Noah Webster published his first dictionary, A Compendious Dictionary of the English Language. Webster immediately began compiling an expanded and fully comprehensive dictionary, An American Dictionary of the English Language in 1807; it took twenty-seven years to complete. To evaluate the etymology of words, Webster learned twenty-six languages, including Old English (Anglo-Saxon), German, Greek, Latin, Italian, Spanish, French, Hebrew, Arabic, and Sanskrit.
Webster completed his dictionary during his year abroad in Paris, France, at the University of Cambridge. His book contained seventy thousand words, of which twelve thousand had never appeared in a published dictionary before. 
As a spelling reformer, he believed that the English spelling rules were unnecessarily complicated, so in his dictionary, he introduced American English spellings. For example, Webster replaced "colour" with "color," "waggon" with "wagon," and "center" instead of "centre."  Webster also added American words such as "skunk" and "squash" that did not appear in British dictionaries.  He believed the United States "should be as independent in literature as she is in politics."  Some of his changes didn't catch on, however.  Dropping the silent "e" at the end of some words like in the word imagine. 
Webster took a more phonetic approach to the development of his dictionary. Interestingly, the word didn't appear when Webster published his dictionary in 1828 at the age of seventy. However, of the 70,000 entries, the word phonics is one. The dictionary sold 2500 copies. In 1840, the second edition published in two volumes. Additionally, Webster's 1828 Dictionary is available online. By entering the modern-day spelling, the website generates Webster's 1828 version.  
HOW TO OBSERVE NATIONAL DICTIONARY DAY
Celebrate by learning a new word or two! Play a fun dictionary-based game, like Balderdash or Scrabble. While you celebrate, use #NationalDictionaryDay to post on social media.
Educators, visit the National Day Calendar Classroom for project ideas, puzzles, and more. There are even a couple for this word related national day!
NATIONAL DICTIONARY DAY HISTORY
National Dictionary Day was created in honor of Noah Webster's birthday (October 16, 1758). The observance emphasizes the importance of learning while using dictionary skills and increasing one's vocabulary. Webster is considered the Father of the American Dictionary.  
Dictionary FAQ
Q. What are some notable dictionaries?
A. Some of the most notable English-language dictionaries include:
American Heritage Dictionary

The Meriam-Webster Dictionary

New Oxford American Dictionary

Oxford Dictionary of English

Oxford English Dictionary

Webster's New World College Dictionary
Q. Do dictionaries face censorship?
A. Yes. Dictionaries in many languages face censorship. Two English dictionaries that have been banned from time to time include the Merriam-Webster and American Heritage Dictionaries. In the 1970s, schools in two states removed The American Heritage Dictionary due to some of the words listed. In China, Merriam-Webster faced censorship over the definition of Taiwan.
Q. How often do new words get added to dictionaries?
A. In a digital format, new words can be added more often than they are in a printed dictionary – about 1,000 words per year. A new word is studied for is use, meaning, frequency, and consistency.
Q. What is a lexicographer?
A. A lexicographer edits and writes dictionaries.
Q. What new words did dictionaries add in 2021?
A. In 2021, Merriam-Webster added more than 500 words before the year was over. Some of those include:
Long hauler

Hard pass

Silver fox

Coworking