(Last Updated On: May 23, 2023)
In 2017, National Day Calendar® began celebrating each state in the order they entered the union starting the week of Independence Day and ending with Hawaii. We highlight a small part of each states' history, foods and the people who make up the state. Many states have their own state celebrations, and National Day Calendar's observances in no way replace them. There's so much more to explore, we can't help but celebrate our beautiful country even more!
NATIONAL CONNECTICUT DAY | AUGUST 10
Woven into the fabric of this state's historic landscape, we find revolutionaries, innovators, and philosophers. On August 10th, National Connecticut Day recognizes the contributions of the fifth state to join the United States of America.
#NationalConnecticutDay
Like other colonies of the region, the Dutch first explored and founded trading posts in Connecticut. In 1633, Puritans from Massachusetts established the first permanent settlement.  From the outset, the industry established a means to prosperity in the colony. Production of brass buttons and munitions placed the colony in a position to later supply the Revolutionary Army. The colonial governor of Connecticut, Jonathan Trumbull, was the only governor who supported independence.
All three Connecticut delegates to the first Continental Congress continued their representation of the colony at the Second Congress and signed the Declaration of Independence.
In fact, Roger Sherman is the only person to have signed the Continental Association, the Declaration of Independence, the Articles of Confederation, and the United States Constitution. Eliphalet Dyer served the state of Connecticut as chief justice after the revolution.
Connecticut became a state on January 9, 1788.
Silas Deane served as a spy during the war and was for a time branded a traitor along with another Connecticut native, Benedict Arnold. He died penniless, but decades later in 1840, his granddaughter would petition Congress to review his records. His name would be cleared.
Connecticut's small but full landscape holds countless revolutionary stories and adventures along New England's National Scenic Trail. Through every season and every era, there's something for every generation to enjoy!
HOW TO OBSERVE NATIONAL CONNECTICUT DAY
Explore all the adventures Connecticut has to offer with National Day Calendar and share your favorites by using #NationalConnecticutDay on social media.
Beinecke Rare Book and Manuscript Library – New Haven
Grave of XYZ – Deep River
Mystic Seaport – Mystic
Hogpen Hill – Woodbury
Louis' Lunch – New Haven
NOTABLE PEOPLE
In 1776, at the age of 21, Captian Nathan Hale volunteered to carry out a mission ordered by General George Washington to gather information on the British troops. When the Patriot's identity was revealed, a noose was swiftly placed around his neck. According to legend, Hale declared before being hung, "I regret that I have but one life to give for my country."
Dedicated to reforming a young country's language, Noah Webster is credited with teaching generations of children to read and pronounce words through his "Blue-Backed Speller" and the publication of An American Dictionary of the English Language which contained 70,000 words. Find out more by visiting the National Day Calendar page for National Dictionary Day on October 16.
After years of trial and error, Charles Goodyear finally developed a process making rubber stable for industrial use. He called the process vulcanization. His troubles would continue, however. Goodyear spent years battling patent infringement in court around the world running up debt.
Decades later, an Akron business would honor the Goodyear inventor when the Goodyear Tire and Rubber company is born.
Promoter and entertainer, PT Barnum created his booming show business in the mid-19th century with a menagerie of animal and human oddities he named "The Greatest Show on Earth".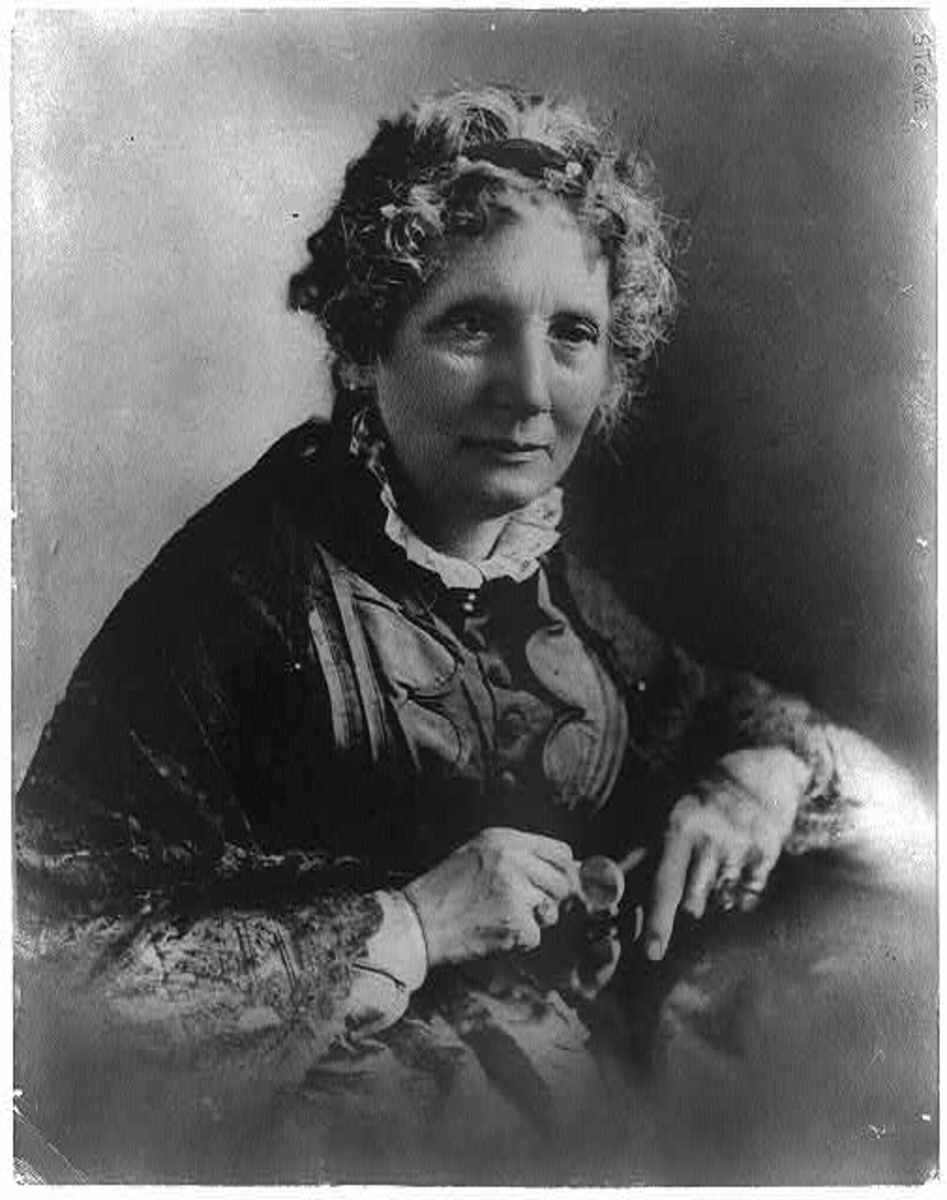 A prolific author and advocate, Harriet Beecher Stowe is best known for her novel Uncle Tom's Cabin. Unique for her time, Stowe vocally debated topics of the day and provided financially for her family through teaching, her written works and speaking engagements.
In 1836, Colt received the patent that would change the West. His revolving-cylinder pistol, U.S. Patent No. 138 would fire six shot before needing to be reloaded. This revolutionary design would not be an immediate success, though. It would take American expansion and war to convince the United States government to invest in Colt's armament.
Frederick Law Olmsted designed and preserved numerous grand parks and green spaces across the United States and is considered the father of landscape architecture. With an artist's eye, he created spaces where neighborhoods and entire communities continue to relax and enjoy today.  Not only have they stood the test of time, the urban spaces have flourished.  Olmsted also impacted natural spaces, believing strongly places like Yosemite Valley and Niagara Falls should be preserved for their beauty and never be held privately.
William Gillette played the iconic Sherlock Holmes on stage more than 1,000 times, and it was his portrayal that may have set the persona we most associate with Sir Arthur Conan Doyal's genius detective.  Gillette performed in only one film, also recreating the detective for the silent screen. Just a few years ago, the lost film was rediscovered.
Edith Roosevelt married Theodore Roosevelt in 1886 and as the first lady defined the role for future first ladies.
Katharine Hepburn shunned the traditional starlet roles of Hollywood. Her bold attitude and strong will stole the stage. At a time when women rarely held the reins in Hollywood, Hepburn steered a prolific career with twelve Academy Award nominations and four wins.
As the 43rd President of the United States, George W. Bush served from 2001 to 2009. As the son of the 41st President, Bush 43 had some family history with the White House.
While in office, an era of change took place during his first term. On September 11, 2001, the attacks on the U.S. would set the tone for the duration of the term. Heading into his second term, Hurricane Katrina would do the same.
From presidents to actors, models and musicians and Olympians, Annie Leibovitz takes icon portraits of iconic people. Since the beginning of Rolling Stone and on to covers of Vanity Fair, her large portfolio continues to expand.