(Last Updated On: November 9, 2022)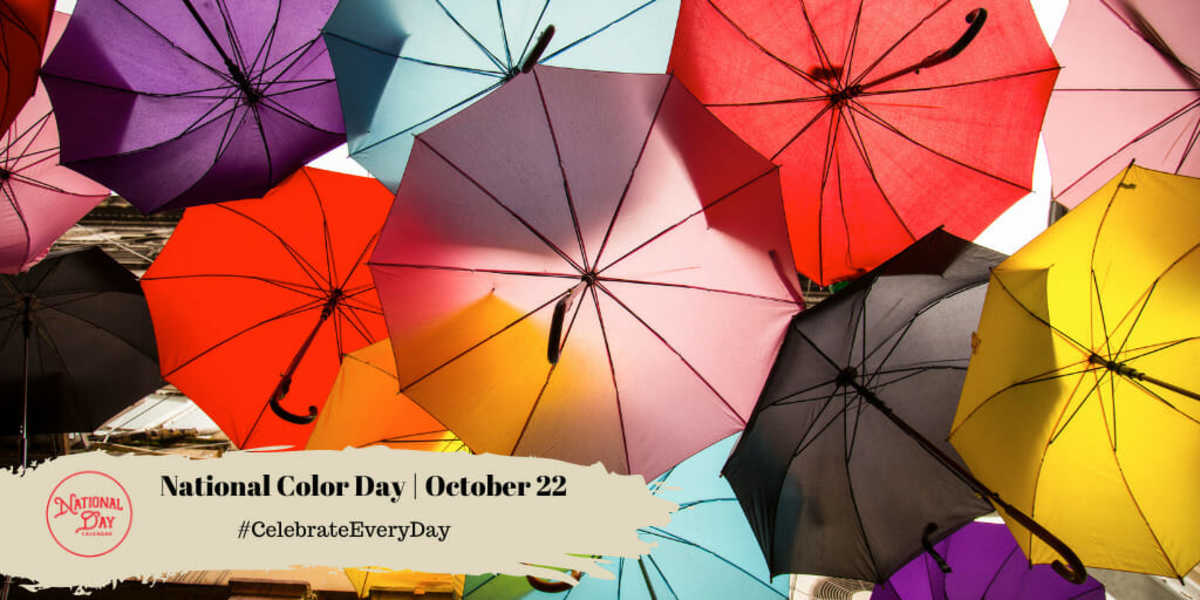 N

ATIONAL COLOR DAY
National Color Day focuses on the impact color has on each of us. The observance takes place each year on October 22nd. Color is powerful. It can affect a mood, draw attention, even cause alarm.  
#NationalColorDay
It is hard to imagine a world without color. Without color, we would nearly be blind.  Doctors check for health through the color of a patient's skin. On a late, crisp autumn morning, sparkling frost and leaves changing from green to vermillion signal a change of seasons. A flush of color in the cheeks of a friend sends a cue of her embarrassment. The street light turns from green to yellow to red. In the Grand Canyon, layers of sediment range in color from black to pale ash. All these signs alert us to change through color.  
Imagine a world without chrysocolla. This mineral formed from hydrated copper phyllosilicate develops colors from a brilliant cyan to jade green. From darkening skies before a storm to the undulating fragile glow of the aurora borealis, color in nature moves us to pause and enjoy or to warn us of impending danger. Long before colors had names, they served a purpose.
Colors accent our homes and feed our creativity, allowing us to express ourselves. Open a box of crayons or watercolors, and artists of any age lose themselves in a world of their own creation for hours.
Different colors are perceived to mean different things. The following is one rendition of the perceived meaning of the various colors in the United States.
Red

:  Excitement – Love – Strength

Yellow

:  Competence – Happiness

Green

:  Good Taste – Envy – Relaxation

Blue

:  Corporate – High Quality – Serenity

Pink

: Sophistication – Sincerity

Violet/Purple

:  Authority – Power

Brown

:  Ruggedness
Black:  Grief – Fear

White

: Happiness – Purity.
HOW TO OBSERVE NATIONAL COLOR DAY
Explore the use of color in your life. Take in the vast and ever-changing array of shades available to you. What's your favorite color?  Express yourself through color and use #NationalColorDay to post on social media.
NATIONAL COLOR DAY HISTORY
National Day Calendar® continues researching the origins of this colorful holiday.
Color FAQ
Q. My spouse and I cannot decide on a color to paint our bedroom. Which color would support better sleep?
A. We spend about a third of our time in our bedrooms. Besides sleeping, we put away clothes, get dressed, watch TV, read books, among other things. So, having a comfortable, restful space is important. While neutral colors like tan or beige are the least stimulating and promote restful sleep if you prefer a more colorful, calm color, blues promote serenity, and greens promote balance and reassurance. Colors to avoid include red (though we love its passion if you know what we mean); it can promote stimulation and inhibit sleep. However, it can be used as an accent color. Consider adding red pillows or frames to the room.
Q. I'd like to add more color to my flower gardens. What plants add lasting color all season long?
A. Annuals tend to provide long-lasting color to a flower garden more than perennial plants. However, by planting a combination of annuals and perennials, you're garden will provide you with surprising delights throughout the season. Their greenery will also give the annuals a lovely backdrop to help those colors pop.
Flowers to try include:
Zinnias – Not only does this annual come in nearly every color of the rainbow, but it is also easy to grow.
Moss roses – Another annual on our shortlist, these sun-loving succulents love dry, hot summers and require low maintenance, too. They also come in several varieties and colors. Another bonus is that they will often reseed themselves and fill your beds with a colorful ground cover without being invasive.
Roses – While some gardeners have trouble maintaining this perennial, roses with a continuous bloom will add value to your garden year after year. Certain breeds bloom all season long, and one that is recommended is the Grandiflora rose bush. Another bonus is that the Grandiflora is also fragrant and grows well in zones 4-10.