(Last Updated On: November 9, 2022)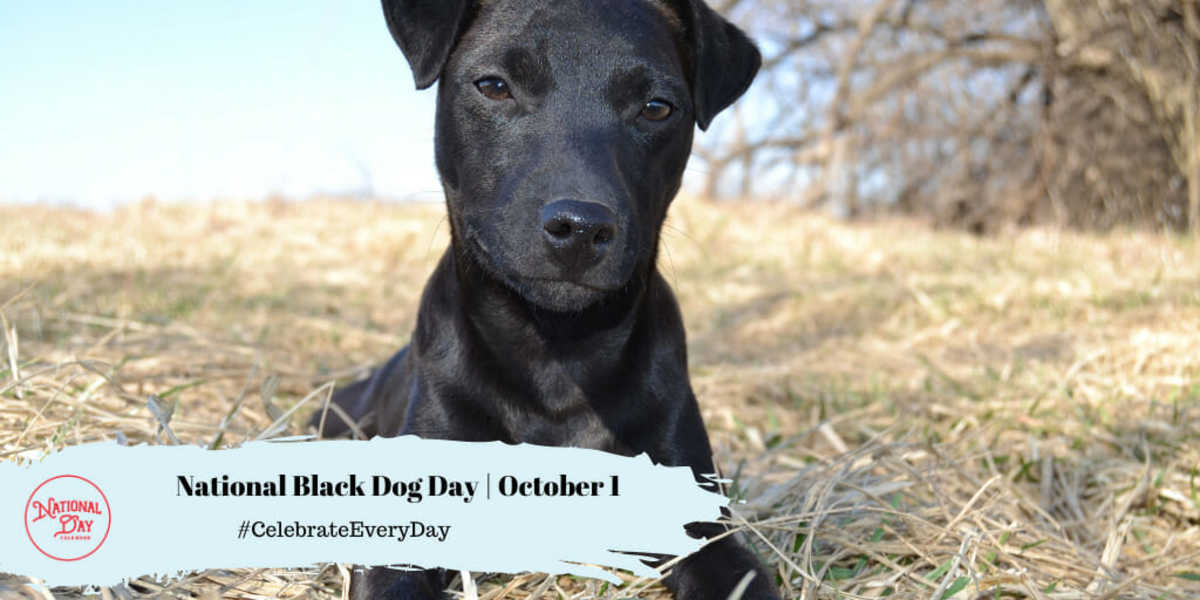 NATIONAL BLACK DOG DAY | OCTOBER 1
National Black Dog Day on October 1st encourages the adoption of a dog in the darker shades. Unfortunately, black dogs are less likely to be adopted for no other reason than their coloring. Regardless of behavior, size, breeding, personality, or age, the phenomenon persists.
#NationalBlackDogDay
You'll find their behavior is no different from dogs of a different color. They fetch, play, and wag their tails just the same. Of course, they also come in short hair, long-haired and shaggy breeds, too. Do you like a floppy-eared pup? Every ear, tail, bark, and size comes in some beautiful shade of black. Big paws and little paws, too.
Not only do they come in every shape and size, but they all need forever homes. Their temperament ranges just like any other color of a dog. Breeding and previous care affect how they respond.
If you want to add a canine companion to your pack, consider adopting one with an ebony sheen. Their loyalty is no less or more than another dog, but they need a home, too.
HOW TO OBSERVE NATIONAL BLACK DOG DAY
Allow a black dog to become your forever friend. Visit a shelter and take a potential companion for a walk.
Is a black dog your companion? Give your black dog extra attention and let them know how much you appreciate them. Take a longer walk or bring home a chew toy. Share photos of your ebony fur-friend using #NationalBlackDogDay to share on social media.
NATIONAL BLACK DOG DAY HISTORY
Colleen Paige, pet lifestyle expert and author, founded National Black Dog Day.
Black Dog FAQ
Q. Who are some famous black dogs?
A. Well, there are several. We'll start with a shortlist of popular pooches.
Balto, a Siberian Husky, reportedly led Leonhard Seppala's dog sled team on the serum run to Nome, Alaska in 1925.
The Obamas had two black dogs, Sunny and Bo. These two first dogs were Portuguese Water Dogs.
Toto from the Wizard of Oz was a female Cairn Terrier named Terry Though, in real life, Terry wasn't completely black. She also had some lighter color around her face and mixed into her back.
Another presidential pooch was Richard Nixon's spotted cocker spaniel named Checkers.
Other country's presidents have presidential pooches, too. For example, French President Emmanuel Macron named his black labrador retriever-griffon Nemo.
In 2005, South Korean scientists cloned an Afghan hound. The experiment produced an exact clone they named Snuppy.
October 1st Celebrated History
1847 
Maria Mitchell discovers a comet. Her discovery makes her the first U.S. astronomer to discover a comet. It was later named "Miss Mitchell's Comet" or C/1847 T1. Determined to be a non-periodic comet, it has never been seen again.
1890 
Congress establishes Yosemite National Park. The third park established in the United States after Mackinac National Park (which is now designated a state park), Yosemite consists of 750,000 acres located in central California.
1903 
The first modern World Series game is held between the National League and American League champions in Boston. Also known as the Pilgrims, the Boston Americans lost to the Pittsburg Pirates 7-3. However, they would come back and win the series 5-3.
1908 
Ford offers the first Model T for sale at $825 making car ownership affordable to Americans.
1940 
The first superhighway in America opens at the Pennsylvania Turnpike. The modern highway consisted of seven tunnels and 160 miles.
1958 
Created when President Dwight D. Eisenhower signed the National Aeronautics and Space Act that summer, the National Aeronautics and Space Agency opened on October 1st. T. Keith Glennan was named administrator.
1969 
Eighteen years after a U.S. Air Force Captain broke the sound barrier for the first time, the supersonic airplane prototype, Concorde, breaks the sound barrier.
1971
Walt Disney World Resort opens bringing the Magic Kingdom to life in Florida.
2006
Bikeparts hosted the largest Suzuki motorcycle parade with 915 participants. The record event took place in Hamme-Zogge, Belgium.
October 1st Celebrated Birthdays
Peter Salem – 1750
Born into slavery, Salem would be freed to enlist in a militia to fight in the Revolutionary War. He was one of very few black minutemen serving and fought in the Battle of Concord.
Caroline Harrison – 1832
Upon the election of her husband, Benjamin Harrison, as the 23rd President of the United States, Caroline became the 24th First Lady.
Esther Boise Van Deman – 1862
A graduate of the University of Michigan in Ann Arbor, Van Deman became the first woman to specialize in the field of Roman archaeology. For thirty years, she advanced the study and research of Roman architecture.
William E Boeing – 1881
The businessman founded The Boeing Company in 1916 and became a pioneer in the aviation world.
Kathleen Ollerenshaw – 1912
Despite her deafness and discouragement from teachers, Ollerenshaw excelled at mathematics and supported many areas of education in the British Empire.
Dorothy Woolfolk -1913
The pioneering comic book editor is partially responsible for Superman's weakness to kryptonite. She also served as an editor at three of the major comic franchises in the United States, including present-day DC and Marvel Comics.
James Earl Carter – 1924
In 1977, Jimmy Carter became the 39th President of the United States. A member of the Democratic Party, he served one term.
George R. Carruthers – 1939
Carruthers' interest in ultraviolet spectroscopy and his ability to invent led the physicist to develop the ultraviolet camera for the 1972 Apollo 16 launch.