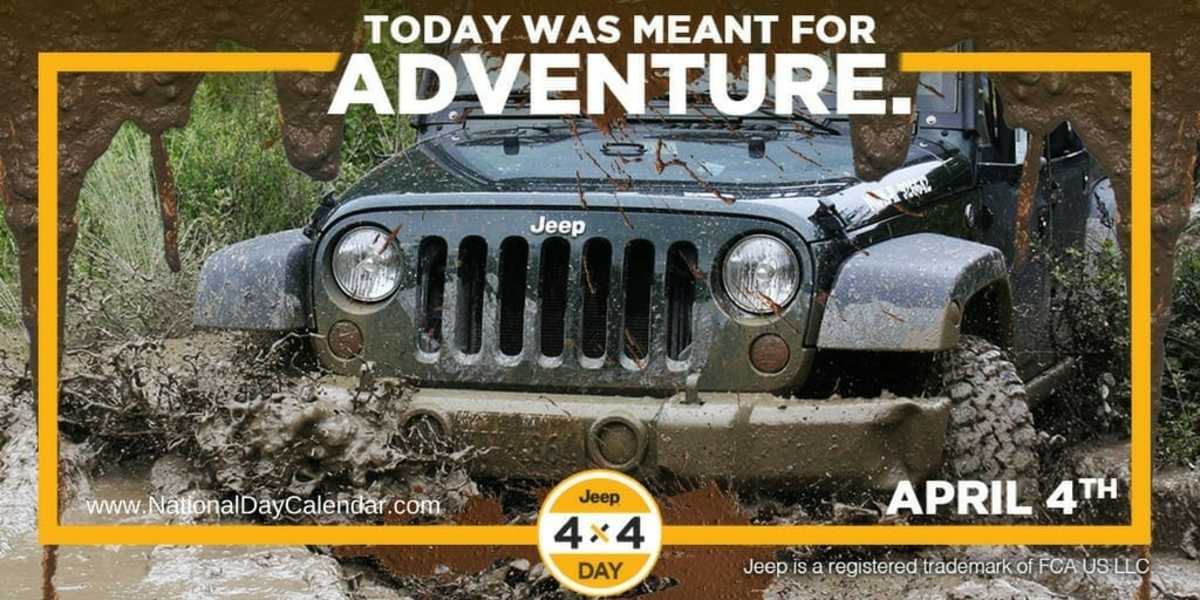 JEEP 4X4 DAY
On 4/4, Jeep 4×4 Day launches us into adventure! Celebrate the excitement of discovery while venturing out in the open air.
Fresh air and warmer temperatures lure us outdoors, and what better way to experience the thrill of an excursion than in a Jeep 4×4. Whether it's up rocky slopes or through muddy trails, Jeep vehicles let you take adventure to a whole new level.
Crossing creeks, touring valleys, and maneuvering through rocky terrain are just part of the trek. In a Jeep brand vehicle, you can see lost history and beautiful vistas. Getaway with friends for the day or take off for a week by yourself to refuel. This celebration reminds us that every day was meant for adventure!
HOW TO OBSERVE #Jeep4x4Day
Get into your 4×4 and get out there. Plan a 4×4 trip. Whether a day trip or an entire tour, find one that fits your lifestyle. Explore the world beyond your front door and use #Jeep4x4Day to share on social media.
NATIONAL JEEP 4X4 DAY HISTORY
The Jeep brand founded Jeep 4×4 Day to celebrate adventure-seeking in a Jeep brand 4×4.
The Registrar at National Day Calendar® declared the first observance to take place in 2016 and annually thereafter.
Jeep is a registered trademark of FCA US LLC.


There are over 1,500 national days. Don't miss a single one. Celebrate Every Day® with National Day Calendar®!