(Last Updated On: December 12, 2022)
May 29, 2023 – National Paperclip Day | Memorial Day
This Is The Ultimate Trading Up Story.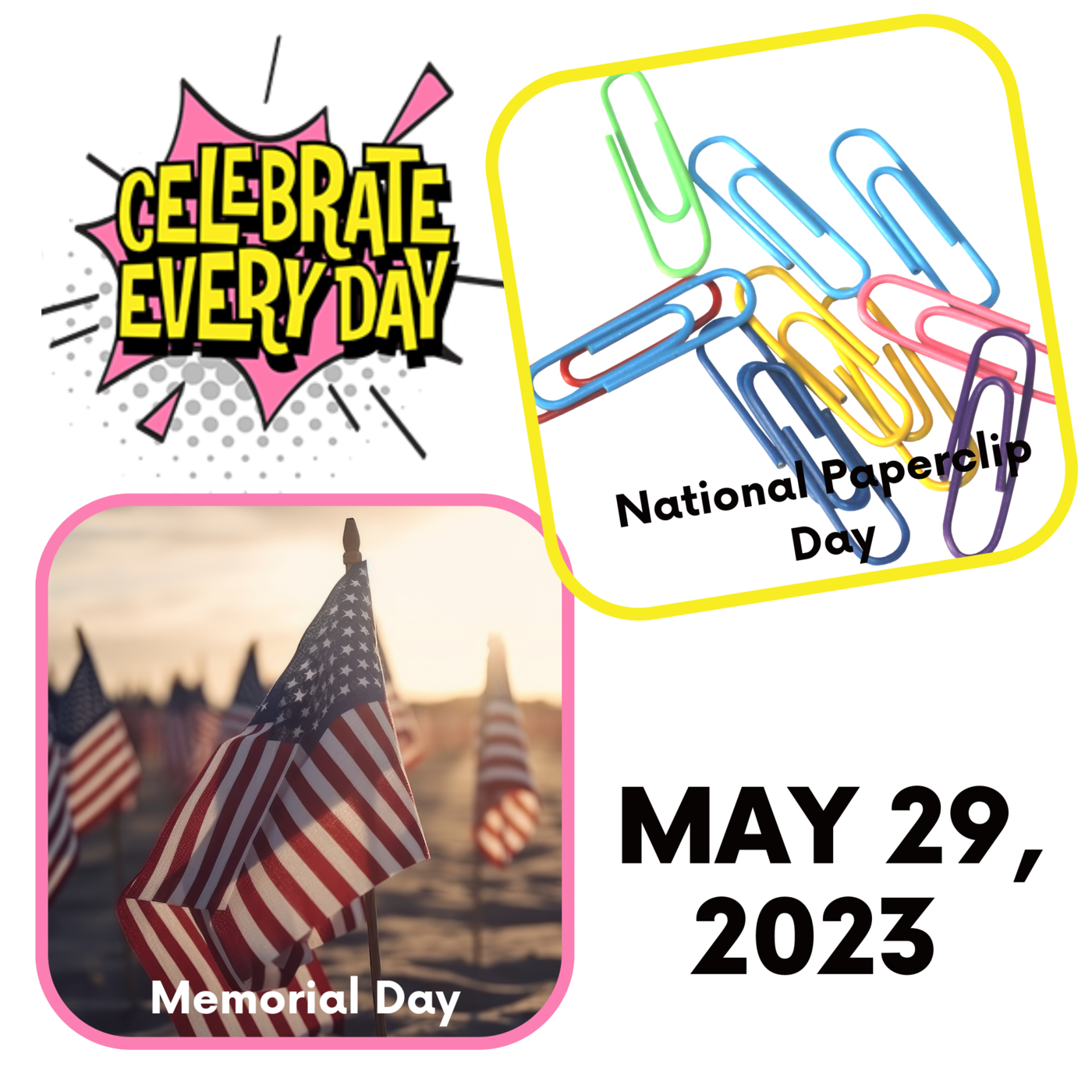 0:00
0:00
May 29, 2023
National Paperclip Day
Memorial Day
This Is The Ultimate Trading Up Story.
3:00
May 28, 2023
National Brisket Day
National Hamburger Day
No Matter How You Slice It, This Day Is All About Beef.
3:30
May 27, 2023
National Grape Popsicle Day
National Cellophane Tape Day
This Happy Accident Is Still Delicious.
3:00
May 26, 2023
National Paper Airplane Day
National Cooler Day
This Flight Set The Bar For Paper Plane Folding.
3:00
May 25, 2023
National Wine Day
National Tap Dance Day
This May Be The Most Memorable Tap Dance Ever.
3:00
May 23, 2023
National Lucky Penny Day
National Taffy Day
This Happy Accident Is Still A Sweet Success.
3:00
May 22, 2023
National Buy A Musical Instrument Day
National Solitaire Day
This Musical Instrument Is Used In Horror Movies.
3:00
May 21, 2023
National Strawberries And Cream Day
National Take Your Parents To The Playground Day
Let Your Kids Mix Things Up In The Great Outdoors.
3:00
May 20, 2023
National Pick Strawberries Day
National Streaming Day
This Museum Is Dedicated To Our Favorite Summer Fruit.
3:00
May 19, 2023
National Devil's Food Cake Day
Nascar Day
This Sinful Dessert Caused Quite A Stir!
3:00
May 18, 2023
National Cheese Souffle Day
National No Dirty Dishes Day
This Culinary Masterpiece Is Worth The Challenge.
3:00
May 17, 2023
National Cherry Cobbler Day
National Idaho Day
This Crash Site Put This Stuntman On The Map!
3:30
May 16, 2023
National Sea Monkey Day
National Barbecue Day
These Tiny Shrimp Are Not All They Are Cracked Up To Be.
3:00
May 15, 2023
National Salsa Month
National Chocolate Chip Day
That Is One Spicy Record!
3:00
GINGERBREAD HOUSE DAY
Gingerbread House Day on December 12th recognizes a family tradition for many around the country. 
#GingerbreadHouseDay
A favorite food of an Armenian monk, Gregory of Nicopolis, brought gingerbread to Europe around 992 AD and taught French Christians to bake it. Since gingerbread was often used in religious ceremonies, monks baked to be sturdy to molded into images of saints.
We can thank the Brothers' Grimm for a gingerbread house, though. Through their tale of Hansel and Gretel, they introduce an evil witch who lives in a house made of gingerbread. It didn't take long for the German gingerbread guilds to pick up the idea. Soon, they put gingerbread houses to a more festive use making snowy cottages made from the spicy-sweet treat.
Today, we can spend the day baking, cutting, and building to our heart's delight. Kits take some steps out of the process so we can get right down to constructing our winter wonderlands.
HOW TO OBSERVE GINGERBREAD HOUSE DAY
Gather the family together, bake up some gingerbread, and start building and decorating your very own gingerbread house. Give the recipe below a try.
Other ways to celebrate include:
Reading Hansel and Gretel.
Hosting a house-building party.
Touring gingerbread displays.
Use #GingerbreadHouseDay to post on social media.
GINGERBREAD HOUSE DAY HISTORY
National Day Calendar® continues researching the origins of this cookie engineering day. 
Gingerbread FAQ
Q. How do I glue the walls of the house together?
A. Use Royal Icing for the best results. This type of icing will dry and become hard ensuring your creation stands for the entire holiday season. (That is, if everyone in your household doesn't gobble it up first.)
Q. What is the world's largest gingerbread house?
A. According to Guinness World Records, the Texas A&M Traditions Club in Bryan, Texas built the world's largest gingerbread house in 2013. The team raised money for charity by charging admission fees to tour the life-size house with working gingerbread doors. Another record-breaker in the category of gingerbread is Jon Lovitch of New York. Each year he builds a gingerbread village which is displayed at the New York Hall of Science. In 2017, Guinness World Records certified his village as the largest with 1,251 buildings.