(Last Updated On: September 25, 2020)
24 SNACKS FROM AROUND THE WORLD
24 Snacks From Around the World – When it comes to snack food, fast food, and junk food around the world, our culture plays a large role in determining flavors. Traditions long past, easily accessible ingredients and advertising success determine what items get the spotlight. What do snack foods look like in other countries? We went exploring and discovered 24 interesting and tasty snacks from around the world.
Australia 
Fairy Bread – Australians take bread and butter to a whole new level – they put sprinkles on it. That's right. White bread spread with butter becomes something entirely different when

Lamington

colorfully sweet sprinkles are added. According to Wikipedia, this treat has been enjoyed by generations of children since at least the 1920s.

Lamington – Squares of sponge cake or butter cake are rolled in a chocolate sauce and then coated in dried coconut flakes. Australians love the cake so much, there's even a National Lamington Day on July 21st.
Jaffle – For many outside of Australia, this toasted sandwich may remind them of a panini. Using your favorite bread, stuff it with any ingredients you like and then toast it in a press. They can be sweet or savory, but the results are delicious.
Canada 
Poutine – French fries and fresh white cheddar cheese curds covered in gravy is a quintessential Canadian snack. Even fast-food restaurants in Canada offer poutine on their menus. Created in the 1950s per a trucker's request, the word poutine is Canadian slang for "a mess." It's so popular, many consider it to be the country's national dish.
Whippet – No, not the dog breed. This snack made in Canada is a chocolate-covered marshmallow and cookie treat.
Timbits – Much of the rest of the world calls these overly delicious snacks donut holes. But in Canada, they are called by a brand name, Timbits. Named after the Toronto Maple Leafs' hockey defenseman, Tim Horton, the treats debuted in 1976.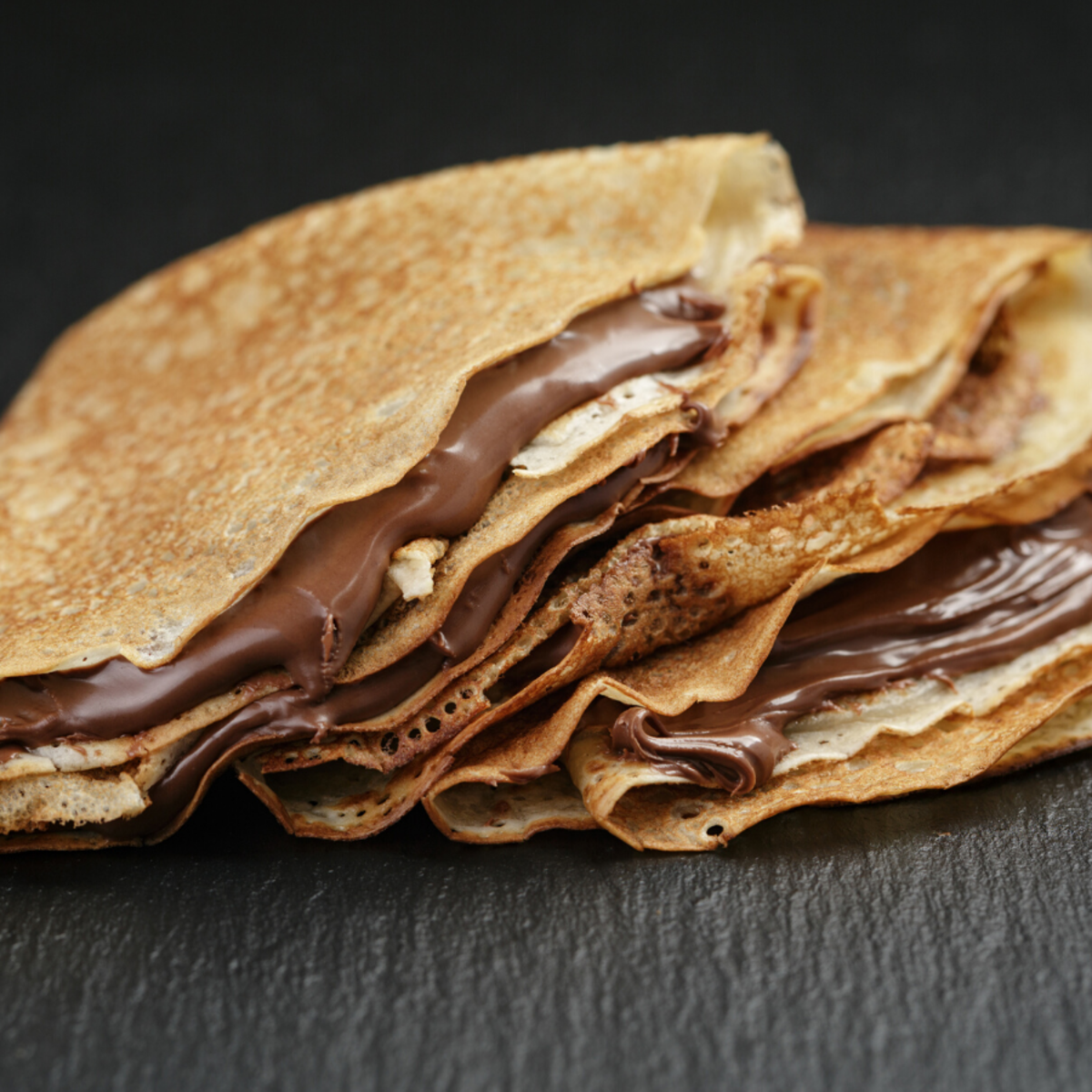 France
Crepes – Only the French can serve snack food as classy as crepes. These thin pancakes can be eaten on their own but why stop there? Add ham and cheese for a savory snack or for dessert add hazelnut spread and fruit. The filling options are endless!
Macarons – This is a classic French sandwich cookie. The delicate exterior is made with almond flour, confectioners sugar, and meringue. Two cookies sandwich a ganache filling. These delightfully colorful cookies come in a wide variety of flavors, too.
Panisse – The French make a dough made from chickpea flour that is deep-fried. Originating in Provance, they are also called chickpea fries. Serve hot and season with salt and pepper. They taste delicious with a variety of dipping sauces, too.
Great Britain
Jaffa Cakes – If you like chocolate oranges around the holidays, you might like these orange-flavored cookies covered in chocolate. They also make a great addition to tea. What's more British than that?
Curly Wurly – This uniquely shaped candy bar is made with chocolate, caramel, and toffee. The chewy toffee and caramel look as if it has been braided and then dipped in a chocolate coating.
Branston Pickle – While not usually snacked on alone, this spicy-sweet vegetable chutney spread is often served with a ploughman's lunch. Branston pickle is spread on the bread usually served with the lunch.
India 
Pakoras – This fried fritter hits the spot. Made with chickpea flour like the French Panisse, Pankora can include other ingredients like onion, tomato, and even cheese, like paneer.
Jalebis – These deep-fried flour batter spirals are soaked in a sugar syrup for a sweet and crispy treat.

Jabelis

Pork Shapale – If you like meat pies, then the pork shapale will satisfy your snacking needs. With distinctly Eastern flavors such as garlic, masala, and ginger, the shapale hails from Tibet.
Italy 
Arancini – Rice or risotto is the main ingredient in this fried snack. An added surprise is the gooey mozzarella added to the rice before forming the mixture into balls. The balls are then rolled in seasoned breadcrumbs and fried. You'll enjoy dipping them in a delicious marinara sauce, too!
Gelato – In Italy, ice cream is a little different. The frozen, creamy dessert known as gelato is made with less fat than what's commonly served in the United States and well, the world. At 3.25% butterfat, gelato offers a full flavor.
Ciambelle – A cross between a pretzel and a doughnut, Ciambelle is flavored with anis or fennel for a licorice flavor.
Ireland
Spice Bag – Fries (or chips if you're in Ireland), crispy breaded chicken, and vegetables are tossed in a thick paper bag and seasoned with a spicy sauce. It's the ultimate in takeout and perfect for those midnight munchies.
Black Pudding – Also popular in England, black pudding is a blood sausage with deep roots in Ireland. Made with pigs blood, oatmeal, and heavily seasoned, it is often included as a part of a full Irish breakfast.
Snack – What better way to cover snack foods than with a cake named "Snack"? Wrapped in a purple wrapper, this snack bar is a shortcake sandwich with a milk chocolate filling.
Japan
Umaibo – This puffed corn snack is reminiscent of a large cheese puff only larger. It also comes in a variety of flavors such as corn potage, natto, cheese, and teriyaki.
Konpeitō – Offered in a variety of flavors, konpeitō is a sugar candy shaped like little stars. Much like small bits of rock candy, these sweet bites offer a colorful way to enjoy a sugary snack.
Fugashi – In Japan, fu is dried wheat gluten. Used in soups and other dishes, it becomes fugashi when it is sweetened with brown sugar. If you reach for the cotton candy to satisfy your sweet tooth, you might want to give Fugashi a try.
Would any of these worldly snack foods satiate your munchies? With so many to choose from, it might be hard to pick. If you're celebrating National Junk Food Day, National Fast Food Day, or even National Candy Day, celebrate with some international flair!
There are over 1,500 national days. Don't miss a single one. Celebrate Every Day with National Day Calendar!