Looking Back
Septembr 25, 2021 - NATIONAL OPEN THE MAGIC DAY – NATIONAL SINGLES DAY – NATIONAL GHOST HUNTING DAY – NATIONAL COMIC BOOK DAY – NATIONAL DAUGHTER'S DAY – NATIONAL RESEARCH ADMINISTRATOR DAY - NATIONAL ONE-HIT WONDER DAY – NATIONAL HUNTING AND FISHING DAY – NATIONAL QUESADILLA DAY – SEAT CHECK SATURDAY - MATH STORYTELLING DAY – NATIONAL LOBSTER DAY – NATIONAL TUNE-UP DAY – SAVE YOUR PHOTOS DAY – NATIONAL FAMILY HEALTH & FITNESS DAY USA – NATIONAL PUBLIC LANDS DAY
SEPTEMBER 25, 2021 | NATIONAL OPEN THE MAGIC DAY | NATIONAL SINGLES DAY | NATIONAL GHOST HUNTING DAY | NATIONAL COMIC BOOK DAY | NATIONAL DAUGHTER'S DAY | NATIONAL RESEARCH ADMINISTRATOR DAY | NATIONAL ONE-HIT WONDER DAY | NATIONAL HUNTING AND FISHING DAY | NATIONAL QUESADILLA DAY | SEAT CHECK SATURDAY | MATH STORYTELLING DAY | NATIONAL LOBSTER DAY | NATIONAL TUNE-UP DAY | SAVE YOUR PHOTOS DAY | NATIONAL FAMILY HEALTH & FITNESS DAY USA | NATIONAL PUBLIC LANDS DAY

NATIONAL OPEN THE MAGIC DAY
National Open The Magic Day celebrates read alouds, picture books, the of love reading, and students who struggle to find their reading voice. Every year on September 25th, teachers and parents worldwide read a picture book (or many!) to celebrate Opening the Magic. The day reminds us that picture books are for everyone and allows them to have a confetti moment!
What are confetti moments? A confetti moment is when a child or adult relates to a point in a story that brings them great joy and a place where they belong. Everyone from two to one hundred two enjoys picture books! And everyone has a confetti moment waiting when you Open the Magic.
"I am where I am today because I AM A READER. I am a college graduate, a master's degree recipient, a reading specialist, owner of Ramona Recommends, a presenter, an elementary teacher, and somebody who never gives up!" Courtney Hinshaw, Founder of Ramona Recommends
National Open The Magic Day is also a reminder to thank the parents and teachers who do everything they can to help children become who they were meant to be. Every day they work together to give children the gift of reading. Their gift also helps to build a safe place for every child to feel loved.
HOW TO OBSERVE #OpenTheMagicDay
On September 25th and every day, Open the Magic! There are so many ways to bring the gift of reading and enjoy those confetti moments.
Read the

OPEN THE MAGIC

picture book of the year.
Read

your favorite picture book

to your class or child.
Invite authors virtually to your classroom.
Have your school get involved and do a school read aloud.
Create a themed meal around a favorite picture book.
Share your celebration using #OpenTheMagicDay on social media. Never give up on your students. Every single one has magic in their hearts. Be the teacher or parent who says, "Open The Magic!"
NATIONAL OPEN THE MAGIC HISTORY
In 2021, Courtney Hinshaw, founder of Ramona Recommends, created National Open The Magic Day to encourage parents, teachers, and students to find their confetti moments all around them. She also wanted to give back to her community and share her love of picture books with anyone who loves books. In third grade, Courtney was diagnosed with dyslexia and an auditory processing disorder. She grew up a struggling reader but loved books. Because of her parents, teachers, and her perseverance, she became a reader. There isn't a day that goes by that she does not think about that little girl in 5th grade trying to read.
"I believe picture books help kids understand the tender moments of failure, success, differences, bravery, and love. Every kid deserves to find a book that will lead them to a confetti moment. Reading aloud should never stop. Books bring hope and love into the hearts of humans. Books connect us together which is the greatest gift we can give." Courtney Hinshaw, Founder of Ramona Recommends
The Registrar at National Day Calendar proclaimed the first National Open the Magic Day to be observed on September 25, 2021.
NATIONAL SINGLES DAY
National Singles Day takes place on the Saturday of Singles week in September. The day recognizes nearly half of the U.S. population who, whether by choice or circumstance, remain unattached.
The single population continues to be an integral part of growing businesses, organizations, and communities.
Singles contribute to their families and communities in a variety of ways, too. Some of the statistics may be surprising, but they shouldn't be. For example, more singles help out with ailing parents than their married siblings. However, it's not always for the reasons one might think. Yes, many married couples have small children shrinking the time they have to spare, but even couples without children helped out less often than their single siblings.
The day not only celebrates the accomplishments of singles but aims to break down myths surrounding the single lifestyle. Most singles don't go through life depressed and directionless. Their social lives are active and full of purpose. They contribute actively to their communities and pursue long-range goals. While some may prefer solitude, others seek interests outside their work-life while staying connected to friends and family.
Not everyone is part of a power couple. The day celebrates their unique qualities and opportunities to network with ingenuity and independence.
HOW TO OBSERVE #NationalSinglesDay
As a growing part of our society, celebrate the single people in your life. Make room for them in your plans and if you are one, become a part of the growing crowd of singletons. Other ways to participate:
Host or join an event for singles near you.
Share your experiences as an independent single.
Invite other singles to join you on a trip or night out.
Count the reasons why being single is right for you.
Join a social group for singles.
Whether you wear it as a badge of honor or are seeking to change your single life, join the celebration. Use #NationalSinglesDay to share on social media.
NATIONAL SINGLES DAY HISTORY
The Buckeye Singles Council of Columbus, Ohio first observed National Singles Day in the 1980s. The date was moved in 2017 to coincide with National Singles Week in September.
NATIONAL GHOST HUNTING DAY
On the last Saturday in September, as part of the World's Largest Ghost Hunt, National Ghost Hunting Day kicks off an annual international investigation of the paranormal.
Ghost hunting stirs up images of abandoned mansions with murderous histories. For others, ghost hunting involves specters guarding ancient crypts. Centuries-old ghost stories around the world focus on historical records or literature. Science, religion, and academia debate their existence. Even their use by Shakespeare and other playwrights is often considered a continuation of that discussion.
Legendary Ghosts
Seeking paranormal activity isn't limited to crumbling ruins and darkened, forgotten corners of the world. Public places boast eerie tales of spectral voices or haunting mists. For example, both the Tower of London and the White House in Washington, D.C. crackle with the electricity of paranormal activity. The former is thought to be haunted by Ann Bolyn's ghost. With regards to the White House, the stories are plentiful, too.
Enthusiasts bring attention to historic properties. They also have an interest in preservation. As part of the adventure, sleuths visit Civil War-era towns like Old-Salt Sulphur Springs, Virginia. Others join ghost walks like the one at Rohs Opera House in Kentucky. For train lovers and train-loving ghosts, hop on board in Colorado. There are many historical locations ready for sleuthing and investigation on National Ghost Hunting Day.
Perhaps it's the anticipation for the novice – someone yet to experience the thrill of witnessing a restless soul making contact for the first time. Lured into their first haunted journey, the novice remembers the first spooky ghost story read by flashlight under the bedsheets. Or perhaps it was an unexplained blur on a snapshot. Sometimes, just the prospect of a spirit lingering nearby piques the investigator's interest. However, actual sightings are rare and fleeting.
Modern Ghost Hunts
With the increase of movies and television shows going on the hunt, interest grows. Societies worldwide continue developing methods of proving the existence of ghosts, spirits, and other paranormal activity. Typically, a ghost hunting team attempts to collect evidence they see as supportive of paranormal activity. Devices such as an EMF meter, digital thermometer, handheld, and static digital video cameras, audio recorders, and computers are all part of a team's toolbox. However, they also employ traditional techniques like conducting interviews and researching the history of a site.
Of course, skeptics remain. Considered a pseudoscience by most educators, academics, and science writers, ghost hunting leads to noble acts. For example, some ghost hunts launched preservation campaigns. They also preserve the American Folklore Story and integrate known scientific tools for challenging dimensional theories. Thus, with a tremendous sense of discovery and enthusiasm, National Ghost Hunting Day is celebrated.
National Ghost Hunting Day will kick off with the Shot-Gun start at The ScareFest in Lexington, KY. To join in the coast-to-coast simultaneous hunt, find a satellite team near you! In addition, national ghost hunting societies will be participating across the country investigating local venues. Use #NationalGhostHuntingDay to share on social media.
NATIONAL GHOST HUNTING DAY HISTORY
Haunted Travels founded National Ghost Hunting Day to kick off a season full of haunted attractions and fall festivities. They encourage enthusiasts to pursue their interests in the mysteries surrounding the supernatural and carry on ghost hunters' long-held traditions. One hundred percent of funds raised through ticket sales go to local non-profit pet shelters in each participating community. The Registrar at National Day Calendar approved the day in July of 2016.
NATIONAL COMIC BOOK DAY
On September 25th, National Comic Book Day honors the art, artists, and stories of comic books. Fans, collectors, readers, and artists come together to celebrate the day with events across the country.
First popularized in the United States, comic books are also called comic magazines. Generally, comic books produce drawn sequential and opposing panels representing individual scenes. Each scene often includes descriptive prose and written narratives. When placed together, the panels form a complete story or a portion of a serial.
The earliest comic strips (which later gave birth to comic books) displayed dialogue in bubbles or balloons above characters' heads. As an art form, the designs can be quite intricate. For example, text, dialogue, personalities, color, and imagery enhance part of a storyline. Over time, these storylines also distinguished eras, artists, genres, and themes.
People who collect comic books are known as pannapictagraphist.
The term "comic book" comes from the first book sold as a book reprinted of humorous comic strips. Despite their name, comic books are not all humorous in tone and feature stories in all genres.
One of the earliest known comics printed was The Adventures of Obadiah Oldbuck. The 1842 hardcover comic book became the first known American comic book.
In 1896, Richard Felton drew a comic-book magazine published in the United States featuring The Yellow Kid in a sequence titled "McFadden's Row of Flats." The 196-page book featured black and white print and measured 5×7 inches. It sold for 50 cents.
In 1933, a comic book, Famous Funnies, appeared in the United States. Many believe the work to be the first real comic book. The reprinting of earlier newspaper comic strips established many of the story-telling devices used in comics.
HOW TO OBSERVE #NationalComicBookDay
This dynamic art form continues to inspire artists and storytellers today. There are also so many ways to celebrate the day:
Try sharing your collections and artwork to spread the love.

Attend a convention.

Visit a comic book store.

Study the art of comic books.

Explore the styles and artistry.

Create your own comic book.

Read about the history and how the medium changed and evolved.
Maybe you'll discover a great find. Learn about the careers of Steve Ditko, John Buscema, Curt Swan, or Carmine Infantino. Tell us who your favorite comic book artist or storyteller is.
Pick up a comic book to read and use #NationalComicBookDay to post on social media.
Educators, visit the National Day Calendar classroom for projects designed to include the days in your classroom.
NATIONAL COMIC BOOK DAY HISTORY
National Day Calendar continues searching for the source of this artistic day.

NATIONAL DAUGHTER'S DAY
When it comes to offspring, National Daughter's Day reminds of the young women and girls in our lives. On September 25th, spend time with your daughter.
Daughters bring a certain kind of joy into our world. Like all children, they have their own personalities and strengths. As parents, we look forward to discovering the world through their eyes.
Depending on where you live, International Daughter's Day is observed on the Fourth Sunday in September. Elsewhere the day might be observed on October 1st. No matter when you celebrate, the day provides an opportunity to show your daughter genuine support, encouragement, and love.
In some countries, daughters face a rough start in the world. They are sometimes denied an education, equal employment or even healthcare. Sons are put before them and given priority. Social stereotypes set certain expectations of behavior for daughters including how they dress and behave.
The day offers us an opportunity to be thankful for our daughters and to find ways to ensure daughters around the world have every opportunity to succeed.
HOW TO OBSERVE #NationalDaughtersDay
Share the day with your daughter. Look back on memories or create new ones. Some other ways to celebrate the day include:
Send your daughter a card.
Take a selfie every year on National Daughter's Day. Over the years, you will be able to see how much she and you have changed.
Donate to an organization that supports educating daughters. For example,

Women One

provides support to women and girls worldwide. Another is

Helping Women Period

which supplies feminine products worldwide.
Teach your daughter something new. Whether it's useful or fun, practical or vital, your daughter will appreciate you for it.
Learn something from your daughter. Our daughters' growing catalog of experiences offers us a treasure trove of information that they will gladly share with us.
While you're celebrating daughters and YOUR daughter, be sure to share your day with us, too. Use #NationalDaughtersDay to post on social media all the ways you celebrate.
NATIONAL DAUGHTER'S DAY HISTORY
National Day Calendar continues researching the origins of this family holiday.
NATIONAL RESEARCH ADMINISTRATOR DAY
National Research Administrator Day on September 25th recognizes the contributions made by administrators every day.
Research Administrators and Managers serve an important role in supporting research. They assist the faculty and researchers, protect the institution or organization and assure sound stewardship of sponsored research dollars. Many organizations support Research Administration around the world.
Their roles are multifaceted. From oversight of a program to compliance and review, Research Administrators serves every aspect of a project. They keep a project on course. Their management allows other's to maintain focus on their individual roles as well.
Where do Research Administrators work? The role of a Research Administrator leads research goals in many fields. As expected, these stewards are found in health and medical institutions and research facilities. However, they're also in demand in higher education from liberal arts colleges to research universities and in the government sectors. Both for-profit and non-profit organizations rely on their knowledge and direction.
Research administration began in the 1940s with a small number of individuals. They've now advanced into the modern age with thousands of acknowledged professionals worldwide. Research Administrators and managers provide value and expertise to the global research enterprise.
HOW TO OBSERVE #ResearchAdministratorDay
Take your favorite Research Administrator or Manager to lunch to thank them for all they do. Share their successes. Often their accomplishments help to move research forward. Take photos and post on social media using #ResearchAdministratorDay
NATIONAL RESEARCH ADMINISTRATOR DAY HISTORY
National Council of University Research Administrators submitted National Research Administrator Day in August of 2015 to recognize the professionals who diligently work to keep research projects on course.
The Registrar at National Day Calendar® proclaimed the to be observed annually on September 25th.
NATIONAL ONE-HIT WONDER DAY
On September 25th, National One-Hit Wonder Day brings back memories while turning up the volume. We honor all the musical artists and chart-topping songs that make them memorable.
These songs make us sing whether we should or not. We know all the words even though we don't know why. They're the songs groups of friends will burst out in chorus together and make memories, too. Movie soundtracks love them. Wedding dances love them. We all love them!
The real kicker is, the artists or groups only made us swoon once. After that, they faded away. Some continued with moderate success. Others, however, were never heard of again, musically.
Listed below are just a few of the well-known one-hit wonders from days gone by.
1955 – "Earth Angel (Will You Be Mine)" by The Penguins

1963 – "Six Days on the Road" by Dave Dudley

1968 – "Tip Toe Thru The Tulips" by Tiny Tim

1969 – "Smile a Little Smile for Me" by The Flying Machine

1970 – "One Tin Soldier" by The Original Caste

1970 – "The House of the Rising Sun" by Frijid Pink

1972 – "Hot Rod Lincoln" by Commander Cody and His Lost Planet Airmen

1983 – "Puttin' on the Ritz" by Taco

1988 – "Don't Worry Be Happy" by Bobby McFerrin
Do any of these bring back memories?
HOW TO OBSERVE #OneHitWonderDay
How many one-hit wonders can you name? Do you know the title and the artist? While you're exploring your playlists, check out these 10 One Hit Wonders that Stand the Test of Time. Use #OneHitWonderDay to share on social media.
ONE-HIT WONDER DAY HISTORY
National Day Calendar® continues searching for the source of this musical holiday.
NATIONAL HUNTING AND FISHING DAY
Each year National Hunting and Fishing Day occurs on the fourth Saturday in September. The day recognizes the conservationists and preservationists found in those who hunt and fish across the country.
For those who enjoy hunting and fishing, doing so responsibly is important. Following safety guidelines keeps them and others safe. However, they also strive to keep their hobbies alive. To do so, they follow the laws and guidelines put in place for each season.
Every year, limits fluctuate depending on the population of birds, fish, and other game. At times, the population is so high, there's a need to reduce an invasive species. Other species require careful regulation to prevent overhunting and fishing.
While hunting or fishing, many enjoy the beauty of nature. They explore areas of the country they may not normally see. Wilderness brings families together or friends for bonding time. Hunting and fishing are about respect for the land, the habitat, and each other, too.
Take the day to go out hunting or fishing. Be safe. Follow posted guidelines and hunt within the season. Share your experiences and enjoy the great outdoors. While you're out, be sure to take an active role in teaching future generations. Use #HuntingAndFishingDay to post on social media.
NATIONAL HUNTING AND FISHING DAY HISTORY
The day dates back to the 1960s. In 1972, by Senate Joint Resolution 117, Congress requested the President to declare the fourth Saturday of September 1972 as National Hunting and Fishing Day. On May 2 of the same year, President Richard Nixon signed proclamation 4128 designating the observance to occur the Fourth Saturday in September.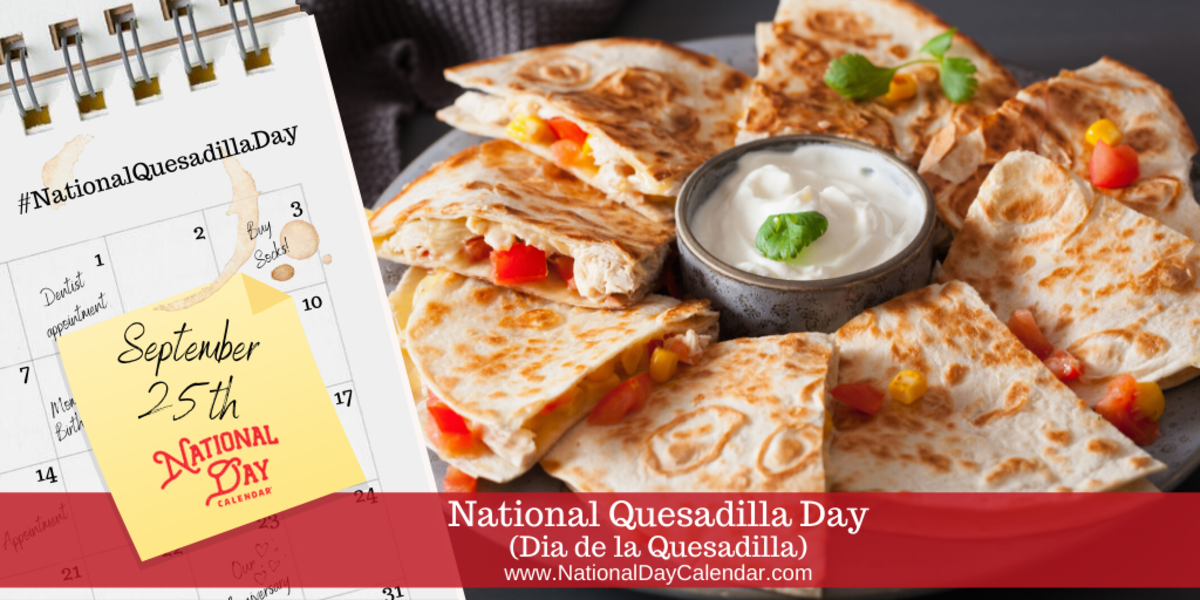 NATIONAL QUESADILLA DAY (Dia de la Quesadilla)
National Quesadilla Day on September 25th encourages us to pull a chair up to the table and eat some authentic Mexican food. While it's not a sandwich or a taco, the quesadilla satisfies snack cravings while also completing a meal.
Typically made with a corn tortilla and filled with cheese, we heat quesadillas until the cheese melts. Then it hits the grill or frier until just crispy. Some people also include other fillings such as cooked sausage, chicken, pork, or beef. And don't forget the toppings. Fresh tomatoes, salsa, herbs, sour cream, guacamole, or chilies bring a whole other level of flavor to the quesadilla. Don't forget to finish it with a squeeze of lime. Serve it with an ice-cold beer or a margarita, and the meal is complete.
Families love quesadillas, too! In households around the country, families include quesadillas as a popular mealtime solution. In fact, V&V Supremo recently found one in three people are making quesadillas at least once a week*. Additionally, quesadillas have crossed over from authentic Mexican restaurant menus to more typical chain restaurants. Even higher-end gourmet eateries include them on their menus. Their simplicity allows for easy customization and people of all ages love to eat to them, too.
HOW TO OBSERVE #NationalQuesadillaDay
Can you taste them yet? You will! Whether for a snack or a meal, quesadilla's hit the spot. Just gather up your favorite ingredients for a quesadilla night. Be sure to include the most essential ingredient – family. Together you can build authentic quesadillas and celebrate the day. As you do, be sure to share the experience with us by using #NationalQuesadillaDay on social media.
You can also check out this tasty Veggie Quesadilla recipe.
NATIONAL QUESADILLA DAY HISTORY
V&V Supremo® founded National Quesadilla Day (Dia de la Quesadilla) in 2020 to bring people together to enjoy authentic and delicious quesadillas. One of the only true ways to make an authentic quesadilla is with authentic Mexican-style melting cheese, Chihuahua® Brand Quesadilla cheese made by V&V Supremo. It is the gold standard for quesadillas with its rich, buttery, and flavorful taste.
On September 10, 2020, the Registrar at National Day Calendar proclaimed National Quesadilla Day to be observed on September 25th, annually.
*Footnotes: In April 2019, V&V Supremo® surveyed 1,000 people between the ages of 25-55 in the U.S. who have cooked Mexican food and shopped for Mexican-style cheese in the last six months, and who are familiar with the dish quesadillas.
SEAT CHECK SATURDAY
The National Highway Traffic Safety Administration (NHTSA) promotes the fourth Saturday in September as Seat Check Saturday.
With one child under the age of 13 injured in an automobile accident every 33 seconds, the NHTSA hopes everyone will spread the news.
The proper use of child safety seats is the leading preventative measure parents and childcare providers can implement to avoid injury and death in young children. One 2016 safety fact to note is 328 children under 5 years of age were sav
HOW TO OBSERVE #SeatCheckSaturday
Take a little time to learn the laws of your state's DOT website about age, height, and weight restrictions for children in safety or booster seats. Be sure to look over the information on NHTSA.gov/TheRightSeat for additional help choosing and installing these safety seats.
Use #SeatCheckSaturday on social media to spread the news about this National Day to your family and friends with little ones.
SEAT CHECK SATURDAY HISTORY
National Day Calendar continues to research when Car Seat Saturday began. However, over the years, the observance has grown. Many state and local agencies participate annually to maintain safety and awareness. While the observance is usually the fourth Saturday in September, it occasionally lands on the third Saturday.
MATH STORYTELLING DAY
On September 25th, Math Storytelling Day encourages everyone to tell stories through math. This is a day to appreciate all the ways math enhances our daily lives.
The day is a great opportunity to get children excited about math through stories and games. Math stories can include logic, patterns, puzzles and numbers. Tell math jokes and sing songs about math. It's an excellent way to explore math and promote learning.
HOW TO OBSERVE #MathStorytellingDay
Explore math stories, make up new ones, listen to others tell even more math stories. Terrific ways to celebrate the day include:
Math collages
Create a math storybook
Play a storytelling game
Develop math puzzles that tell a story
Use #MathStorytellingDay to post on social media.
Educators, visit the National Day Calendar Classroom for ways to incorporate this day into your school calendar.
NATIONAL MATH STORYTELLING DAY HISTORY
The Natural Math Community of Naturalmath.com created Math Storytelling Day in 2009. Inspiration struck Dr. Maria Droujkova after reading a blog post by Seth Godin entitled "What should I do on your birthday?" Seth encouraged readers to think bigger than themselves when making birthday suggestions to friends. Dr. Droujkova took the idea to heart and declared Math Story Day would be shared with friends and family on her birthday, September 25th. Not only did Dr. Droujkova share math stories, but the first person to respond, Sue, shared a birthday with Dr. Droujkova, too.

NATIONAL LOBSTER DAY
National Lobster Day on September 25th takes a taste of a seafood favorite.
The simplest way to enjoy Lobster is boiled then dipped in melted butter. A couple of favorite lobster recipes include Lobster Newberg and Lobster Thermidor. It is also the main ingredient in soup, bisque, lobster rolls, and salads.
Large lobsters are estimated to be 50 years old.
These marine crustaceans live at the bottom of the ocean. If they avoid the lobster pot, some can live up to 100 years old. Even though we consider them a delicacy today, that wasn't always the case. In colonial times, the lobster received very little culinary credit. In fact, the pigs and goats ate more lobster than the well-to-do.
While lobsters arrive at our tables bright red, they don't start out that way. In the ocean, they come in many colors. Some are yellow, green, or even blue.
Now that lobsters rank higher on the menu, consider these nutrition facts.
Lobsters contain no carbohydrates and 27.55 grams of protein per 1 cup serving.
In that same 1 cup serving, there are 129 calories and 1.25 grams of fat.
Eating lobster offers an excellent source of selenium, omega-3 fatty acids, vitamin A, and calcium.
Celebrate by enjoying a delicious lobster meal at your favorite seafood restaurant. Try cooking a lobster dish at home. It will wow the family and make it a true celebration. Use #NationalLobsterDay on social media.
We've found several delicious recipes to try. Let us know which one you like best!
Did you know there's even a Lobster Newburg Day? Check out this recipe for Lobster Newburg.
According to the Guinness World Records, the largest lobster ever caught was in Nova Scotia, Canada, weighing 44.4 lbs.
NATIONAL LOBSTER DAY HISTORY
In 2014, Senators Angus King and Susan Collins of Maine drafted a joint resolution designating September 25th as National Lobster Day. The proclamation recognizes the men and women in an industry as well as the long and rich heritage, from sea to table.
NATIONAL TUNE-UP DAY
National Tune-Up Day on September 25th reminds homeowners to prepare for the winter heating season.
Heating and cooling specialists recommend that homeowners tune up their heating systems every year in advance of seasonal changes. These tune-ups ensure that the systems are operating as efficiently as possible.
A heating system tune-up includes:
Removal of dust and dirt in your vents.

Checking to make sure all your vents are not blocked or leaking.

Ensuring your fuel jets are working correctly.
Additionally, combustion gases should be analyzed and compared to the specifications of your furnace. The blower access door needs to be checked to assure a tight seal at the furnace. Other necessary inspections include checking fresh air intake grills for blockage and burners for proper ignition and flame. While inspecting the furnace, check the drainage system for blockage and leakage, too. Drains and traps also need to be tested. Plus, the blower wheel, motor, wiring and all filters should also be checked for corrosion and damage. Heating contractors follow an extensive checklist when completing your furnace tune-up.
A heating system tune-up saves energy and reduces heating costs.
HOW TO OBSERVE #NationalTuneUpDay
Enjoy a cozy winter. Tune up your heating system. You can also give a shoutout to the technicians who provide outstanding service. Share your experiences and use #NationalTuneUpDay to post on social media.
NATIONAL TUNE-UP DAY HISTORY
HomeServe USA founded National Tune-Up Day in 2014. They're a leading provider of home emergency repair service plans.
In 2014, the Registrar at National Day Calendar® declared the home maintenance awareness day to be observed on September 25th, annually.
SAVE YOUR PHOTOS DAY
Save Your Photos Day is always on a Saturday in September. This is a great day to back up those digital photos and organize all those boxes of Polaroids.
As part of Save Your Photos Month, the day reminds us these precious memories are perishable. Whether through natural disasters like floods, fires, or tornados or the human ones like spilled liquids and computer viruses, photos in any form are fragile. Backing them up and preserving them is necessary for the long haul.
Some of the older photographs that have made it this far may be missing vital information. Many of our grandparents didn't take the time to write the names of the people in the pictures, never realizing that generations later would be as fascinated by the people in the images as they were by taking them.
There are several ways to create order from the chaos. Take charge of the modern photos now. Label as you go by including names, dates, and information about the event on the picture. Back up the digital photos regularly. Share your favorites and display those that bring a smile.
When it comes to tracking down information on old family pictures, start with relatives. There may be someone who knows someone with a long memory. Take a road trip with your photographs for a visit. Connect through ancestry and family tree websites. Some of the oddest things will help connect one photo to another.
HOW TO OBSERVE #SaveYourPhotosDay
Take time to protect your photographs, whether you use your phone, a digital camera, or film to take pictures. Attend workshops on how to preserve photographs. Scan, preserve, and share the photos with family members to be shared for future generations as well. Other ways to participate include:
Sharing your skills – Invite others to learn how to organize their photos, research their history, and document the stories.
Take a class – Learn about photo preservation and editing. Bring those old photos back to life.
Start scanning – Preserve old photos digitally to share with other family members.
Make it a habit – Document your photos with dates and names.
Use #SaveYourPhotosDay to share on social media.
SAVE YOUR PHOTOS DAY HISTORY
Save Your Photos Alliance (developed by The Association of Personal Photo Organizers) created Save Your Photos Day.
NATIONAL FAMILY HEALTH & FITNESS DAY USA
The entire family gets involved with National Family Health & Fitness Day on the last Saturday in September.

The day promotes family involvement in physical activity in support of one of the goals of the U.S. Surgeon General's Report on Physical Activity and Health. When families strive to be healthy together, the success rate increases. Incorporating exercise and a healthy diet into a family's lifestyle takes a team effort. It's kind of like celebrations. Who celebrates alone?
When we make reaching health goals a family goal it becomes a fun activity. One way to achieve better fitness is by cooking together. When we do, we learn which flavors fit their lifestyle best. While learning new exercise routines, families encourage each other, too. Once one member finds success, it challenges the other family members to pick up the pace. We support each other to bike, walk, or stretch through to the next peak.
When we make the experience a positive one, we also improve the bonds between family members. We grow together and develop new skills that we will carry with us for a lifetime.
HOW TO OBSERVE #FamilyHealthAndFitnessDayUSA
Get out and play as a family. It's important to do something physical every day. Whether the family goes for a walk, throws a Frisbee, or plays with the dogs, get the heart rate up. Another thing to do is learn portion sizes. Then go through the house and reduce or eliminate the unhealthy snacks in the house. Replace them with fruits and vegetables. Start cooking together. Aim for at least one meal week and work up to cooking every day together.
Other ways to celebrate the day include:
Invite the family to suggest their favorite ways to work out.

Incorporate vegetables into your breakfast routine.

Bring the kids to the grocery store to help them understand their options.

Join a fitness group that encourages family activities.
Find events and more activities at fitnessday.com to join in the celebration and use #FamilyHealthAndFitnessDayUSA to post on social media.
NATIONAL FAMILY HEALTH AND FITNESS DAY USA HISTORY
The Health Information Resource Center organizes Family Health And Fitness Day USA each year. The day was started in 1996.

NATIONAL PUBLIC LANDS DAY
National Public Lands Day (NPLD) is the nation's largest, single-day volunteer effort for public lands.
This fee-free day in many federally managed lands encourages visitors to volunteer conservation or enjoy hiking, exploring, fishing or camping their favorite public lands. Volunteers give back by repairing trails, collecting trash, or other maintenance needed around the parks.
Our public lands offer outdoor and open spaces for us to explore all year long. Every season, they provide a beautiful bounty of wildlife and nature to explore. We hike the trails, camp, and picnic with family and friends. Some of us have lists of places to visit. There are plenty of vistas to discover all across the country.
It's important to keep them pristine for generations to come. Whether the beach calls or the mountains, each one requires us to take care of it.
HOW TO OBSERVE #PublicLandsDay
Visit your favorite public land and volunteer. Join an event near you and show your support. We even have a list of the 7 Best Public Lands in the Country for you to check out. While we know there are more, here are a few you might want to explore.
Find out more about how you can participate by visiting neefusa.org and use #NPLD or #PublicLandsDay to post on social media.
NATIONAL PUBLIC LANDS DAY HISTORY
National Public Lands Day began in 1994 and keeps the promise of the Civilian Conservation Corps, the "tree army" that worked from 1933-1942 to preserve and protect America's natural heritage.
On Deck for September 26, 2021
National Days
International Days
September 25th Celebrated (And Not So Celebrated) History
1890
President Benjamin Harrison establishes Sequoia National Park, the first national park in the United States. Sequoias the largest trees and are among the oldest trees, too.
1912
Columbia University in New York City establishes a school of journalism. The first students began classes on September 30, 1912.
1926
Following a trend he started in 1914, Henry Ford further modifies the workweek to 5 days. In 1914, he raised daily wages to $5. In May of 1926, he reduced the workday to 8 hours. He was one of the first industrialists to create a 40-hour workweek.
1928
One of the world's first cartoonists dies. Outcault created the Yellow Kid comic series.
1956
A three-way telephone conversation inaugurates the first Transatlantic Telephone Cable System 1 (TAT1). Before, transatlantic cable communications only occurred via telegraph.
1974
Tommy John undergoes ulnar collateral ligament replacement surgery. Performed by Dr. Frank Jobe, the surgery is the first of its kind and becomes known as Tommy John surgery.
2013
Artist Inez Harwood sets world record for the longest tie-dye. The artist dyed 3000 feet of fabric to set the record.
Recipe of the Day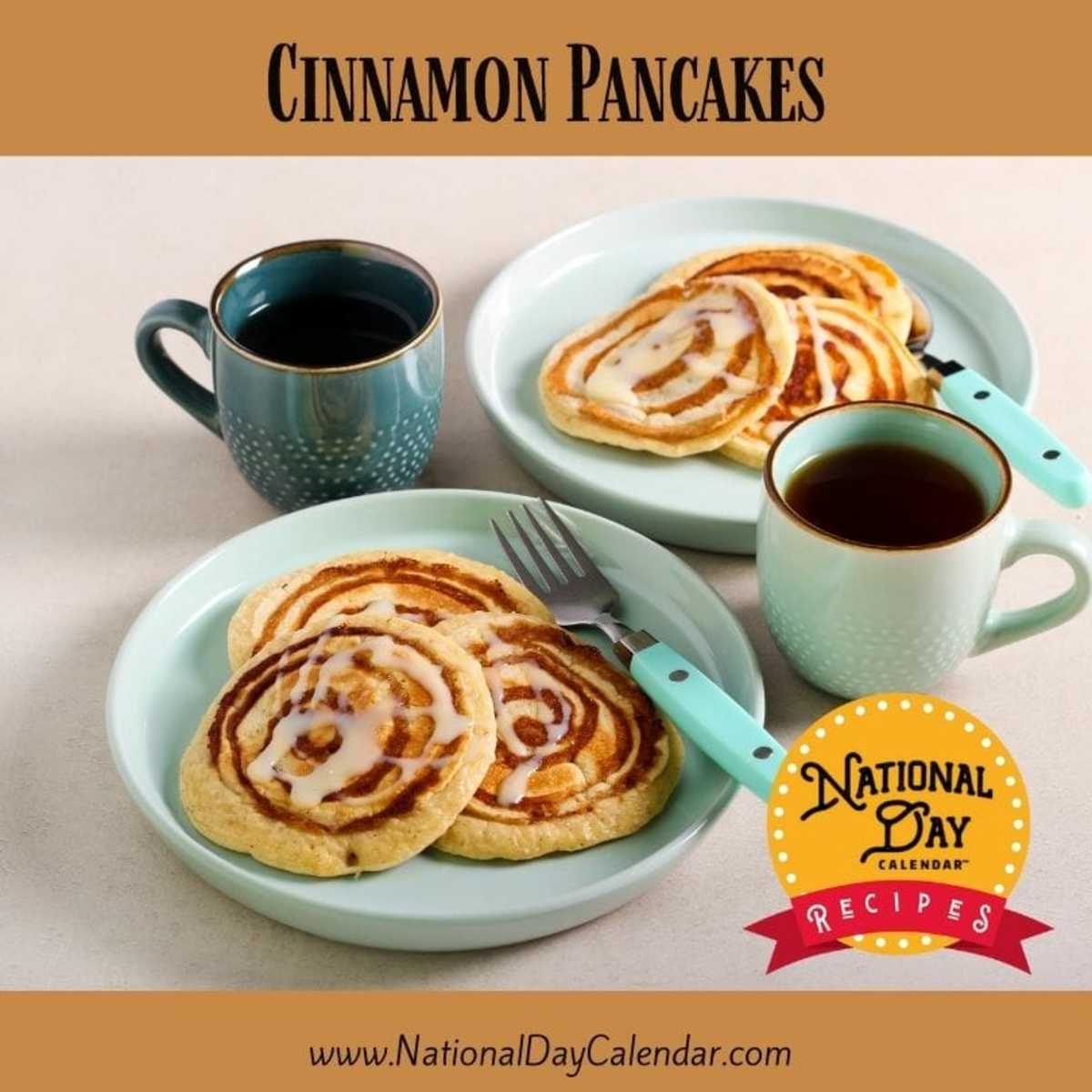 Cinnamon Pancakes
Prep time: 10 minutes
Cook time: 10 minutes
Total: 20 minutes
Servings: 12 pancakes
Ingredients
Pancakes
1 cup all-purpose flour
3/4 tablespoon baking powder
1/2 teaspoon baking soda
1/4 teaspoon salt
1 tablespoon sugar
1/2 tablespoon cinnamon
1 egg
1 cup milk
1 tablespoon butter, melted
Cinnamon Drizzle
1 cup confectioner's sugar
2 tablespoons brown sugar
1/2 teaspoon cinnamon
2-3 tablespoons apple cider
In a small bowl, mix sugars, cinnamon, and apple cider. Add more or less apple cider until a drizzly consistency forms.
Heat griddle over medium-high heat and spray with oil.
Combine the flour, baking powder, baking soda, salt, and sugar in a medium bowl. Mix in egg, milk, and butter until just combined.
Using 1/3 cup of batter per pancake, pour the batter onto the hot griddle. With a spoon, drizzle the cinnamon drizzle over the pancake batter. Flip the pancakes when bubbles begin to form. Cook until lightly brown and done in the middle.
Serve with warm syrup.
September 25th Celebrated (And Not So Celebrated) Birthdays
Thomas Hunt Morgan – 1866
The geneticist's research with the fruit fly led to the chromosome theory of heredity.
Olive Ann Beech – 1903
She and her husband Walter H. Beech founded Beech Aircraft Corporation. Her roles at the manufacturer of business and military airplanes included secretary-treasurer, president, and then chairman of the board.
Phyllis Pearsall – 1906
The author and cartographer founded Geographers' A-Z Map Company and produced a modern atlas of London.
Charles Jackson French – 1919
In 1942, French was serving in the Navy on the USS Gregory. When the ship was struck by Japanese gunfire and sunk, French swam through shark-infested waters pulling wounded sailors in a life raft to safety. His only honor was a letter of commendation from Adm. William F. Halsey.
Barbara Walters – 1929
The television journalist became the first woman to co-anchor an evening news program. Walters launched her television career in 1961 when NBC hired her for the Today show. In 1976, ABC wooed the journalist away with a $1 million annual salary and the opportunity to become the first woman co-anchor.
bell hooks – 1952
Born Gloria Jean Watkins, the outspoken activist wrote several books including Rock My Soul: Black People and Self-Esteem and Feminism is for Everybody: Passionate Politics.
W. Daniel Hillis – 1956
The innovative businessman founded Thinking Machines Corporation. He is a pioneer of parallel processing computers which allows two microprocessors to handle different parts of a complex task.
Keely Shaye Smith – 1963
The broadcast journalist and documentary filmmaker has earned numerous awards for both facets of her career. She began her journalism career at NBC as a correspondent for the show Unsolved Mysteries.
Will Smith – 1968
The accomplished actor got his start as the Fresh Prince in 1988 which led to the television sitcom The Fresh Prince of Bel-Air. Since then, Smith has starred in numerous films including the Men in Black Series, Ali, The Pursuit of Happyness, and Aladdin.
About National Day Calendar
National Day Calendar® is the authoritative source for fun, unusual and unique National Days! Since our humble beginnings on National Popcorn Day in 2013, we now track nearly 1,500 National Days, National Weeks and National Months. In addition, our research team continues to uncover the origins of existing National Days as well as discover new, exciting days for everyone to celebrate.

There's a celebration for everyone. While National Road Trip Day satisfies the itch to wander, many pet days let us share our love of animals. National 3-D Day and National Astronaut Day honor the advancement of technology, too. Every food day you can imagine (National Avocado Day, for example), will keep you celebrating, also!
Be sure to stay in the know by signing up for our e-mail updates. Also, follow us on Facebook, Twitter, and Instagram.
Our Ambassador Program is another way #CelebrateEveryDay®! Whether you become an ambassador or follow one of the savvy ambassadors, their fun videos and posts will keep you prepared for every holiday.