Looking Back
September 9, 2021 - NATIONAL TEDDY BEAR DAY – NATIONAL WIENER SCHNITZEL DAY - CARE BEARS SHARE YOUR CARE DAY - NATIONAL SCHOOL PICTURE DAY
SEPTEMBER 8, 2021 | NATIONAL TEDDY BEAR DAY | NATIONAL WIENER SCHNITZEL DAY | CARE BEARS SHARE YOUR CARE DAY | NATIONAL SCHOOL PICTURE DAY
NATIONAL TEDDY BEAR DAY
On September 9th, National Teddy Bear Day honors the history of one of childhood's favorite toys. We have all had a special cuddly teddy as a child. Some of us still have our teddy bear from our childhood. No matter what kind of teddy bear you had, the day is a perfect time to celebrate your childhood friend!
In 1902, American President Theodore Roosevelt refused to shoot a bear cub while hunting in Mississippi. The incident made national news. Clifford Berryman published a cartoon of the event in the Washington Post on November 16th, 1902, and the caricature became an instant classic.
The Berryman cartoon of Teddy Roosevelt and the cub inspired New York store owner Morris Michtom. He created a new toy and even had a name in mind. Michtom wrote President Roosevelt to ask permission to name the new toy a "Teddy Bear."
A teddy bear does not depend on mechanics to give him the semblance of life. He is loved – and therefore, he lives. ~ Pam Brown
Since the advent of the Teddy Bear, a parade of famous characters followed.
Big Bird from Sesame Street named his Teddy Bear Radar. The lasagna-loving cat celebrated on Garfield the Cat Day armed himself with Pooky, his lovable scapegoat. The British invasion of Teddy Bears includes Winnie-the-Pooh and Paddington. In 1981, the Care Bears first became greeting cards. Not long after, they launched into television and toy history.
And let's not forget the Muppet character Fozzie Bear. The lovable and comedic bear endlessly perseveres with one-liners, slapstick, and musical comedy.
HOW TO OBSERVE #NationalTeddyBearDay
Share some of your favorite Teddy Bear characters from a time gone by. Are they recent interpretations of the lovable creature? Or do you have an affinity for the classic Teddy Bear? Other ways to celebrate include:
Giving a Teddy Bear to someone you love.
Donate Teddy Bears to a local organization for children.
Host a Teddy Bear tea party with your children.
Download, print and color the

Teddy Bear coloring page.
Share your memories of Teddy Bears using #NationalTeddyBearDay to post on social media.
NATIONAL TEDDY BEAR DAY HISTORY
We were unable to identify the creator of National Teddy Bear Day.
NATIONAL WIENER SCHNITZEL DAY
On September 9th, celebrate a traditional Austrian dish with National Wiener Schnitzel Day. This breaded recipe is made with veal.
A law in Austria requires this dish to be made strictly with veal. Chefs make Wiener Schnitzel by tenderizing a thin slice of veal and then lightly salting and breading it. It is then deep-fried in clarified butter. The term "Wiener Schnitzel" was first used in the early 1830s, though similar recipes appear earlier.
When is National Hot Dog Day?
Wiener Schnitzel is traditionally served with lettuce salad, cucumber salad, or potato salad. Some people serve it with parsley potatoes. A slice of lemon may also be served with the schnitzel. Rice, roasted or mashed potatoes and French fries have also become popular side dishes to Wiener Schnitzel lately.
Variations of the dish exist in many cultures throughout the world including making it with pork rather than the traditional veal. Sometimes, restaurants offer Wiener Schnitzel as a sandwich. Layed with lettuce or cucumber slaw and a sauce on a pretzel bun, the sandwich makes for a satisfying meal. Add a side of spaetzle for the full complement of flavors.
HOW TO OBSERVE #WienerSchnitzelDay
Make Wiener Schnitzel at home. Or, go to your favorite beer hall or restaurant and order some. Share your favorite recipes, too! While you're celebrating, don't forget to tag the restaurant that makes the best Wiener Schnitzel. Post photos on social media using #wienerschnitzelday.
NATIONAL WIENER SCHNITZEL DAY HISTORY
We were unable to find the origins of this food holiday.

CARE BEARS™ SHARE YOUR CARE DAY
On September 9th, Care Bears Share Your Care Day inspires giving and volunteering in significant ways.
For more than 35 years, Care Bears have taught children of all ages about sharing their feelings and caring for others. The Care Bears toy line was initially introduced in 1983 to caring fans everywhere. And they've never been out of the heart and minds of fans since.
At their core, CARE BEARS™ SHARE YOUR CARE DAY have heart and are all about love, caring, and sharing with others. Care Bears also support charities around the world, helping families in need. Through We Care Bears, ZachKapCares, Fathom/en-ABLE, United Way, Operation Smile, and many more they bring hope and caring to others.
With help from a team of Care Bears Ambassadors, Care Bears hope to generate national support for a movement called #ShareYourCare to inspire people toward philanthropic generosity not just on that day, but every day of the year!
HOW TO OBSERVE #ShareYourCareDay
The main focus of Share Your Care Day is to inspire acts of kindness and goodwill across the United States and beyond. And, a team of Care Bears Ambassadors and Care Bears partners pledge to help make this goal come true. Care Bears have taught fans worldwide the importance of caring for others. Share Your Care Day is the perfect opportunity for everyone to participate in acts of kindness – and to remember that goodwill and consideration toward others are essential every day of the year.
Participation is as simple as doing something nice for someone else.
Treat a friend to coffee.
Share a toy with a sibling.
Do an extra chore without being asked.
Help an older neighbor bring their trash cans to the street.
Organize a tree-planting campaign.
Buy a meal for a homeless family.
Volunteer at a local charity.
The #ShareYourCare movement is all about acts of kindness, big and small. Care Bears encourage you to do something nice for someone today. Care Bears hope to encourage you to be kind, think of others and #ShareYourCare every day
Use #ShareYourCareDay on Facebook, Instagram, and Twitter.
HISTORY OF NATIONAL CARE BEARS #SHAREYOURCARE DAY
Care Bears #ShareYourCare Day was submitted by American Greetings Entertainment in April 2015.
The Registrar at National Day Calendar originally declared September 9th as Care Bears Share Your Care Day in May 2015.
CARE BEARS™ SHARE YOUR CARE DAY SOCIAL MEDIA HANDLES:
Keep up with the latest on Care Bears: www.CareBears.com
Facebook: www.facebook.com/CareBears
Twitter: www.twitter.com/CareBears
Instagram: www.instagram.com/CareBears
YouTube: https://www.youtube.com/CareBears
Pinterest: www.pinterest.com/CareBearsAGP

NATIONAL SCHOOL PICTURE DAY
On the Second Thursday in September, National School Picture Day reminds us to put on our best smiles.
Picture Day creates memories that last a lifetime. Not only that, but the day makes moms and dads radiate with pride and joy. Whether they capture the first toothless grin or the start of adolescence, school pictures are a tradition dating back generations. They mark time, much like the hash marks on a growth chart. By graduation day, families bring their children full circle. A complete collection of pictures chart their children's primary and secondary school years.
When is National Kindergarten Day?
While school pictures capture milestones, they also create a feeling of belonging. As they fill yearbooks, finding their place among the pages gives them a sense of their school community. Additionally, a school picture serves as a tangible reminder of their school-aged years.
HOW TO OBSERVE #NationalSchoolPictureDay
Dig out your favorite school pictures. While you are reminiscing, be sure to share them on Facebook, Twitter, and Instagram. Tell us your favorite memories. Of course, each era claims outstanding style points – big hair, big collars, bold colors. What were yours? We all change and your children will, too. Be sure to capture all the important moments on school Picture Day. Use #NationalSchoolPictureDay and #FrameItAll to share your Picture Day moments on social media.
NATIONAL SCHOOL PICTURE DAY HISTORY
Lifetouch founded National School Picture Day in 2019 to celebrate the annual tradition of Picture Day. For over 80 years, Lifetouch has been taking school pictures for millions of children annually in the US and Canada. During the 2nd week of September (usually that Thursday) they photograph the highest volume of children annually – millions!
In 2019, the Registrar at National Day Calendar proclaimed the second Thursday in September to be observed as National School Picture Day annually.
On Deck for September 10, 2021
National Days
International Days
September 9th Celebrated (And Not So Celebrated) History
1839
John Herschel made history that has impacted the world for almost 200 years. He took the first glass plate photograph on September 9, 1839. It should come as no surprise that Herschel grew up in a world of lenses where light and dark were elements of his youth. His father was astronomer William Herschel. Herschel's first glass plate photo was of his father's telescope. An astronomer himself, the younger Herschel also coined the phrase "photography."
1850
The United States admits the 31st state to the Union – California. Two years before, miners discovered gold. "Eureka!" became not only an exclamation, but it also became a town and an element on the state's seal.
1895
In Beethoven Hall in New York City, bowlers organized the American Bowling Congress. They elected Thomas Curtis as their first president.
1940
From McNutt Hall at Dartmouth College, George Robert Stibitz of Bell Telephone Laboratories successfully transmitted information via computer remotely.
2007
What's in a name? Well, when 1,488 people with the same last name gather in Letterkenny, Ireland, it's a world record!
Recipe of the Day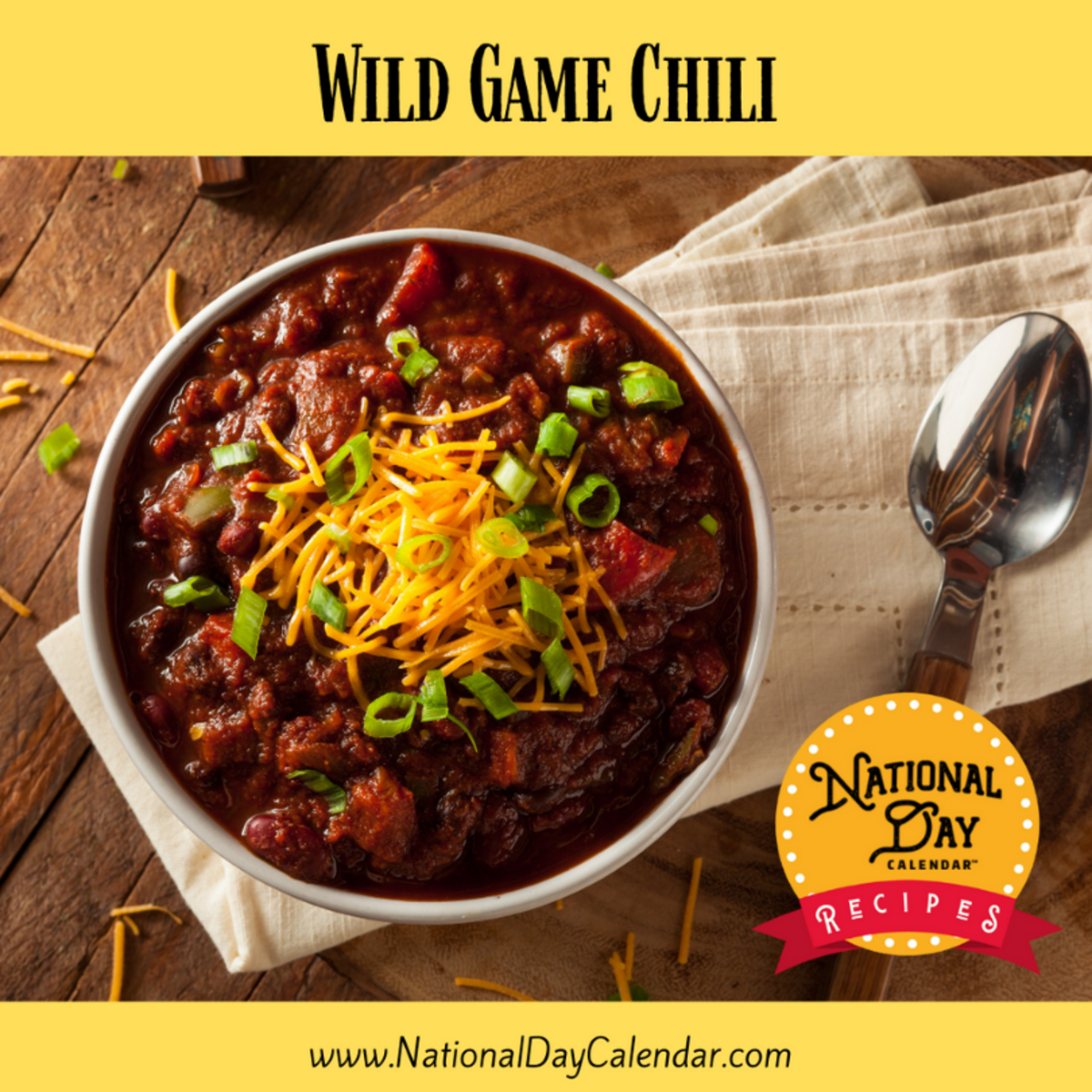 Wild Game Chili
Prep time: 15 minutes
Cook time: 1 hour
Total Cook: 1 hour 15 minutes
Servings: 16
Ingredients
2 tablespoons olive oil
2 onions, diced
2 green peppers diced
3 cloves garlic, minced
1 pound bacon, cut into 1 inch pieces
1 lb ground venison, elk, or moose
1 lb ground bison
1 lb ground pork
2 packages of seasoning mix
1 15-ounce can black beans, drained
1 15-ounce can kidney beans, drained
1 15-ounce can chili beans
1 28-ounce can diced tomatoes
1 4-ounce can green chilis
1 cup frozen or fresh corn
1 16-ounce jar of chunky salsa
1 6-ounce can tomato paste
1 tablespoon liquid smoke
1 bottle/can of beer
Instructions
In a large stew pot or Dutch oven, saute onions and peppers in olive oil over medium-high heat until onions are translucent. Add garlic and cook until fragrant – about 1 minute. Add bacon and cook until crisp. Mix in ground meats and chili seasonings. Brown meat, breaking it up into crumbled pieces. Stir in the remaining ingredients. Let simmer uncovered until the chili has reduced by 1/4 and is thick.
Salt to taste.
Serve topped with sour cream, cheddar cheese, or cottage cheese.
This chili freezes well in sealed containers or freezer bags.
Recipe Credit: Michele S. – North Dakota
September 9th Celebrated (And Not So Celebrated) Birthdays
Leo Tolstoy – 1825
The prolific Russian author is considered one of the greatest novelists of all time. He wrote several masterpieces including Anna Karenina, the massive tome War and Peace, and many others.
Dorothy Price – 1890
The Irish physician played a key role in eliminating childhood tuberculosis in Ireland. Her efforts to bring vaccines and testing supplies led to support for a nationwide program.
Colonel Harland Sanders – 1890
The founder of Kentucky Fried Chicken (KFC for those who like to shorten things), started his first restaurant out of a service station. But an entrepreneurial restaurateur was not his first occupation. The Colonel served in the military (but wasn't a colonel), worked as a farmhand, served as a local midwife, and even studied law, among other jobs.
Joseph E. Levine – 1904
The revolutionary film producer is credited with producing more than 50 films. Some of his most recognizable work includes Godzilla (1959), The Graduate (1967), The The Lion in Winter (1968).
Otis Redding – 1941
With a soulful and iconic voice, Redding brought some of the most beautiful songs to life. The Dock of the Bay and These Arms of Mine are two of his most successful hits. However, the talented artist's life was cut short in a plane crash in 1967.
Joe Theismann – 1949
The NFL quarterback played 9 years with the Washington Redskins. Following his athletic career, Theismann pursued a career as a sportscaster and analyst.
Michelle Williams – 1980
Some of the American actress's best-known films include Blue Valentine and Manchester by the Sea. She also played the lead role in the biopic My Week with Marilyn.
About National Day Calendar
National Day Calendar® is the authoritative source for fun, unusual and unique National Days! Since our humble beginnings on National Popcorn Day in 2013, we now track nearly 1,500 National Days, National Weeks and National Months. In addition, our research team continues to uncover the origins of existing National Days as well as discover new, exciting days for everyone to celebrate.

There's a celebration for everyone. While National Road Trip Day satisfies the itch to wander, many pet days let us share our love of animals. National 3-D Day and National Astronaut Day honor the advancement of technology, too. Every food day you can imagine (National Avocado Day, for example), will keep you celebrating, also!
Be sure to stay in the know by signing up for our e-mail updates. Also, follow us on Facebook, Twitter, and Instagram.
Our Ambassador Program is another way #CelebrateEveryDay®! Whether you become an ambassador or follow one of the savvy ambassadors, their fun videos and posts will keep you prepared for every holiday.