Looking Back
September 28, 2022 - WORLD DENSE BREAST DAY - NATIONAL GOOD NEIGHBOR DAY – NATIONAL DRINK BEER DAY – NATIONAL WOMEN'S HEALTH AND FITNESS DAY – NATIONAL STRAWBERRY CREAM PIE DAY – NATIONAL NORTH CAROLINA DAY
SEPTEMBER 28, 2022 | WORLD DENSE BREAST DAY | NATIONAL GOOD NEIGHBOR DAY | NATIONAL DRINK BEER DAY | NATIONAL WOMEN'S HEALTH AND FITNESS DAY | NATIONAL STRAWBERRY CREAM PIE DAY | NATIONAL NORTH CAROLINA DAY
WORLD DENSE BREAST DAY | Last Wednesday in September
We highlight World Dense Breast Day on the last Wednesday in September to raise awareness about the importance of breast screening, breast density, and other screening tests women should consider after their mammograms. Read more…
NATIONAL GOOD NEIGHBOR DAY | SEPTEMBER 28
National Good Neighbor Day on September 28th creates an opportunity for neighbors to get to know each other better. This day acknowledges and celebrates the importance of a good neighbor. Read more…
NATIONAL DRINK BEER DAY | SEPTEMBER 28
National Drink Beer Day toasts that malty elixir on September 28th, annually. Just as the Oktoberfest season comes to an end, the day reminds us to enjoy the world's most popular adult beverage. Read more…
NATIONAL WOMEN'S HEALTH & FITNESS DAY
On the last Wednesday in September, National Women's Health & Fitness Day promotes the largest event for women's health of all ages. Read more…
NATIONAL STRAWBERRY CREAM PIE DAY | SEPTEMBER 28
Each year on September 28 strawberry lovers get to enjoy their favorite fruit in the form of pie on National Strawberry Cream Pie Day. Read more…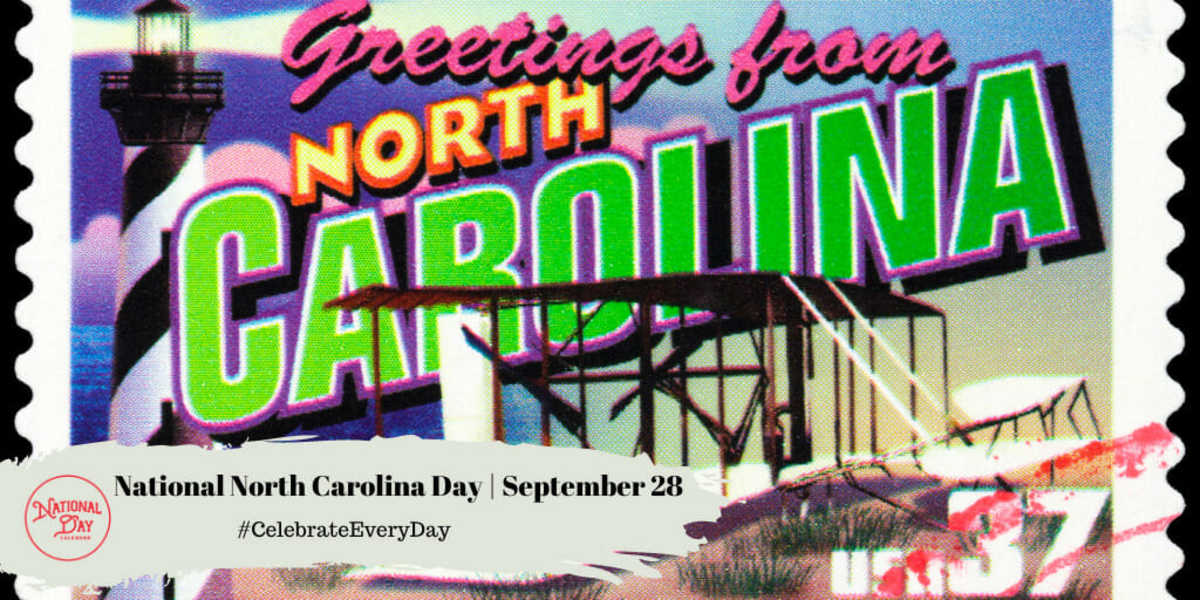 NATIONAL NORTH CAROLINA DAY
As we near the last of the original 13 colonies, National North Carolina Day recognizes the 12th state to join the Union. Read more…
On Deck for September 29, 2022
National Days
International Days
Recipe of the Day
Coffee Ice Cream
Prep Time: 10 Minutes
Freeze Time: 4-6 hours
Total: 6 hours 10 minutes
Serves: 4-6
Ingredients
1 cup whipping cream
2 tablespoons instant coffee powder
1 teaspoon vanilla or another extract of your choice
1/3 cup sugar
Instructions
Pour the whipping cream into a medium-sized bowl and gently stir in the coffee powder and extract.
Let stand for 5 minutes to soften the coffee powder.
Whip the cream with a mixer or by hand adding the sugar when soft peaks begin to form. Beat till stiff.
Spoon into 4-6 dixie-sized cups (2 1/2 inches in diameter) or individual serving dishes.
Freeze for 4 to 6 hours.
Recipe Credit: Roberta Allen
September 28th Celebrated History
1865
After being denied entry to medical school in Britain, Elizabeth Anderson pursued her education in France and obtaining her license on September 28, 1865. She was the first woman in France to do so and also the first British woman to earn a medical degree. She would later co-found the London School of Medicine for Women.
1901
After developing a safety razor, inventor King Camp Gillette along with William Emery Nickerson founded the American Safety Razor Company.
1924
A group of aviators with the U.S. Army Air Service circumnavigates the globe by air for the first time.
1928
When Alexander Fleming examines the Petri dishes of bacteria in his lab, he discovers a mold growing in one of them that had killed off the bacteria. The discovery would lead to the world's first antibiotic, penicillin.
1937
Making drinking from a straw more flexible, Joseph Bernard Friedman receives a patent for a drinking tube. Patent No. 2094268A describes a flexible drinking straw that bends without reducing the diameter of the straw.
1990
Marvin Gaye receives star on Hollywood Walk of Fame. Some of those present for the ceremony include Stevie Wonder, Berry Gordy, Smokey Robinson and Natalie Cole.
2008
Marina Bay Street Circuit hosts the first-ever Formula One night race. Fernando Alonso won the race.
September 28th Celebrated Birthdays
Arthur Guinness – 1725
The brewer founded the Guinness Brewery in 1759 in Dublin, Ireland.
Frances Willard – 1839
The educator and reformer founded the World Women's Christian Temperance Union in 1883. She would be the organization's national president from 1879 to 1898.
Kate Douglas Wiggin – 1856
In 1903, the educator and author published her novel Rebecca of Sunnybrook Farm. While the novel became the author's best-known work, she also published numerous other works of children's literature. Some of them include the short story collection The Arabian Nights and New Chronicles of Rebecca.
William S. Paley – 1901
When Isaac and Leon Levy purchased Columbia Phonographic Broadcasting System, Paley was named president of the network. The company was renamed Columbia Broadcasting System (CBS).
Seymour Cray – 1925
In 1972, the electrical engineer found Cray Research, building high-speed supercomputers.
Ben E. King – 1938
Before going solo, King sang with the group Five Crowns and later the Drifters. He's best known for his solo hit, "Stand By Me."
About National Day Calendar
National Day Calendar is the original and authoritative source for fun, unusual and unique National Days! Since our humble beginnings on National Popcorn Day in 2013, we have been tracking the National Days, National Weeks, National Months, and International Days. We became the first calendar of its kind to curate the days all in one place and tell their stories, too! Here at National Day Calendar, we are on a mission to Celebrate Every Day with you! And by you, we mean families, businesses, educators, and strangers we meet on the street. There's more than one day for everyone.
At National Day Calendar, we discovered the National Days have a way of inspiring us. We're honored to tell the stories behind the days and provide you with informational ways to incorporate the National Days into your business, family, schools, and home!