Looking Back
September 27, 2022 - NATIONAL CHOCOLATE MILK DAY – NATIONAL DAY OF FORGIVENESS – NATIONAL CRUSH A CAN DAY – NATIONAL SCARF DAY – NATIONAL CORNED BEEF HASH DAY
SEPTEMBER 27, 2022 | NATIONAL CHOCOLATE MILK DAY | NATIONAL DAY OF FORGIVENESS | NATIONAL CRUSH A CAN DAY | NATIONAL SCARF DAY | NATIONAL CORNED BEEF HASH DAY
NATIONAL CHOCOLATE MILK DAY | SEPTEMBER 27
Each year on September 27th folks enjoy a tall, frosty glass to celebrate National Chocolate Milk Day. Read more…
NATIONAL DAY OF FORGIVENESS | SEPTEMBER 27
Forgiveness is a potent tool on a journey of spiritual, mental, emotional, and physical health. That's why on September 27th, National Day of Forgiveness encourages us to develop realistic methods for incorporating forgiveness in our lives. Read more…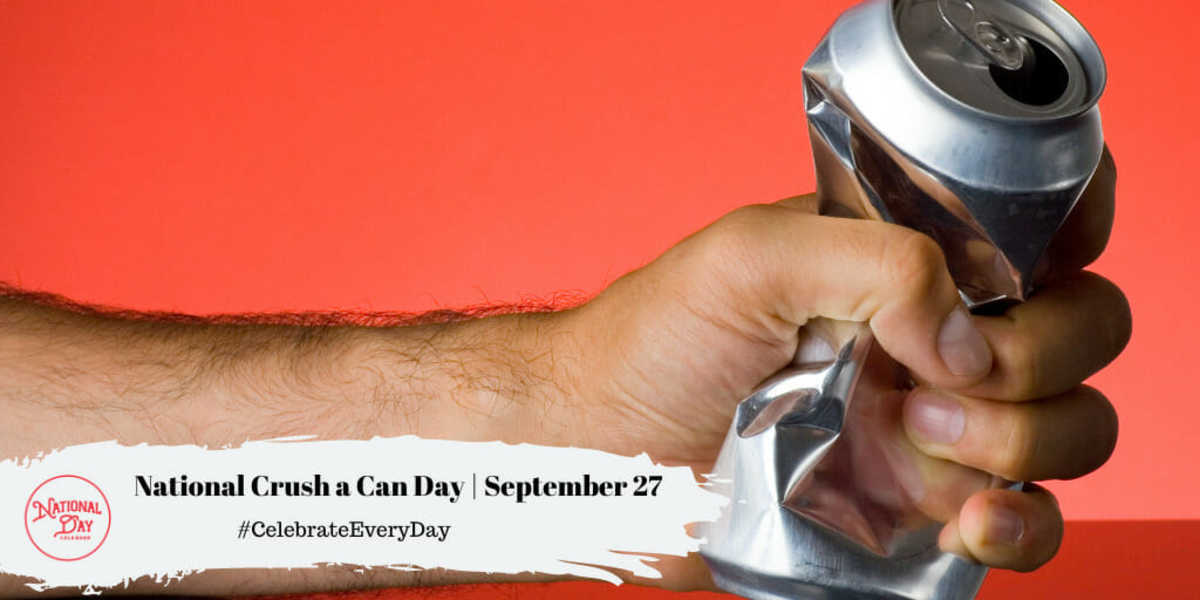 NATIONAL CRUSH A CAN DAY | SEPTEMBER 27
On September 27th, National Crush a Can Day dedicates time to educating the country about the benefits of recycling. Read more…
NATIONAL SCARF DAY | SEPTEMBER 27
On September 27, National Scarf Day recognizes the power of the scarf. Read more…
NATIONAL CORNED BEEF HASH DAY | SEPTEMBER 27
On September 27th, National Corned Beef Hash Day adds flavor to every meal while cleaning out the fridge, too. Read more…


On Deck for September 28, 2022
National Days
International Days
Recipe of the Day
Easy Corned Beef Hash
Prep: 15 mins
Cook: 25 mins
Servings: 3-4
Ingredients:
2 tablespoons butter
1 yellow medium onion chopped
2 cups chopped corned beef
3 cups 1/4 diced potatoes
Instructions:
Melt butter in a large skillet on medium heat.
Saute onion in melted butter. About 4 or 5 minutes.
Add potatoes, and corned beef, and cook for 10 to 12 minutes.
Stir occasionally so as not to burn potatoes. If desired, fry an egg or two for each serving, serve and enjoy.
Inspiration:
This recipe is the creation of our very own Snoop Doug here at National Day Calendar®. He says it is quick and easy to prepare and fills you up to start the day strong.
September 27th Celebrated History
1892
Joshua Pusey receives a patent for "Friction-match card" (patent No. 483,165) which becomes known as the matchbook.
1931
Lou Gehrig wraps up his 6th straight season playing every game with the Yankees.
1998
The internet search engine, Google, celebrates its birthday. Launched in 1998, the company first celebrated September 27th as its birthday in 2006. However, the founders aren't certain of the exact date the organization was established.
2003
Europe launches its first mission to the moon. The SMART-1 orbiter reached operational orbit on February 27, 2005.
2014
Donning slippers and PJs, robes and nightshirts, 2,004 people joined the largest sleepover, pajama party recorded. Girlguiding North West England hosted the even in Cheshire, UK.
September 27th Celebrated Birthdays
Rosa Lewis – 1867
Along with her husband, Chiney Lewis, Rosa took ownership of the Cavendish hotel in 1893. The cook and hostess was known for her skills and kindness.
James Drummond Dole – 1877
In 1901, the businessman founded the Hawaiian Pineapple Company. Years later, the company merged with Castle & Cooke which would later change its name to Dole Food Company.
Clementine Paddleford – 1898
The accomplished food writer and critic wrote How America Eats in 1960.
Greg Morris – 1933
The actor is best known for his role as the electronics expert on the television show Mission: Impossible.
Mamie "Peanut" Johnson – 1935
The talented pitcher became the third (and last) Professional Negro Baseball League. In 1953, Johnson tried out for the Indianapolis Clowns becoming the first woman pitcher in the league. Previously, she had approached the All American Girls Professional Baseball League for a tryout but was denied.
About National Day Calendar
National Day Calendar is the original and authoritative source for fun, unusual and unique National Days! Since our humble beginnings on National Popcorn Day in 2013, we have been tracking the National Days, National Weeks, National Months, and International Days. We became the first calendar of its kind to curate the days all in one place and tell their stories, too! Here at National Day Calendar, we are on a mission to Celebrate Every Day with you! And by you, we mean families, businesses, educators, and strangers we meet on the street. There's more than one day for everyone.
At National Day Calendar, we discovered the National Days have a way of inspiring us. We're honored to tell the stories behind the days and provide you with informational ways to incorporate the National Days into your business, family, schools, and home!