Looking Back
September 24, 2021 - NATIONAL BRAVE DAY – NATIONAL PUNCTUATION DAY – SCHWENKFELDER THANKSGIVING – NATIONAL CHERRIES JUBILEE DAY – NATIONAL GAY MEN'S HIV/AIDS AWARENESS DAY
SEPTEMBER 24, 2021 | NATIONAL BRAVE DAY | NATIONAL PUNCTUATION DAY | SCHWENKFELDER THANKSGIVING | NATIONAL CHERRIES JUBILEE DAY | NATIONAL GAY MEN'S HIV/AIDS AWARENESS DAY

NATIONAL BRAVE DAY
On the fourth Friday in September, National BRAVE Day honors women who lift each other up, rescue each other and make each other BRAVE.
Sometimes just a flutter of encouragement comes in the form of timely guidance from another woman. Other times, groups of women provide the energy coordinated, thoughtful efforts for someone in need. Women empowering women.
Despite varied experiences and backgrounds, women come together across generations to support each other. These small tokens come in many forms. For example, a momentary reprieve over a cup of coffee during a hectic day makes all the difference. A well-written letter of recommendation for a job may change the course of a life. These small tokens strengthen a woman who may have undergone unspoken tragedy or struggles. The opportunities to empower sisters, friends, family, even a stranger are limitless. National BRAVE Day, seeks out tangible ways to encourage women to keep moving forward and to be BRAVE.
HOW TO OBSERVE #NationalBRAVEDay
Lift up the life of a woman around you. Show your support by organizing a local movie night for women. Provide gift cards at Christmastime for foster children. Create a fundraiser for a perpetual baby shower. Plan a Valentine's Day Tea for single mothers. Offer to help edit the resumé of someone you know is seeking a new job. Visit bravefoundation.cc to find out more. Share your ideas and use #NationalBRAVEDay on social media.
NATIONAL BRAVE DAY HISTORY

The Sweetlife Women founded National BRAVE Day in 2017 in honor of their founder, Kaci Stewart. She has been the catalyst for making a difference in women's lives. By honoring their founder, Sweetlife Women hopes the observance will be a spark of encouragement to women and a reminder to strengthen one another. Sweetlife Women has been in existence for ten years, and they look for ways to make women BRAVE and give help and guidance where needed. Their annual BRAVE Women's Conference is every September. Find out more by visiting braveconference.cc
In 2017, the Registrar at National Day Calendar® declared National BRAVE Day to be observed the fourth Thursday in September, annually.

NATIONAL PUNCTUATION DAY
National Punctuation Day commemorates all punctuation on September 24th. A period, a comma, a semicolon, a question mark, and an exclamation point are examples of some of the punctuation used in writing. They separate sentences and their elements to clarify meaning. Without them, meaning would be lost or up for interpretation.

Across the country, punctuation events test skills, educate and even poke fun at some of those embarrassing errors.
The founder of the observance sends out a challenge every year. Visit Jeff Rubin's website to enter the contest.
FontFeed credits the observance with the revival of the interrobang.
Auburn Elementary School of Auburn, MI celebrates the observance annually.
CBS's Live with Regis & Kelly mentioned the celebration on their morning television show on September 24, 2008.
For some, the celebration can be a trying one. If you're not one to use punctuation in text messages, you might be prompted to use a period or two throughout the day.
HOW TO OBSERVE #NationalPunctuationDay
What better way to celebrate punctuation than by using it. Seek out unique ways to punctuate your sentences. You can also try a few of these suggestions:
Spend the day critiquing others' mistakes. Or, carefully correct your own.
Determine which of your contracts for insurance, warranties, or service have a misplaced comma that might be to your benefit.
To avoid punctuation altogether, just complete crossword puzzles all day. They don't use any punctuation.
Write an error-free email and send it to everyone you know. Better yet, write an email with a single error and challenge your friends to find it.
Open up a debate about the Oxford comma online. It may get as heated as a political debate.
Try using every type of punctuation throughout the day.
Create a painting or collage of your favorite punctuation marks.
Express how you feel about the evolution of punctuation into emoticons. ????
We all make mistakes. While some mistakes we find humorous, some are costly to relationships or the bottom line.
Practice proper punctuation and properly post it using #NationalPunctuationDay on social media.
NATIONAL PUNCTUATION DAY HISTORY
Jeff Rubin founded National Punctuation Day in 2004 as a way to promote the correct usage of punctuation.
SCHWENKFELDER THANKSGIVING
On September 24th Schwenkfelder Thanksgiving expresses thanks in a way that dates back to 1734.
The Schwenkfelders are the descendants of a small Protestant sect that sprang up in Germany around the time of the Reformation. They were followers of Caspar Schwenkfeld, a theologian. He and his followers separated from Protestant circles and formed the brotherhoods that still survive as the Schwenkfelder Church. Most Schwenkfelders now live in Pennsylvania Dutch country.
HOW TO OBSERVE #SchwenkfelderThanksgiving
Cook up a Thanksgiving spread. Celebrate with your garden bounty and the fruits of your labors. Create new traditions to carry forward generation after generation. Give thanks for the blessings and rewards in your life. Use #SchwenkfelderThanksgiving to post on social media.
SCHWENKFELDER THANKSGIVING HISTORY
In 1733, a handful of Schwenkfelder's followers arrived in Philadelphia. A second group came from Germany on September 22, 1734. They swore their allegiance to the British king; then they spent September 24th expressing their thankfulness to God for having delivered them from persecution.
This Thanksgiving event is the oldest continuously observed Thanksgiving event in the United States. The traditional Thanksgiving celebrated at the end of November didn't get its start until the end of the Civil War.
While the Pilgrims held their first Thanksgiving feast in 1621, the observance didn't continue uninterrupted. Days of fasting and thanksgiving on an annual or occasional basis became common practice in other New England settlements. George Washington even proclaimed the Nation's first Thanksgiving in 1789. And while his successors followed suit, designating days of thanks, they weren't consistent. It wasn't until 1863 that Abraham Lincoln proclaimed a national Thanksgiving for the last Thursday in November. Annually, the country gave thanks on that day until 1939. That year, Franklin D. Roosevelt moved the observance to the fourth Thursday, and that's where it stayed.
NATIONAL CHERRIES JUBILEE DAY
On September 24th National Cherries Jubilee Day serves up a tasty dessert. Smitten with this simply elegant dessert, cherry lovers celebrate this sweet holiday with delight.
Auguste Escoffier receives the credit for the Cherries Jubilee recipe. Since he knew Queen Victoria's fondness for cherries, Escoffier prepared the dish for one of her Jubilee celebrations. However, his original method didn't include ice cream. Instead, the chef poached the cherries in a simple syrup and poured warm brandy over them. Then just before serving, dramatically set the alcohol aflame.
Later recipes added the liqueur Kirschwasser and ice cream.

The word jubilee means many things. However, in reference to the vibrant dessert featuring plump cherries, it means a celebration. As we all know, desserts often accompany celebrations. And cherries jubilee is no exception. The excitement associated with the grand presentation accentuated the event, too.
Escoffier had a knack for simplicity and elegance. He also created the Peach Melba in honor of Nellie Melba. The famous chef even named a macaron after Sarah Bernhardt. (Though there's no day on the calendar for it, yet.)
HOW TO OBSERVE #CherriesJubileeDay
Find a restaurant near you that serves cherries jubilee. As part of the celebration, order dessert first. Or, try making it yourself. Try this delicious Cherries Jubilee recipe. At the same time, be sure to share a photo of your masterpiece!
Don't forget to use #CherriesJubileeDay to post on social media.
NATIONAL CHERRIES JUBILEE HISTORY
While National Day Calendar® continues searching for the source of this delicious food holiday, we encourage you to #CelebrateEveryDay!
NATIONAL GAY MEN'S HIV/AIDS AWARENESS DAY
Each year on the last Friday in September, National Gay Men's HIV/AIDS Awareness Day (NGMHAAD) builds awareness and increases education about this disease. The day also focuses on finding ways to eliminate the disease.
The Centers for Disease Control recommends anyone between the age of 13 and 64 receive an HIV test as part of a routine physical. Those who are sexually active, the CDC recommends testing once per year and sometimes more frequently, depending on risk factors.
The day encourages a more open dialogue between partners as well. Improving understanding of the disease and access to testing helps reduce risk.
Those with HIV/AIDs need to understand the importance of uninterrupted treatment. Since HIV weakens the immune system, it is important to maintain a vaccine schedule, too.
HOW TO OBSERVE #GayMensHIVAIDSAwarenessDay
Services and opportunities to help raise awareness about HIV/AIDS come in many forms. During this observance and others like it, there are several ways to participate.
Learn more about prevention and risk factors.

Help eliminate the stigma associated with HIV/AIDS through education.

Find a clinic near you for testing.

Support research programs.

Visit

aids.gov

to learn more about the event.
The

cdc.gov

offers information and links to services.
Visit the

aidsinfo.nih.gov

for a complete overview of the disease, research and more.

Use #GayMensHIVAIDSAwarenessDay to post on social media.
NATIONAL GAY MEN'S HIV/AIDS AWARENESS DAY HISTORY
In 2008, the National Association of People with AIDS (NAPWA) launched this observance day to recognize the disproportionate impact of the epidemic on gay men.
On Deck for September 25, 2021
National Days
International Days
September 24th Celebrated (And Not So Celebrated) History
1773
The first Schwenkfelder Thanksgiving takes place.
1906
The perpendicular rock formation known as Devil's Tower is named the first national monument in the United States. The Antiquities Act passed in June of the same year paved the way for President Theodore Roosevelt to begin declaring national monuments. Throughout his term as president, he would declare 17 more national monuments.
1940
The French Sardine Company of California trademarks its canned fish products under the name Star-Kist.
1948
Soichiro Honda and Takeo Fujisawa found the Honda Motor Co., Ltd. Their first product is a motorcycle.
1957
The Brooklyn Dodgers play their last game at Ebbets Field. After their 2-0 win of the Pittsburgh Pirates, the team moved to Los Angeles where they still play today.
1957
Elvis Presley releases the single "Jailhouse Rock" written by Jerry Leiber and Mike Stoller. A month later, the film by the same name and starring Presley premieres.
1968
The news show 60 Minutes premieres on CBS. The program was promoted as a news magazine and was hosted by Harry Reasoner and Mike Wallace, but there was no ticking clock in the background.
2003
The Big Dibber rollercoaster at Blackpool Pleasure Beach in Lancashire, UK sets a world record. That day, the average age of the 32 passengers equaled 75.25, the highest average age ever reported for riders on a rollercoaster.
Recipe of the Day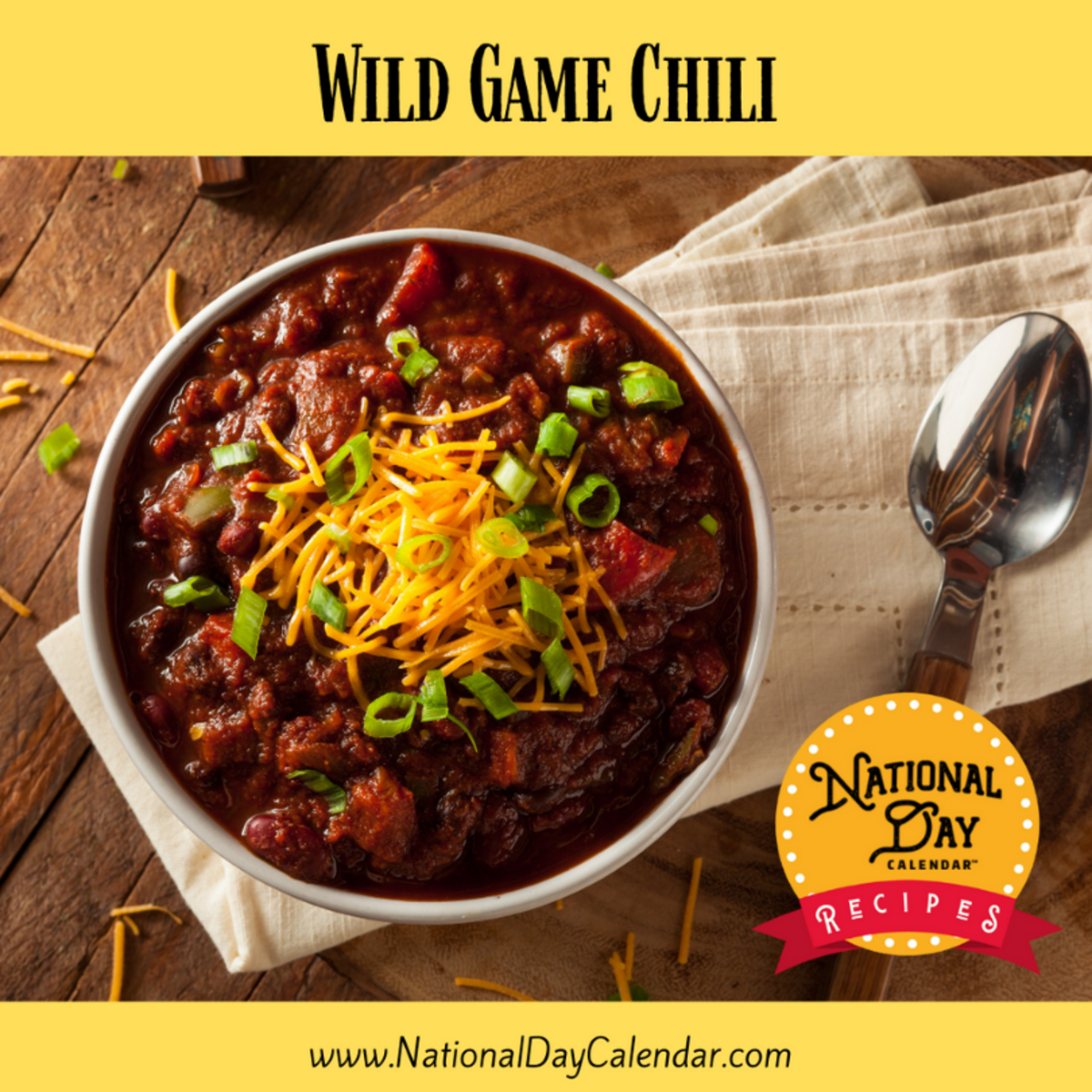 Wild Game Chili
Prep time: 15 minutes
Cook time: 1 hour
Total Cook: 1 hour 15 minutes
Servings: 16
Ingredients
2 tablespoons olive oil
2 onions, diced
2 green peppers diced
3 cloves garlic, minced
1 pound bacon, cut into 1 inch pieces
1 lb ground venison, elk, or moose
1 lb ground bison
1 lb ground pork
2 packages of seasoning mix
1 15-ounce can black beans, drained
1 15-ounce can kidney beans, drained
1 15-ounce can chili beans
1 28-ounce can diced tomatoes
1 4-ounce can green chilis
1 cup frozen or fresh corn
1 16-ounce jar of chunky salsa
1 6-ounce can tomato paste
1 tablespoon liquid smoke
1 bottle/can of beer
Instructions
In a large stew pot or Dutch oven, saute onions and peppers in olive oil over medium-high heat until onions are translucent. Add garlic and cook until fragrant – about 1 minute. Add bacon and cook until crisp. Mix in ground meats and chili seasonings. Brown meat, breaking it up into crumbled pieces. Stir in the remaining ingredients. Let simmer uncovered until the chili has reduced by 1/4 and is thick.
Salt to taste.
Serve topped with sour cream, cheddar cheese, or cottage cheese.
This chili freezes well in sealed containers or freezer bags.
Recipe Credit: Michele S. – North Dakota
September 24th Celebrated (And Not So Celebrated) Birthdays
Francis Harper – 1825
The prominent abolitionist and suffragist became the first African American to publish a short story. She worked closely with influential activists such as George Still and Frederick Douglass to promote anti-slavery campaigns and pursue equal rights.
Georges Claude – 1870
If you know a business is open because of the glowing sign in the window, you can thank Georges Claude. The engineer and chemist is noted for inventing the neon light.
Lottie Dod – 1871
The accomplished tennis player was At the age of 15, Dod became the youngest winner of the Wimbledon Ladies' Singles Championship.
Franklin Clarence Mars – 1883
The American businessman founded the Mars company in 1911. Today the company includes a diverse range of products.
Esther Eng – 1914
The Chinese American filmmaker made her mark in the cinema when she produced the first American film for a Chinese audience. She also traveled to Hong Kong and began producing films there. In 1941, she directed the film Golden Gate Girl which was also the film debut for actor Bruce Lee. His character was the newborn baby girl.
Ruth Amonette – 1916
At the age of 27, Amonette became the first woman executive vice president of IBM.
John Watts Young – 1930
The ninth astronaut to walk on the moon flew six spaceflights, the first person to reach the achievement. As an accomplished pilot, he also flew four different types of spacecraft throughout his missions.
Jim Henson – 1936
The puppeteer and filmmaker is best known for his characters known as Muppets. They appear in shows such as Sesame Street, Fraggle Rock, and The Muppets franchise.
Paul Hamm – 1982
The three-time Olympic gymnast took gold in the Olympic all-around in 2004.
About National Day Calendar
National Day Calendar® is the authoritative source for fun, unusual and unique National Days! Since our humble beginnings on National Popcorn Day in 2013, we now track nearly 1,500 National Days, National Weeks and National Months. In addition, our research team continues to uncover the origins of existing National Days as well as discover new, exciting days for everyone to celebrate.

There's a celebration for everyone. While National Road Trip Day satisfies the itch to wander, many pet days let us share our love of animals. National 3-D Day and National Astronaut Day honor the advancement of technology, too. Every food day you can imagine (National Avocado Day, for example), will keep you celebrating, also!
Be sure to stay in the know by signing up for our e-mail updates. Also, follow us on Facebook, Twitter, and Instagram.
Our Ambassador Program is another way #CelebrateEveryDay®! Whether you become an ambassador or follow one of the savvy ambassadors, their fun videos and posts will keep you prepared for every holiday.