Looking Back
September 23, 2022 - NATIONAL CHECKERS DAY AND DOGS IN POLITICS DAY – NATIONAL GREAT AMERICAN POT PIE DAY – NATIONAL BRAVE DAY – NATIONAL TEAL TALK DAY – NATIONAL SNACK STICK DAY – RESTLESS LEGS AWARENESS DAY – INNERGIZE DAY – CELEBRATE BISEXUALITY DAY – NATIONAL GAY MEN'S HIV/AIDS AWARENESS DAY
SEPTEMBER 23, 2022 | NATIONAL CHECKERS DAY AND DOGS IN POLITICS DAY | NATIONAL GREAT AMERICAN POT PIE DAY | NATIONAL BRAVE DAY | NATIONAL TEAL TALK DAY | NATIONAL SNACK STICK DAY | RESTLESS LEGS AWARENESS DAY | INNERGIZE DAY | CELEBRATE BISEXUALITY DAY | NATIONAL GAY MEN'S HIV/AIDS AWARENESS DAY
NATIONAL CHECKERS DAY AND DOGS IN POLITICS DAY | SEPTEMBER 23
On September 23rd, National Checkers Day (which is also known as Dogs in Politics Day) recognizes Political Pooches or Candidate Canines, First Fidos, or Revolutionary Rovers. Read more…
NATIONAL GREAT AMERICAN POT PIE DAY | SEPTEMBER 23
National Great American Pot Pie Day cooks up a toasty meal on September 23rd. Warm up the home with a toasty meal of pot pies to celebrate! Read more…
NATIONAL BRAVE DAY | FOURTH FRIDAY IN SEPTEMBER
On the fourth Friday in September, National BRAVE Day honors women who lift each other up, rescue each other and make each other BRAVE. Read more…
TEAL TALK DAY | SEPTEMBER 23
Let's talk. September 23rd is Teal Talk Day and each year, over 249,000 women are diagnosed with ovarian cancer worldwide. So, gather your friends, wear teal for a day out together and talk. Read more…
NATIONAL SNACK STICK DAY | SEPTEMBER 23
On September 23rd, National Snack Stick Day encourages you to pack your pockets, backpacks, and desk drawers with yummy snack sticks so you can celebrate! Read more…
RESTLESS LEGS AWARENESS DAY | SEPTEMBER 23
On September 23rd, Restless Legs Awareness Day promotes education around a medical condition impacting adults and children alike. Read more…
INNERGIZE DAY | DAY AFTER THE AUTUMNAL EQUINOX
Innergize Day on the day after the Autumnal Equinox offers an opportunity to relax and rejuvenate. This is a day for you! Read more…
CELEBRATE BISEXUALITY DAY | SEPTEMBER 23
On September 23rd, Celebrate Bisexuality Day unites the bisexual community, their friends, and their supporters. It also raises awareness and provides an opportunity to educate the public about bisexuality. Read more…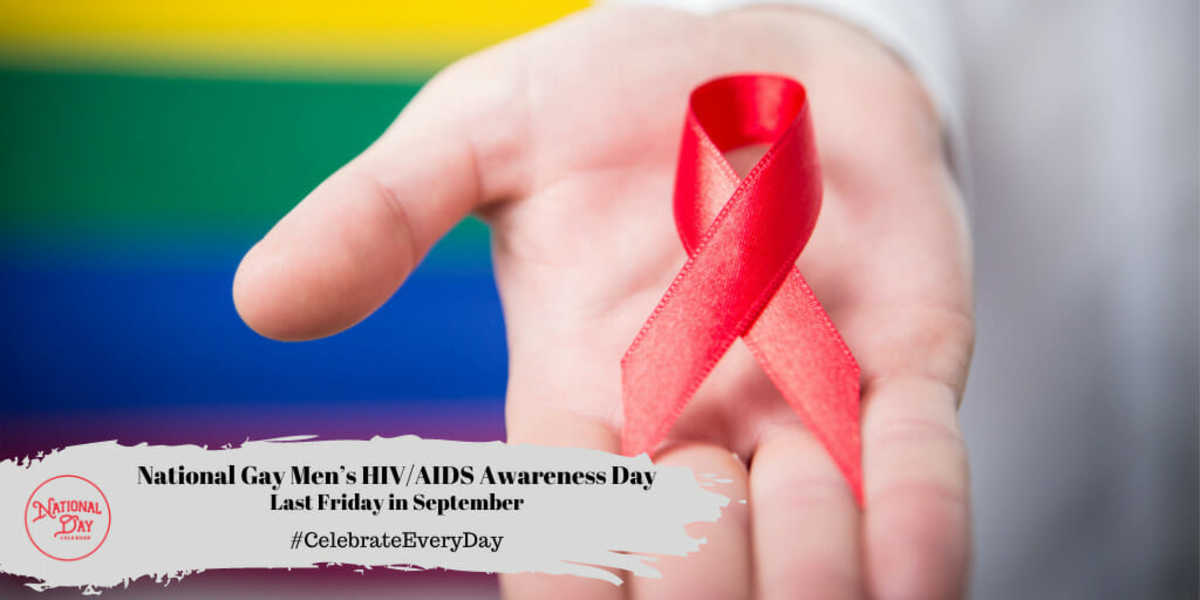 NATIONAL GAY MEN'S HIV/AIDS AWARENESS DAY
Each year on the last Friday in September, National Gay Men's HIV/AIDS Awareness Day (NGMHAAD) builds awareness and increases education about this disease. The day also focuses on finding ways to eliminate the disease. Read more…
On Deck for September 24, 2022
National Days
International Days
Recipe of the Day
Jerk Chicken Bites
Prep: 10-15 minutes
Cook: 25-30 minutes
Total Prep: 45 minutes
Servings: 8-10
The seasoning recipe used in this recipe can be used on whole chicken, legs, thighs, wings, etc. Simply double the recipe!
Ingredients:
4-5 Chicken breasts, thawed and diced into cubed into bite size pieces.
4 limes, quartered into wedges
Jerk seasoning:
2 Tablespoons brown sugar
2 Teaspoons dried thyme
2 Teaspoons cayenne pepper
1 ½ Tablespoons onion powder
1 ½ Tablespoons garlic powder
1 ½ Teaspoons ground allspice
1 ½ Teaspoons paprika
1 ½ Teaspoon hot pepper flakes
Salt and pepper to taste
Seal baggie and shake until all spices are completely blended together.
Instructions:
Pour seasoning over cubed chicken and coat completely.
Cover and chill for at least 3 hours. For extra flavor, prepare a day in advance and chill overnight in refrigerator.
Cooking:
Preheat oven to 375 degrees.
Using a medium to large size baking sheet, spray with cooking oil.
Give chicken and seasoning a good stir then transfer all of it to the baking sheet.
Bake for 25-30 or until chicken is thoroughly cooked, turning half way through cooking process.
When ready to remove from oven, turn your broil on to medium. Let the chicken "crisp" a little. 2-3 minutes should be good. Watch carefully though! The broil feature can burn your food quickly!
Remove from oven and serve.
Squeeze a lemon wedge over chicken to add a crisp flavor to the spice!
Serves 6-8
September 23rd Celebrated History
1845
The first organized baseball team is named the New York Knickerbockers. Thirty-six years before, the knickerbocker word became popular for describing New Yorkers and the style of pants worn by boys – short and tucked in at the knee – when author Washington Irving wrote the satirical book A History of New York from the Beginning of the World to the end of the Dutch Dynasty. The Manhattan-based baseball team was the first to use it for a sports team. However, the name would later apply to the New York basketball team now known as the Knicks.
1848
John Curtis begins selling the first commercially available chewing gum. His product, State of Maine Pure Spruce Gum, would later be joined by flavors named American Flag, Yankee Spruce, White Mountain, Biggest and Best.
1889
Long before Mario the plumber made his appearance, Fusajiro Yamauchi founded Nintendo Koppai, later named Nintendo Company, Limited. The business originally produced playing cards. However, it also dabbled in other businesses, including a taxi company. Does anyone need an Über or a Lyft?
1879
Patent No. 219,828A is granted to Richard S. Rhodes for his invention of an audiphone. The device improved the hearing of those with conductive hearing loss and is considered the first of its kind. While the device successfully transferred sound vibrations through bone, it was cumbersome to use. However, he later modified the invention, earning him a medal in 1883 at the World's Columbia Exhibition in Chicago.
1911
The mail officially takes flight. Earle Ovington became the first airmail pilot when he carried the mail in his Bleriot "Queen" monoplane. His route ran between Garden City Estates and the post office in Mineola, New York.
1953
Entrepreneurs Norman B. Larsen, Gordon Dawson and John B. Gregory found Rocket Chemical Company. The company produced and marketed WD-40.
1969
The film Butch Cassidy and the Sundance Kid premieres. Directed by George Roy Hill, the movie starred Paul Newman and Robert Redford.
1984
When the Detroit Tigers win 4-1 over the New York Yankees, Sparky Anderson became the first Major League Baseball manager to win 100 games in both the National League and the American League. He started his management career with the Cincinnati Reds.
September 23rd Celebrated Birthdays
Victoria Woodhull – 1838
As a leader of the women's suffrage movement, Woodhull was a woman of many firsts. From becoming the first woman to own a Wall Street brokerage firm to the first woman to run for president in the United States, she exemplified equal rights.
Robert Bosch – 1861
The German engineer established the engineering firm Robert Bosch GmbH. He is also credited with inventing the spark plug and magneto used in automobiles.
Mary Church Terrel – 1863
The first president of the National Association of Colored Women was a champion of civil rights and the suffrage movements. She also taught in the first African American public high school.
Mary Mallon – 1869
The Irish cook became known as Typhoid Mary. As a carrier, she was suspected of infecting 53 people with the disease while Mallon remained asymptomatic.
Walter Lippmann – 1889
The syndicated columnist began writing his column "Today and Tomorrow" in 1931. He earned to Pulitzer Prizes and wrote several books about politics and government.
Dottie Wiltse Collins – 1923
The right-handed pitcher in the All American Girls Professional Baseball League earned a reputation for strikeouts. Throughout her six seasons, Dottie brought home the wins and became a fan favorite.
Andre Cassagnes – 1926
The French inventor created the popular children's toy, the Etch A Sketch.
Ray Charles – 1930
The musician lost his eyesight in childhood. However, losing a sense didn't hinder his ability to compose and perform some award-winning songs. Some of his best songs include "Hit The Road Jack," "Georgia on my Mind," and "I Can't Stop Loving You." During his career, the multitalented musician earned 17 Grammy's.
Bruce Springsteen – 1949
The New Jersey-born singer/songwriter earned a reputation for his rock anthems. He earned 20 Grammy awards during his career including Song of the Year for "Streets of Philadelphia" and record of the year for "Born in the U.S.A."
Hasan Minhaj – 1985
The American comedian gained recognition for his work on The Daily Show. In 2018, Netflix began airing his weekly comedy show, Patriot Act.
About National Day Calendar
National Day Calendar is the original and authoritative source for fun, unusual and unique National Days! Since our humble beginnings on National Popcorn Day in 2013, we have been tracking the National Days, National Weeks, National Months, and International Days. We became the first calendar of its kind to curate the days all in one place and tell their stories, too! Here at National Day Calendar, we are on a mission to Celebrate Every Day with you! And by you, we mean families, businesses, educators, and strangers we meet on the street. There's more than one day for everyone.
At National Day Calendar, we discovered the National Days have a way of inspiring us. We're honored to tell the stories behind the days and provide you with informational ways to incorporate the National Days into your business, family, schools, and home!