Looking Back
September 22, 2021 - AMERICAN BUSINESS WOMEN'S DAY – NATIONAL ICE CREAM CONE DAY – AUTUMNAL EQUINOX – CAR FREE DAY – NATIONAL ELEPHANT APPRECIATION DAY – HOBBIT DAY – NATIONAL GIRLS' NIGHT – NATIONAL ONLINE RECOVERY DAY – NATIONAL CENTENARIAN'S DAY – NATIONAL LEGWEAR DAY – DEAR DIARY DAY – NATIONAL WHITE CHOCOLATE DAY
SEPTEMBER 22, 2021 | AMERICAN BUSINESS WOMEN'S DAY | NATIONAL ICE CREAM CONE DAY | AUTUMNAL EQUINOX | CAR FREE DAY | NATIONAL ELEPHANT APPRECIATION DAY | HOBBIT DAY | NATIONAL GIRLS' NIGHT | NATIONAL ONLINE RECOVERY DAY | NATIONAL CENTENARIAN'S DAY | NATIONAL LEGWEAR DAY | DEAR DIARY DAY | NATIONAL WHITE CHOCOLATE DAY
AMERICAN BUSINESS WOMEN'S DAY
On September 22nd, American Business Women's Day honors the accomplishments of the businesswomen across the nation. Take a moment to reflect on the contributions and achievements of the millions of women in the workforce. Also, consider the impact of millions of women business owners in the U.S.
The day also brings together businesswomen of diverse occupations to collaborate and network. The opportunity provides insight into platforms and inspirational ways for women to help themselves and others grow personally and professionally. Workshops and seminars offer leadership, education, networking, and national recognition.
Through small businesses and corporate leadership, women provide a variety of skills in the business world. They set examples for young women driven to become leaders themselves. Generation after generation pave the way for new and inspiring professionals. This day honors each and every one!
HOW TO OBSERVE #AmericanBusinessWomensDay
Give a shoutout to a businesswoman you know. Attend a seminar, workshop, Ted Talk, or other resources to increase your business knowledge. Sponsor a leadership conference or speak at a local school. Attend a career fair and offer your expertise as a businesswoman to aspiring youth.
Support businesswomen in your area, whether they're experienced or just starting out. Join forces with other business leaders and create a positive environment for women in business.
Share your business style, strengths, and creativeness using #AmericanBusinessWomensDay to post on social media.
AMERICAN BUSINESS WOMEN'S DAY HISTORY
American Business Women's Association first sponsored American Business Women's Day was sponsored in 1982. Congress officially recognized the day through proclamations in 1983 and 1986.
NATIONAL ICE CREAM CONE DAY
Despite the official end of summer, National Ice Cream Cone Day continues celebrating on September 22nd!
While some controversy exists as to who invented the ice cream cone, the earliest mention shows up in French cookbooks around 1825. Originally referred to as "little waffles," the cones were waffles rolled into the shape of a cone.
In the United States, ice cream cones first became popular in the late 1800s. Confectioners turned the first cones by hand. The ice cream cone made its debut at the World's Fair in St. Louis in 1904. In 1912, an inventor from Oregon obtained a patent for a machine to make them. He sold his company to Nabisco in 1928, and they still make ice cream cones today.
The ice cream cone continues to be a popular treat for children and adults alike. More flavors of ice cream continue to be made available to please our palates, too!
HOW TO OBSERVE #IceCreamConeDay
Invite a friend out for an ice cream cone. Can't decide which flavor? Flip a coin! An ice cream cone also makes a terrific way to settle a bet. At the cost of less than $2 for a soft-serve kids cone, it's worth being wrong when you get to enjoy an ice cream cone. Tell us what your favorite type of ice cream cone is by using #IceCreamConeDay and share it on social media.
NATIONAL ICE CREAM CONE DAY HISTORY
National Day Calendar continues searching for the source of this sweet food holiday.
AUTUMNAL EQUINOX
The Autumnal Equinox in September ushers in a change of season. It is observed annually when the sun can be seen directly overhead along the equator. The day marks the end of summer and beginning of fall in the Northern Hemisphere.
The autumn equinox is one of two days when all points on Earth except the polar regions see the sunrise and set at due east and due west. With few exceptions, all latitudes see almost precisely 12 hours of daylight and 12 of darkness.
While the United States marks the official end of summer at Labor Day, the seasons mark time differently. Depending on where we live, the trees and animals behave differently based on the amount of sunlight they receive. By the time the equinox arrives in September, the leaves in many parts of the country have already begun to change. The air at night is crisper.
People's minds begin to think about warmer clothes and preparing their homes for winter. Since children are already in school, most summer activities have ended. In the fields, farmers eagerly watch for the opportune time to harvest. Apples, pumpkins, and root vegetables ripen in the orchards and gardens. On cool evenings, long walks along the trails under the canopies of gold, umber, violet and crimson keep us warm.
HOW TO OBSERVE #Autumnal Equinox
Enjoy a long walk. Sip some tea or watch the sunset. Autumn has arrived. Use #AutumnalEquinox to post on social media.
Educators, visit the National Day Calendar Classroom for projects designed for the Equinox.
CAR FREE DAY
On September 22nd, Car Free Day encourages motorists around the world to give up their vehicles for a day. The observance is also known as World Car Free Day.
Many people around the world consider their car a necessity. Without it, they wouldn't be able to zip to their destination conveniently. Today, an estimated 1.4 billion cars travel the roads throughout the world. At one time, the United States had the most car owners. Now China claims that prize. Volkswagen and Toyota manufacture more cars than other companies.
Cars offer a convenient way to get around. However, cars hurt the environment. Besides causing air pollution, scientists point to cars as contributing to global warming.
Car Free Day aims to see what life would be like without cars on the road. The observance encourages motorists to walk or bicycle instead. The day promotes the use of mass transit for those who need to travel long distances. It's also a day for cities to use their roadways in different ways. For example, in Sao Paulo, Brazil, horses are ridden on the streets.
In other cities, street picnics and a variety of fun events are scheduled to take place in the streets. In Budapest, there are races for alternative-energy-powered vehicles. Many cities promote the idea that biking and walking are safer than driving a car.
HOW TO OBSERVE #CarFreeDay
The best way to observe World Car Free Day is to simply not use your vehicle. If you need to go somewhere, walk or ride your bike. You may consider using a skateboard or electric scooter instead. Educate yourself on the role that cars play in our environment's future. Research alternative energy sources for cars.
Find ways in your community to get around without your car. Can you take advantage of public transportation? Organize a carpool with co-workers. Spend time with your children while walking to school. Discover the benefits of using your car less often.
Reduced wear and tear on your vehicle
Increased savings
Lower maintenance costs
Decreased carbon footprint
Physical exercise
You may decide that going car-free isn't so bad after all!
If you decide to go car-free, share your experience on social media using #CarFreeDay.
WORLD CAR FREE DAY HISTORY
Since the 1950s, various groups have protested the use of cars. At that time, they considered cars an intrusion into their cities and neighborhoods. From 1956 to 1957, the Netherlands and Belgium held car-free Sundays.
Through the years, research began to reveal the negative impact of cars on the environment. At an international conference in 1994, a paper discussing a strategy for reducing dependence on cars was distributed. In the late 1990s, car-free projects were planned and implemented in various European cities. In 1997, the British Environmental Transport Association coordinated three annual car-free days. Spain, Italy, and France followed suit with similar projects.
Car Free Days made its way to South America in 2000 with the most extensive Car Free Program held in Bogota, Columbia. On September 22, 2000, the European Car Free Day was held. It has since been an annual event for 46 countries and 2,000 cities all over the world.
NATIONAL ELEPHANT APPRECIATION DAY
Remember, September 22nd recognizes National Elephant Appreciation Day. The elephant probably won't forget.
People of all ages are fascinated by elephants. Discover some interesting facts about them to celebrate with us!
These captivating and social animals live between 60 to 70 years. Like humans, elephants develop remarkably close family bonds. Two species, the African Savannah and Asian elephant, exist. However, recently scientists suggested that the African Forest elephant is also a unique species and not a subspecies.
Each day, poachers kill approximately 100 elephants for their ivory, meat, bones, and skin.
These pachyderms are closely related to rhinoceroses and hippos. In fact, pachyderm describes thick-skinned animals with hooves or nails similar to hooves. While the African elephants outgrow the Asian, both hold the prize for the largest land mammal on earth. However, there are some differences between the species, though.
Differences Between African & Asian Elephants:
The African elephant grows larger ears.

In the Asian species, only the male grows tusks. However, in the African, both male and female elephants grow tusks.

One of the things that fascinate us about elephants is their trunk. It's super sensitive. At the end, a small finger-like appendage grows. The appendage, also known as a lobe, gives elephants the ability to pick up small twigs, bits of grass and other items. On the Asian elephant, the lobe grows at the top tip of the trunk. However, the African elephant grows a lobe at the top and bottom, giving it extra pinching dexterity.

Both species live in herds. The herds are led primarily by a matriarch and comprised of sisters, daughters and their young. As the males grow, they move off on their own. Asian herds tend to be smaller than the African herds.

While both species are herbivores, their diets vary based on the available habitat.
Elephants are spirited and playful animals. Have you ever seen them frolic in the water? And they will defend their own with their mighty tusks. Whether foraging for food or digging a mud hole, their tusks are vital for survival. Since hunters value the ivory more than the life of the elephant, they endanger the continued existence of these majestic animals.
Do elephants never forget? Well, studies have determined that elephants have excellent memories. They remember vital locations over large areas of land. Elephants also show recognition of faces and other elephants even after a long time has passed. And while we may be forgetful from time to time, we don't recommend forgetting this holiday!
HOW TO OBSERVE #ElephantAppreciationDay
Don't forget to celebrate the Elephant on September 22nd! Show your appreciation today by visiting the elephants at your local zoo. Get involved. Learn about conservation and eliminating poaching.
Read up about elephants. We suggest The Elephant Whisperer by Lawrence Anthony or Love, Live and Elephants: An African Love Story by Daphne Sheldrick. You could also read Horton Hears a Who by Dr. Seuss or any of the Babar stories by Jean de Brunhoff.
Documentaries bring the life of the elephant into our living rooms. Watch Elephant directed by Mark Linfield or When Elephants Were Young directed by Patricia Sims.
Use #ElephantAppreciationDay to post on social media.
Educators and families, visit the National Day Calendar Classroom for even more ways to Celebrate Every Day!
NATIONAL ELEPHANT APPRECIATION DAY HISTORY
National Elephant Appreciation Day originated in 1996 to raise awareness concerning the plight of elephants.
HOBBIT DAY
Explore the Shire on September 22nd during Hobbit Day. While there, celebrate the birthdays of Bilbo and Frodo Baggins.
The novels The Hobbit and the trilogy The Lord of the Rings trilogy written by J.R.R. Tolkien, bring to life the world of Middle-Earth. According to the stories, Bilbo and Frodo were born during the Third Age in the years 2890 and 2968 respectively. Translated to Shire-reckoning, Bilbo was born in 1290 and Frodo in 1368.
I don't know half of you half as well as I should like; and I like less than half of you half as well as you deserve. ~Bilbo Baggins ~ Lord of the Rings ~ J.R.R. Tolkien
HOW TO OBSERVE #HobbitDay
Join celebrations or have a Hobbit Day party of your own. Reading the book or watching the movies are other ways to enjoy the day. Create a celebration worthy of a Hobbit.
Everyone should dress for the occasion.

Even though most of the trilogy takes place in the future, Hobbits live for a very long time. Look at when Bilbo and Frodo were born. There's a very medieval and mystical feel to the costumes.

Supply plenty of cakes, teas, wine, and ale.

Invite a large crowd. Hobbits come from big families.

Read from the trilogy or make a big speech.

Be merry and dance. Provide music, too.
Share your celebration using #HobbitDay to post on social media.
HOBBIT DAY HISTORY
The American Tolkien Society first proclaimed Hobbit Day and Tolkien Week in 1978.

NATIONAL GIRLS' NIGHT
Grab your besties, on September 22nd – it's National Girls' Night!
National Girls' Night encourages women to gather with their best girlfriends for a night in to relax, recharge, and foster meaningful connections. Of course, there are many ways to celebrate a Girls' Night. Whether you stay in or go out, the night invites women to reconnect and celebrate life together. Choose to cook together or seek out your favorite restaurant. Enjoy a book club together or a movie night. Catch a game or play a game while catching up with each other. The celebration is all about women disconnecting from the stresses of everyday life. What's better than engaging with besties for an evening of social self-care?
How will you celebrate Girls' Night?
HOW TO OBSERVE #GirlsNight
One: Rally your girls.
Two: Pick your Ketel One Botanical varietal – Peach & Orange Blossom, Cucumber & Mint, or Grapefruit & Rose.
Three: Dress up and get out. Or, grab wine glasses, comfortable athleisure, and stay in. Either way, the goal is to have fun!
Use #GirlsNight to share on social media.
How do you Girls' Night? Follow @KetelOneBotanical to share how you celebrate with your besties using #KetelBotanical, #BotanicalBesties, #GirlsNight
Are you looking for more ways to celebrate? Check out these 7 Fun Ideas for Girls Night.
NATIONAL GIRLS NIGHT HISTORY
In 2018, Ketel One Botanical founded National Girls' Night, held annually on September 22nd, to celebrate the importance of slowing down and taking a well-deserved time-out in today's fast-paced world. When celebrating Girls' Night In, Ketel One Botanical reminds you to please drink responsibly.
The Registrar at National Day Calendar proclaimed National Girls' Night to be observed annually on September 22nd.
About Ketel One Botanical
Ketel One Botanical is a first-of-its-kind low calorie, low ABV (30%) spirit distilled from Ketel One Family-Made Vodka with real botanicals, then infused with natural essences. It delivers an easy-sipping, fresh-tasting drink experience with no carbs, no sugar, and no artificial flavors. Ketel One Botanical is available nationwide in three varietals: Peach & Orange Blossom, Cucumber & Mint and Grapefruit & Rose, at your local spirits retailer for a suggested retail price of $24.99 per 750ml bottle. For more information please visit www.ketelonebotanical.com. Follow us @KetelOneBotanical and #KetelOneBotanical.
PLEASE DRINK RESPONSIBLY.
*Ketel One Botanical (per 1.5 oz): 73 cal, 0g carbs, 0g protein, 0g fat. White Table Wine (per 5 fl. oz., USDA ARS, National Nutrient Database May 2016): 121 cal, 3.82 carbs, 0.1g protein, 0g fat. KETEL ONE BOTANICAL. Made With Vodka Distilled With Real Botanicals And Infused With Natural Flavors. 30% Alc/Vol. © Double Eagle Brands, B.V. Imported by Ketel One USA, Aliso Viejo, CA.
Girls Night FAQ
Q. Should the girls stay in or go out for Girls Night?
A. Both options offer equal potential. If you're on a budget, staying in is much more affordable. Playing card games, watching movies, doing manicures while noshing on some homemade appetizers and drinking some good wine costs way less than going out. However, girls night can also take place at a park, museum, free concert or other equally affordable location.
Q. Does Girls Night have to take place at night?
A. No. Girls Night can also be a breakfast, brunch, or lunch date. Morning yoga with the girls followed by a pedicure and brunch sounds like the perfect way to start the weekend. How about an afternoon book club with wines to sip and delicious nosh? Another fun time with the girls might include going to an amusement park or arcade. Ride the scariest rides and have a scream fest together or get competitive and see who gets the highest score.

NATIONAL ONLINE RECOVERY DAY
Every year, at least 17 million Americans who need help with a substance abuse problem don't get it. Why? Largely because of the shame and stigma associated with substance use disorders (SUDs) and the perception that treatment is inaccessible. On September 22nd, National Online Recovery Day reminds us that quality substance abuse treatment and recovery support is available entirely online – offering the highest level of privacy and accessibility, in order to reach the millions of people who really need it.
Today's telehealth technology offers the ability to treat all sorts of ailments. Mental health issues, including SUDs, can also be effectively treated and managed online. Not only is it convenient and usually covered by insurance, but private sessions via telemedicine ease the burden of the stigma while offering quality therapy and treatment options.
The medical community continues to prove that telemedicine provides quality care. The benefits of the service are mounting beyond privacy and convenience, too. Telemedicine also:
Reduces costs to patient and provider
Creates access for rural communities
Promotes better patient engagement
Increases the reliability of access,

including support groups
When patients have more options and dependable care, they are more likely to keep appointments and continue treatment. Today's world is significantly altering our access to medicine and therapy. Through online treatment and life-long digital support communities, the possibility of successful and sustained recovery for 17 million people becomes a reality.
HOW TO OBSERVE #NationalOnlineRecoveryDay
Explore online therapy, digital support groups and virtual communities as your next step in treatment. September 22nd also offers an ideal opportunity to share your experience with online recovery. While you're sharing, be sure to include online resources like Lionrock.
#NationalOnlineRecoveryDay reminds us that there are options for getting treatment and continuing your sobriety journey, no matter what the obstacles are. Join the conversation by using #NationalOnlineRecoveryDay on social media.
NATIONAL ONLINE RECOVERY DAY HISTORY
Lionrock
founded National Online Recovery Day in 2020 to raise awareness of this beneficial approach to living a life in recovery. Lionrock uses technology to stay connected to its clients and makes it easier and more private to not only get sober, but maintain sobriety through a robust online support system called Lionrock.life. Their fully online services are successful, too. A recent study reported 80% of Lionrock's clients remained abstinent at 18 months after discharge from treatment; that's twice the national average.
Online recovery has been and continues to be the most private and successful way to get help with substance abuse. In fact, half of Lionrock clients say that they would not get help in a traditional setting if there were no online options.
On July 15, 2020, the Registrar at National Day Calendar proclaimed National Online Recovery Day to be observed on September 22nd, annually.
NATIONAL CENTENARIAN'S DAY
On September 22nd, National Centenarian's Day honors those who've celebrated 100 birthdays or more.
Initially, the day urged people to listen to the stories centenarians had to tell. Their rich history and wisdom offered a wealth of information. As the celebration spread, groups formed to honor centenarians in various ways. Often, listening to their life stories proves the age-old saying that with age comes wisdom.
Recent 2019 estimates place approximately 72,000 centenarians in the United States alone. The youngest of those were born after the end of World War I and the signing of the Treaty of Versailles. They represent a living history full of stories not found in history books. Their stories animate and compliment what we already know. Listening to their tails of accomplishment and perseverance highlight and magnify the events of the past.
At the same time, their personal histories create something legendary for those who hear them. Traditions we no longer practice or turns of phrase come traipsing across their memories to be revived and shared once more. Tribulations and experiences long forgotten reflect in their eyes. We benefit from every story they tell and every remembrance they share.
HOW TO OBSERVE #NationalCentenariansDay
Visit with a centenarian and tap into a wealth of knowledge, entertaining stories, and traditions from a time gone by. Celebrate their liveliness, uniqueness and their longevity. Try these other fun ways to celebrate, too!
Ask their secret to their longevity.

Bring centenarians together for an online chat.

Collect their favorite recipes and cooking tips.

Create collections of 100 things related to a centenarian you know. For example, 100 pictures, 100 stories, 100 facts, 100 songs.
Use #CentenariansDay to post on social media.
NATIONAL CENTENARIANS DAY HISTORY
Williamsport Nursing Home, Williamsport, MD established National Centenarian's Day to celebrate the growing population of centenarians around the country.
DEAR DIARY DAY
Dear Diary, on September 22nd each year, we celebrate the way you help us document our lives. On Dear Diary Day write an extra entry. For those who don't keep a diary, consider starting one.
Also known as journaling, studies have shown expressing our thoughts in a written form every day reduces anxiety and stress. It also broadens our vocabulary and language skills.
By writing our stressors out on paper or tapping them out on the computer, we organize our thoughts and develop tools for dealing with our everyday struggles. Through long-term journaling and diary-keeping, we focus our energy on resolving issues and achieving goals. Over time, a diary can offer many rewards including memories. We can see our successes and learn from our mistakes.
But diaries aren't just for reducing stress. They offer us a glimpse into how we change and remind us of events long forgotten. Diaries also offer a reference for future generations. While many may think of diaries as a place to keep precious secrets, they also provide a look at how life has changed from one generation to another. They serve as a reminder of ways long forgotten, words no longer in use, or attitudes that were once acceptable.
HOW TO OBSERVE #DearDiaryDay
Write a special entry in your diary and take a look back. See how your diary has progressed. If you have one, consider starting one. Explore published diaries of notable people. Share your favorite entry and use #DearDiaryDay to post on social media.
DEAR DIARY DAY HISTORY
Thomas and Ruth Roy at Wellcat.com created Dear Diary Day.

NATIONAL LEGWEAR DAY
National Legwear Day on September 22nd coincides perfectly with the beautiful changing leaves. The air is getting cooler, and fashion magazines are covering the best of fall style.
Legwear offers some of the most important ways to express personal style. From sheers and tights to leggings and anklets, even men's, women's, and kids' socks complete a look. No wonder the garment needed its own holiday.
The Queen of England was presented with her first pair of stockings in 1598. Now, women choose from numerous types of legwear. Their options include opaque, brightly colored tights, textured anklets, and foundation finishes depending on the occasion. In addition, sheer hose offers a more subtle approach in shades for all skin colors and tones.
Men's socks have evolved, too. From the basics to offerings with statement-making graphics and colors, the men step out colorfully or stately. As ties fade from the workplace, socks function as an expression of style, too. And kids continue to enjoy fun characters and prints, along with a rainbow of colors, in their legwear.
Legwear offers everyone comfort, quality, and value. And whether on Main Street or the runways of Milan Fashion Week, everyone turns to legwear to put a kick in their step, complete a look and add individual style to any outfit.
HOW TO OBSERVE #NationalLegwearDay
On National Legwear Day, let your legs do the talking. Show off some bold leggings. We even have a few suggestions:
Sophisticated monochromatic textured pair of tights
The newest lace anklets
A pair of graphic socks that can't go unnoticed
Use patterns, colors, textures, or sheers to add pop to any outfit.
Boost your confidence on September 22nd with legwear and highlight your fashion flair.
And to celebrate, be sure to show a little leg by posting your favorite look on social media using #NationalLegwearDay and #MyStyleKick!
NATIONAL LEGWEAR DAY HISTORY
As the leading global legwear manufacturer, HanesBrands founded National Legwear Day to encourage everyone to express their styles with sheers, tights, leggings, anklets, and men's, women's, and kids' socks. Consumers wear legwear each week to enhance their outfits and can use it to make any occasion an opportunity for personal expression. So, of course, legwear deserved a day to be celebrated!

HanesBrands portfolio of legwear brands includes Hanes, Champion, L'eggs, Just My Size, Maidenform, Donna Karan, DKNY, DIM, Nur Die, Nur Der, RazzaMatazz, voodoo, Lovable, Kayser, Sheer Relief, Chesterfield, Zorba, Bonds, Explorer, and Rio.
The Registrar at National Day Calendar proclaimed National Legwear Day to be observed on September 22, annually, beginning in 2017.
NATIONAL WHITE CHOCOLATE DAY
Satisfy your sweet tooth on National White Chocolate Day on September 22nd. Enjoy it with pretzels or drizzled on pastries. It's a versatile confection with many ways to celebrate!
Since white chocolate does not contain cocoa solids, it is not chocolate in the strictest sense. During the process of manufacturing chocolate, the dark-colored solids of the cocoa bean separates from the fatty content. But unlike milk or dark chocolate, the solids are not reincorporated. As a result, white chocolate also does not contain as much caffeine or antioxidants as its darker counterparts.

That's right, white chocolate loses some of the health benefits when it is processed.
Nestlé launched the first white chocolate bar in Europe. Known by the names Milkybar and Galak, Nestlé first produced the candy bar in the 1930s. Besides candy bars and fudge, white chocolate also comes in liqueurs, chips, ganache, truffles, and liquid forms.
HOW TO OBSERVE #WhiteChocolateDay
White chocolate pairs well with salty and sweet flavors. Mix it in with some peanuts or pretzels. Bake up some white chocolate macadamia nut cookies or indulge in a delicious cocktail. Enjoy your favorite white chocolate. Share yours using #WhiteChocolateDay to post on social media.
NATIONAL WHITE CHOCOLATE DAY HISTORY
National Day Calendar continues searching for the source behind this sweet candy holiday.
On Deck for September 23, 2021
National Days
International Days
September 22nd Celebrated (And Not So Celebrated) History
1888
The magazine, National Geographic, publishes its first issue.
1903
Italo Marchiony receives a patent for a mold to make ice cream cups. The inventor originally worked for his cousin selling ice cream. His invention created controversy in later years when ice cream cones took off in popularity. Machiony's cousin took him to court for copyright infringement.
1937
First International Hobbit Day celebrated.
22 1961
Antonio Abertondo swims across the English Channel – twice. It's the first time a person completed a round trip swim across the channel.
1973
The United States swears in Henry Kissinger as Secretary of State. Kissinger became the first Jew to serve in the role until 1977 under both President Richard Nixon and Gerald Ford.
1982
The television comedy Family Ties debuts on NBC. Starring Michael J. Fox, the show aired until 1989.
1985
Willie Nelson, Neil Young, and John Mellencamp organize the first Farm Aid concert for struggling farmers around the country.
1994
The television comedy Friends premieres on NBC. The show launched the careers of Jennifer Aniston, Courteney Cox, Matthew Perry, Lisa Kudrow and Matt LeBlanc.
Recipe of the Day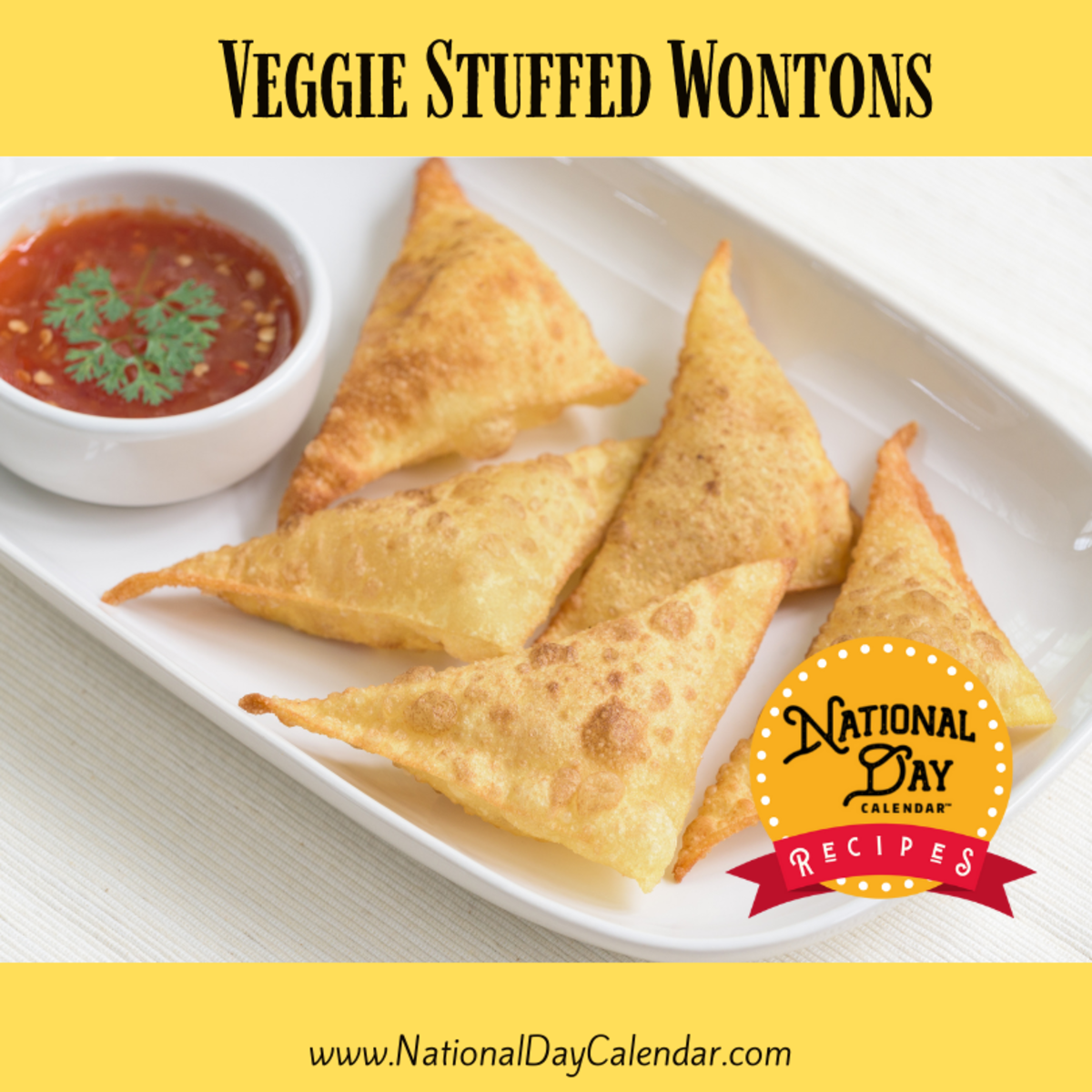 Name: Veggie Stuffed Wontons
Prep: 15 minutes
Cook: 15 minutes
Total Prep: 30
Servings: 60 wontons
Ingredients:
1 8-ounce brick cream cheese, softened
1 package vegetable soup mix
1 16-ounce package wonton wrappers
water
Vegetable oil for deep frying
Instructions:
In a medium bowl, mix cream cheese and vegetable soup mix until well combined.
Place one teaspoon of the mixture inside each wonton. Place a dab of water along two edges and fold wontons in half, pressing edges to seal. Wontons can also be gathered at the top and pinched to seal.
Heat oil in a large kettle or deep fryer to 350F. Drop wontons into hot oil in batches and fry until golden brown – about 2 minutes. Drain on paper towels.
Serve with a dipping sauce such as Sweet Sriracha, Sweet and Sour, or Hoisin.
Recipe credit: Michele S. – North Dakota
September 22nd Celebrated (And Not So Celebrated) Birthdays
Elizabeth Simcoe – 1762
The Canadian pioneer captured the virgin landscape of Canada in sketches, paintings, and her diaries.
Louise McKinney – 1868
In 1917, she ran under the Non-Partisan League ticket. She and Sister Roberta MacAdams became the first two women elected to a legislature in the British Empire. Since McKinney was sworn in before MacAdams, she became the first woman sworn into the Legislative Assembly of Alberta.
Ellen Church – 1904
After earning her nursing degree, Church pursued her pilot's license. However, there were no jobs open to women pilots. In 1930, Steve Stimpson took an idea of Church's and ran with it. He hired her and seven other nurses to become Boeing's first stewardesses.
Allan Rocky Lane – 1909
The B-movie actor is best remembered for being the voice of the Mister Ed the Talking Horse.
Lillian Chestney – 1913
During the 1940s and 1950s, Zuckerberg earned a name for herself through her artwork. She illustrated for magazines such as the Saturday Evening Post. She also created covers for art for children's books including two classics – Arabian Knights and Gulliver's Travels.
Eric Baker – 1920
The innovative businessman co-founded StubHub and Viagogo, two secondary ticket-selling websites.
Junko Tabei – 1939
As a mountaineer, Tabei became the first woman to reach Mt. Everest's summit. She also climbed Kilimanjaro, Denali, and Mt. Elbrus among others.
About National Day Calendar
National Day Calendar® is the authoritative source for fun, unusual and unique National Days! Since our humble beginnings on National Popcorn Day in 2013, we now track nearly 1,500 National Days, National Weeks and National Months. In addition, our research team continues to uncover the origins of existing National Days as well as discover new, exciting days for everyone to celebrate.

There's a celebration for everyone. While National Road Trip Day satisfies the itch to wander, many pet days let us share our love of animals. National 3-D Day and National Astronaut Day honor the advancement of technology, too. Every food day you can imagine (National Avocado Day, for example), will keep you celebrating, also!
Be sure to stay in the know by signing up for our e-mail updates. Also, follow us on Facebook, Twitter, and Instagram.
Our Ambassador Program is another way #CelebrateEveryDay®! Whether you become an ambassador or follow one of the savvy ambassadors, their fun videos and posts will keep you prepared for every holiday.