Looking Back
September 2, 2022 - NATIONAL V-J DAY – NATIONAL COLLEGE COLORS DAY – NATIONAL FOOD BANK DAY – NATIONAL LAZY MOM'S DAY – NATIONAL BLUEBERRY POPSICLE DAY – NATIONAL CHIANTI DAY
SEPTEMBER 2, 2022 | NATIONAL V-J DAY | NATIONAL COLLEGE COLORS DAY | NATIONAL FOOD BANK DAY | NATIONAL LAZY MOM'S DAY | NATIONAL BLUEBERRY POPSICLE DAY | NATIONAL CHIANTI DAY
NATIONAL V-J DAY | SEPTEMBER 2
On September 2nd, National V-J Day (Victory over Japan Day) recognizes Allied Forces' victory over Japan during World War II. Officials announced the surrender of Japan to the Allies on August 15, 1945. The official signing of surrender took place on September 2, 1945, officially ending World War II. Read more…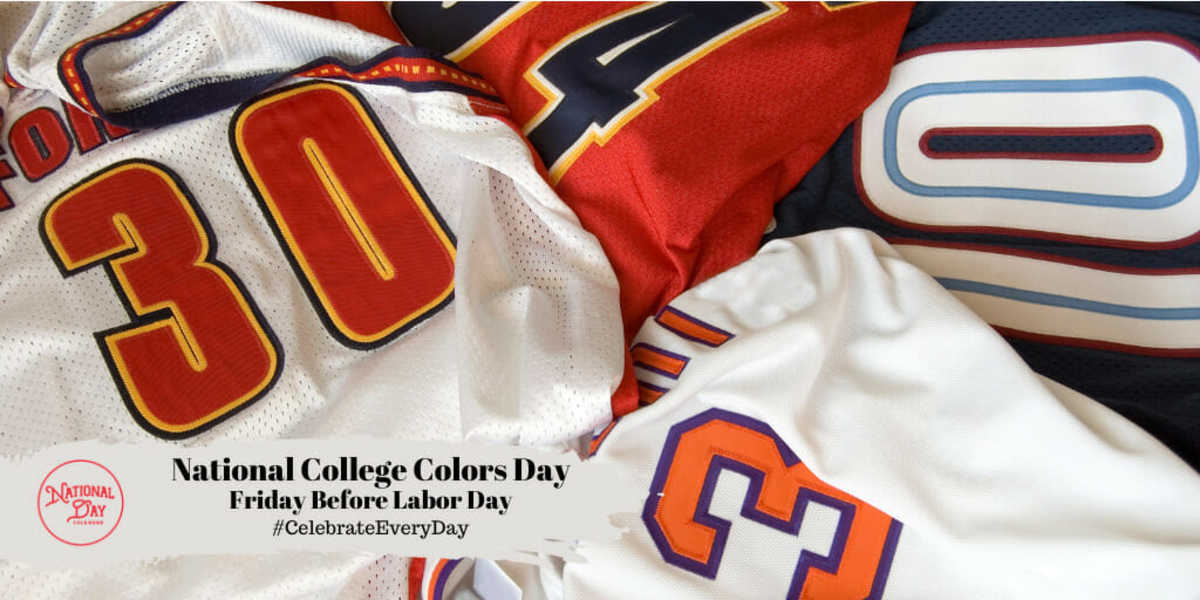 NATIONAL COLLEGE COLORS DAY
On the Friday before Labor Day, National College Colors Day encourages everyone to display their team spirit. Across the United States students, parents, family, fans, and alumni will be wearing their team colors. Be sure you're celebrating by wearing your college team's colors and apparel. Read more…
NATIONAL FOOD BANK DAY
National Food Bank Day on the first Friday in September encourages you to commit to contributing to the cause that believes no one should go to bed hungry. Read more…
NATIONAL LAZY MOM'S DAY
During the first Friday in September, National Lazy Mom's Day delegates everyday mom jobs to someone else. Read more…
NATIONAL BLUEBERRY POPSICLE DAY | SEPTEMBER 2
National Blueberry Popsicle Day on September 2nd also kicks off National Blueberry Popsicle Month. Scheduled in the midst of the dog days of summer, it's a delicious way to cool off. Purchase a box of blueberry-flavored Popsicles or make your own. Either way, the treat will be a tasty one! With the end of summer at hand, now is the time to celebrate this National Day. Read more…
NATIONAL CHIANTI DAY | FIRST FRIDAY IN SEPTEMBER
The first Friday in September each year ushers in a celebration worthy of a toast. National Chianti Day recognizes the most-recognized red wines from the Tuscany region of Italy. Read more…
On Deck for September 3, 2022
National Days
International Days
Recipe of the Day
Name: Cheese Monkey
Prep: 15 minutes
Cook: 10-15 minutes
Total Prep: 25-30 minutes
Servings: 4
This version of Welsh Rarebit is an excellent way to use up the ends of a loaf of bread or serve with crackers as a snack.
Ingredients:
1 cup milk, evaporated milk or light cream
1 cup dry bread crumbs
1 cup grated Cheddar
1/2 teaspoon salt
1/8 teaspoon dry mustard
1/4 teaspoon paprika
1/2 teaspoon Worcestershire sauce
1 egg, slightly beaten
Crisp toast or crackers
1/4 cup diced tomatoes
Instructions:
In a double boiler, melt cheese together with the milk and bread crumbs.
Once melted, stir in the spices and Worcestershire sauce.
Add the slightly beaten egg and stir well. Cook about one minute, stirring continuously.
Pour immediately over toast or crackers. Garnish with diced tomatoes. For added flavor, add corn beef slices, too.
Serve hot.
September 2nd Celebrated History
1789
Over a year after the U.S. Constitution was ratified, Congress created the Treasury Department. With the third Cabinet office created, President George Washington placed Alexander Hamilton in charge as Secretary of Treasury.
1901
While laying out his foreign policy at the Minnesota State Fair, Vice President Theodore Roosevelt quoted the West African proverb, "Speak softly and carry a big stick; you will go far." It became known as "Big Stick diplomacy." Following his election to the presidency, he applied his Big Stick diplomacy to foreign policy and would later win the 1906 Nobel Peace Prize.
1912
The Boy Scouts of America honor their first Eagle Scout with a medal ceremony. Arthur Eldred earned 21 merit badges in his journey to Eagle Scout, Boy Scout's highest honor.
1931
Bing Crosby makes his solo radio debut in his series called "15 Minutes With Bing Crosby." Soon after, the performer launched into an international music and film career.
1936
Flying in their Breguet Br. 19 TF Super Bidon named Point d' Interrogation (Question Mark), aviators Dieudonné Costes and Maurice Bellonte complete the first non-stop transatlantic flight by plane. Their journey began in Paris, France, and ended at Long Island, NY.
1940
The Great Smoky Mountains join the National Park System.
1945
The surrender of Japan to the Allied Forces becomes official, ending World War II.
1969
Chemical Bank in Rockville Center, NY installs the first Automatic Teller Machine. The revolutionary machines made simple transactions easier and more accessible.
September 2nd Celebrated Birthdays
Lucretia Hale – 1820
Lucretia Peabody Hale is an American novelist also noted for her children's book. Some of her stories include The Peterkin Papers. She also contributed to the book Six of One by Half a Dozen of the Other: An Every Day Novel by Harriet Beecher Stow.
Albert Spalding – 1850
After a career as a professional baseball player, Spalding opened a sporting goods store. He also published Spalding's Official Baseball Guide.
Romare Bearden – 1911
The talented artist is best known for his work depicting African American culture. He's also the author of the book Lil Dan, the Drummer Boy.
Arnold Greenberg – 1932
Greenburg launched the Snapple Beverage Corp with two business partners. The business's original name in 1972? Unadulterated Food Products. However, they changed the name to Snapple after one of their failed products.
Glenna Sue Kidd – 1933
Glenna Sue Kid played four seasons in the All American Girls Professional Baseball League. Though she was only a teenager when she joined the league, her phenomenal pitching did not go unnoticed. Kid's arsenal of pitches was in demand making her popular with the fans.
C. Wilson Markle Jr. – 1938
Markle is credited with inventing the film colorization process. In 1987, a patent for the process was issued under US Patent No. 4710805.
Christa McAuliffe – 1948
In 1985, McAuliffe was selected as an astronaut for the NASA Teacher in Space Project. On January 28, 1986, she along with 6 other crew members perished when the Space Shuttle Challenger broke apart 73 seconds into its flight.
Jimmy Connors – 1952
Connors achieved professional tennis success during the late 1970s. He is also known for his rivalry with John McEnroe.
About National Day Calendar
National Day Calendar is the original and authoritative source for fun, unusual and unique National Days! Since our humble beginnings on National Popcorn Day in 2013, we have been tracking the National Days, National Weeks, National Months, and International Days. We became the first calendar of its kind to curate the days all in one place and tell their stories, too! Here at National Day Calendar, we are on a mission to Celebrate Every Day with you! And by you, we mean families, businesses, educators, and strangers we meet on the street. There's more than one day for everyone.
At National Day Calendar, we've found the National Days have a way of inspiring us. We're honored to tell the stories behind the days and provide you with informational ways to incorporate the National Days into your business, family, schools, and home!