Looking Back
September 18, 2021 - NATIONAL CHEESEBURGER DAY – NATIONAL DANCE DAY – NATIONAL CLEANUP DAY – RESPONSIBLE DOG OWNERSHIP DAY – PUPPY MILL AWARENESS DAY – AIR FORCE BIRTHDAY – NATIONAL HIV/AIDS AND AGING AWARENESS DAY - BOYS' AND GIRLS' CLUB DAY FOR KIDS – NATIONAL GYMNASTICS DAY
SEPTEMBER 18, 2021 | NATIONAL CHEESEBURGER DAY | NATIONAL DANCE DAY | NATIONAL CLEANUP DAY | RESPONSIBLE DOG OWNERSHIP DAY | PUPPY MILL AWARENESS DAY | AIR FORCE BIRTHDAY | NATIONAL HIV/AIDS AND AGING AWARENESS DAY | BOYS' AND GIRLS' CLUB DAY FOR KIDS | NATIONAL GYMNASTICS DAY

NATIONAL CHEESEBURGER DAY
National Cheeseburger Day on September 18th honors America's favorite sandwich with a slice of cheese.
A few days ago, we celebrated National Double Cheeseburger Day. This food holiday is the lighter version. While only a single stack, this tasty burger still earns a celebration!
There are many theories to the beginning of the cheeseburger dating back to the 1920s. One story suggests that Lionel Sternberger invented the cheeseburger in 1926 while working at his father's Pasadena, California sandwich shop, The Rite Spot. During an experiment, he dropped a slice of American cheese on a sizzling hamburger.

However, like numerous iconic foods, many people and restaurants claim the origin story. For example, a restaurant in Los Angeles called O'Dell's placed the cheeseburger on their menu in 1928. It came smothered with chili – all for the price of a quarter. Kaelin's Restaurant in Louisville, Kentucky claims they invented the cheeseburger in 1934. One record that gives the Humpty Dumpty Drive-In in Denver, CO bragging rights is the trademark they received in 1935 for the name "cheeseburger." Another who applied for a trademark of that word was Gus Belt, the founder of Steak n' Shake. Sometime in the 1930s he also applied for the trademark.
Despite all these claims, a couple of things are for sure. The cheeseburger checks all the marks for satisfying a craving, and the cheeseburger isn't going anywhere!
HOW TO OBSERVE #NationalCheeseburgerDay
Grill up or fry up your favorite cheeseburger. You don't even have to cook. Visit your favorite burger joint and order up a delicious cheeseburger. With all the options available, you're sure to find one that fits your taste.
Enjoy one of these tasty recipes:
Perfect Bacon Cheeseburgers
Family Friendly Stuffed Cheeseburgers
Mushroom Cheeseburgers
Swiss Cheeseburger with Caramelized Onions on Toast
Use #NationalCheeseburgerDay to post on social media.
CHEESEBURGER DAY HISTORY
National Day Calendar continues to research the origins of this food holiday.
NATIONAL DANCE DAY
Break out into a twirl or two-step on National Dance Day on the third Saturday in September. The day focuses on raising awareness about dance. It also encourages Americans to embrace dance as a fun and positive way to maintain good health and combat obesity.

As a cardiovascular exercise, dancing offers numerous benefits. The activity may be low or high impact. However, either one will increase aerobic fitness. Other benefits of dancing include:
improved muscle tone

weight management

flexibility and strength

strong bones and reduced risk of osteoporosis

improved balance

increased cardiovascular health

enhanced opportunity for social interaction

helps boost mood
Also, age doesn't matter. Your dancing partner may be a child or someone 20 years your senior. No matter how skilled you are, there's always a new step to learn, too. Grab a partner and get dancing!
HOW TO OBSERVE #NationalDanceDay
Turn on a favorite song and dance. Enroll children in dance classes. While you're at it, sign yourself and a partner up for them, too. You'll improve your health and your social life while engaging with someone you care about. Invite friends to join you and learn as a group. What better way to #CelebrateEveryDay than to start out dancing?
Types of Dances to Learn:
Ballroom
Jazz
Tap
Ballet
Country Western
Hip Hop
Contemporary
Square Dance
Line Dance
Latin
You can also take dance classes to improve your skills. Those who already sport some mad moves should offer to teach others. Watch your favorite dancers and try to keep step. Play dance video games and share your scores! While you're teaching, learning, or just improvising, share your dance moves. Take a video while you're having all this fun. Post on social media using #NationalDanceDay to encourage others to do so as well.
NATIONAL DANCE DAY HISTORY
"So You Think You Can Dance" co-creator and Dizzy Feet Foundation co-president Nigel Lythgoe founded National Dance Day in 2010. When the observance achieved national recognition in 2010, a long-time proponent of healthy lifestyles, American Congresswoman Eleanor Holmes Norton stepped up. She introduced a resolution to promote a national day for dance education and physical fitness.
NATIONAL CLEANUP DAY
On the third Saturday in September, National CleanUp Day encourages all of us to take action to make the entire country a better place to live.
Just think, what if everyone just picked up one piece of litter? From coast to coast, organizations and individuals alike join forces to clean up parks, trails, beaches, mountains, and open spaces.
Outdoor spaces free of trash and litter create a more enjoyable experience for everyone. Preservation of our forefathers' legacy is up to all of us.
Litter, debris, and trash mar the beauty of our natural landscapes. National CleanUp Day puts litter in its place – in the trash and recycle bins. The observance provides an opportunity to make those messes right and give the landscape a fresh, clean sweep! Communities, corporations, civic organizations, parks and recreation departments, and private citizens will all be uniting together to make year's celebration a success.
By participating on this special day, you will be helping to send a message to your communities that you care about keeping our natural surroundings clean throughout the year. Won't you join us to make your community beautiful?
HOW TO OBSERVE #NationalCleanUpDay
Create a team or bring a friend to remove litter from your favorite outdoor spaces. Spread the word! Join in and be part of the solution. Use #NationalCleanUpDay or #SeaToShiningSea to share on social media.
Be sure to download the flyer athttps://www.nationalcleanupday.org/flyerto share with others and get the word out!
PARTNERS

Earth Day Network

World CleanUp Day

Let's Do It World, Estonia

Keep America Beautiful affiliates

United Nations Environmental Program

Bear Grylls Survival Challenge

YMCA

Adventure16

FlipRocks

Granite Gear
We have a Tailored CleanUp program for businesses, schools, municipalities and non-profits. There is no cost. It increases signups, promotes your organization and helps keep the outdoors clean. The program works well for small "micro" groups to large organizations with multiple locations. We customize with your images and videos. It's FREE. Learn more athttps://www.nationalcleanupday.org/tailored-cleanup-business-example
Questions about Tailored CleanUps or sponsorship opportunities? Email us direct atinfo@nationalcleanupday.org
NATIONAL CleanUp DAY HISTORY
Supporting organizations founded National CleanUp Day to celebrate the importance of caring for our outdoor spaces. Through creating the celebration, the day reminds everyone to remove litter, so our trails, parks, and community spaces remain pleasant and unmarred by waste.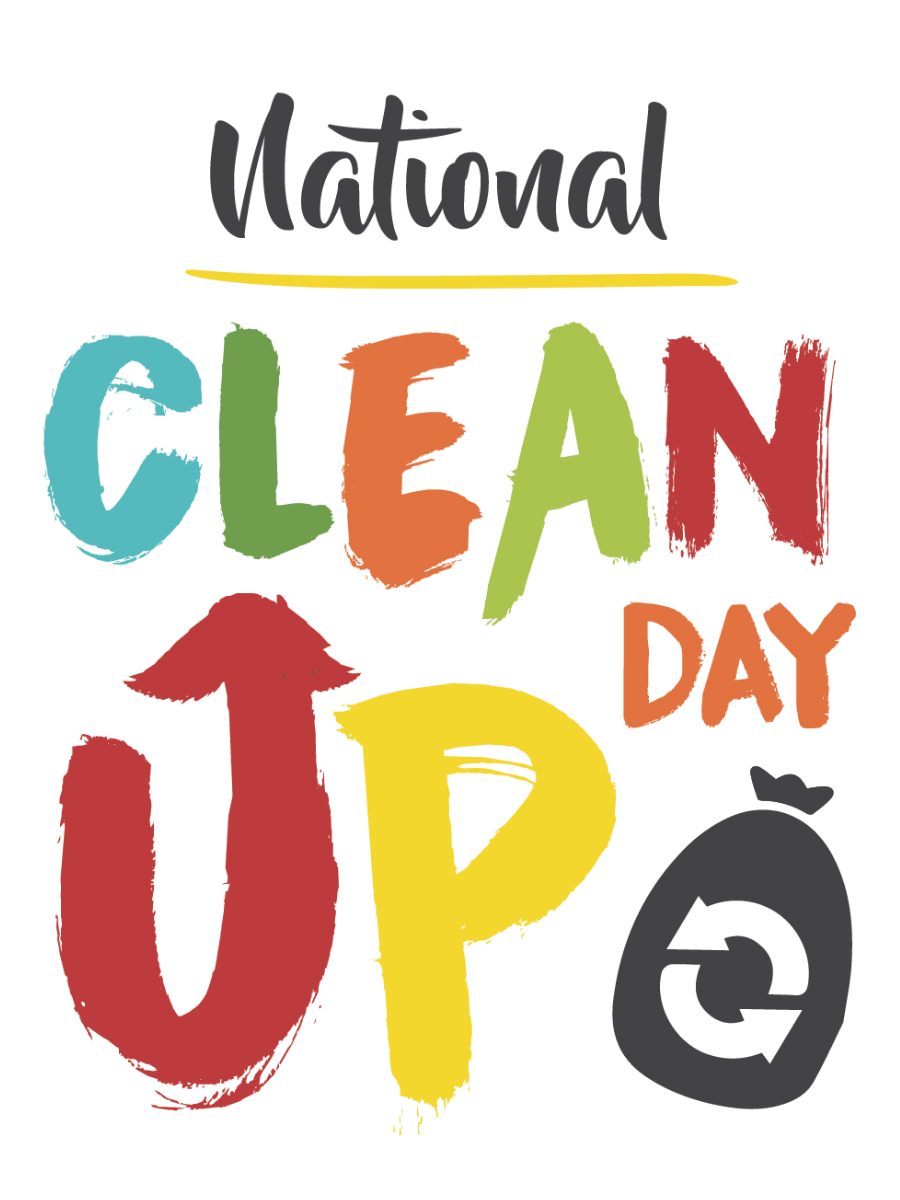 Donations to National CleanUp Day may be tax-deductible through our partnership with Clean Trails, a national 501(c)3 non-profit.
Social Media and Contact Us
www.NationalCleanUpDay.org
www.Facebook.com/nationalCleanUpDay
www.instagram.com/nationalCleanUpDay
www.twitter.com/nationalCleanUp
Phone: 720.985.8600
Email:info@nationalcleanupday.org
RESPONSIBLE DOG OWNERSHIP DAY
On the third Saturday in September, Responsible Dog Ownership Day reminds pet owners to make a promise to your furever friend.
The observance encourages current and future pet owners to commit to being responsible for their loyal hound. Being responsible protects not only the dog but all those who may be affected by him, too. Dogs bring many benefits to our lives. Ensuring they remain healthy, happy, and safe is a vital part of our job as dog owners.
The pawsabilities for excellent pet care include:
veterinary care

training

grooming

exercise

proper disposal of waste

identifying household risks and dangers

acceptable socialization

registration according to local and state ordinances
We need to be on the lookout for their well-being and the well-being of those around them. It may come as a surprise to many how much care dogs require. Keeping them healthy and safe includes many considerations. Their size, energy, medical care, temperament, and many other needs are the dog owner's responsibility. Often, dogs bring unexpected expenses. We need to be prepared to make decisions regarding their care when illness or injury occurs, too.
HOW TO OBSERVE #ResponsibleDogOwnershipDay
Dog owners know how rewarding a canine companion can be. At the same time, a responsible dog owner knows they are accountable for their dog's behavior and health. Those rewards require effort and genuine commitment. Share your tips and suggestions for those considering adding a dog to their family. Pose questions for others regarding how they maintain a canine relationship. Give a shout out to your vet, groomer or another service for helping you to be a responsible dog owner. For more information on responsible dog ownership, visit www.akc.org. Use #ResponsibleDogOwnershipDay to post on social media.
RESPONSIBLE DOG OWNERSHIP DAY HISTORY
The American Kennel Club promotes Responsible Dog Ownership Days across the country annually. Since at least September 17, 2003, (the 119th anniversary of the AKC), the observance has been encouraging dog owners to be the most respectful, caring, and responsible companions to their canines they can be.
PUPPY MILL AWARENESS DAY
National Puppy Mill Awareness Day on the third day in September encourages those looking for a new dog, to adopt, not shop.
An observance dedicated to improving the lives of dogs, the day spreads the word about the poor conditions of puppy mills. While reputable dog breeders care for the animals they raise, a puppy mill doesn't put the animal's needs first. Not only do the dogs often live in poor conditions, but they're bred T often than is healthy. Additionally, puppy mills don't take into consideration preferred characteristics when breeding.
As a result, breeding lines are not well-tracked, and genetic defects develop. The mills remove young from the mothers much too early. Sickness, malnutrition, and behavior issues are common. Often, mills skimp on vaccines, also.
RESPONSIBLE BREEDERS
Responsible breeders maintain thorough records. They also keep their kennels sanitary. Not only that, they expect you to care about the condition of their animals and facilities. Their animals receive quality veterinary care. Often, a breeder will not sell a dog if they don't believe the animal will be cared for by the buyer. Also, good breeders require the buyer e returned to them should something happen that prevents you from caring for the animal.
SHELTERS
Shelters receive stray and surrendered animals. They update their vaccines and obtain necessary veterinary care for each animal. They also screen prospective adoptive families. Similar to breeders, they maintain their facilities. However, they retain few paid staff and rely on donations and volunteers for a bulk of their needs.
Depending on the shelter's mandate, animals live there until they are adopted. Other shelters allow a certain number of days for the animal to be adopted. Once the selected number of days pass, the shelter usually must destroy the dog. Many of the dogs in shelters come from animals bred in puppy mills for pet stores or sold online.
It's essential to know the difference and select your new fur baby responsibly. Even though you may think you're saving the animal, purchasing a dog from a puppy mill only keeps the business thriving.
HOW TO OBSERVE #PuppyMillAwarenessDay
If you are considering a new pet, consider adopting from a shelter. Even pure-bred animals find their way to the shelter. Also, evaluate your lifestyle and whether it has room for a pet. Many people adopt a dog and are unprepared for the responsibility that accompanies a puppy or adult dog. Whether the training or another reason causes the pet to end up at a shelter, an opportunity for a new home awaits them.
Use #PuppyMillAwarenessDay to post on social media.
PUPPY MILL AWARENESS DAY HISTORY
National Puppy Mill Project formed the initiative for a Puppy Mill Awareness Day to spread awareness and educate the public to help end puppy mills.
AIR FORCE BIRTHDAY
The Air Force Birthday on September 18th commemorates the establishment of The United States Air Force.
Almost from the moment the Wright brothers found a way to soar with the birds, the military incorporated aeronautical pursuits into their missions. However, the Air Force did not become a separate branch of the Armed Forces until September 18, 1947.
The military established the Signal Corps as the first aeronautical force in the United States. During the Civil War, the first missions provided visional communications via flags and torchlight from aerial balloons. Even so, the Signal Corps didn't become an official branch of the Army until 1863. Its creation made way for more aeronautical training and study.
Since then, military air service has gone through many names and commands. A few examples are the Air Service of the US Army, the Air Corps, and the Army Air Force. Finally, in 1947, President Truman signed the National Security Act establishing the United States Air Force as a separate branch of the military.
As a result of pursuing advanced technology and superior airmen, the US Air Force emerged as the swiftest tactical force ready to deploy anywhere at a moment's notice. On September 18, celebrate the airmen and women who are on watch every day.
HOW TO OBSERVE #AirForceBirthday
Recognize the military personnel in the Air Force. Give a shout-out and share your experiences as part of the Air Force. Use #AirForceBirthday to post on social media.
AIR FORCE BIRTHDAY HISTORY
The 1947 National Security Act restructured The United States military and intelligence agencies in the aftermath of World War II. On September 18, 1947, President Truman signed the National Security Act establishing the U.S. Airforce on board the first Air Force One, a VC 54C.
NATIONAL HIV/AIDS AND AGING AWARENESS DAY
National HIV/AIDS and Aging Awareness Day on September 18th highlights the number of people living longer with HIV/AIDS.
Of the 1.2 million people living with HIV infection in the U.S., an estimated 24 percent are age 55 or over. Another focus of the campaign includes those diagnosed after the age of 50. According to the AIDS Institute, increased awareness for an aging population is necessary. Finally, the day also aims to increase support to the growing number of grandparents becoming guardians of children losing their parents to HIV/AIDS.
The campaign provides educational information, support options, and more. Clinics, support groups, and others join this campaign to learn more about prevention, testing, and bringing attention to this national health issue.
While treatment options have improved over the decades, prevention and testing are still necessary. The observance reminds us that age doesn't eliminate the risk of HIV/AIDS.
HOW TO OBSERVE #HIV/AIDSAgingAwarenessDay
Organize or attend a health fair. Talk to your family members or to their physician about testing. Many clinics will offer seminars and opportunities to learn more about the impact of HIV/AIDS on an aging population. Age doesn't eliminate the risk.
Visit theaidsinstitute.org for more information on how to get involved. Clinics, families, and retirement communities are encouraged to get involved. Use #HIV/AIDSAgingAwarenessDay to post on social media.
HISTORY
The National Institutes of Health launched HIV/Aids Aging Awareness Dayin 2008 to confront HIV-related issues for aging adults.
BOYS' AND GIRLS' CLUB DAY FOR KIDS
On the third Saturday in September, Boys' and Girls' Club Day for Kids celebrates kids with fun-filled activities.
Dedicate this Saturday to celebrating children. Get involved in meaningful activities, celebrating the wonderment of childhood.
HOW TO OBSERVE #BoysAndGirlsClubDayForKids
Find and register events at Day for Kids. Or branch out on your own and try a few of these fun activities:
Build and then fly a kite.
For an adventure in exploring, try geocaching.
Collect fallen leaves and create an artistic collage.
Volunteer at an animal shelter. Learn to walk and groom the animals.
Create one-of-a-kind stepping stones with plaster of Paris and colorful beads.
Make paper planes and have a contest to see which ones fly the farthest.
Use sidewalk chalk to create artistic masterpieces.
Play basketball, miniature golf, sand volleyball, bowling, badminton, soccer, baseball, Wiffle ball, kickball or any number of athletic games.
Skip stones at a pond or river while going fishing.
Break out the board games and have a tournament.
Go for a hike. Enjoy the beautiful fall weather.
Tie dye t-shirts or handkerchiefs.
Visit a museum and explore history.
Go to the library and check out a book or old movie.
Write a short story together.
Use #BoysAndGirlsClubDayForKids to post on social media.
BOYS AND CLUB DAY FOR KIDS HISTORY
The Boys' and Girls' Club of America is working to establish a day in The United States dedicated to just kids. Visit the Boys' and Girls' Club Day website to join the initiative.
NATIONAL GYMNASTICS DAY
On the third Saturday in September, National Gymnastics Day focuses on a sport the Greeks developed in the 5th century B.C.
That's right. During the 5th century B.C., gymnastics first emerged as a classical sport. The Greeks developed the practice to strengthen warriors' skills for battle. Since gymnastics focuses on all the necessary physical traits for hand-to-hand combat, it improves strength, dexterity, and concentration.
Many of the events first exhibited during the Greek Olympics are a part of the competition in the modern Olympics today.
The "father of modern gymnastics" is Friedrich Ludwig Jahn of Germany. In the 1700s, he perfected many of the events that leave the audiences gasping in awe. Some of those events include parallel bars, balance beam, and jumping events.
Both an individual and team sport, gymnastics competitions are found all over the world. Many age and skill levels compete, too. Those who compete at the Olympic level and beyond train several hours daily. To be successful, most start as a young child.
HOW TO OBSERVE #NationalGymnasticsDay
Share stories about celebrated gymnasts, or encourage a gymnast you know. Attend a gymnastic competition near you. Share your experiences in gymnastics. While you're cheering on your favorite gymnast, be sure to take photos and video. Share them using #NationalGymnasticsDay to post on social media.
NATIONAL GYMNASTICS DAY HISTORY
Gymnastics Day began in 1998 as a way to encourage gymnasts and bring awareness about the sport.
On Deck for September 19, 2021
September 18th Celebrated (And Not So Celebrated) History
1793
Construction began on the United States Capitol when President George Washington laid the cornerstone. However, no one knows exactly where Washington placed that cornerstone. Additionally, the first president of the United States never saw the building completed. Washington died in 1799 and the builders completed the Capitol building nearly a year later.
1837
Businessmen Charles Lewis Tiffany and John B. Young established Tiffany & Young. They sold "stationery and fancy goods" to the citizens of New York and then the world. In 1853 when Charles Lewis Tiffany became the sole proprietor, he renamed the business Tiffany & Co.
1851
The first edition of the New York Daily Times is published. The newspaper's name would later change to The New York Times.
1891
After years of devotion to the Seneca tribe, Harriet Maxwell Converse was adopted into the tribe. She would later be installed as the Six Nations Chief, the first white woman ever to be named Chief of a Native American tribe.
1915
Dr. Susan La Flesh Picotte dies. The driven young woman attended the Women's Medical College of Pennsylvania and became the first Native American to earn a medical degree. She graduated valedictorian of her class and returned to Nebraska, opening her own clinic and eventually establishing the first hospital in the county where she lived.
1919
After becoming the first African American to play in the Rose Bowl, Fritz Pollard broke another color barrier. He became the first African American to play professional football when he signed with the Akron Pros.
1927
The Columbia Phonograph Broadcasting System begins airing programs. The company would later be called the Columbia Broadcasting System (CBS).
1946
Joe Louis maintains his Heavyweight title when he knocks out Tami Mauriello in the first round.
1947
The National Security Act of 1947 goes into effect bringing both the CIA and the Department of Defense into existence.
1980
When the Soviet Soyuz 38 launched into space with Tamayo Méndez aboard, the Cuban cosmonaut became a man of many firsts in space – first Latin American, the first person of African descent, and the first Cuban.
1984
Joe Kittinger becomes the first person to fly solo in a balloon across the Atlantic Ocean. He completed the journey in a helium-filled balloon named Rosie O'Grady. On September 14th, he lifted off from Caribou, ME and landed Montenotte, Italy on September 18th.
Recipe of the Day
Pigs in a Blanket
Prep time: 5 minutes
Cook time: 20 minutes
Total time: 25 minutes
Makes: 40
Ingredients
28-ounce package of cocktail franks
2 8-ounce packages of crescent roll dough
Dipping sauces
Instructions
Heat oven to 400°F. Line baking sheet with parchment paper.
Unroll crescent rolls onto a cutting surface. Use a pizza cutter to cut each triangle into three smaller triangles.
Pat the cocktail franks dry with paper towels. Wrap each frank with the pastry beginning with the wide end of the triangle. Place the frank point down on the baking sheet.
Bake for 15-20 minutes or until golden brown. Serve with dipping sauces.
September 18th Celebrated (And Not So Celebrated) Birthdays
​Kate Booth – 1858
The Salvation Army captain brought the Christian charitable organization to France.
Ray Geiger – 1910
As the editor of the Farmers' Almanac, Geiger grew the publication's circulation from 85,000 copies to more than 6.5 million.
Joe Kubert – 1926
The comic book artist established The Kubert School in 1976 for students of cartooning.
Al Lapin Jr. – 1927
Along with his brother Jerry and Albert Kallis, the entrepreneur founded the International House of Pancakes in 1958.
John McAfee – 1945
The computer programmer founded McAfee in 1987. The company provides security and virus protection software to millions of customers around the world.
Lance Armstrong – 1971
The professional cyclist won seven consecutive Tour de France races. However, he was later stripped of the titles when it was discovered he used performance-enhancing drugs. The cyclist and cancer survivor also established the LiveStrong Foundation to support cancer research.
About National Day Calendar
National Day Calendar® is the authoritative source for fun, unusual and unique National Days! Since our humble beginnings on National Popcorn Day in 2013, we now track nearly 1,500 National Days, National Weeks and National Months. In addition, our research team continues to uncover the origins of existing National Days as well as discover new, exciting days for everyone to celebrate.

There's a celebration for everyone. While National Road Trip Day satisfies the itch to wander, many pet days let us share our love of animals. National 3-D Day and National Astronaut Day honor the advancement of technology, too. Every food day you can imagine (National Avocado Day, for example), will keep you celebrating, also!
Be sure to stay in the know by signing up for our e-mail updates. Also, follow us on Facebook, Twitter, and Instagram.
Our Ambassador Program is another way #CelebrateEveryDay®! Whether you become an ambassador or follow one of the savvy ambassadors, their fun videos and posts will keep you prepared for every holiday.