Looking Back
September 13, 2021 - NATIONAL KIDS TAKE OVER THE KITCHEN DAY - NATIONAL PEANUT DAY - DAY OF THE PROGRAMMER - NATIONAL BALD IS BEAUTIFUL DAY - NATIONAL BOSS/EMPLOYEE EXCHANGE DAY - UNCLE SAM DAY - NATIONAL CELIAC DISEASE AWARENESS DAY
SEPTEMBER 13, 2021 | NATIONAL KIDS TAKE OVER THE KITCHEN DAY | NATIONAL PEANUT DAY | DAY OF THE PROGRAMMER | NATIONAL BALD IS BEAUTIFUL DAY | NATIONAL BOSS/EMPLOYEE EXCHANGE DAY | UNCLE SAM DAY | NATIONAL CELIAC DISEASE AWARENESS DAY
NATIONAL KIDS TAKE OVER THE KITCHEN DAY
National Kids Take Over The Kitchen Day on September 13th brings the youngest cooks into the kitchen!
Kids and teens across the country are called to take over their kitchens! This observance encourages using their favorite recipes to make a meal for their family. (Adult supervision and assistance as required for the younger bakers and chefs in the house!)
The Young Chefs Academy (YCA) mission empowers kids and teens to become more actively involved in the kitchen. They encourage children to help in the planning, preparation, and cooking of meals. Another focus of the YCA includes fostering family bonds. As a result of their work, they actively fight the battle against the many serious health and social issues related to youth's eating habits in today's time.
When children take an active part in their family mealtimes, they learn to eat healthier. However, mealtime is also a social activity. We learn about each others' days and take an interest in each others' lives. Mealtimes are enormously productive when we work together and enjoy together as families.
HOW TO OBSERVE #KidsTakeOverTheKitchenDay
Let the kids cook for a change of pace. Ask children to take part in the cooking activities more often, too. Not only will they learn about cooking and healthy eating, but they will learn about responsibility. They will feel more a part of the family. They might even find joy in the meals they help to provide, too! Try one of these kid-friendly recipes to get your children cooking. While they whip up their culinary masterpieces, it's an excellent time to teach them so many things:
As they measure ingredients, practice fractions.

Learning to delegate is hard for some and easy for others. While they prep, teach them how to best divide the responsibilities. Don't forget the clean-up.

Another great cooking skill is reading. Don't hesitate to let children learn tough phrases, especially in French cooking!

No matter their age, there's a job for everyone. Even the youngest can pour and taste.
Herbed Chicken Nuggets
Yogurt Sundaes
Share your meals with us and use #KidsTakeOverTheKitchenDay to post on social media.
Educators, be sure to visit the National Day Calendar Classroom for ideas on how to celebrate with your students.
NATIONAL KIDS TAKE OVER THE KITCHEN DAY HISTORY
National Kids Take Over The Kitchen Day is sponsored by the Young Chefs Academy. Be sure to check out this organization to discover how they encourage children to learn the kitchen!
Kids in the Kitchen FAQ
Q: At what age can children begin to learn to cook?
A. About the time children begin walking well on their own, they can begin some of the basics of cooking. Toddlers can stir, scoop, sprinkle, and sort, among many other skills. Start with a simple recipe that doesn't require the stove or sharp utensils, such as peanut butter and banana sandwiches or yogurt parfaits.
Q: How do children benefit from learning to cook at a young age?
A: There are several benefits to teaching children to cook at a young age.
They learn science such as chemical reactions from mixing certain ingredients.

Children use their reading skills when they cook and follow instructions.

Cooking teaches children safety skills.

Children get to spend productive time with their family members.

They earn a sense of accomplishment from completing a recipe. And it's an automatic reward – Children get to eat what they make!

Learning to cook comes with built-in opportunities to learn from mistakes. No one gets every recipe right the first time.

They develop a broader appreciation for flavors and foods.

Food can teach children about other cultures.

Cooking can teach children to work as a team.




NATIONAL PEANUT DAY

On September 13th National Peanut Day pays homage to mighty and tasty peanut.

Likely originating in South America around 3,500 years ago, this legume is not a nut. They grow underground, like potatoes. Since they are an edible seed that forms in a pod, they belong to the family Leguminosae with peas and beans. When it comes to plants packing protein power, peanuts provide a whopping 8 grams per ounce, more than any other nut according to The Peanut Institute. And remember, it's not a nut! Nuts grow on trees.

The peanut is also high in antioxidants. Not only are peanuts high in vitamins E and B6, but they're rich in minerals such as magnesium, iron, and zinc. Studies also show when paired with other nutrient-rich foods, this wonderful legume helps us absorb nutrients better, too.

For the longest time, livestock gained the most significant benefit from all these nutrients. Until modern methods came along, planting and harvesting peanuts were labor-intensive and risky endeavors for farmers. Gradually their popularity grew. Civil War soldiers found a fondness for them, and so did fans of PT Barnum's traveling circus. But what made it possible for peanuts to be grown in abundance was an advancement in farm technology. Just like the cotton gin revolutionized the cotton industry, planters and harvesters transformed not only the peanut farm but farming the world over.

Buy me some peanuts and Cracker Jack ~ lyric from Take Me Out to the Ballgame (1908) by Jack Norworth and Albert Von Tilzer.

Dr. George Washington Carver

With the rise in peanut production, there also brought an increase of curious investigation into its possible uses. When the boll weevil wreaked havoc on the South's cotton crop, Dr. George Washington Carver, made a suggestion. He had been researching this amazing groundnut and suggested farmers diversify into peanuts. It was an economic boon to Southern farmers. He published his research "How to Grow the Peanut and 105 Ways of Preparing it for Human Consumption" in 1916. His continued research resulted in more than delicious uses for this goober, groundnut or ground pea. From shaving cream to plastics and cosmetics and even coffee, Dr. Carver's appetite for the peanut seemed to be unending.

Many of the peanut discoveries Dr. Carver made 100 years ago are still being used today.

HOW TO OBSERVE #NationalPeanutDay

Explore the world of the peanut and crack open some for a healthful snack. Use #NationalPeanutDay to post on social media. You can also discover more tasty nuts by reading 9 Delicious Nuts from Around the World.

NATIONAL PEANUT DAY HISTORY

We were unable to find the creator of National Peanut Day.

DAY OF THE PROGRAMMER

On the 256th day of the year, Day of the Programmer honors the innovators who continue to change the world, one program at a time.

Also known as International Programmers Day, this day is celebrated based on binary code. The number 256 is distinct to programmers. Represented by an eight-bit byte, 256 equals 2 to the eighth power. This digit makes it the highest power of two that is less than 365. When translated to binary code, the day reads 1 0000 0000.

The day honors programmers around the world. There is hardly a person in the civilized world who does not benefit from the tools of the programmer. Whether we look toward transportation or medicine, finance or education, programming influences all of them. Nearly every major business requires programmers to maintain their infrastructure from an IT standpoint. Telecommunications continues advancing thanks to programmers. The automobile industry relies on programmers for the latest brands to roll off the assembly lines. Security, society, and entertainment look to programmers for the latest in protection, design, and innovation.

HOW TO OBSERVE #DayOfTheProgrammer

Pay tribute to programmers or learn more about programming. If you have an interest, consider pursuing a career. Technology careers continue to grow in every sector.

Attend or host a job fair.

Develop your programming skills.

Take courses to boost your career.

Mentor someone interested in programming.

Share some quirky programming puns. Yes, puns. We know you love pressing F5. It's so refreshing.

Share your experiences as a programmer and post on social media using #DayoftheProgrammer to show your appreciation.

DAY OF THE PROGRAMMER HISTORY

In 2002, Russian programmers Valentin Balt and Michael Cherviakov of Parallel Technologies gathered signatures hoping the Russian government would declare Day of the Programmers. However, it wasn't until 2009 that the Ministry of Mass Media and Communications of Russia announced the official holiday. Finally, President Dmitry Medvedev of Russia signed the bill in honor of computer programmers on September 11, 2009.

NATIONAL BALD IS BEAUTIFUL DAY

National Bald is Beautiful Day on September 13th honors noggins without hair. Being bald brings a beauty all its own.

Not only does baldness come in many forms, but it also comes with some convenience. For men especially, the cost of hair products and haircuts is reduced. Additionally, reduced grooming time for men who find no more hair must be a relief.

However, hair loss can be stressful for both men and women. Whether the cause is due to illness, medication, family heritage or age, most people hope to keep their hair for as long as possible.

Bald is beautiful in so many ways. By going bald, we shed our vanity regarding our hair. Baldness is a vulnerability. Those who have hair loss of any kind know this feeling. Facing it head-on by taking off what once might have been a mantel of glory takes courage.

Others may choose baldness. The inconvenience of hair care is more than they have time for. They prefer the shiny and smooth pate over the maintenance of a regular haircut. However, once shorn, they do need to maintain the shave and wear sun protection. The newly shorn scalp is sensitive to the sun.

Whatever the reason, most find baldness freeing. Some even shave to support a friend going through an illness. Their solidarity is a visual reminder that they are not alone.

HOW TO OBSERVE #NATIONALBALDISBEAUTIFULDAY

No need for hats, scarves, or cover-ups of any kind. Let it all shine! Other ways to celebrate include:

Giving a shout-out to a friend who wears their baldness with savvy.
Organize a Bald is Beautiful group.
Trade tips and scalp care secrets.
Try breaking a world record for the most bald people gathered in one place. If you do, be sure to let us know, too!
Support someone struggling with hair loss.

Share photos of your chrome beauty using the #NationalBaldIsBeautifulDay on social media.

HISTORY OF NATIONAL BALD IS BEAUTIFUL DAY

We were unable to find the creator of National Bald is Beautiful Day.

NATIONAL BOSS/EMPLOYEE EXCHANGE DAY

Each year on the Monday following Labor Day, National Boss/Employee Exchange Day offers an opportunity to see how the other half of a business works.

While bosses and employees often have brainstorming sessions, exchanging positions provides insight into the business. When done with planning and communication, the exchange can lead to successful business solutions. Employees gain confidence and leadership skills. Another benefit from the role reversal includes the added respect or improvements to workflows.

Comparing notes following the exchange will be a vital part of the process. Additionally, those discussions should be in the spirit of the day. Take advantage of the knowledge gained and present ideas that will advance the business.

Most bosses have many employees. One way to execute this experience is by having team members nominate one person to swap places with the boss. Not only does this afford a respected member of the team an opportunity to bring feedback to the group, but it also places the boss squarely on the team. The hands-on experience will provide a good leader with insight normally overlooked.

HOW TO OBSERVE #BossEmployeeExchangeDay

On this day, you and your boss can switch places for the day and see how the other one spends their day. Can you do their job? Can they do your job? Be proactive and plan ahead. Schedule a planning session with your boss or supervisor. Exchange a list of responsibilities. Following the day experience, share ideas, solutions, and thoughts. Each of you may find new ways of doing a task or insight into the other's position. Share new understandings and skills from this day using #BossEmployeeExchangeDay to post on social media.

NATIONAL BOSS EMPLOYEE/EXCHANGE DAY HISTORY

We have not identified the origin of Boss/Employee Exchange Day.

UNCLE SAM DAY

On September 13th, the United States recognizes Uncle Sam Day. The day commemorates the man behind the iconic image and fascinating nickname for the United States government who was born on September 13, 1766.

Sam Wilson, a meatpacker from New York, supplied barrels of meat to soldiers during the war of 1812. To identify the meat for shipment, Wilson prominently stamped "U.S." on the barrels. It wasn't long before the soldiers dubbed the grub a delivery from Uncle Sam. As such nicknames tend to do, its popularity spread.

The first illustration of Uncle Sam is unlike the one we know today. Published by Harper's Weekly in 1861, the young government representative (a starred bandana on his head and wearing a striped vest) is depicted dividing up Virginia like a butcher. Through the years, the image of Uncle Sam would take many forms.

Credit is given to German-born illustrator and cartoonist Thomas Nast for developing the long-legged Uncle Sam we know today. With the starred top hat and striped pants, the Uncle Sam debut in Harper's Weekly, also. He took on many issues with Nast as his illustrator. Some of the issues topics included Boss Tweed, Union recruitment, and Reconstruction.

During the modern era, Uncle Sam obtained some color. The United States Army awarded Montgomery Flagg with the artwork for the familiar portrait used in the "I Want You For The U.S. Army" campaign during World War I. It first appeared on the cover of Leslie's Weekly, an illustrated literary and news magazine.

HOW TO OBSERVE #UncleSamDay

Share your memories of Uncle Sam and Uncle Sam lore. Discover other symbols of the United States. Use #UncleSamDay to post on social media.

UNCLE SAM DAY HISTORY

President George H. W. Bush proclaimed Uncle Sam Day to be September 13, 1989, in honor of the anniversary of the birth of Samuel Wilson. It coincided with the bicentennial celebration of the City of Troy, New York, where Wilson lived and worked. The City of Troy requested the designation of the President.

On September 7, 1961, through concurrent resolutions, Congress officially named Uncle Sam as a permanent symbol of American strength and idealism.

NATIONAL CELIAC DISEASE AWARENESS DAY

Every year on September 13th, National Celiac Disease Awareness Day encourages us to support those with the auto-immune disease affecting 3 million people.

Those with celiac disease avoid gluten due to the immune response that damages the villi in the small intestine. Over time, the damage prevents the absorption of nutrients into the body. Grains such as wheat, barley, rye, and even some oat products contain gluten. The destruction is irreversible and the only known treatment is a carefully controlled diet.

National Celiac Awareness Day promotes the importance of diagnosis as well as bringing resources and support to those who have already been diagnosed. Alternative meal preparation, diet suggestions, and celiac support groups help families provide nutritional lifestyles.

HOW TO OBSERVE #CeliacDiseaseAwarenessDay

Share your tips and resources on this National Day. Offer to serve a completely gluten-free meal for a loved one or friend you know who has celiac. Also, be mindful of their needs at future gatherings. Ask for recipes to add to your collection for your reference. To find out more visit beyondceliac.org or glutenfreeworks.com. Use #CeliacDiseaseAwarenessDay to share on social media.

HISTORY OF CELIAC DISEASE AWARENESS DAY

The United States Senate passed a unanimous resolution in 2005 supporting Celiac Disease Awareness Day on September 13th. The day recognized the birthday of Dr. Samuel Gee, the physician who first published literature on the nature of celiac disease and the need for a diet to treat the disease. The Senate continued to call for National Celiac Disease Awareness Day annually until 2011.
On Deck for September 14, 2021
September 13th Celebrated (And Not So Celebrated) History
1845
Chemist Michael Faraday discovers how a magnetic field influences polarized light. Today, the discovery is known as the Faraday Effect.
1883
The Cleveland Blue's one-armed pitcher, Hugh Daily, pitches a no-hitter against the Philadelphia Quakers, earning a 1-0 win. The right-handed pitcher lost his left arm as a boy when a revolver accidentally discharged.
1947
Blues musician, T-Bone Walker, records "Call it Stormy Monday (But Tuesday is Just as Bad). Later, the popular song is recorded by several other artists including B.B. King, the Allman Brothers Band and Cream.
1948
Margaret Chase Smith is elected to the Senate. Formerly a U.S. Representative in the House, Smith's election to the Senate made her first woman elected to both chambers of Congress and also the first Republican woman elected to the Senate. She replaced Senate Majority Leader Wallace H. White. He said in a statement after her victory, "Mrs. Smith's campaign and her victory as the outstanding political event of a generation."
1955
Patent number 2,717,437 issued to Swiss inventor George de Mestral. His creation became known as Velcro® and was inspired by burrs stuck in his dog's fur.
1969
The Hanna-Barbera animated cartoon series premieres on CBS. With mysterious plots, a Great Dane (Scooby-Doo) and meddling teenagers, the show ran for three seasons and inspired several spin-offs and movies.
1985
The Super Mario Bros. game debuts. Shigeru Miyamoto created the game, including the popular character Mario for Nintendo.
1999
The Denver Broncos retire quarterback, John Elway's number 7 jersey. Leading the team to two Super Bowl championships, Elway played for the Broncos from 1983-1998. In 2011, the Broncos named Elway general manager and an executive vice president.
2007
Do you know what an inukshuk is? It's a stone sculpture traditionally built by the Inuit people. They often serve as a marker for a variety of reasons. Jose Melo of Ontario, Canada created the world's tallest. His measured 37 feet and 3.9 inches tall. The president of Allstone Quarry Products used 11 granite slabs to build the sculpture.
Recipe of the Day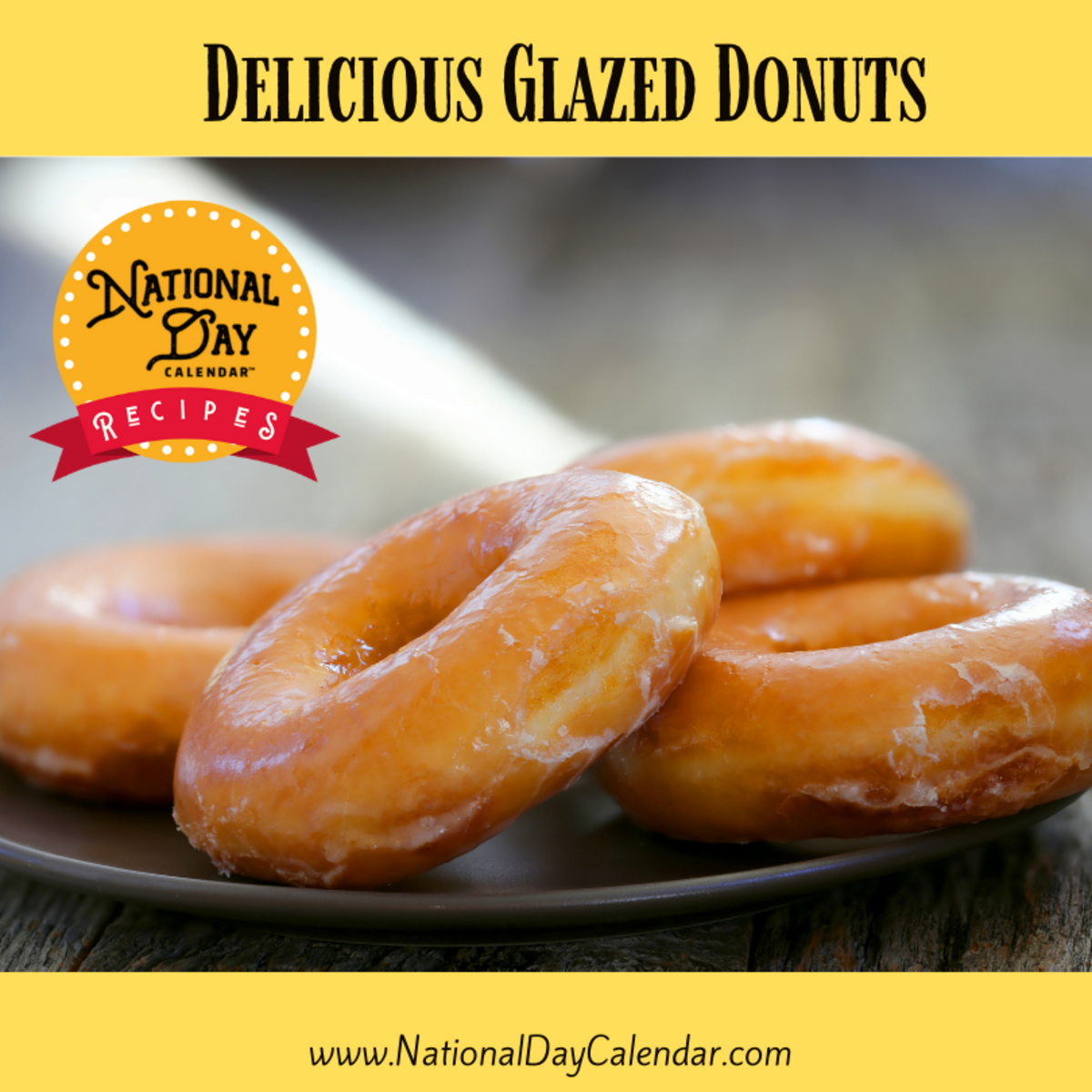 Delicious Glazed Donuts
Prep Time: 1 hour 45 minutes
Cook Time: 15 minutes
Total: 2 hours
Servings: 18 donuts
Ingredients
Dough
1 packet active dry yeast
1/4 cup lukewarm water
1 1/2 cups warm milk
1/3 cup granulated sugar
3 large eggs, room temperature
5-5 1/2 cups all-purpose flour
1 teaspoon salt
1/2 cup unsalted butter, softened
Shortening for frying
Glaze
3 cups powdered sugar
1 teaspoon pure vanilla extract
3-5 tablespoons milk
1 teaspoon vanilla
Instructions
In a large mixing bowl, dissolve the yeast and sugar in warm water. When bubbles begin to form in the yeast mixture, stir in the milk and eggs. Cut the butter into the mixture. Gradually add flour and salt, scraping sides as you stir. When a dough forms, turn the dough onto a floured surface. If the dough is sticky, add a little more flour, but not too much or donuts will be tough. Knead the dough until it becomes smooth. Form a ball and place it in a greased bowl. Cover and place in a warm place to let the dough rise.
When the dough is double in size, turn out onto a floured surface and knead. Divide dough in half and cover. Allow to rest 10-15 minutes.
In a small bowl, mix glaze ingredients. Add enough milk to create a thin, pourable glaze.
Line a baking sheet with parchment.
Turn one half the dough onto a floured surface and roll the dough into about 1/2 inch thickness. Dust donut cutter with flour and cut out donuts. Place on baking sheet. Cover and allow the donuts to rise until doubled in size.
Set a cooling rack on a baking sheet. Heat cooking oil in a deep-fryer or large pot to 350-375°F.
Drop donuts into the hot oil, 1-2 minutes per side. Using a slotted spoon, remove doughnuts and place them on the cooling rack.
Drizzle glaze over the tops of the doughnuts while the donuts are warm but slightly cooled.
September 13th Celebrated (And Not So Celebrated) Birthdays
Laura Secord – 1775
During the War of 1812, Great Britain and The United States squared off over maritime rights. As a colony of Great Britain, Canada took up arms against the Yankees. In June of 1813, Laura Secord learned of an impending American attack on the British outpost at Beaver Dams. To warn the British troops, Secord walked 20 miles to successfully raise the alarm.
Lucy Good Brooks – 1818
Following the Civil War, the former slave founded the Friends' Asylum for Colored Orphans. The orphanage served African American children in the Richmond, VA area for nearly 60 years.
Milton Hershey – 1857
Before building a booming chocolate business, Hershey opened the Lancaster Caramel Company. After deciding to focus on chocolate, a decision no one regrets.
John J. Pershing – 1860
A graduate of West Point military academy, the Army general led the American Expeditionary Force during World War I. During the Spanish American War in 1898, he earned the nickname Black Jack.
Alain Locke – 1885
The first American Rhodes Scholar, his writing led the Harlem Renaissance into the American spotlight.
​Amelie "Melli" Beese – 1886
As a female pilot, "Melli" pioneered aviation for women in Germany. In 1911, she became the first woman in Germany to earn her pilot's license. Her talents weren't limited to flying, though. She also built her own planes.
Roald Dahl – 1916
Dahl's most popular novels have a knack for making it to the silver screen. Novels like James and the Giant Peach, Charlie and the Chocolate Factory, Fantastic Mr. Fox, The BFG, and Matilda have brought whimsey and colorful characters into children's lives for more than 40 years.
Jenny Romanowski – 1927
As a utility player in the All American Girls Professional Baseball League, Romanowski played 8 seasons with a variety of teams, including South Bend Blue Sox, Rockford Peaches, and Kalamazoo Lassies. Nicknamed Romey, Romatowski played for the Kalamazoo Lassies as they won the championship game in 1954. She also got to travel to Cuba for an exhibition game. After the AAGBL ended, she became a teacher in Michigan.
Don Bluth – 1937
The animator is known for favorite feature films such as The Secret of NIMH, An American Tail, and All Dogs Go to Heaven.
Ed Roberts – 1941
In 1974, Dr. Ed Roberts developed the first successful personal computer, the Altair 8800.
About National Day Calendar
National Day Calendar® is the authoritative source for fun, unusual and unique National Days! Since our humble beginnings on National Popcorn Day in 2013, we now track nearly 1,500 National Days, National Weeks and National Months. In addition, our research team continues to uncover the origins of existing National Days as well as discover new, exciting days for everyone to celebrate.

There's a celebration for everyone. While National Road Trip Day satisfies the itch to wander, many pet days let us share our love of animals. National 3-D Day and National Astronaut Day honor the advancement of technology, too. Every food day you can imagine (National Avocado Day, for example), will keep you celebrating, also!
Be sure to stay in the know by signing up for our e-mail updates. Also, follow us on Facebook, Twitter, and Instagram.
Our Ambassador Program is another way #CelebrateEveryDay®! Whether you become an ambassador or follow one of the savvy ambassadors, their fun videos and posts will keep you prepared for every holiday.