Looking Back
September 12, 2022 - NATIONAL DAY OF ENCOURAGEMENT - NATIONAL HUG & HIGH 5 DAY – NATIONAL REPORT MEDICARE FRAUD DAY – NATIONAL VIDEO GAMES DAY – NATIONAL BOSS/EMPLOYEE EXCHANGE DAY – NATIONAL CHOCOLATE MILKSHAKE DAY – NATIONAL JUST ONE HUMAN FAMILY DAY
SEPTEMBER 12, 2022 | NATIONAL DAY OF ENCOURAGEMENT | NATIONAL HUG & HIGH 5 DAY | NATIONAL REPORT MEDICARE FRAUD DAY | NATIONAL VIDEO GAMES DAY | NATIONAL BOSS/EMPLOYEE EXCHANGE DAY | NATIONAL CHOCOLATE MILKSHAKE DAY | NATIONAL JUST ONE HUMAN FAMILY DAY
NATIONAL DAY OF ENCOURAGEMENT | SEPTEMBER 12
September 12th recognizes the National Day of Encouragement each year. This day is dedicated to uplifting people around us and making a positive impact. Read more…
NATIONAL HUG & HIGH 5 DAY | SEPTEMBER 12
Two things that make us feel appreciated and loved are free. That's why on September 12th, we celebrate National Hug & High 5 Day! Read more…
NATIONAL REPORT MEDICARE FRAUD DAY | SEPTEMBER 12
September 12th represents the National Report Medicare Fraud Day. Medicare fraud affects us all. Ten percent of all Medicare funds are lost due to fraud. The government spends $650 billion a year on Medicare, and $65 billion a year is lost to Medicare fraud. No wonder we have a national health care crisis! Read more…
NATIONAL VIDEO GAMES DAY | SEPTEMBER 12
On September 12th, National Video Games Day celebrates all the ways we enjoy a good video game challenge. Read more…
NATIONAL BOSS/EMPLOYEE EXCHANGE DAY
Each year on the Monday following Labor Day, National Boss/Employee Exchange Day offers an opportunity to see how the other half of a business works. Read more…
NATIONAL CHOCOLATE MILKSHAKE DAY | SEPTEMBER 12
National Chocolate Milkshake Day on September 12th brings chocolate and ice cream lovers together. Forget the calories for just this one day and enjoy a sweet tall, thick and delicious, chocolate milkshake! Read more…
NATIONAL JUST ONE HUMAN FAMILY DAY | SEPTEMBER 12
National Just One Human Family Day on September 12th encourages us to reflect on the human race as a single family who share just one planet. Read more…
On Deck for September 13, 2022
National Days
Recipe of the Day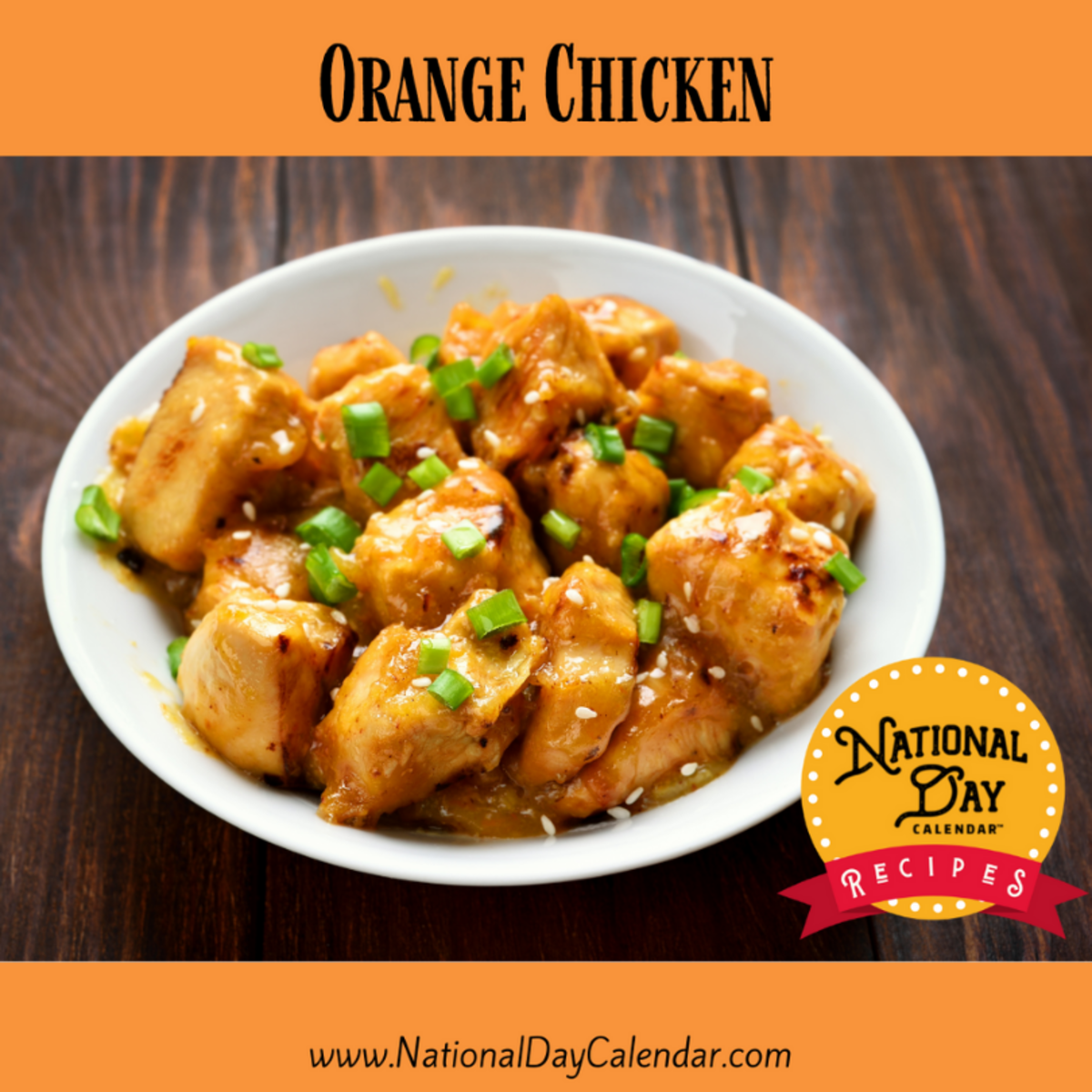 Orange Chicken
Prep time: 15 minutes
Cook time: 20 minutes
Total: 35 minutes
Serves: 4
Ingredients
2 pounds boneless chicken breasts, cut into bite-sized pieces
salt
Vegetable oil
Orange sauce
1 1/2 tablespoon corn starch
1/4 cup cold water
1/3 cup orange juice
3 tablespoons soy sauce
1/4 teaspoon red pepper flakes
2 tablespoons brown sugar
2 garlic cloves, minced
1 tablespoon rice wine vinegar
1 tablespoon orange zest
1 green onion, diced
1 tablespoon toasted sesame seeds
Instructions
Heat oven to 375°F. Pat chicken breasts dry with a paper towel and place them on a baking sheet. Drizzle with olive oil and season both sides with salt. Bake chicken for 20 minutes or until cooked.
In a small bowl, mix cornstarch with cold water. Over medium heat, bring the starch mixture to a simmer in a small saucepan. Add orange juice, soy sauce, brown sugar, garlic, rice wine vinegar. Simmer until thickened, about 3-4 minutes.
Mix in orange zest. Pour sauce over baked chicken and toss to coat. Serve over white rice. Garnish with onion and sesame seeds.
September 12th Celebrated History
1909
Revolutionizing several industries, Fritz Hofman receives the first patents for synthetic rubber. At a time when the automobile industry was taking off, Hofman's invention became a valuable improvement in transportation.
1940
Around 600 cave paintings are discovered near Montignac, France, by four teenagers.
1953
John F. Kennedy marries Jaqueline Bouvier.
1992
Aboard the space shuttle Endeavour, Mae Jemison became the first African American woman in space.
2013
The Something Sweet Bake Shop broke a world record when they baked the largest brownie. The event took place in Daphne, Alabama, and the brownie weighed in at 234 pounds 3 ounces.
September 12th Celebrated Birthdays
Richard Jordan Gatling – 1818
Best known for inventing the Gatling Gun, the inventor also developed other innovations including those for improved crop production and harvest.
Alfred A Knopf – 1892
The American publisher is best known for founding Alfred A. Knopf, Inc., in 1915. Not only did the Knopf imprint publish notable authors such as Willa Cather, Thomas Mann, D.H. Lawrence, and Julia Child but throughout their history, 16 Knopf authors were awarded Nobel Prizes in literature.
Walter B. Gibson – 1897
Fans of the magician know him for his Shadow novels. Over the course of his career, he wrote 18 books.
Irene Joliot Curie – 1897
As the daughter of Marie and Pierre Curie, the chemist was immersed in the world of science at a young age. Before the age of 18, Curie ran a radiology machine from the battlefield alongside her mother. After the war, she great strides in the world of chemistry. In 1934, she along with her husband, Frédéric Joliot, discovered a way to artificially create radioactive atoms. In 1935, their work was rewarded with a Nobel Prize in Chemistry.
Lawrence Brooks – 1909
Brooks served in World War II in theUnited States Army with 91st Engineer Battalion. The centenarian is the oldest living World War II veteran and marked his 111th birthday in 2020.
Jessica Mitford – 1917
The author's first published book was an autobiography of her childhood. Mitford's investigative savvy led her to write books about funeral practices, the Dr. Spock's conspiracy trial, and the U.S. prison system. She would also write about her membership in the U.S. Communist Party.
Barry White – 1944
Born Barry Eugene Carter, the noted American singer-songwriter sang in a deep, sultry tenor. Some of his most recognizable songs include "Never Gonna Give You Up," "You are the First, My Last, My Everything" and "You Sexy Thing."
About National Day Calendar
National Day Calendar is the original and authoritative source for fun, unusual and unique National Days! Since our humble beginnings on National Popcorn Day in 2013, we have been tracking the National Days, National Weeks, National Months, and International Days. We became the first calendar of its kind to curate the days all in one place and tell their stories, too! Here at National Day Calendar, we are on a mission to Celebrate Every Day with you! And by you, we mean families, businesses, educators, and strangers we meet on the street. There's more than one day for everyone.
At National Day Calendar, we discovered the National Days have a way of inspiring us. We're honored to tell the stories behind the days and provide you with informational ways to incorporate the National Days into your business, family, schools, and home!