Looking Back
September 11, 2022 - PATRIOT DAY AND NATIONAL DAY OF SERVICE AND REMEMBRANCE – NATIONAL GRANDPARENTS DAY – NATIONAL MAKE YOUR BED DAY – NATIONAL HUG YOUR HOUND DAY – NATIONAL HOT CROSS BUN DAY – NATIONAL PET MEMORIAL DAY
SEPTEMBER 11, 2022 | PATRIOT DAY AND NATIONAL DAY OF SERVICE AND REMEMBRANCE | NATIONAL GRANDPARENTS DAY | NATIONAL MAKE YOUR BED DAY | NATIONAL HUG YOUR HOUND DAY | NATIONAL HOT CROSS BUN DAY | NATIONAL PET MEMORIAL DAY
PATRIOT DAY | SEPTEMBER 11
Patriot Day on September 11th honors the memory of the nearly 3,000 innocent victims who died in the September 11, 2001, terrorist attacks. Each year Americans dedicate this day to remembering those who died and the first responders who risked their own lives to save others. Read more…
NATIONAL GRANDPARENTS DAY

On the Sunday following Labor Day, National Grandparents Day honors the love only grandparents can provide. Read more…
NATIONAL MAKE YOUR BED DAY | SEPTEMBER 11
Each year on September 11th, National Make Your Bed Day reminds us of all the benefits a well-made bed offers. Read more…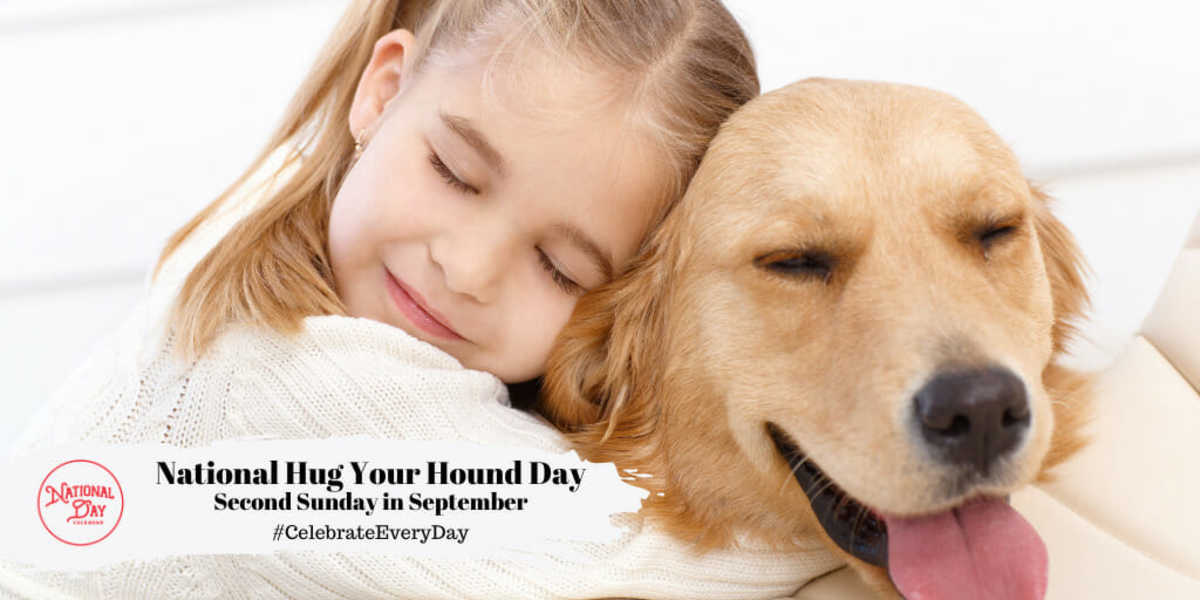 NATIONAL HUG YOUR HOUND DAY
On the second Sunday in September, National Hug Your Hound Day dedicates a furry hug to our canine companions. All day long, be sure to give your pooch your full attention. Even spend the day much the way your dog spends it. Read more…
NATIONAL HOT CROSS BUN DAY | SEPTEMBER 11
National Hot Cross Bun Day on September 11th encourages us to rise and shine to this tasty treat! Read more…
NATIONAL PET MEMORIAL DAY
On the second Sunday in September, National Pet Memorial Day offers a moment to remember pets who have passed. Read more…
On Deck for September 12, 2022
National Days
International Days
Recipe of the Day
Old Fashioned Ice Cream
Prep: 10 minutes
Cook: 10 minutes
Total Prep: 20 minutes
Servings: 4 servings; yields 1 quart
Ingredients:
4 egg yolks
1/2 cup sugar
1 cup whole milk
1 cup heavy cream
2 teaspoons vanilla
Instructions:
In a medium saucepan, whisk together egg yolks and sugar over medium heat. Stir to a light yellow and well combined.
In a separate small pan add milk and warm over medium-low heat, until it begins to simmer. Do not stir.
Slowly add milk to the egg and sugar mixture, stirring continuously.
Return to heat and bring to 165 degrees. Do not allow to boil.
Immediately remove from the heat.
Pour into an airtight container and chill.
Once thoroughly chilled, stir in heavy cream and vanilla extract.
Process in ice cream maker according to manufacturer's instructions.
September 11th Celebrated History
1789
George Washington appoints Alexander Hamilton as the first Secretary of Treasury of the United States. He served in the role for 5 1/2 years.
1850
Singer Jenny Lind of Sweden makes her Castle Garden debut in New York City. Known as the Swedish Soprano or Nightengale, Lind toured across the country for over a year giving performances.
1883
James Goold Cutler receives patent for a mail chute. Patent No. 284, 951 describes a collection box for mail in apartments and businesses. The design intended for the mail to be collected in a central location by mail carriers.
1951
Distance swimmer Florence Chadwick becomes the first woman to swim the English Channel in both directions.
1954
The Miss America Pageant in Atlantic City, NJ makes its television debut. The pageant crowned Miss Lee Ann Meriwether of California as the 28th Miss America.
1977
Spawning a whole generation of home gamers, the Atari 2600 is released. Some of its most popular games included Asteroids, Missile Command, Mario Bros. and Pac Man.
2001
The militant group Al Qaeda hijacked four planes in the United States and crashed them into the World Trade Center, the Pentagon, and a field in Pennsylvania. The coordinated attack killed over 3,000 people.
2020
The Minneapolis Daily published Sid Hartman's first newspaper column on September 11, 1945. By 2019, he became the World's Longest-Serving Newspaper Columnist.
September 11th Celebrated Birthdays
Mary Watson Whitney – 1847
The astronomer and educator co-founded the American Astronomical Society. She served as Vassar's professor of astronomy and director of the observatory from 1888-1910.
O. Henry – 1862
Born William Sydney Porter, the author wrote several volumes of short stories. His work included unusual and surprise endings which grew in popularity.
D.H. Lawrence – 1885
Some of the author's best-known works include Sons and Lovers and Lady Chatterley's Lover. His poetry and novels explore class relationships, psychological emotions, and sexuality.
Paul Bear Bryant – 1913
The American football coach led the University of Alabama football team for 25 years.
Donald Blakeslee – 1917
During World War II, the American flying ace earned the respect of both the British and American military. From 1941 to 1944, the pilot led several units on successful missions. He also achieved the rank of Colonel during his career.
Charles Evers – 1922
Evers took up the baton of civil rights activist after the murder of his brother Medgar Evers. Eventually, Evers entered politics, running first for Mayor of Fayette as a Democrat. He would win the race. However, his later bids for Senator and Governor were not successful.
Pauline Cawley – 1924
The outfielder played two seasons in the All American Girls Professional Baseball League. Crawley earned a reputation for her savvy base running.
Robert Laurel Crippen – 1937
On April 12, 1981, Crippen piloted the Space Shuttle Columbia in its first orbital test flight. Columbia was the world's first reusable spacecraft. The astronaut also commanded the Space Shuttle Challenger in three separate flights – STS-7, STS-41C, and STS-41G.
Harry Connick Jr. -1967
The Grammy award-winning musician is known for his stylish jazz compositions. He's also an actor known for his roles in Hope Floats, Independence Day, Iron Giant and Memphis Belle.
About National Day Calendar
National Day Calendar is the original and authoritative source for fun, unusual and unique National Days! Since our humble beginnings on National Popcorn Day in 2013, we have been tracking the National Days, National Weeks, National Months, and International Days. We became the first calendar of its kind to curate the days all in one place and tell their stories, too! Here at National Day Calendar, we are on a mission to Celebrate Every Day with you! And by you, we mean families, businesses, educators, and strangers we meet on the street. There's more than one day for everyone.
At National Day Calendar, we discovered the National Days have a way of inspiring us. We're honored to tell the stories behind the days and provide you with informational ways to incorporate the National Days into your business, family, schools, and home!