Looking Back
September 1, 2022 - NATIONAL HOTEL EMPLOYEE DAY - NATIONAL CHICKEN BOY DAY - NATIONAL NO RHYME (NOR REASON) DAY - NATIONAL BURNT ENDS DAY - NATIONAL ACNE POSITIVITY DAY
SEPTEMBER 1, 2022 | NATIONAL HOTEL EMPLOYEE DAY | September 1 – National Day Calendar | NATIONAL CHICKEN BOY DAY | NATIONAL NO RHYME (NOR REASON) DAY | NATIONAL BURNT ENDS DAY | NATIONAL ACNE POSITIVITY DAY
NATIONAL HOTEL EMPLOYEE DAY | September 1
On September 1 we celebrate National Hotel Employee Day and honor nearly 2 million employees who work in the industry. Read more…

NATIONAL CHICKEN BOY DAY | SEPTEMBER 1
On September 1st, National Chicken Boy Day honors the birthday of an interesting statue in California. Celebrate his ceremonial birthday and learn more about this unique creation. Read more…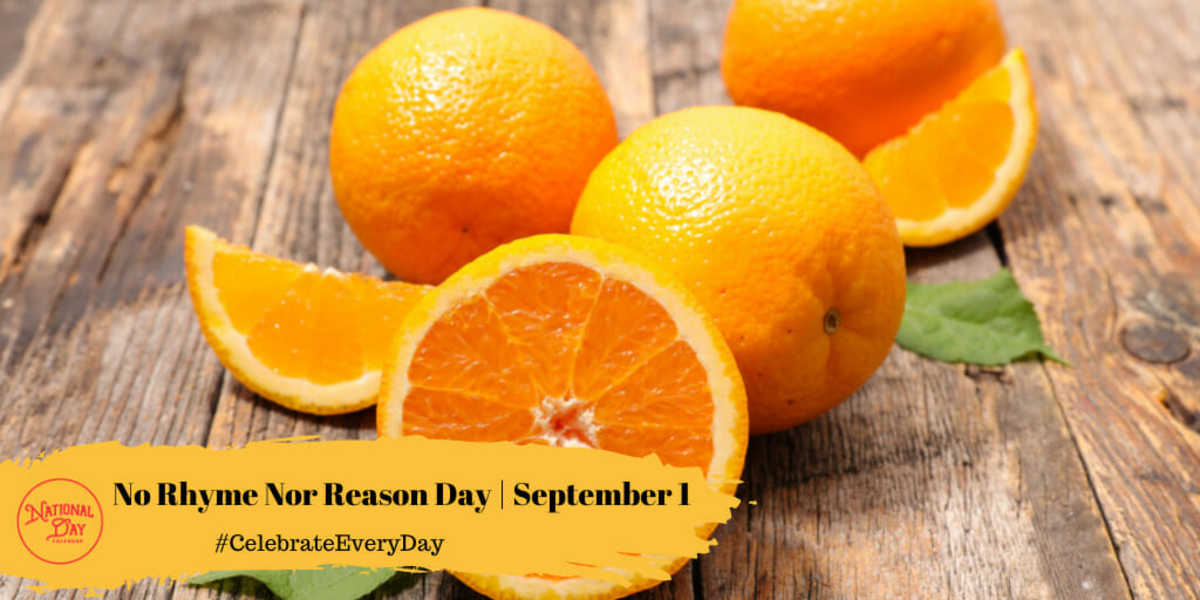 NATIONAL NO RHYME (NOR REASON) DAY
National No Rhyme Nor Reason Day on September 1st recognizes words that do not rhyme with any other words in the English language. Read more…
NATIONAL BURNT ENDS DAY | SEPTEMBER 1
Are you ready for some flavor and sauce? Then National Burnt Ends Day on September 1st is your BBQ celebration! Read more…
NATIONAL ACNE POSITIVITY DAY | SEPTEMBER 1
On September 1st, National Acne Positivity Day spreads a message of acceptance and self-love while putting our best face forward. Read more…
On Deck for September 2, 2022
Natioanl Days
International Days
Recipe of the Day
Name: Blueberry Pie
Prep: 15 minutes
Cook:
Total Prep: 15 minutes
Servings: 8
Ingredients:
3/4 cup sugar
3 tablespoons cornstarch
1/8 teaspoon salt
1/4 cup cold water
5 cups fresh blueberries, divided
1 tablespoon butter
1 tablespoon lemon juice
1 refrigerated pie crust (9 inches), baked
Instructions:
Combine sugar, cornstarch, salt, and water in a saucepan over medium heat until smooth. Add 3 cups of blueberries and bring to a boil. Cook for 2 minutes until thick and bubbly stirring frequently.
Remove from the heat and add butter. Stir until butter is melted. Add lemon juice and remaining blueberries. Let cool, then pour into prepared pie crust.
September 1st Celebrated History
1752
The Whitechapel Foundry delivers The Liberty Bell to the State House in Philadelphia, PA. However, the bell remained in storage until 9 months later. At that time, a single stroke of the clapper created a crack in the bell.
1804
Karl Ludwig Harding discovers the asteroid Juno.
1859
George Pullman's first sleeper car rides the rails. Added to the Chicago and Alton Railroad routes, this first sleeping car was available between Bloomington and Chicago, Illinois.
1878
The first telephone operator, Emma Nutt, ushered in the era where women would dominate the job. She worked for the Edwin Holmes Telephone Dispatch Company in Boston. Alexander Bell suggested replacing the boys operating the phone lines with a calm, soothing female voice.
1897
Boston opens Tremont Street Subway, the first underground rapid transit in North America.
1914
The world's last known passenger pigeon dies at the Cincinnati Zoo and Botanical Gardens. Named Martha, she came to the zoo as part of a preservation effort that came too late.
1932
Forrest E. Mars introduces the Mars Bar. The original Mars candy bar was made of nougat and caramel coated in chocolate. However, when it made its U.S. debut, the bar comprised a different formula. It is all very confusing.
September 1st Celebrated Birthdays
Herman Melville – 1819
The author is best known for his novel Moby Dick. He also wrote short stories and poetry.
Engelbert Zaschka – 1895
Living in an era fascinated by flight, the prolific German inventor pioneered some of the first helicopters. He also invented a human-powered airplane and motorcycle, among other creations.
Liz Carpenter – 1920
Living through 17 U.S. Presidents, the American journalist began her work as a reporter in 1942. Among her many achievements, Carpenter served as Vice President Lyndon B. Johnson's administrative assistant. She also co-founded the National Women's Political Caucus.
Rocky Marciano – 1923
He is the only professional box to finish his heavyweight career undefeated. During his career, he faced several notable opponents including Joe Frasier and Don Cockell.
Boxcar Willie – 1931
Born Lecil Travis Martin, the musical performer gained recognition in the 1960s and 1970s.
Lily Tomlin – 1939
The American actress and comedian is known for her wacky characters. Some of her characters include Ernestine the telephone operator and the insightful child Edith Ann. Tomlin also starred in movies such as 9 to 5 and Prairie Home Companion. Her most recent work includes the popular Netflix sitcom Grace and Frankie.
Phil McGraw – 1950
Best known for doling out advice on his talk show, Dr. Phil, McGraw was a licensed clinical psychologist until 2006.
About National Day Calendar
National Day Calendar is the original and authoritative source for fun, unusual and unique National Days! Since our humble beginnings on National Popcorn Day in 2013, we have been tracking the National Days, National Weeks, National Months, and International Days. We became the first calendar of its kind to curate the days all in one place and tell their stories, too! Here at National Day Calendar, we are on a mission to Celebrate Every Day with you! And by you, we mean families, businesses, educators, and strangers we meet on the street. There's more than one day for everyone.
At National Day Calendar, we've found the National Days have a way of inspiring us. We're honored to tell the stories behind the days and provide you with informational ways to incorporate the National Days into your business, family, schools, and home!