Looking Back
September 1, 2021 - NATIONAL BURNT ENDS DAY – NATIONAL CHICKEN BOY DAY – NATIONAL NO RHYME (NOR REASON) DAY – NATIONAL ACNE POSITIVITY DAY | SELF-CARE AWARENESS MONTH
SEPTEMBER 1, 2021 | NATIONAL BURNT ENDS DAY | NATIONAL CHICKEN BOY DAY | NATIONAL NO RHYME (NOR REASON) DAY | NATIONAL ACNE POSITIVITY DAY | SELF CARE AWARENESS MONTH

NATIONAL BURNT ENDS DAY
Are you ready for some flavor and sauce? Then National Burnt Ends Day on September 1st is your BBQ celebration!
Once considered trimmings or left-overs, burnt ends come from the point of a brisket. However, these days burnt ends take center stage in a BBQ basket of smoky flavor and goodness.
The name comes from the longer cooking time required for tender brisket. As a result, these thinner points become a little charred and tougher than the rest of the meat.
Don't let that description deter you, though. As a tradition in the Kansas City area, they've mastered burnt ends and a taste for them has spread across the country.
Delicious on their own, burnt ends also taste amazing on sandwiches and in stews. They can be sweet, spicy, and of course smoky. A hint of hickory or cherry tantalizes the senses. No wonder there is an entire day to celebrate!
HOW TO OBSERVE #NationalBurntEndsDay
Celebrate the day by sampling burnt ends! That's not the only way to celebrate, though.
Support the American Royal by purchasing Burnt Ends from participating restaurants where a portion of the proceeds goes to support the mission of the American Royal.
Visit every BBQ joint you can in 24 hours.
Take a trip to Kansas City for some authentic burnt ends BBQ.
Make your own at home.
Invite friends and family to try burnt ends.
Experiment with seasonings and BBQ sauce.
Try new burnt ends recipes or share your favorite.
No matter how you celebrate, be sure to use #NationalBurntEndsDay on social media.
NATIONAL BURNT ENDS DAY HISTORY
The American Royal Association out of Kansas City founded National Burnt Ends Day in 2021 to promote Kansas City BBQ and their mouthwatering burnt ends. Established in 1899, the organization promotes agricultural learning through competition, scholarships, education, and agricultural events. The World Series of Barbecue® is the organization's largest fundraiser.
The Registrar at National Day Calendar proclaimed the first National Burnt Ends Day to be observed on September 1, 2021, and every year thereafter.

NATIONAL CHICKEN BOY DAY
On September 1st, National Chicken Boy Day honors the birthday of an interesting statue in California. Celebrate his ceremonial birthday and learn more about this unique creation.
Chicken Boy stands 22 feet tall and holds a bucket of chicken. The fiberglass statue of a boy with a chicken head can be seen along Route 66. He is named after the former 1960s Chicken Boy Restaurant. Also known as the "Statue of Liberty of Los Angeles," he joins other notable food characters, such as Big Boy and Ronald McDonald.
When is National Paul Bunyan Day?
The iconic statue remained in place at the restaurant until the owner died in 1984. At that time, Chicken Boy was given to Los Angeles art director, Amy Inouye. For a time, the statue remained cooped up in storage. However, over 20 years later Chicken Boy flew the coop. He now graces the property of Inouye's design firm. The entire community came together to make the restoration of Chicken Boy possible, too. His restoration and display are partly due to the catalog of items Inouye offered for purchase Chicken Boy-themed items for fans to enjoy.
In 2010, California Governor Arnold Schwarzenegger recognized the famous Chicken Boy statue along historic U.S. Route 66 with the Governor's Historic Preservation Award.
The feathered boy not only attracts visitors, but he also has a documentary and a polka song named after him. In addition, he and Inouye have also received several awards.
HOW TO OBSERVE #ChickenBoyDay
Wing it! Or wish Chicken Boy a Happy Birthday. We also suggest a few other activities to enhance your celebration.
You can also watch Chicken Boy: The Movie directed by Tom Dusenberry.

Dance to "The Chicken Boy Polka" by Those Darn Accordions.

Do the Chicken Dance, too!

Download, print and color the

Chicken Boy Coloring Page.
If you do any of these, share a photo or video using #ChickenBoyDay to post on social media.
NATIONAL CHICKEN BOY DAY HISTORY
National Day Calendar has been unable to identify the founder of the day. However, the celebration does commemorate the statue's birthday.
Chicken Boy FAQ
Q. Are there other statues along Route 66?
A. Yes! Muffler Man, Paul Bunyan, Cadillac Ranch, and many more!
Q. What is the world's largest spider sculpture?
A. Jamberoo Action Park in New South Wales, Australia is home to the largest spider sculpture. It measures 64 feet 7.59 inches in tall. The spider is part of the Funnel Web Slide in the water park.
Q. Where can you visit large outdoor roadside sculpture displays?
A. Outdoor sculptures are a popular roadside attraction. Here are some of the largest in the United States:
The Enchanted Highway in Regent, North Dakota features giant grasshoppers, a pheasant family, an underwater river scene, and a giant dragon and knight all created by artist Gary Greff.

The Kaleva Centennial Sculpture Walkway in Kaleva, Michigan boasts a giant grasshopper, too. It also features a Vainamoinen Ship and a sparkling sculptured tree.

Artist Linda Bakke created the world's second-largest moose sculpture. Entitle The Big Elk (that's what moose are called in Europe) is located Stor-Evdal, Hedmark, Norway near the village of Atna.
In a tribute to the Choctaw Nation, artist Alex Pentek created Kindred Spirits, a large circle of feathers. The large stainless steel sculpture is located in Midleton, County Cork, Ireland, and honors the contributions of the Choctaw Nation during the Great Famine.


NATIONAL NO RHYME (NOR REASON) DAY

National No Rhyme Nor Reason Day on September 1st recognizes words that do not rhyme with any other words in the English language.

While September celebrates many random and capricious days, this observance focuses on specific words. Words that don't rhyme with any other word are called refractory rhymes. Poets reason that avoiding these words helps keep their poetry consistent. However, refractory words only interrupt poems where rhyme and reason matter.

The less fickle poet takes on these challenging words. Toss out the rhymes. Say farewell to meter. Be whimsical and playful. The Jabberwocky never stopped Lewis Carrol. Dilly dally in a world of mishmash and find a verse that fits the spirit of the day. Deliver an envelope full of words directly up the chimney. Tilt the accent one way and lilt it another until the word fits in fluttery ways.

There need be no reason, nor rhyme for that matter. Not all poems do. Then again, you could dive deep like Alexander Atkins did in 2014 and search a little bit harder for the perfect rhyme. Check out his blog that stretches the edges of the language to fill the void left by refractory rhymes.

Some unrhymable (or nearly unrhymable) words in the English language include:

Orange
Month

Silver

Spirit

Chimney

Purple

Woman

Ninth

Pint

HOW TO OBSERVE #NoRhymeNorReasonDay

Make a list of words that you believe cannot be rhymed, and check if you are correct. Use #NoRhymeNorReasonDay to post on social media.

You can also visit the National Day Calendar Classroom for several rhyming challenges.

NATIONAL NO RHYME NOR REASON DAY HISTORY

Our research was unable to find the origin of National No Rhyme (Nor Reason) Day.

NATIONAL ACNE POSITIVITY DAY

On September 1st, National Acne Positivity Day spreads a message of acceptance and self-love while putting our best face forward.

As many of us know, we judge our appearance more harshly than we do others'. Oftentimes, we allow an outside point of view to affect our confidence based on our appearance. There are days, where we judge each blemish and mark. Acne is a universal skin concern and is the number one reason to consult a dermatologist.

The day encourages us to let go of the stigma associated with acne and take time to love ourselves for who we are. While our skin can make us feel vulnerable, we don't have to give it power over us. Acne may annoy, frustrate, and hinder us; however, acne is a challenge like any other, one that we can overcome.

HOW TO OBSERVE #AcnePositivityDay

Put your best face forward. Whether you like a bare, no-nonsense look or prefer a glamorous you, share your beautiful skin with confidence. Embrace the face you have and share it with the world. Share your struggles and your successes. Give a shout out to friends who've adopted a positive attitude about their skin – those Acne Positivists. We love them because they make us believe we can do it, too. And we should! Celebrate your skin – every blemish, pimple, zit – all the ways we describe acne.

And when you do, use #AcnePositivityDay to share on social media.

NATIONAL ACNE POSITIVITY DAY

La Roche-Posay founded Acne Positivity Day in 2020 to give a voice to the consumers fighting the stigmas associated with acne. The skincare company wants to support people finding self-love, spreading the message of acceptance and respect. La Roche-Posay wants to celebrate the Acne Positivists, while inspiring others to take the road of courage and optimism, turning adversity into empowerment.

From the #1 Acne brand in European pharmacies, La Roche-Posay's Effaclar line offers a comprehensive portfolio of dermatologist-tested medicated acne treatments and complementary non-medicated skincare for oily skin.

The Registrar at National Day Calendar proclaimed the day to be observed on September 1st, annually.
SEPTEMBER MONTH OBSERVANCE
SELF-CARE AWARENESS MONTH
Self–Care Awareness Month in September is a time to remind us that taking care of ourselves, first and foremost, is essential. Self-care is often neglected in our everyday lives. We all tend to put others' needs before our own and it is crucial to remember, that we cannot fill another's cup from our own empty vessel. While getting a massage or taking a walk are beautiful examples of taking time for our well-being, self-care can be more expansive than that.
Self-care knows no boundaries. It is something that everyone, without any exclusions, can benefit from practicing on a daily basis. True self-care is not self-centered nor selfish; it is simply keeping yourself the focus of your own life. It's about paying attention to how you feel in each moment, communicating clearly, speaking up for yourself, and saying yes or no… guilt-free.
HOW TO OBSERVE Self Care Awareness Month
Use the month of September to make self-care a part of your daily routine – practice being good to yourself. It can be as simple as a conscious breathe in the morning or as luxurious as time away from the pressures of everyday life. The kindness we show towards ourselves will manifest into a kinder world.
Show us how you take care of yourself by using the following hashtags when posting on your social media accounts:
#SelfCareAwarenessMonth #selflove #selfcarechallenge #evolvetolive
Follow Evolve to Live on Instagram and on Facebook for the 30-Day Self-Care Awareness Month Challenge.
SELF CARE AWARENESS MONTH HISTORY

Evolve to Live founded Self-Care Awareness Month to raise awareness of the incredible benefits of individual self-care. When practiced regularly, self-care creates significant personal, social and economic benefits.
The Registrar at National Day Calendar declared Self-Care Awareness Month to be observed annually in September beginning in 2017.
There are over 1,500 national days. Don't miss a single one. Celebrate Every Day® with National Day Calendar®!
On Deck For September 2, 2021
National Days
International Days
September 1st Celebrated (and Not So Celebrated) History
1752
The Whitechapel Foundry delivers The Liberty Bell to the State House in Philadelphia, PA. However, the bell remained in storage until 9 months later. At that time, a single stroke of the clapper created a crack in the bell.
1804
Karl Ludwig Harding discovers the asteroid Juno.
1859
George Pullman's first sleeper car rides the rails. Added to the Chicago and Alton Railroad routes, this first sleeping car was available between Bloomington and Chicago, Illinois.
1878
The first telephone operator, Emma Nutt, ushered in the era where women would dominate the job. She worked for the Edwin Holmes Telephone Dispatch Company in Boston. Alexander Bell suggested replacing the boys operating the phone lines with a calm, soothing female voice.
1897
Boston opens Tremont Street Subway, the first underground rapid transit in North America.
1914
The world's last known passenger pigeon dies at the Cincinnati Zoo and Botanical Gardens. Named Martha, she came to the zoo as part of a preservation effort that came too late.
1932
Forrest E. Mars introduces the Mars Bar. The original Mars candy bar was made of nougat and caramel coated in chocolate. However, when it made its U.S. debut, the bar comprised a different formula. It is all very confusing.
1934
Metro-Goldwyn-Mayer releases its first animated cartoon. The Discontented Canary features the story of a caged canary who flees to freedom only to face multiple obstacles including weather and a cat. Don't confuse the character with Tweety Bird. The Looney Toons character was born into the animated world a free bird.
1939
The British journalist Clare Hollingworth is the first to report the outbreak of World War II. She scooped the story by being in the right place at the right time, reporting the scores of troops building up on the German Poland border.
1952
Ernest Hemingway publishes the novel The Old Man and the Sea. The story tells the tale of an old fisherman who makes his greatest catch late in life. It would be Hemingway's last great work published during his lifetime.
1954
Paramount releases Rear Window, directed by Alfred Hitchcock. The film starring James Stewart and Grace Kelly follows a voyeuristic photojournalist as he suspects one of his neighbors of committing murder. The film earned four Oscar nods.
1963
Twice-Told Stories is released to theaters. The film stars Vincent Price in multiple roles and re-tells the stories written by Nathaniel Hawthorn.
1972
At the World Chess Championship in Reykjavik, Iceland, American Bobby Fischer defeats Russian Boris Spassky. The win makes Fischer the first American to win the tournament.
1979
NASA's Pioneer 11 completes its first flyby of Saturn. It's the first spacecraft to study the planet up close.
1997
The Cartoon Network, owned and operated by Turner Japan, begins airing in Japan.
Recipe Of The Day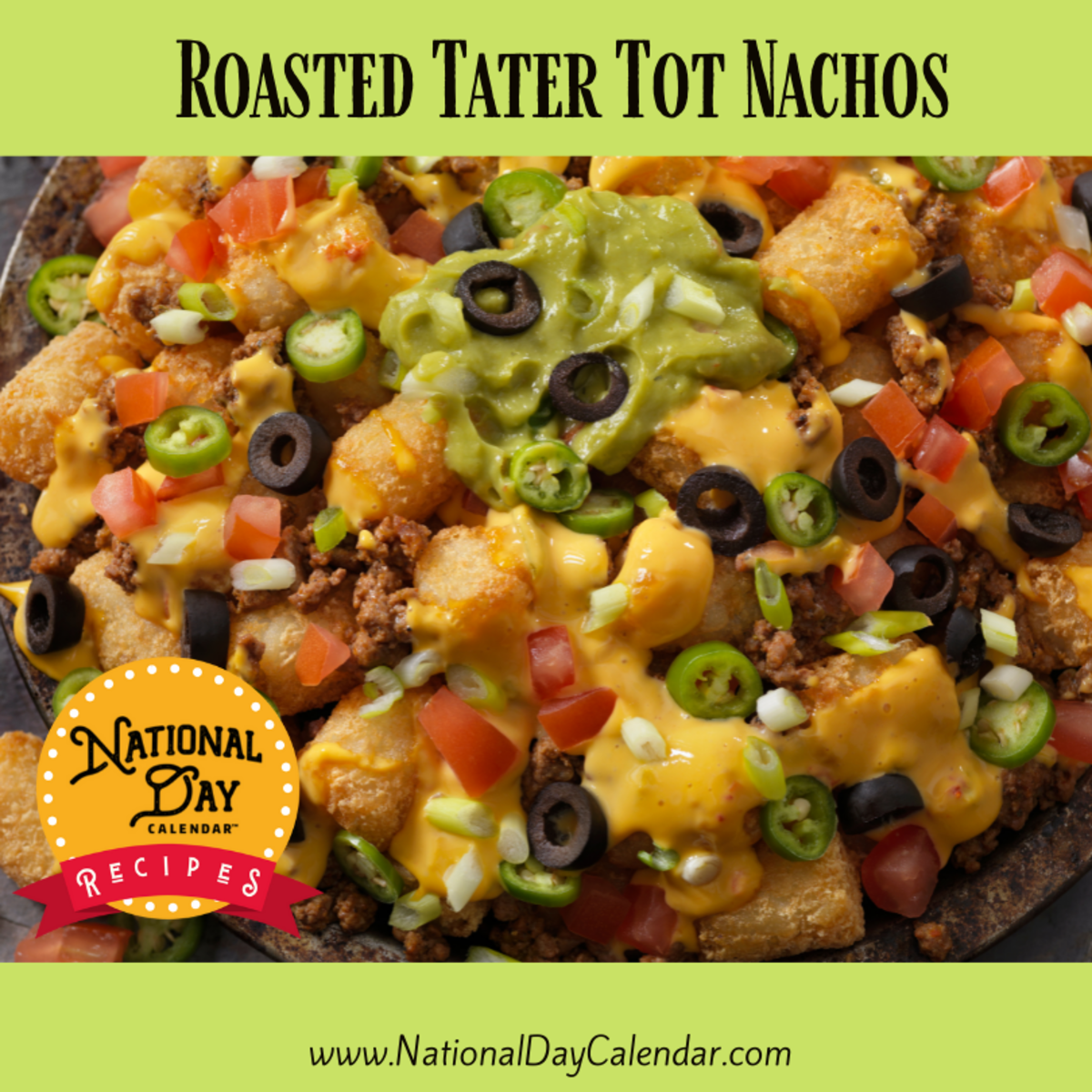 Roasted Tater Tot Nachos
Prep time: 10 minutes
Cook time: 25 minutes
Total: 35 minutes
Serves: 4-6
Ingredients
1 32-ounce bag of frozen tater tots
1 lb lean ground beef
1 package of taco seasoning
1 15-ounce jar of queso
1/4 cup sour cream
1/4 cup guacamole
1/3 cup diced tomatoes
1/3 cup sliced black olives
1 sliced jalapeno
1 diced green onion
1/2 tablespoon lime juice
Instructions
Bake tater tots according to the package instructions.
In a medium skillet, brown ground beef with taco seasoning. Set aside.
Remove the lid from the queso jar. Place queso in the microwave and cover with a paper towel. Heat queso in a microwave 30 seconds at a time until heated through.
Placed cooked tater tots on a large platter. Top with ground beef and queso. Add sour cream, guacamole, tomatoes, black olives, jalapeno, and onion. Drizzle with lime juice and serve.
September 1st Celebrated (and Not So Celebrated) Birthdays
Herman Melville – 1819
The author is best known for his novel Moby Dick. He also wrote short stories and poetry.
Engelbert Zaschka – 1895
Living in an era fascinated by flight, the prolific German inventor pioneered some of the first helicopters. He also invented a human-powered airplane and motorcycle, among other creations.
Liz Carpenter – 1920
Living through 17 U.S. Presidents, the American journalist began her work as a reporter in 1942. Among her many achievements, Carpenter served as Vice President Lyndon B. Johnson's administrative assistant. She also co-founded the National Women's Political Caucus.
Rocky Marciano – 1923
He is the only professional box to finish his heavyweight career undefeated. During his career, he faced several notable opponents including Joe Frasier and Don Cockell.
Boxcar Willie – 1931
Born Lecil Travis Martin, the musical performer gained recognition in the 1960s and 1970s.
Lily Tomlin – 1939
The American actress and comedian is known for her wacky characters. Some of her characters include Ernestine the telephone operator and the insightful child Edith Ann. Tomlin also starred in movies such as 9 to 5 and Prairie Home Companion. Her most recent work includes the popular Netflix sitcom Grace and Frankie.
Phil McGraw – 1950
Best known for doling out advice on his talk show, Dr. Phil, McGraw was a licensed clinical psychologist until 2006.
Gloria Estefan – 1957
The Cuban-American singer and dancer rose to the top of the charts with the Miami Sound Machine.
About National Day Calendar®
National Day Calendar® is the authoritative source for fun, unusual and unique National Days! Since our humble beginnings on National Popcorn Day in 2013, we now track nearly 1,500 National Days, National Weeks and National Months. In addition, our research team continues to uncover the origins of existing National Days as well as discover new, exciting days for everyone to celebrate.
There's a celebration for everyone. While National Road Trip Day satisfies the itch to wander, many pet days let us share our love of animals. National 3-D Day and National Astronaut Day honor the advancement of technology, too. Every food day you can imagine (National Avocado Day, for example), will keep you celebrating, also!
Be sure to stay in the know by signing up for our e-mail updates. Also, follow us on Facebook, Twitter, and Instagram.
Our Ambassador Program is another way #CelebrateEveryDay®! Whether you become an ambassador or follow one of the savvy ambassadors, their fun videos and posts will keep you prepared for every holiday.