FEBRUARY 7, 2023 | NATIONAL PERIODIC TABLE DAY | NATIONAL SEND A CARD TO A FRIEND DAY | NATIONAL FETTUCCINE ALFREDO DAY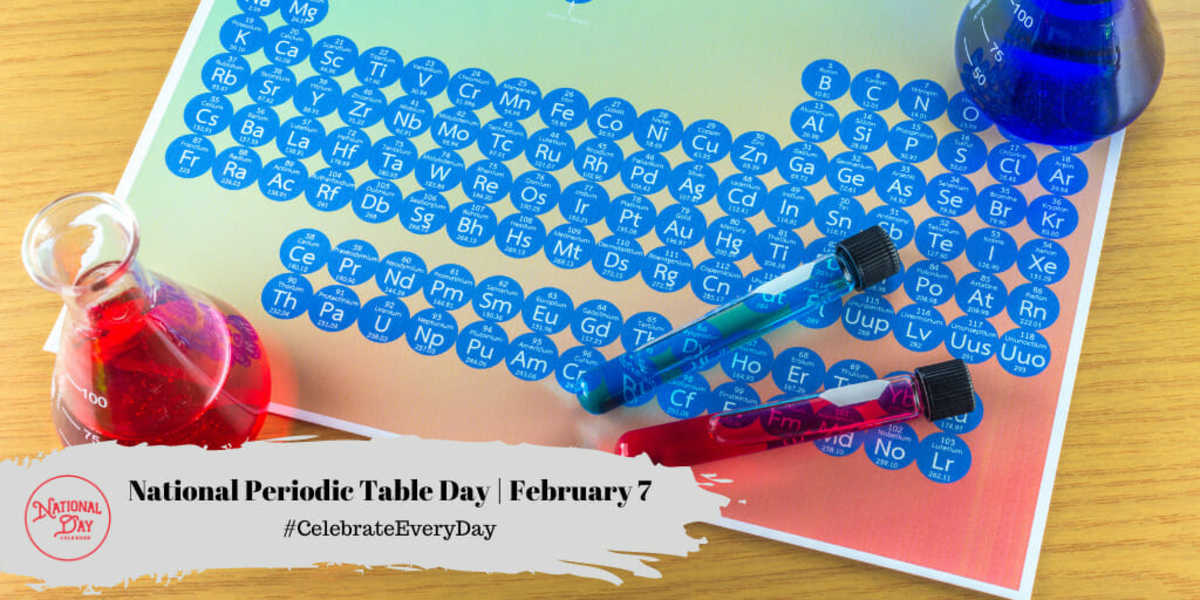 NATIONAL PERIODIC TABLE DAY
On February 7th, National Periodic Table Day recognizes the publication of the first table of elements. We also look at how the periodic table has changed through the years. Read more…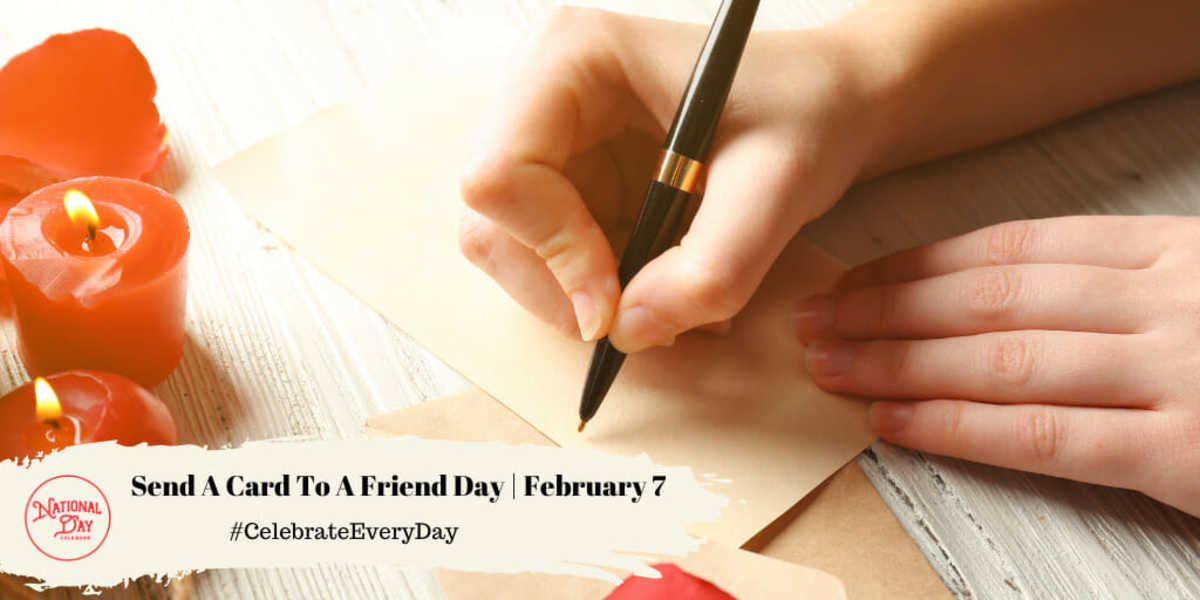 NATIONAL SEND A CARD TO A FRIEND DAY
National Send A Card To A Friend Day on February 7th reminds us to send friendly cheer through the mail. We do that by sending a note or message on a card to the friends we hold dear. Throughout the year, we often think about our friends. We wonder how they are, miss them, and remember fond memories of times shared. Read more…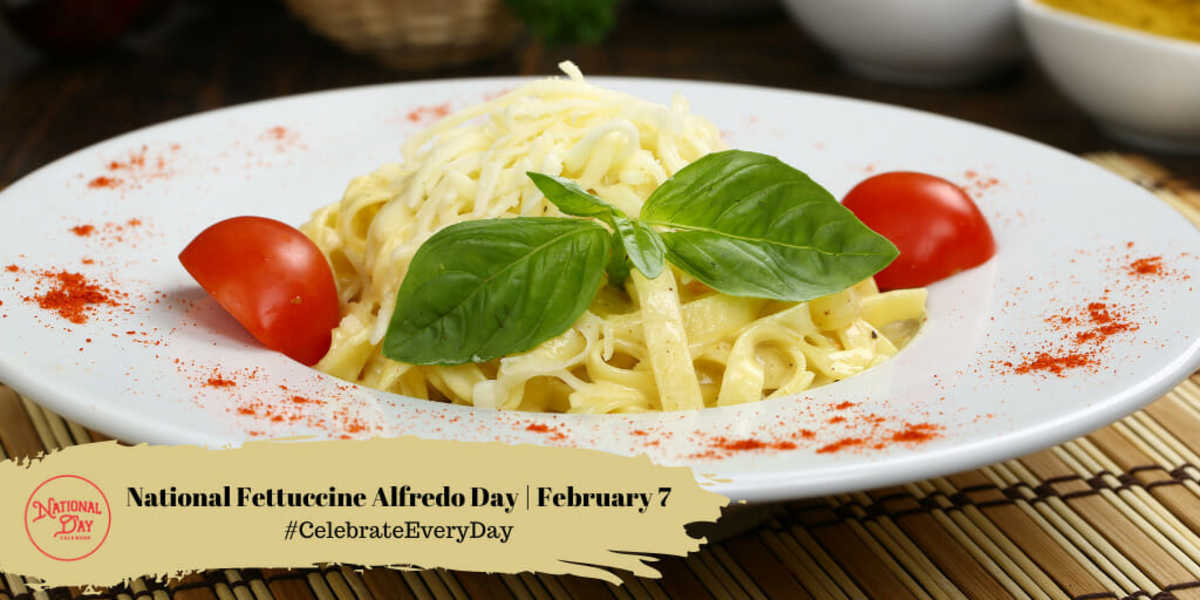 NATIONAL FETTUCCINE ALFREDO DAY
On February 7th, National Fettuccine Alfredo Day celebrates one of the world's favorite ways to enjoy a plate of fettuccine. Read more…
On Deck for February 8, 2023
National Days
NATIONAL KITE FLYING DAY
NATIONAL IOWA DAY
NATIONAL BOY SCOUTS DAY
Recipe of the Day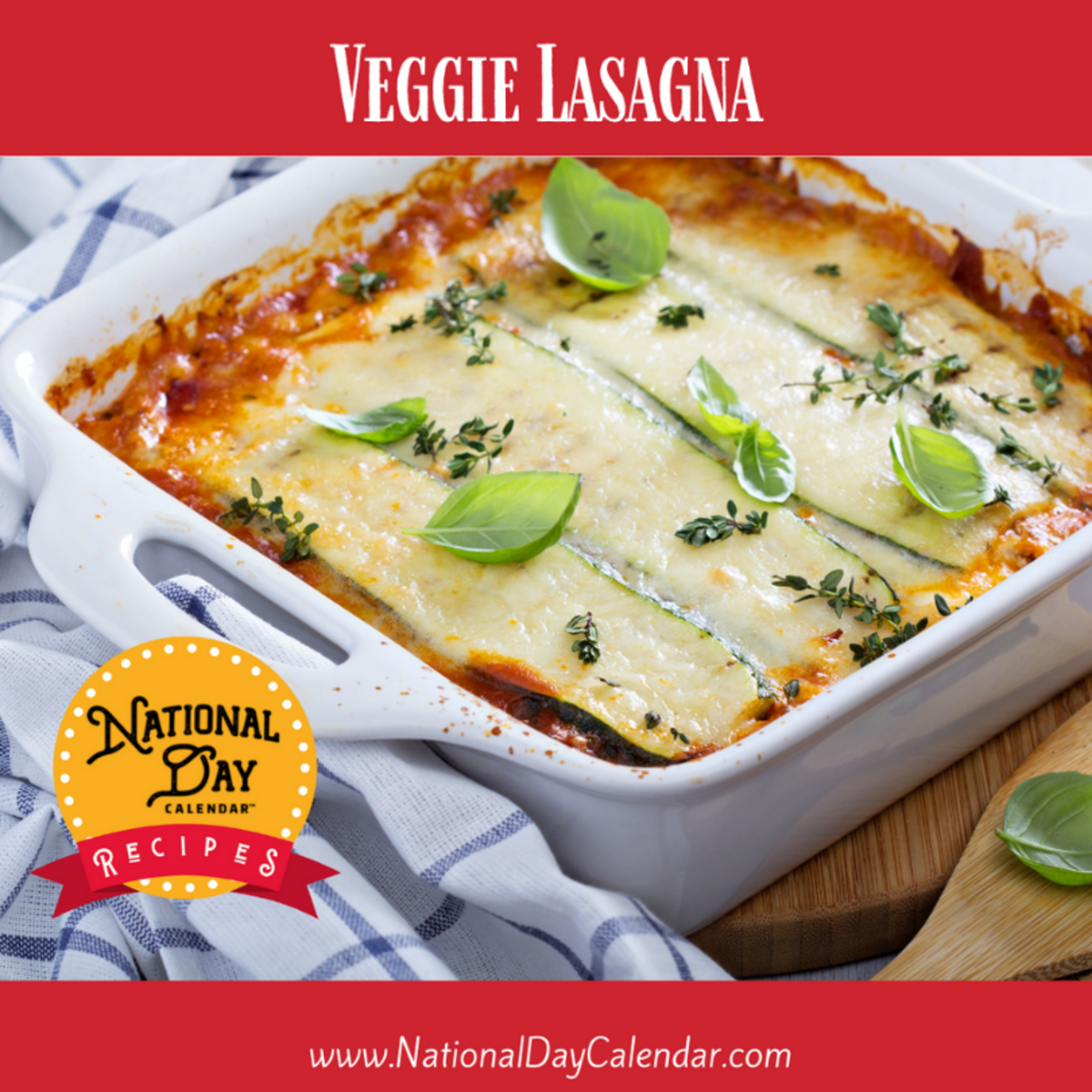 Veggie Lasagna
Prep: 10 minutes
Cook: 1 hour
Total: 1 hour 10 minutes
Serves: 4
Ingredients
3 cups marinara sauce
3-4 medium zucchinis
16 ricotta cheese
1 egg, beaten
2 cloves garlic, minced
16 ounces shredded mozzarella
1/2 cup grated parmesan cheese
3 cups fresh spinach leaves
1/2 yellow onion, diced
Instructions
Heat oven to 375F.
Prepare a 9×13 baking dish with vegetable oil.
Trim ends from the zucchinis. Slice zucchinis into one-inch thick slices lengthwise. Place on paper towels and sprinkle with salt to absorb moisture. Rest for 10 minutes.
In a small bowl, mix ricotta, beaten egg, and half of the garlic.
In a large skillet, saute' onion over medium heat until translucent. Add remaining garlic and cook until fragrant. Stir in spinach leaves and cook until wilted. Remove from heat.
Pat zucchini slices dry. Place one overlapping layer of slices in the prepared pan. Spread a thin layer of the ricotta mixture over the zucchini. Add 1/3 of the spinach mixture and spread evenly. Spread a layer of marinara. Top with mozzarella and parmesan. Repeat.
Cover with foil and bake for 45 minutes. Remove foil and bake for an additional 10-15 minutes.
February 7th Celebrated History
1817
Baltimore, Maryland becomes the first American city to become lit with gaslight. Market and Lemon Streets (now known as North Holliday Street and East Baltimore Street today) were the first public lighting in the city.
1964
The Beatles arrive in (or invade) the United States. Beatlemania begins.
1971
Swiss women were granted the right to vote. Since 1868, Swiss women had been demanding the right to vote and every time it was denied. Nearly every two decades women's suffrage would be brought before the various committees, councils, and Parliament, and the motions were ignored or passed on. The European Convention on Human Rights brought the issue to the table once again and finally, in 1971, Swiss women had a voice. However, there were still many regions in Switzerland that did not allow women the vote at certain levels of Swiss elections. It wouldn't be until 1991 that women could vote at all levels of Swiss elections.
1976
Speedskater Sheila Young becomes the first American to win three Winter Olympic medals. During the Innsbruck Winter Olympics in 1976, Young brought home medals in the following events:
Gold in 500 meter speed skating
Silver in 1500 meter speed skating
Bronze in 1000 meter speed skating
1984
The space shuttle Challenger astronauts Bruce McCandless II and Robert L. Stewart complete the first untethered spacewalk during their STS-41B mission.
2021
Sarah Thomas becomes the first woman to referee a Super Bowl championship game. The Tampa Bay Buccaneers defeated the Kansas City Chiefs 31-9.
February 7th Celebrated Birthdays
John Deere – 1804
In 1837, the blacksmith and manufacturer launched the Deere & Company in Moline, Illinois after developing a steel plow precisely designed to cut through the prairie clay soils.
Charles Dickens – 1812
The British author created some of the world's most memorable characters. His classic tales of Nicholas Nickleby, Oliver Twist, and David Copperfield are only a few of his beloved titles. Others include A Christmas Carol, Great Expectations, The Pickwick Papers, and The Cricket on the Hearth.
Laura Ingalls Wilder – 1867
The American author wrote about her experiences growing up as a pioneer in Midwest. Her Little House books depicted frontier life, the first set in Wisconsin.
Emma Rochelle Wheeler – 1882
In 1915, Drs. Emma Rochelle Wheeler and Joseph N. Wheeler opened Walden Hospital, the first hospital to be owned, operated and staffed by African Americans in Chattanooga, Tennessee.
Sinclair Lewis – 1885
In 1930, the American writer received the first Nobel Prize in Literature. The author is known for his novels Babbitt, Mainstreet, and Arrowsmith.
Marth Holmes – 1923
Life magazine hired the 20-year-old photographer in 1944. Holmes' pioneering work led her to take photographs of notable public figures.
Garth Brooks – 1962
The American country music singer and songwriter earned numerous awards. His self-named debut album included hits such as "Much Too Young (To Feel This Damn Old)" and the Dance.
Chris Rock – 1966
Rock began his career as a stand-up comedian in the mid-1980s. In 1990, his star took off when he joined the cast of Saturday Night Live. His acting career includes hits on both the big and small screens.
About National Day Calendar
National Day Calendar is the original and authoritative source for fun, unusual and unique National Days! Since our humble beginnings on National Popcorn Day in 2013, we have been tracking the National Days, National Weeks, National Months, and International Days. We became the first calendar of its kind to curate the days all in one place and tell their stories, too! Here at National Day Calendar, we are on a mission to Celebrate Every Day with you! And by you, we mean families, businesses, educators, and strangers we meet on the street. There's more than one day for everyone.
At National Day Calendar, we discovered the National Days have a way of inspiring us. We're honored to tell the stories behind the days and provide you with informational ways to incorporate the National Days into your business, family, schools, and home!