JANUARY 24, 2023 | NATIONAL COMPLIMENT DAY | NATIONAL PEANUT BUTTER DAY | BEER CAN APPRECIATION DAY
NATIONAL COMPLIMENT DAY
National Compliment Day on January 24th offers a wonderful way to brighten someone's day or to give credit for a job well done!  Give an extra compliment annually on January 24th and any time one is deserved. Read more…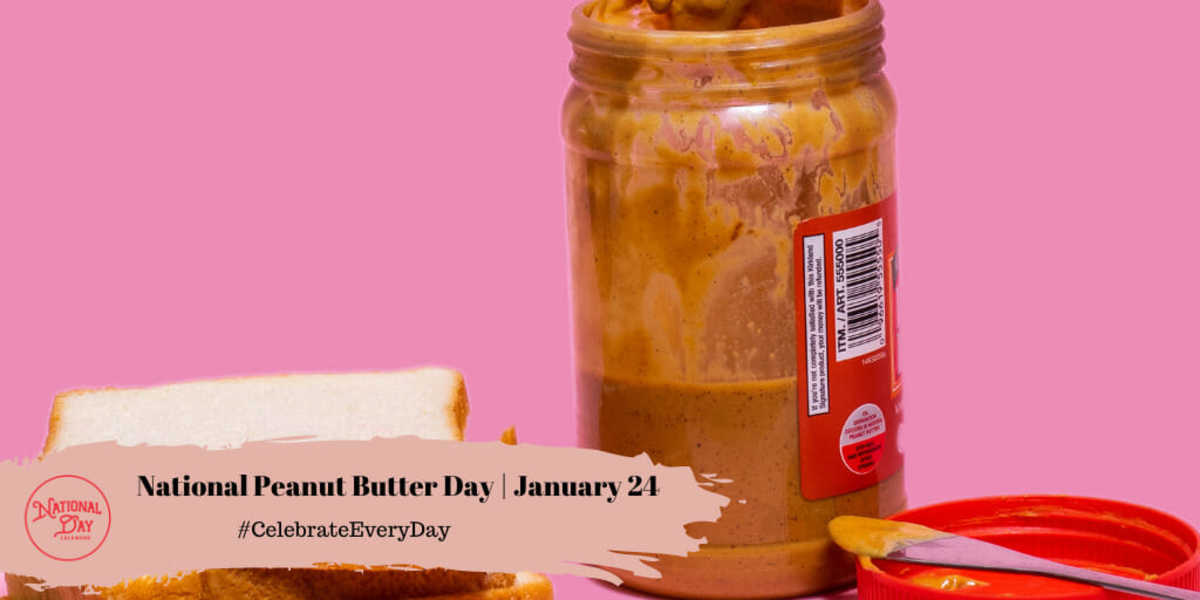 NATIONAL PEANUT BUTTER DAY
National Peanut Butter Day on January 24th recognizes an American staple in our pantries. Whether creamy or chunky, with chocolate or with jelly, peanut butter gets the recognition it deserves each year on this day. Read more…
BEER CAN APPRECIATION DAY
Beer Can Appreciation Day recognizes the great day in 1935 when beer was first sold in cans. Read more…
On Deck for January 25, 2023
National Days
NATIONAL OPPOSITE DAY
LIBRARY SHELFIE DAY
NATIONAL IRISH COFFEE DAY
NATIONAL FLORIDA DAY
International Days
BURNS SUPPER
Recipe of the Day
Peanut Butter BBQ Chicken Pizza
Prep Time:  30 minutes
Bake Time: 10-12 minutes
Total Prep: About 40 minutes
Serves 4 (with 2 slices each)
Ingredients:
1 package pizza crust
1 cup shredded rotisserie chicken
1 tablespoon peanut butter
1/4 cup BBQ sauce
2 green onions, chopped
8 oz. mozzarella cheese
Instructions:
Prepare packaged crust according to package directions.
Combine peanut butter with 1/4 cup of BBQ sauce and mix thoroughly.
Spread over the prepared and partially-baked crust.
Add chopped rotisserie chicken, green onions, and mozzarella cheese.
Bake 10-12 minutes until cheese begins to turn golden.
January 24th Celebrated History
1848
The California Gold Rush begins when contractor James W. Marshall discovers the first gold samples while working for John A Sutter in Coloma, California.
1908
Robert Baden-Powell organizes the first Boy Scout troop in England.
1935
Krueger Brewing Company and American Can Company joined forces to bring the first canned beer to the market.
1950
Percy L. Spencer receives U.S. patent no. 2,495,429 for a "Method of Treating Foodstuffs" otherwise known as the microwave oven.
1985
Discovery launches from Kennedy Space Center on a secret mission deploying an eavesdropping satellite.
January 24th Celebrated Birthdays
Maria Tallchief – 1925
In 1947, the professional dancer became the first prima ballerina of the New York City Ballet and is considered America's first notable prima ballerina.
Neil Diamond – 1941
For more than five decades the singer-songwriter has influenced generations of artists. Hits like "Sweet Caroline," "Song Sung Blue," "America," and "Forever in Blue Jeans" also earned him induction into the Rock and Roll Hall of Fame.
John Belushi – 1949
In 1975, comedian and actor John Belushi joined six other cast members on the live satirical comedy sketch show Saturday Night Live. He also starred in several movies, sometimes with his brother Jim.
Mary Lou Retton – 1968
In 1984, the American gymnast won gold in the individual all-around competition in the 1984 Summer Olympics in Los Angeles, California.
About National Day Calendar
National Day Calendar is the original and authoritative source for fun, unusual and unique National Days! Since our humble beginnings on National Popcorn Day in 2013, we have been tracking the National Days, National Weeks, National Months, and International Days. We became the first calendar of its kind to curate the days all in one place and tell their stories, too! Here at National Day Calendar, we are on a mission to Celebrate Every Day with you! And by you, we mean families, businesses, educators, and strangers we meet on the street. There's more than one day for everyone.
At National Day Calendar, we discovered the National Days have a way of inspiring us. We're honored to tell the stories behind the days and provide you with informational ways to incorporate the National Days into your business, family, schools, and home!