Looking Back
October 8, 2022 - NATIONAL FLUFFERNUTTER DAY – NATIONAL HERO DAY – NATIONAL PIEROGI DAY – INTERNATIONAL OFF-ROAD DAY – NATIONAL CHESS DAY – NATIONAL MOTORCYCLE RIDE DAY - AMERICAN TOUCH TAG DAY – NATIONAL COSTUME SWAP DAY – I LOVE YARN DAY
OCTOBER 8, 2022 | NATIONAL FLUFFERNUTTER DAY | NATIONAL HERO DAY | NATIONAL PIEROGI DAY | INTERNATIONAL OFF-ROAD DAY | NATIONAL CHESS DAY | NATIONAL MOTORCYCLE RIDE DAY | AMERICAN TOUCH TAG DAY | NATIONAL COSTUME SWAP DAY | I LOVE YARN DAY
NATIONAL FLUFFERNUTTER DAY | OCTOBER 8
National Fluffernutter Day on October 8th brings about a yummy and extraordinary combination. Some food holidays are stickier than others. And National Fluffernutter Day is a stick-to-your-ribs-chin-fingers-nose kind of day! Celebrate zealously, then take a bath. Read more…
NATIONAL HERO DAY | OCTOBER 8
On October 8th, National Hero Day honors the people we look up to and who inspire us to be the best person we can possibly be. Read more…
NATIONAL PIEROGI DAY | OCTOBER 8
On October 8th, National Pierogi Day recognizes an international dish that is a type of dumpling. Read more…
INTERNATIONAL OFF-ROAD DAY | OCTOBER 8
International Off-Road Day on October 8 celebrates those who live for the grit and love of the off-road. Read more…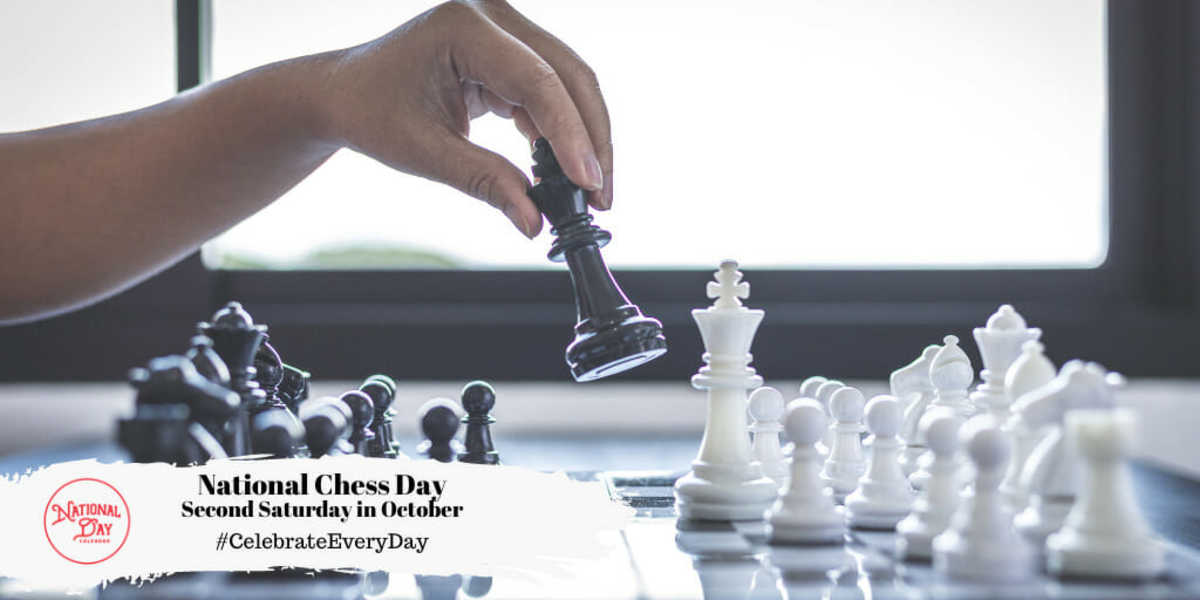 NATIONAL CHESS DAY | SECOND SATURDAY IN OCTOBER
The second Saturday in October recognizes National Chess Day. The game challenges players mentally while also breaking down barriers through the centuries. Read more…
NATIONAL MOTORCYCLE RIDE DAY | SECOND SATURDAY IN OCTOBER
National Motorcycle Ride Day on the second Saturday in October encourages all motorcyclists in the USA and the world to get out on their motorcycles for a united day of riding. Read more…
AMERICAN TOUCH TAG DAY | OCTOBER 8
Tag! You're it! American Touch Tag Day on October 8th celebrates the traditional childhood game and encourages kids of all ages to get out play! The game lends itself to long hours playing outside at recess, after school, and on weekends. The best way to celebrate is by getting out in the fresh air, running around, and tagging someone. Read more…
NATIONAL COSTUME SWAP DAY
On the second Saturday in October, National Costume Swap Day encourages pirates, princesses, dragons, and wizards to trade costumes! Read more…
I LOVE YARN DAY | SECOND SATURDAY IN OCTOBER
I Love Yarn Day is observed annually on the second Saturday in October. Read more…
On Deck for October 9, 2022
National Days
International Days
Recipe of the Day
Easy Bacon Cheese Ball
Prep: 30 minutes
Chill: 2 hours
Servings: 12
Ingredients:
2 – 8 oz packages cream cheese (softened)
2 – 1/2 C shredded cheddar cheese
1 package ranch dressing mix
1 small package real bacon pieces
1 cup finely chopped pecans or veggies.
Instructions:
In a medium bowl, smooth cream cheese. Mix and blend dressing mix, cheddar cheese and bacon into cream cheese. Shape mixture into a ball shape. Roll into nuts or veggies until covered. Chill at least 2 hours. Serve with crackers.
Inspiration:
If you are cheese lover like us, discover this wonderful twist on a traditional sandwich: Baby Swiss And Tomato Grilled Cheese Sandwich
October 8th Celebrated History
1901
Sugar gets branded when the American Sugar Refining Co. registers the Domino trademark. Founded in 1882 by the Havemeyer family, the company produced several different types of sugar.
1919
Ushering in the Prohibition Era, Congress passes the Volstead Act. Learn more about the path to prohibition by reading 100 Years of Prohibition.
1958
Arne Larsson receives the first internal heart pacemaker. Developed by Dr. Rune Elmqvist and implanted by Dr. Ake Senning, the pacemaker lasted only three hours. However, they implanted a second, backup device. Over the years, Larsson had several more pacemakers implanted and lived to the age of 86.
Fun fact: Elmqvist produced the epoxy resin case surrounding the unit using empty Kiwi shoe polish cans.
1971
John Lennon releases the hit single "Imagine." Much of the credit for the lyrics goes to Lennon's wife, Yoko Ono.
1982
The Andrew Lloyd Webber hit Broadway musical, Cats, opens. At the time it closed 18 years later, it was the longest-running show on Broadway.
However, the show did not remain a "memory, all alone in the moonlight." It was revived in 2016 and also saw a successful tour across the United States. In 2019, director Tom Hooper released the film version of the musical hit.
2016
Kalamazoo Mayor Bobby Hopewell conducts the largest vow renewal. During their homecoming weekend, Western Michigan University hosted 1,201 couples as they committed to their spouse once again.
October 8th Celebrated Birthdays
Collett E. Woolman – 1889
As the primary founder of Delta Airlines, Woolman served as a pioneering influence of the airline industry.
Harry G. Day – 1906
We can thank this doctor of science for his contributions to the development of stannous fluoride. In 1956, Crest became the first brand on the market to include fluoride in its toothpaste.
Robert Gilruth – 1913
In 1961, the aerospace engineer was named the first director of NASA's Manned Spacecraft Center. Under his direction, he oversaw 25 spaceflights including the first lunar landing in July of 1969 by Apollo 11.
Rona Barrett – 1936
Actress and gossip columnist, Rona Barret, is also an advocate for seniors through the Rona Barret Foundation. She is also the author of the book Gray Matters.
Chevy Chase – 1943
Born Cornelius Crane Chase, the actor and comedian came to prominence when he joined the cast of Saturday Night Live. Some of his most recognizable film characters include Clark Griswold in the National Lampoon movies and Ty Webb in Caddyshack. He also played Pierce Hawthorne in the cast of the television sitcom Community.
Janice E Voss – 1956
The American NASA astronaut flew five space flight missions during her career. As an engineer to provided valuable skills during her missions.
Reed Hastings – 1960
Hastings co-founded Netflix in 1997 and serves as its co-chief executive officer.
Bruno Mars – 1985
Born Peter Gene Hernandez rocketed to the top of the pop charts in 2010 with his song "Just The Way You Are." He also earned his first Grammy that year for Best Male Pop Vocal Performance.
About National Day Calendar
National Day Calendar is the original and authoritative source for fun, unusual and unique National Days! Since our humble beginnings on National Popcorn Day in 2013, we have been tracking the National Days, National Weeks, National Months, and International Days. We became the first calendar of its kind to curate the days all in one place and tell their stories, too! Here at National Day Calendar, we are on a mission to Celebrate Every Day with you! And by you, we mean families, businesses, educators, and strangers we meet on the street. There's more than one day for everyone.
At National Day Calendar, we discovered the National Days have a way of inspiring us. We're honored to tell the stories behind the days and provide you with informational ways to incorporate the National Days into your business, family, schools, and home!