Looking Back
October 8, 2021 - INTERNATIONAL OFF-ROAD DAY – NATIONAL HERO DAY – NATIONAL FLUFFERNUTTER DAY – NATIONAL PIEROGI DAY – AMERICAN TOUCH TAG DAY
OCTOBER 8, 2021 | INTERNATIONAL OFF-ROAD DAY | NATIONAL HERO DAY | NATIONAL FLUFFERNUTTER DAY | NATIONAL PIEROGI DAY | AMERICAN TOUCH TAG DAY

INTERNATIONAL OFF-ROAD DAY
International Off-Road Day on October 8 celebrates those who live for the grit and love of the off-road.
Off-roading enthusiasts don't yearn for the road less traveled – they take it! Off-road vehicles give access to the roughest terrain allowing you to experience the great outdoors in its wildest conditions. And that's the beauty of off-roading. It means you can go even further and explore places you can't get to with a traditional vehicle. With so much breathtaking scenery to explore around the world, off-roading takes you there.
Whether you're rippin' the trails, conquering the mud, or drifting through some epic sand dunes, Off-Road Day encourages you to get out there and enjoy the outdoors and experience your best off-roading of the year!
HOW TO OBSERVE #InternationalOffRoadDay
Whether you're new to off-roading or a seasoned enthusiast, celebrate the day by exploring the countryside. Hop into your off-road vehicle and take a day trip or a weekend tour! Invite friends to join you or introduce someone new to the thrill of off-roading. While you're having fun, respect the rules and regulations associated with off-roading so everyone can continue to enjoy it.
Other ways to join in on the celebration include:
Discover new trails.
Visit a

dealership

for the newest gear.
Host an off-road event.
Share your off-road tips, tricks, and favorite places.
Share your adventures as you go, too. Take photos and videos and share them on social media using #InternationalOffRoadDay.
INTERNATIONAL OFF-ROAD DAY HISTORY
Can-Am Off-Road brand founded International Off-Road Day in 2021 to celebrate the love and passion for the off-road.
The Registrar at National Calendar declared the first observance on October 8, 2021, and annually thereafter.
Can-Am is a registered trademark of Bombardier Recreational Products Inc. (BRP).

NATIONAL HERO DAY
On October 8th, National Hero Day honors the people we look up to and who inspire us to be the best person we can possibly be.
If asked to define the word hero, many of us will name the qualities that demand a person rise above, the qualities that genuinely drive a person to be stronger, smarter, kinder and more than the average human being. They are the people who give when they have nothing to give. Heroes act before anyone else realizes there's a problem. They volunteer to put someone else before them.
Our heroes may be the first responders who save us from a dangerous situation. They may be a mentor, like a parent or a teacher. As role models, heroes guide us through the examples they set. They live their lives in such a way that we're honored to know them and hope to live up to their example.
And heroes, real-life heroes, rarely get recognized. That's why National Hero Day encourages you to recognize the heroes in your life.
Heroes All Around Us
Some wear uniforms, like Christy McIntosh of Pensacola, FL who served in the U.S. Army Reserves. Or like high-school football player Zac Clark of Ohio whose quick thinking and strength lifted a Volkswagen off of his neighbor, saving his life.
Other heroes spur us to action or to lead a better life. They may do this through their words like Jim Cook of Oklahoma who wrote to columnist Jim Priest, teaching him a little something about character and love. A real-life hero might take us on a journey we can only imagine taking. Like Dr. Garrett Reisman, a former NASA astronaut and engineer who later joined SpaceX.
Another kind of hero makes things happen. Whether it's filling a need or making the impossible happen, some heroes go to amazing lengths to get a job done. For example, Donald Harris of New Jersey who by day was a real estate manager but at Christmastime answered a letter to Santa via the U.S. Postal Service's Letters to Santa program. His answer to a request to make a father's life easier was to enlist his associates in obtaining a townhouse for the family at a much lower rent.
Heroes come in many forms, you see. They rescue us, inspire us, and most of all, they believe in us.
HOW TO OBSERVE #NationalHeroDay
Honor the heroes in your life. Give them a shout-out on social media or bring them coffee from their favorite coffee shop. Bake some cookies or write them a letter. Let them know how much they inspire you, how much you appreciate them. Be a hero in someone's life, too. Use your talent to teach someone a vital skill. Other ways to be heroic include:
Donating blood
Volunteering
Giving to a charity that serves those in need
Organize a fundraiser for a non-profit organization
Listen to the needs of others and fill the void
Who are your heroes? Let the world know by using #NationalHeroDay to share on social media.
NATIONAL HERO DAY HISTORY
The Registrar at National Day Calendar proclaimed National Hero Day in 2020 to celebrate the contributions and deeds of all the real-life heroes in our world.
NATIONAL FLUFFERNUTTER DAY
National Fluffernutter Day on October 8th brings about a yummy and extraordinary combination. Some food holidays are stickier than others. And National Fluffernutter Day is a stick-to-your-ribs-chin-fingers-nose kind of day! Celebrate zealously, then take a bath.
In 1917, Archibald Query of Somerville, Massachusetts invented a sweet marshmallow-like spread called Marshmallow Creme. Before that, in 1913 during World War I, Emma and Amory Curtis of Melrose, Massachusetts invented Snowflake Marshmallow Creme. And then they published a recipe for a peanut butter and marshmallow creme sandwich, the earliest known example of a Fluffernutter.
Query sold his recipe for Marshmallow Creme to Durkee-Mower, Inc. in 1920, who renamed it Marshmallow Fluff. Over 100 years later they continue to sell it under that name today.

Where did the term "Fluffernutter" come from? Well, the advertising agency for Durkee-Mower created it in 1960 in an attempt to effectively market the peanut butter and marshmallow sandwich.
Beyond the history of Fluffernutter, the culinary side of this remarkable combination of sweet and nutty interests us, too. By layering all the creamy goodness of marshmallow creme and peanut butter between toasted bread, some kitchen experts take perfection to the limits.
How about when pigs fly? Yes, bacon does compliment a fluffernutter. While the combination seems like a bit of a circus, it also leads us to another ingredient. Fluffernutter and bananas! Elvis would cry tears of joy. Lastly, replace the white toast for a pretzel bun and some heads might turn.
HOW TO OBSERVE#FluffernutterDay
Do you like original fluffernutters or something with a twist? While you're celebrating try some other fun experiments with Fluffernutter. Doesn't it sound good on waffles or pancakes? How about mixing it with chocolate for the ultimate sweet dip? Another option we recommend is adding it to baked goods as a filling. Fluffernutter-filled donuts, anyone?
No matter how you like them, share by posting photos using #FluffernutterDay on social media.
NATIONAL FLUFFERNUTTER DAY HISTORY
National Day Calendar® continues researching the origins of this delicious food holiday.
Fluffernutter FAQ
Q. Are marshmallows and peanut butter celebrated separately, too?
A. Yes. Marshmallows and peanut butter have several different holidays on the calendar.
Q. How many calories are in fluffernutter?
A. Two tablespoons of fluffernutter contain 186 calories.
Q. What ingredients are in marshmallows?
A. Most marshmallows are made from sugar, corn syrup, and gelatin.
Q. Can I make marshmallows at home?
A. Yes. The internet is full of recipes for homemade marshmallows.
NATIONAL PIEROGI DAY
On October 8th, National Pierogi Day recognizes an international dish that is a type of dumpling.
Pierogi is the plural form of the rarely used Polish word pierog. In English, we spell pierogi several ways, including perogi and pierogy. However you choose to spell it, these dumplings of unleavened dough bring a delicious meal to the table. The semicircular dough is often stuffed with savory fillings before being boiled. After boiling them, the cook will either bake or fry the dumplings in butter to finish cooking them.
Pierogi Combinations:
mashed potato filling

potato and cheese

potato and onion

cheese

cabbage

sauerkraut

ground meat

mushroom

spinach or fruit.
Other pierogi servings include melted butter, sour cream, fried bacon crumbles, sauteed mushrooms, and onions and/or green onion. The dessert variety, those filled with a fruit filling, can be enjoyed topped with applesauce, maple syrup, chocolate sauce and/or whipped cream.
There are other similar types of dumpling-like dishes in other ethnic cuisines.
The Eastern European immigrants popularized pierogi in the United States. At first, immigrants served pierogi to only their families. However, ethnic restaurants also served pierogi. After World War II, ethnic churches sold pierogi as a staple fundraiser. By the 1960s, grocery stores marketed pierogi for the frozen food aisles in many parts of the United States. In fact, grocery stores still sell them today.
While many eat pierogi as a main dish in other countries, Americans typically consider them a side dish.
Pierogi Tid Bits
The Pittsburgh Pirates hold a pierogi race at every home game. Six pierogi costume-wearing runners (Potato Pete, Jalapeño Hannah, Cheese Chester, Sauerkraut Saul, Oliver Onion, and Bacon Burt) race to the finish line between innings.

Whiting, Indiana celebrates an annual Pierogi Fest each July.

Glendon, Alberta, Canada, is home to a 6000-pound pierogi standing 25 feet tall and is made of sturdy fiberglass and steel. Piercing the giant pierogi, built-in 1991, is an equally giant fork.
HOW TO OBSERVE #NationalPierogiDay
While preparing dinner, make some pierogi. Then, invite some friends for pierogi. It is a delicious way to celebrate with both savory and dessert pierogi. Ask guests to bring their favorite fillings and create a buffet. If you need a recipe, check this one out!
Have some pierogi and use #NationalPierogiDay to post on social media.
NATIONAL PIEROGI DAY HISTORY
National Day Calendar® continues researching the origins of this savory and buffet food holiday.
Pierogi FAQ
Q. Can pierogi be fruit-filled?
A. Yes! Pierogi do not have to be the main dish. They can also be filled with fruit. Dust them with powdered sugar to make a delicious dessert!
Q. What should I serve with pierogi?
A. Pierogis can be a heavy dish. So adding some acidic sides will help cut the fat. Some suggestions include:
salads drizzled with a vinaigrette

potatoes with sour cream

brussels sprouts served with a bacon crumble

roasted or fresh veggies




AMERICAN TOUCH TAG DAY

Tag! You're it! American Touch Tag Day on October 8th celebrates the traditional childhood game and encourages kids of all ages to get out play! The game lends itself to long hours playing outside at recess, after school, and on weekends. The best way to celebrate is by getting out in the fresh air, running around, and tagging someone.

Dating back to ancient Rome, this game has been played worldwide with a variety of names and rules. Typically it involves a player running around, chasing other players, in an attempt to "tag" or touch them. Most forms of this game have no teams, scores, or equipment. Usually, the goal involves being the last player left untagged or being safe.

The classic game is ideal for physical education classes as a way to get kids up and moving. Often, students are divided into teams and given boundaries with safe zones.

HOW TO OBSERVE #AmericanTouchTagDay

Get outside, run around, have some fun playing touch tag. No matter your age, there's a game waiting for you to play. Involve the neighborhood kids and entire families, too! Share your memories of playing touch tag or show pictures of the game in action, too. Do you play by "house rules"? Share with us the rules you apply to the game of touch tag.

Tag! You're it! Use #AmericanTouchTagDay to post on social media.

Visit the National Day Calendar Classroom for fun projects designed to Celebrate Every Day!

AMERICAN TOUCH TAG DAY HISTORY

National Day Calendar® is researching the origins of this fun holiday.
On Deck for October 9, 2021
National Days
International Days
October 8th Celebrated (And Not So Celebrated) History
1901
Sugar gets branded when the American Sugar Refining Co. registers the Domino trademark. Founded in 1882 by the Havemeyer family, the company produced several different types of sugar.
1919
Ushering in the Prohibition Era, Congress passes the Volstead Act. Learn more about the path to prohibition by reading 100 Years of Prohibition.
1958
Arne Larsson receives the first internal heart pacemaker. Developed by Dr. Rune Elmqvist and implanted by Dr. Ake Senning, the pacemaker lasted only three hours. However, they implanted a second, backup device. Over the years, Larsson had several more pacemakers implanted and lived to the age of 86.
Fun fact: Elmqvist produced the epoxy resin case surrounding the unit using empty Kiwi shoe polish cans.
1971
John Lennon releases the hit single "Imagine." Much of the credit for the lyrics goes to Lennon's wife, Yoko Ono.
1982
The Andrew Lloyd Webber hit Broadway musical, Cats, opens. At the time it closed 18 years later, it was the longest-running show on Broadway.
However, the show did not remain a "memory, all alone in the moonlight." It was revived in 2016 and also saw a successful tour across the United States. In 2019, director Tom Hooper released the film version of the musical hit.
2016
Kalamazoo Mayor Bobby Hopewell conducts the largest vow renewal. During their homecoming weekend, Western Michigan University hosted 1,201 couples as they committed to their spouse once again.
Recipe of the Day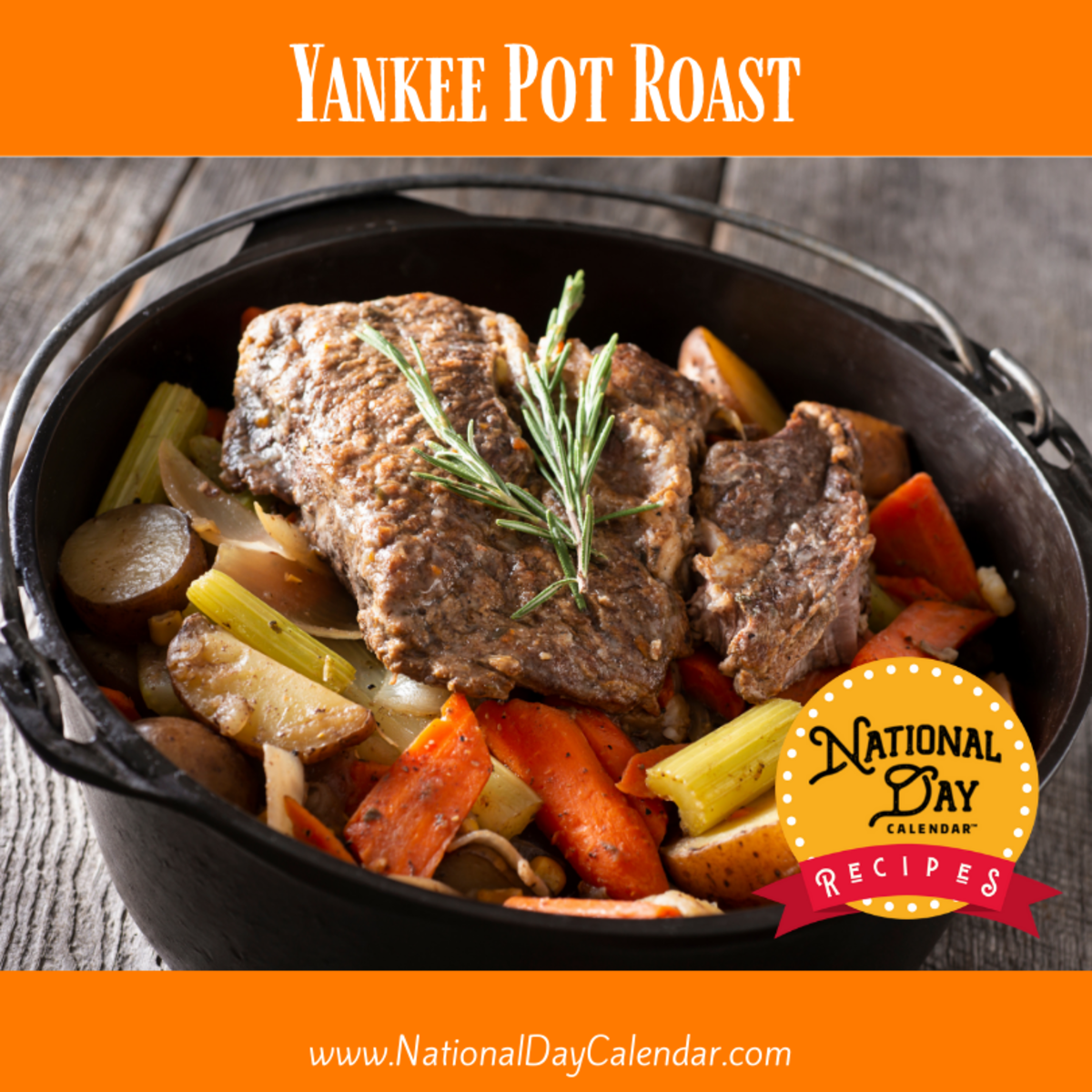 Yankee Pot Roast
Prep: 20 minutes
Cook: 2 hours 40 minutes
Total: 3 hours
Serves 8
Ingredients
1 4-lb pot roast
1 table vegetable oil
2 large yellow onions, diced
2 cups sliced carrots
2 cups sliced celery
2 14.5-ounce cans stewed tomatoes
1 3/4 cup beef broth
1/2 teaspoon thyme
1/2 teaspoon rosemary
1/4 teaspoon pepper
4 medium russet potatoes, cubed
Instructions
In a large Dutch oven, brown the pot roast in vegetable oil on all sides over medium-high heat. Remove roast and add onion, carrots, celery, stewed tomatoes, broth, thyme, rosemary, and pepper. Bring to a simmer. Return roast to the pot, cover, and simmer for 2 hours. Add potatoes and cook for an additional 40 minutes.
Next Week
Week Observances
In the Classroom
October 8th Celebrated (And Not So Celebrated) Birthdays
Collett E. Woolman – 1889
As the primary founder of Delta Airlines, Woolman served as a pioneering influence of the airline industry.
Harry G. Day – 1906
We can thank this doctor of science for his contributions to the development of stannous fluoride. In 1956, Crest became the first brand on the market to include fluoride in its toothpaste.
Robert Gilruth – 1913
In 1961, the aerospace engineer was named the first director of NASA's Manned Spacecraft Center. Under his direction, he oversaw 25 spaceflights including the first lunar landing in July of 1969 by Apollo 11.
Rona Barrett – 1936
Actress and gossip columnist, Rona Barret, is also an advocate for seniors through the Rona Barret Foundation. She is also the author of the book Gray Matters.
Chevy Chase – 1943
Born Cornelius Crane Chase, the actor and comedian came to prominence when he joined the cast of Saturday Night Live. Some of his most recognizable film characters include Clark Griswold in the National Lampoon movies and Ty Webb in Caddyshack. He also played Pierce Hawthorne in the cast of the television sitcom Community.
Janice E Voss – 1956
The American NASA astronaut flew five space flight missions during her career. As an engineer to provided valuable skills during her missions.
Reed Hastings – 1960
Hastings co-founded Netflix in 1997 and serves as its co-chief executive officer.
Bruno Mars – 1985
Born Peter Gene Hernandez rocketed to the top of the pop charts in 2010 with his song "Just The Way You Are." He also earned his first Grammy that year for Best Male Pop Vocal Performance.
About National Day Calendar
National Day Calendar® is the authoritative source for fun, unusual and unique National Days! Since our humble beginnings on National Popcorn Day in 2013, we now track nearly 1,500 National Days, National Weeks and National Months. In addition, our research team continues to uncover the origins of existing National Days as well as discover new, exciting days for everyone to celebrate.

There's a celebration for everyone. While National Road Trip Day satisfies the itch to wander, many pet days let us share our love of animals. National 3-D Day and National Astronaut Day honor the advancement of technology, too. Every food day you can imagine (National Avocado Day, for example), will keep you celebrating, also!
Be sure to stay in the know by signing up for our e-mail updates. Also, follow us on Facebook, Twitter, and Instagram.
Our Ambassador Program is another way #CelebrateEveryDay®! Whether you become an ambassador or follow one of the savvy ambassadors, their fun videos and posts will keep you prepared for every holiday.