Looking Back
October 6, 2021 - NATIONAL NOODLE DAY – NATIONAL COACHES DAY – NATIONAL MAD HATTER DAY – NATIONAL COFFEE WITH A COP DAY – NATIONAL PLUS SIZE APPRECIATION DAY – NATIONAL GERMAN-AMERICAN DAY – NATIONAL WALK TO SCHOOL DAY - NATIONAL ORANGE WINE DAY – NATIONAL PUMPKIN SEED DAY
OCTOBER 6, 2021 | NATIONAL NOODLE DAY | NATIONAL COACHES DAY | NATIONAL MAD HATTER DAY | NATIONAL COFFEE WITH A COP DAY | NATIONAL PLUS SIZE APPRECIATION DAY | NATIONAL GERMAN-AMERICAN DAY | NATIONAL WALK TO SCHOOL DAY | NATIONAL ORANGE WINE DAY | NATIONAL PUMPKIN SEED DAY
NATIONAL NOODLE DAY
October 6th and National Noodle Day recognizes oodles of noodles just in time for National Pasta Month! What style do you prefer?
The word noodle derives from the German word nudel.
Noodles are made by rolling unleavened dough out and cutting into a variety of shapes. While long, flat noodles may seem to be the most common, they come in several forms, names, and textures. And each kind of noodle pairs differently with sauces and meals.
Found in regions all over the world, noodles are made from a variety of flours. In Asian cuisine, root vegetables, such as yams and potatoes, beans, rice, wheat, and buckwheat are all found in a wide assortment of noodles. Europeans make most of their pasta from durum or semolina flour, though potato noodles a enjoyed as well.
In 2002, archaeologists along the Yellow River in China found an earthenware bowl containing some 4000-year-old noodles which had been well preserved.
HOW TO OBSERVE #NationalNoodleDay
So many options present themselves on this food holiday. Pesto noodles, spaghetti with meatballs and buttered egg noodles come to mind. Every cuisine offers a noodle on their menu, too. The flavors abound! Invite friends to bring their favorite style of noodles to share. Have a tasting party and explore new flavors.
Have a bowl of your favorite noodles and use #NationalNoodleDay to post on social media.
NATIONAL NOODLE DAY HISTORY
National Day Calendar continues researching the origins of this delicious food holiday.

NATIONAL COACHES DAY
On October 6th, National Coaches Day honors the men and women who inspire us to work harder and do our best.
Across the country in every community, a coach organizes teams, plans practices and training, motivates players to strive to be the best they can be. At the same time, coaches pinpoint areas for improvement and supply guidance. Every sport or competition requires a leader. More importantly, a leader who knows the game and drives athletes to work together as a team.

The best coach is the one who sets you up for life, not the game. ~ Coach Snoop Doug
Many coaches maintain a schedule for training, conditioning, and preparing athletes. Not only do they create these schedules for competition but also for their best health. Injuries sideline athletes and upset team dynamics. Although a coach's final goal is winning, they do so through a wealth of knowledge. Coaches work to build teams that bond well, too. They develop work ethics and set standards for their athletes that many carry with them throughout their lifetime.

For many athletes, coaches teach them to focus and how to reach a goal – which sometimes is not about winning. Sometimes the achievement is an improvement, playing by the rules or learning respect for others, themselves, or the game.
Coaches represent leadership, mentors, and inspiration. Often, a coach's words will echo through an athlete's mind for years to come. During difficult times, the words motivate them forward. Rarely do these coaches even know the impact they've had on an athlete until many decades pass. And athletes aren't the only people who benefit from coaches. In an academic setting, coaches lead individuals and teams in speech, chess, drama, and many other types of competition.
Inspirational Coaches
John Madden– Coach of the Oakland Raiders, he led his team for ten seasons and a Super Bowl victory in 1977.
Kathryn Smith– As the first full-time female coach for the NFL, she inspires by sheer achievement. However, her background offers a unique perspective coaches and players both benefit from.
Herb Brooks– The NHL hockey coach led the United States to a win against the dominating Soviet Union in what became known as the Miracle on Ice.
Tony La Russa– With three world Series titles and a long list of wins, the Athletics and St. Louis Cardinals manager dominated the AL and NL during his career.
Cheryl Miller– The one-time basketball coach for Cal State LA, she led her team to two NCAA tournaments. She now reports to TNT as a sports broadcaster.
HOW TO OBSERVE #NationalCoachesDay
Celebrate a coach who inspired you. Share a transformational memory with your coach. No matter how many years have passed, contact coaches who impacted your life and thank them.
Organize a celebration for your coach. Bring the team together and let your coach know how much you appreciate all they do. Invite former coaches to be honored at schools and organizations.
Use #NationalCoachesDay to share stories, memories, and events about your favorite coaches.
NATIONAL COACHES DAY HISTORY
In 1972, President Richard Nixon issued proclamation 4157 naming October 6th as National Coaches Day. He encouraged activities and ceremonies honoring coaches for the friends and counselors they become.
NATIONAL MAD HATTER DAY
October 6th is a day set aside each year to bring out your silly side while celebrating National Mad Hatter Day.
The fictional character, The Hatter (also known as The Mad Hatter) from Alice's Adventures in Wonderland, is typically acting silly, and that is how the creators of this day decided on their theme of silliness for National Mad Hatter Day. Sir John Tenniel illustrated The Mad Hatter and all of Lewis Carroll's colorful characters beginning in 1864. Alice's Adventures in Wonderland was first published in 1865.
The phrase "mad as a hatter" comes from the late 18th and early 19th centuries when haberdasheries used mercury nitrate. The exposure to this metal over time caused the tradesmen to develop symptoms making people believe they were mad.
Taking our inspiration from The Mad Hatter (or any of Carroll's characters for that matter) we may pursue laughable, absurd, or even confusing adventures on National Mad Hatter Day. Breakout from the usual routine. Ask ridiculous riddles much like The Hatter's own, "Why is a raven like a writing desk?" Play croquet with plastic pink flamingos or wear a funny hat to work. Celebrate the day with silliness!
Did you know? Lewis Carroll (a pen name for Charles Lutwidge Dodson) once answered The Hatter's riddle. In the 1896 edition of Alice's Adventures in Wonderland Carroll wrote as part of his preface, "Because it can produce a few notes, tho they are very flat; and it is nevar put with the wrong end in front!"
HOW TO OBSERVE #MADHATTERDAY
Several ideas come to mind for celebrating this fun holiday. For one, grab yourself a top hat and let your silliness out! Try these other fun ideas:
Host a Mad Hatter tea party

Read from Alice's Adventures in Wonderland

Tell absurd riddles

Attend a production of Alice in Wonderland
Whatever you do, be sure to invite others to join in the fun. It's the best way to #CelebrateEveryDay. And be sure to use #MadHatterDay to post on social media.
NATIONAL MAD HATTER DAY HISTORY
A group of computer technicians in Boulder, Colorado first celebrated Mad Hatter Day in 1986 as a day of silliness. October 6th matches the label tucked in the Mad Hatter's hat band that reads "In this style 10/6."

NATIONAL COFFEE WITH A COP DAY
On the first Wednesday in October, National Coffee with a Cop Day brings men and women in uniform together with their communities to connect over a cup of joe.
Inspired by the cliche about officers and their coffee shop donuts, the national observance encourages communities to sponsor an event that will bring citizens and those on patrol together. The events provide an opportunity for open dialogue and improve communication. They also break down barriers and create a valuable bridge to relationships in our communities.
When officers hear their community's needs from the people themselves, they're better able to support them. The community as a whole will also be able to see officers as approachable and their allies in protecting and caring for their communities.
HOW TO OBSERVE #CoffeeWithACopDay
While many cities and towns across the country hold Coffee with a Cop events throughout the year, the first Wednesday in October is National Coffee with a Cop Day. Plan one now and several later in the year! Find an event near you and join. Use #CoffeeWithACopDay in your sharing on social media.
NATIONAL COFFEE WITH A COP DAY HISTORY
In 2016, the first Coffee with a Cop Day took place across the nation. The Hawthorne Police Department in Hawthorne, California launched the idea in 2011. They sought ways to interact with their community every day more successfully. As a result, they established a Coffee with a Cop event to do just that. Throughout the year they make meaningful connections, and the idea has spread across the country to all 50 states!
NATIONAL PLUS SIZE APPRECIATION DAY
On October 6, National Plus Size Appreciation Day recognizes the gorgeous men and women who may be larger but are also larger than life in so many ways. Extraordinary beauty comes in all size packages.
Stereotypes could fill this page to describe plus-size men and women, but then we have to consider that more than half the U.S. population is plus-sized. That means big and tall, full-bodied and robust persons fill roles that require well-rounded and amply skilled people. With this talent pool comes buying power some retailers have yet to appreciate.
The celebration recognizes the talent and elegance of our plus-size population. When it comes to being bigger, taller or curvier, put your best self forward. Show your style, flair, and gorgeous self!
HOW TO OBSERVE #PlusSizeAppreciationDay
No matter our age, how we feel about our appearance affects our daily lives. Whether you are plus size or not, take account of the value you place on your outward appearance, contributions to others' lives, and relationships. On this day build confidence in someone you know. Celebrate accomplishments and appreciate one another.
Other ways to participate:
Wear that new style. Clothes that fit and are stylish allow us to step out into the world with confidence.
Retailers – Consider broadening your plus-size selection. Listen to your clientele and provide styles they ask for.
Share your favorite look. Don't be afraid to brag.
While you're all dressed up, go out on the town.
Use #PlusSizeAppreciationDay to share on social media.
NATIONAL PLUS SIZE APPRECIATION DAY HISTORY
Women Rock, Inc. founded National Plus Size Appreciation Day to boost the confidence for many women and men around the world. Founded in 2016 Women Rock INC are on a mission of self-love despite society's stigma on how we are supposed to look.
The Registrar at National Day Calendar proclaimed the celebration in 2017 to be observed annually.
NATIONAL GERMAN-AMERICAN DAY
In the United States on October 6th, National German-American Day celebrates the German heritage millions of Americans claim.
This German-American heritage holiday commemorates the 13 German Mennonite families from Krefeld who landed in Philadelphia. On October 6, 1683, these families established the first German settlement in the original thirteen colonies. They named it Germantown.
HOW TO OBSERVE #GermanAmericanDay
Celebrate your German-American heritage. Invite friends and family to taste the foods and customs of Germany. Share the language. Discover words the English language adopted from German. Explore the history of immigration by visiting museums near you. Use #GermanAmericanDay to post on social media.
NATIONAL GERMAN-AMERICAN DAY HISTORY
National German-American Day was initially celebrated in the nineteenth century. However, it fell out of favor during World War I.
Then in the 1980s, things began to change. As is tradition, President Ronald Reagan made his world tour in 1982, which included West Germany. Amid a cold war and a divided Germany, the newly elected U.S. President spoke to the people of Bonn. He opened his speech by relating the history of the 13 German families who founded a colony on American soil. He spoke of contributions, advancement, science, and art and the honor to celebrate the German heritage that more than 7 million Americans claim.

The noblest objective of our diplomacy is the patient and difficult task of reconciling our adversaries to peace.
And I know we all look forward to the day when the only industry of war will be the research of historians.
~ Ronald Reagan ~ June 9, 1982 ~ Bonn, Federal Republic of Germany.
To honor the 300th anniversary of German-American immigration and culture into the United States, in 1983, President Ronald Reagan proclaimed October 6th as German-American Day. It was on August 6, 1987, that Congress approved S.I. Resolution 108, designating October 6, 1987, as German-American Day, and it became Public Law 100-104 when President Reagan signed it on August 18. He issued Proclamation #5719 on October 2, 1987, and at this time, the President called on Americans to observe the day with appropriate ceremonies and activities. It has been commemorated each year since with Presidential Proclamations.
NATIONAL WALK TO SCHOOL DAY
The first Wednesday in October makes a perfect time to celebrate National Walk to School Day. Not only does the day encourage getting some exercise, but the weather is perfect for walking to school, too.
Walking is one of the best forms of exercise. It isn't hard on our joints and feet like running and jogging but still gives us all the advantages.
The goal of this day is to raise awareness and support for the health, community and environmental benefits of regularly walking or biking to school.
HOW TO OBSERVE #WalkToSchoolDay
Walk to school or work. Enjoy the weather. Take photos and post on social media using #WalkToSchoolDay.
NATIONAL WALK TO SCHOOL DAY HISTORY
Organized by the Partnership for a Walkable America, Walk to School Day in the USA began in 1997 as a one-day event aimed at building awareness for the need for walkable communities.

NATIONAL ORANGE WINE DAY
On October 6, National Orange Wine Day takes a bold sip of an ancient method of winemaking! This little-known style of wine shines with its bold flavor and auburn color. Join the celebration as it gains some appreciation with vineyards, wine cellars, and lovers.
Originally made nearly 6,000 years ago in Eastern Europe, the technique for making orange wine is being rediscovered. Surprisingly, winemakers do not add oranges to the wine at all. Unlike the latest beer trends, the wine comes by its color naturally. Fermented from white wine grapes, the orange wine develops through more skin contact during the fermentation process. Makers treat the white grapes like red grapes preserving the bolder body and tannins. As a result, the ordinarily white wine will deepen into a brandy orange color.
Despite the wine's obscurity, orange wine makes appearances at wine shows. Vineyards display their orange efforts from the United States to Australia. Get in on the tasting and find a bottle to share!
HOW TO OBSERVE #NationalOrangeWineDay
As your local vintner to stock an orange wine. Visit a wine tasting offering an orange wine on the menu. While exploring the flavor, you'll be adding another wine to your repertoire. Be sure to invite friends to join you, too. You know it's not a celebration without company! Use #NationalOrangeWineDay to share on social media.
To learn more about orange wine, follow the Instagrampage@orangewinetime.
NATIONAL ORANGE WINE DAY HISTORY
The Real House Wine
founded National Orange Wine Day on October 6, 2018, to bring awareness to the public about this beautiful yet lesser-known style of wine.
The Registrar at National Day Calendar proclaimed the day in 2018 to be observed annually.

NATIONAL PUMPKIN SEED DAY
The first Wednesday in October offers up the seasonal delight, National Pumpkin Seed Day! As the temperatures cool and the leaves turn, snack on these delicious tidbits.
Many of us have fond memories of roasting these delicious nuggets after carving the Jack o' lantern. However, we never realized just how good (and good for us) they were. Surprisingly, pumpkin seeds have been valued for their dietary and medicinal properties for thousands of years. In fact, pumpkin seeds have been traced back as far as 7000 BC, according to archeologists excavating a tomb in central Mexico.
Nutritional Powerhouse
Among other civilizations, the Aztecs and Mayans were believed to revere pumpkin seeds as an essential and powerful source of food and nutrition. As it turns out they were on to something – In comparison to other nuts and seeds, Pumpkin Seeds are one of the most nutritious plant-based foods. A quarter-cup serving alone includes an immune-boosting 17% of an adult's daily allowance of zinc and a robust red blood cell-supporting 15% of the iron needed.
This little seed also has a whopping 8.5 grams of complete plant-based protein in just 1 ounce. Ounce for ounce, that's 2.5 times more protein than a hard-boiled egg. These flavorful bites have much more to offer including a plentiful helping of minerals with over 40% of the RDI of magnesium, phosphorus, and manganese, essential nutrients that aid in overall body function.
Pumpkin seeds without shells, also known as pepitas, provide an even better standalone snack. Pepitas are especially delicious when dry roasted. Try adding savory seasonings, too. They also make great additions to salads, oatmeal, and even ice cream. Mix them into baked goods for added crunch or to granola and bars for extra protein. Don't hesitate to elevate a savory dish to a new level by creating a pesto with pumpkin seeds.
HOW TO OBSERVE #NationalPumpkinSeedDay
Move pumpkins seeds from your memories file and over to your daily file. They really shouldn't be a sometimes food anymore! Try them in this Maple Buckwheat Flapjack Recipe and in this Asian Slaw Recipe from SuperSeedz. Use #NationalPumpkinSeedDay to share on social media.
Educators, visit the National Day Calendar® Classroom for project ideas celebrating this fun food holiday.
NATIONAL PUMPKIN SEED DAY HISTORY
SuperSeedz Gourmet Pumpkin Seedsfounded National Pumpkin Seed Day to share all the wonderful benefits of pumpkin seeds and the ways they can be enjoyed. A woman-owned company, Kathie Pelliccio founded SuperSeedz in her kitchen with a cast iron pan making healthy pumpkin seeds to add to salads, yogurt, and oatmeal.
The Registrar at National Day Calendar® approved the day in July of 2016.
On Deck for October 7, 2021
National Days
International Days
October 6th Celebrated (And Not So Celebrated) History
1683
Germantown, PA is founded by German, Quaker, and Mennonite families.
1884
The Secretary of the Navy, William E Chandler, establishes Naval War College at Newport, RI.
1927
The Jazz Singer debuts signaling the end of the silent film era. As the first feature-length film with synchronized dialogue, the film ushered in the era of the "talkie" in the film industry.
1977
Pope John Paul II visits President Jimmy Carter, First Lady Rosyln Carter, Vice President Walter Mondale and Mrs. Joan Mondale at the White House in the first papal visit to the White House.
2005
At the Catalyst Conference in Atlanta, GA, 5,983 people set the record for the largest simultaneous whoopee cushion sit.
2007
Jason Lewis completed his around the world journey that began 13 years, 2 months, and 24 days before. By biking, hiking, kayaking, and other forms of human-powered vehicles, Lewis became the first person to circumnavigate the globe using only human power.
2010
Kevin Systrom and Mike Krieger release the photo and video sharing social network service, Instagram.
Recipe of the Day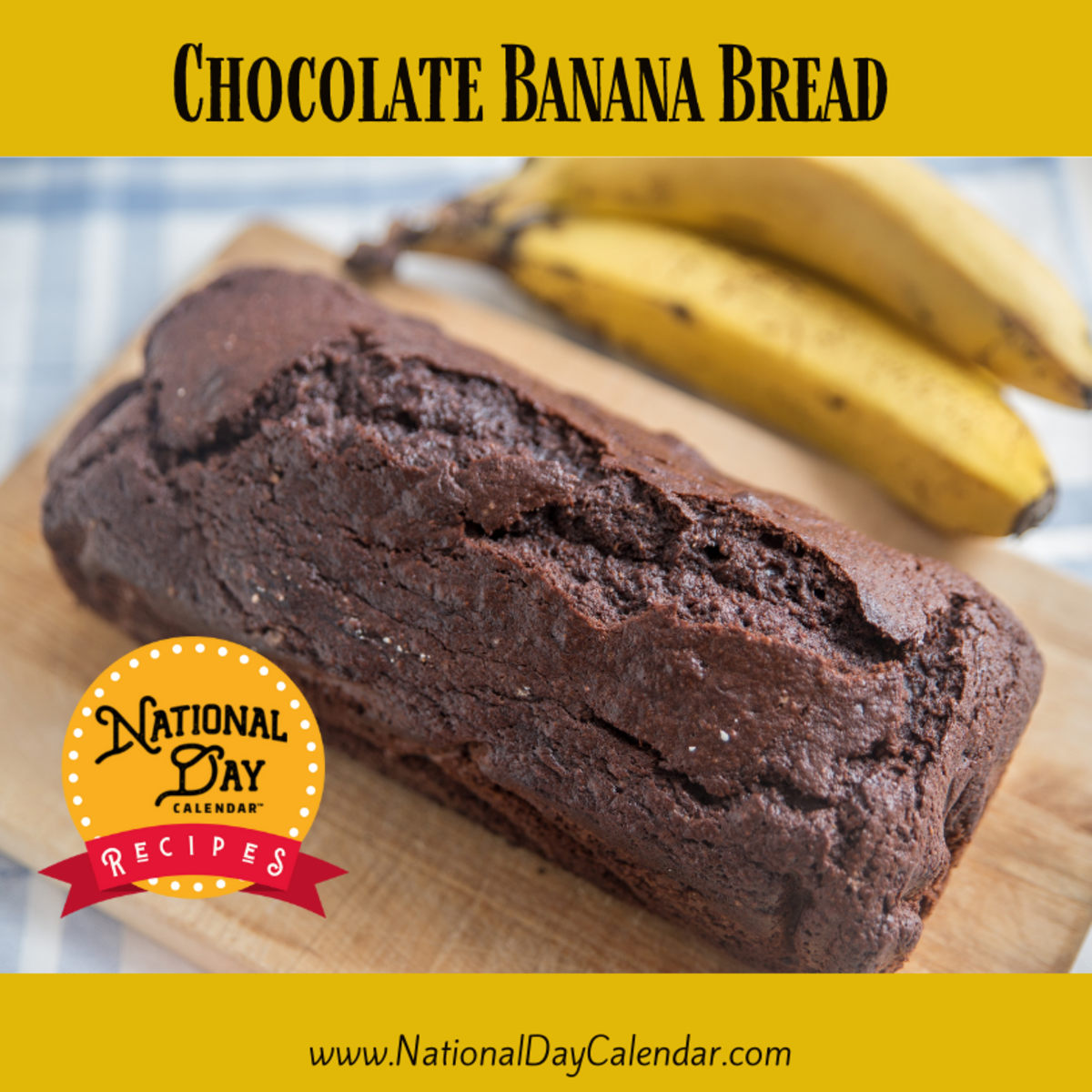 Name: Chocolate Banana Bread
Prep: 5 minutes
Cook: 1 hour
Total Prep: 1 hour, 5 minutes
Servings: 2 loaves
Ingredients:
2 eggs
1 cup vegetable oil
2 cups sugar
2 cups mashed banana (about 3 bananas)
2 1/2 cups flour
1/2 cup unsweetened cocoa powder
1 cup chocolate chips (optional)
2 teaspoon vanilla
1 teaspoon baking powder
1 teaspoon soda
1/2 teaspoon salt
Instructions:
Preheat oven to 325°F.
Prepare two loaf pans with a thin coat of butter and lightly dusting with flour.
In a large mixing bowl, beat eggs one at a time. Add sugar, oil, flour, soda, salt, baking powder, and cinnamon. Mix well. Add banana and chocolate chips.
Transfer mixture to loaf pans.
Bake for 1 hour, 5 mins. Loaves are done when a toothpick inserted into the center comes out clean.
October 6th Celebrated (And Not So Celebrated) Birthdays
George Westinghouse – 1846
The inventor and entrepreneur invented the air brake used in the railroad industry. He pursued standardization in the railroad industry, founded Westinghouse Air Brake Company, and founded Westinghouse Electric Company.
Reginald Fessenden – 1866
In 1906, the inventor broadcast the first wireless radio transmission of voice and song from Brant Rock, Massachusetts. The AM frequency could be received as far away as Norfolk, VA.
Florence B. Seibert – 1897
The biochemist's research led to the development of a reliable tuberculosis test.
Fannie Lou Hamer – 1917
The civil rights activist came to prominence in the 1960s through her efforts to desegregate schools and register blacks to vote.
Lonnie Johnson – 1949
The inventor and aerospace engineer is best-known for making summers more fun with his invention of the Super Soaker.
Liu Yang – 1978
In June 2012, Liu Yank became the first Chinese woman in space during her mission on Shenzhou 9.
Levon Aronian – 1982
The Armenian chess player earned the title Grandmaster in 2000.
About National Day Calendar
National Day Calendar® is the authoritative source for fun, unusual and unique National Days! Since our humble beginnings on National Popcorn Day in 2013, we now track nearly 1,500 National Days, National Weeks and National Months. In addition, our research team continues to uncover the origins of existing National Days as well as discover new, exciting days for everyone to celebrate.

There's a celebration for everyone. While National Road Trip Day satisfies the itch to wander, many pet days let us share our love of animals. National 3-D Day and National Astronaut Day honor the advancement of technology, too. Every food day you can imagine (National Avocado Day, for example), will keep you celebrating, also!
Be sure to stay in the know by signing up for our e-mail updates. Also, follow us on Facebook, Twitter, and Instagram.
Our Ambassador Program is another way #CelebrateEveryDay®! Whether you become an ambassador or follow one of the savvy ambassadors, their fun videos and posts will keep you prepared for every holiday.