Looking Back
October 6, 2021 - NATIONAL NOODLE DAY – NATIONAL COACHES DAY – NATIONAL MAD HATTER DAY – NATIONAL COFFEE WITH A COP DAY – NATIONAL PLUS SIZE APPRECIATION DAY – NATIONAL GERMAN-AMERICAN DAY – NATIONAL WALK TO SCHOOL DAY - NATIONAL ORANGE WINE DAY – NATIONAL PUMPKIN SEED DAY
OCTOBER 6, 2021 | NATIONAL NOODLE DAY | NATIONAL COACHES DAY | NATIONAL MAD HATTER DAY | NATIONAL COFFEE WITH A COP DAY | NATIONAL PLUS SIZE APPRECIATION DAY | NATIONAL GERMAN-AMERICAN DAY | NATIONAL WALK TO SCHOOL DAY | NATIONAL ORANGE WINE DAY | NATIONAL PUMPKIN SEED DAY
NATIONAL NOODLE DAY
On Deck for October 7, 2021
National Days
International Days
October 6th Celebrated (And Not So Celebrated) History
1683
Germantown, PA is founded by German, Quaker, and Mennonite families.
1884
The Secretary of the Navy, William E Chandler, establishes Naval War College at Newport, RI.
1927
The Jazz Singer debuts signaling the end of the silent film era. As the first feature-length film with synchronized dialogue, the film ushered in the era of the "talkie" in the film industry.
1977
Pope John Paul II visits President Jimmy Carter, First Lady Rosyln Carter, Vice President Walter Mondale and Mrs. Joan Mondale at the White House in the first papal visit to the White House.
2005
At the Catalyst Conference in Atlanta, GA, 5,983 people set the record for the largest simultaneous whoopee cushion sit.
2007
Jason Lewis completed his around the world journey that began 13 years, 2 months, and 24 days before. By biking, hiking, kayaking, and other forms of human-powered vehicles, Lewis became the first person to circumnavigate the globe using only human power.
2010
Kevin Systrom and Mike Krieger release the photo and video sharing social network service, Instagram.
Recipe of the Day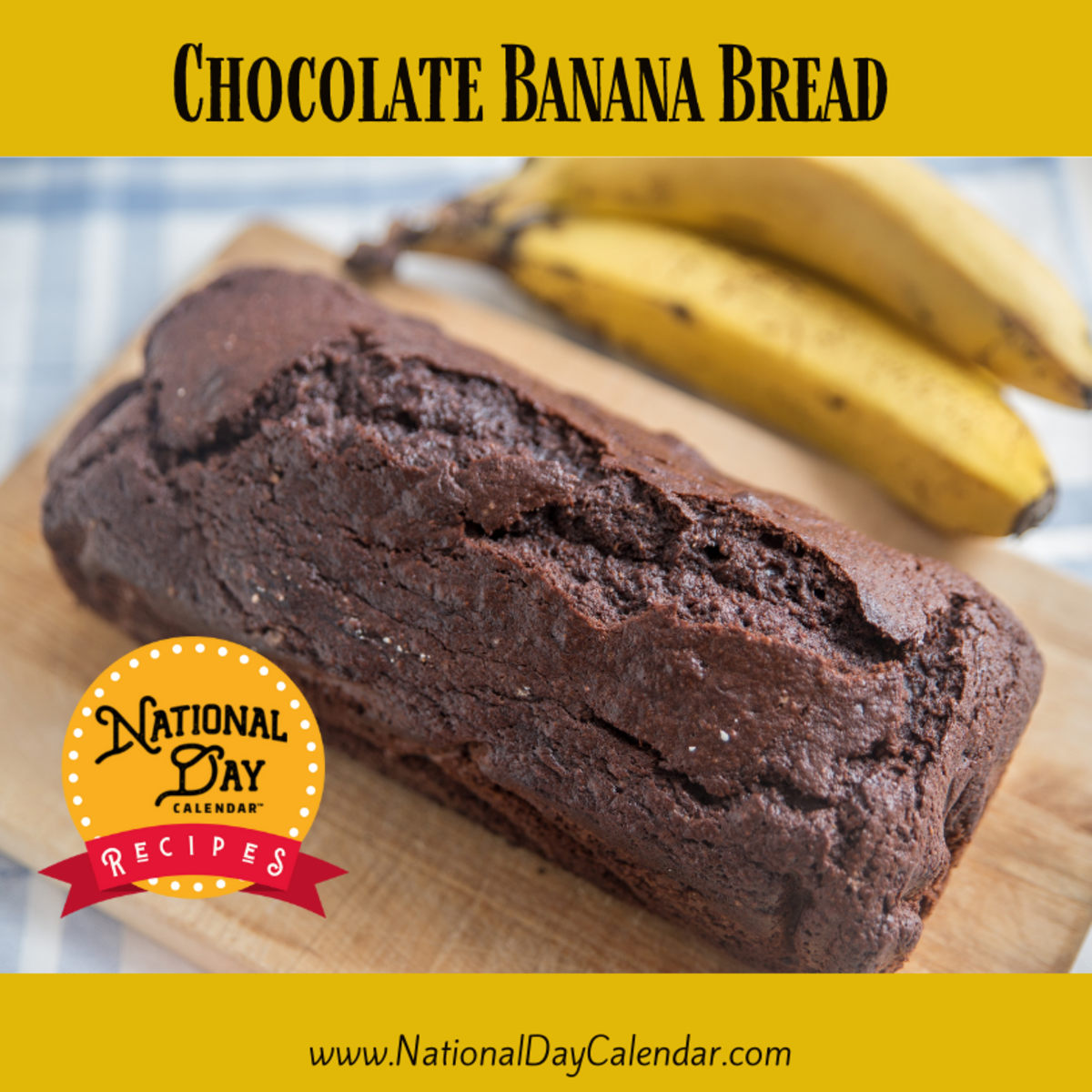 Name: Chocolate Banana Bread
Prep: 5 minutes
Cook: 1 hour
Total Prep: 1 hour, 5 minutes
Servings: 2 loaves
Ingredients:
2 eggs
1 cup vegetable oil
2 cups sugar
2 cups mashed banana (about 3 bananas)
2 1/2 cups flour
1/2 cup unsweetened cocoa powder
1 cup chocolate chips (optional)
2 teaspoon vanilla
1 teaspoon baking powder
1 teaspoon soda
1/2 teaspoon salt
Instructions:
Preheat oven to 325°F.
Prepare two loaf pans with a thin coat of butter and lightly dusting with flour.
In a large mixing bowl, beat eggs one at a time. Add sugar, oil, flour, soda, salt, baking powder, and cinnamon. Mix well. Add banana and chocolate chips.
Transfer mixture to loaf pans.
Bake for 1 hour, 5 mins. Loaves are done when a toothpick inserted into the center comes out clean.
October 6th Celebrated (And Not So Celebrated) Birthdays
George Westinghouse – 1846
The inventor and entrepreneur invented the air brake used in the railroad industry. He pursued standardization in the railroad industry, founded Westinghouse Air Brake Company, and founded Westinghouse Electric Company.
Reginald Fessenden – 1866
In 1906, the inventor broadcast the first wireless radio transmission of voice and song from Brant Rock, Massachusetts. The AM frequency could be received as far away as Norfolk, VA.
Florence B. Seibert – 1897
The biochemist's research led to the development of a reliable tuberculosis test.
Fannie Lou Hamer – 1917
The civil rights activist came to prominence in the 1960s through her efforts to desegregate schools and register blacks to vote.
Lonnie Johnson – 1949
The inventor and aerospace engineer is best-known for making summers more fun with his invention of the Super Soaker.
Liu Yang – 1978
In June 2012, Liu Yank became the first Chinese woman in space during her mission on Shenzhou 9.
Levon Aronian – 1982
The Armenian chess player earned the title Grandmaster in 2000.
About National Day Calendar
National Day Calendar® is the authoritative source for fun, unusual and unique National Days! Since our humble beginnings on National Popcorn Day in 2013, we now track nearly 1,500 National Days, National Weeks and National Months. In addition, our research team continues to uncover the origins of existing National Days as well as discover new, exciting days for everyone to celebrate.

There's a celebration for everyone. While National Road Trip Day satisfies the itch to wander, many pet days let us share our love of animals. National 3-D Day and National Astronaut Day honor the advancement of technology, too. Every food day you can imagine (National Avocado Day, for example), will keep you celebrating, also!
Be sure to stay in the know by signing up for our e-mail updates. Also, follow us on Facebook, Twitter, and Instagram.
Our Ambassador Program is another way #CelebrateEveryDay®! Whether you become an ambassador or follow one of the savvy ambassadors, their fun videos and posts will keep you prepared for every holiday.