Looking Back
October 31, 2022 - HALLOWEEN - NATIONAL KNOCK KNOCK JOKE DAY – NATIONAL CARAMEL APPLE DAY – NATIONAL MAGIC DAY – NATIONAL DOORBELL DAY – GIRL SCOUT FOUNDER'S DAY
OCTOBER 31, 2022 | HALLOWEEN | NATIONAL KNOCK KNOCK JOKE DAY | NATIONAL CARAMEL APPLE DAY | NATIONAL MAGIC DAY | NATIONAL DOORBELL DAY | GIRL SCOUT FOUNDER'S DAY
HALLOWEEN
On October 31, Halloween brings out the ghouls and goblins, creatures, and strange folk. They come creeping about the neighborhood seeking favors over trickery. Read more…
NATIONAL KNOCK KNOCK JOKE DAY
Laugh out loud on National Knock Knock Joke Day! October 31st encourages telling a few funny knock knock jokes while going door to door. And the day is for jokesters of all ages, too. Read more…
NATIONAL CARAMEL APPLE DAY
National Caramel Apple Day on October 31st celebrates a time-honored fall treat. Many of us remember eating caramel apples or making them with family. Whether it was at a fair, carnival, or Halloween party, it was a special treat. Sometimes we even made them at home. No matter where we enjoyed them, the memory is a good one. Read more…
NATIONAL MAGIC DAY
National Magic Day each year on October 31st recognizes the thrill of seeing the performance art. It takes place during National Magic Week. Read more…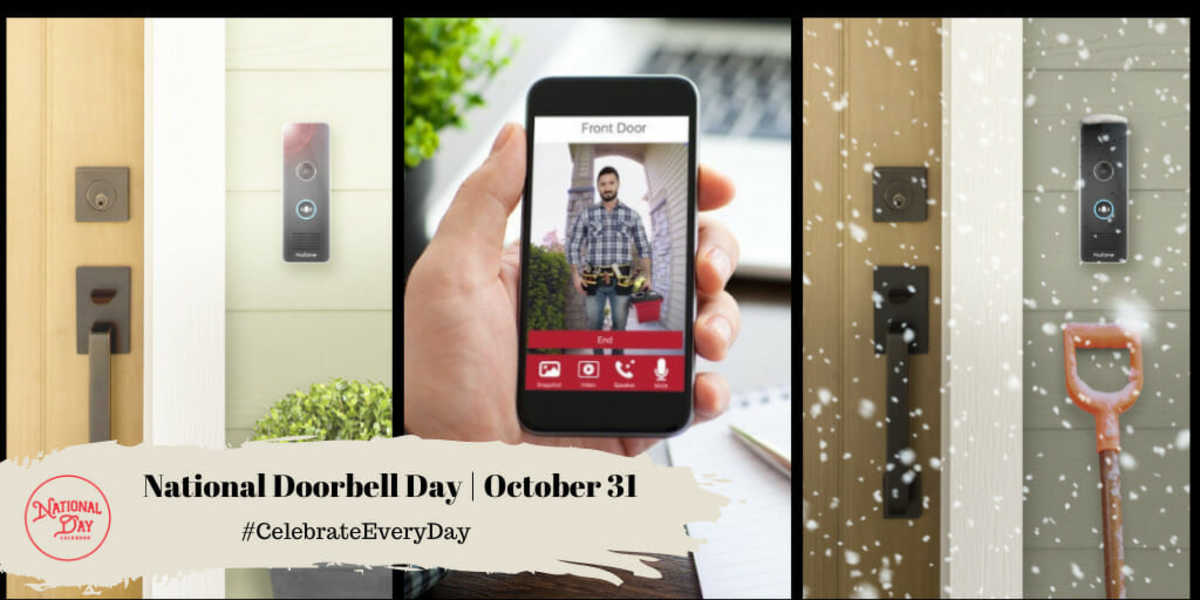 NATIONAL DOORBELL DAY
On October 31st, National Doorbell Day will have doorbells ringing more than any other day of the year. The day recognizes the little buzzer, unique tones, and rings that alert us to visitors to our doors every day of the year. Read more…
GIRL SCOUT FOUNDER'S DAY
On October 31st, Girl Scout Founder's Day recognizes the founders and all the great things Scouting has done for girls since its inception. It commemorates the birth of the founder, Juliet Gordon Low. Read more…
On Deck for November 1, 2022
National Days
International Days
Recipe of the Day
French Bread
Prep: 60 minutes
Bake: 20 minutes
Total Prep: 1 hour 20 minutes
Servings: 2 loaves
Ingredients:
2¼ cups water
2 tablespoons margarine or butter
1 tablespoon sugar
3 cups flour plus 3¼ to ¾ tablespoons
1 teaspoon salt
2 tablespoons yeast
Instructions:
Mix water and margarine or butter in saucepan and heat to 120°.
In separate bowl, add 3 cups flour, yeast, sugar and salt.
Slowly add liquid mixture to dry ingredients.
Add remaining flour and knead until smooth and not sticky.
Set aside and covered. Let rise until doubled in size.
Divide dough in half and shape l each half into a long cylinder shape.
Using a sharp knife, cut three slashes in the top. Cover and let rise again.
Make an egg wash using 1 egg and water mixed well. Brush across the top of each loaf.
Bake in a 375° oven for 20 minutes.
For added decoration, sprinkle sunflower seeds, sesame seeds, poppy seeds or toasted onion or garlic on dough before baking.
October 31st Celebrated History
1868
The 22nd Postmaster General, Alexander Randall, issues an order describing letter carrier uniforms. The cadet blue uniforms included a black stripe on the pant leg. Throughout the U.S. Postal Service's history, the style and color of the uniforms have changed. Today, postal workers sport darker postal blue uniforms with the eagle emblem.
1888
Veterinarian John Boyd Dunlop invents the pneumatic tire for bicycles.
1905
Joseph H. Campbell Co. trademarks Campbells for its baked beans.
1941
When the money ran out, work stopped on the giant sculpture started by Gutzon Borglum at Mount Rushmore. Even though Borglum's designs included a more complete sculpture, the mountain sculpture in the Black Hills of South Dakota remains unchanged since this date.
1956
Pilot Lt. Commander Conrad C. Shinn lands a plane at the South Pole for the first time.
2000
The Soyuz TM 31 delivers the first resident crew to the International Space Station (ISS). For over 20 years later, teams of astronauts have continually manned the ISS without interruption.
October 31 Celebrated Birthdays
Juliette Gordon Low – 1860
In 1912, Howe founded the Girl Scouts of America with 18 girl members in Savannah, GA.
Julia Peterkin – 1880
The Southern author of seven books is best known for her novel Scarlet Sister Mary for which she won a Pulitzer Prize.
Ethel Waters – 1896
The singer and actress began her career as a blues singer. Her musical talents brought her critical acclaim on both stage and screen. She was noted for her work in the Broadway hit Cabin in the Sky and the film Pinky.
Michael Collins – 1930
The astronaut piloted two spacecraft during his career. His first mission on Apollo 11 landed the first men on the Moon.
Katherine Paterson – 1932
The award-winning children's author is best known for her novel Bridge to Terabithia.
Isabel Alvarez – 1933
The Cuban-born pitcher played five seasons in the All American Girls Professional Baseball League.
John Candy – 1950
The comedian appeared in more than 60 films, including Planes, Trains and Automobiles, Spaceballs, Canadian Bacon, and Uncle Buck.
Vanilla Ice – 1967
The rapper turned DIY television host released his first album in 1989. Hooked featured his hit song "Ice Ice Baby."
About National Day Calendar
National Day Calendar is the original and authoritative source for fun, unusual and unique National Days! Since our humble beginnings on National Popcorn Day in 2013, we have been tracking the National Days, National Weeks, National Months, and International Days. We became the first calendar of its kind to curate the days all in one place and tell their stories, too! Here at National Day Calendar, we are on a mission to Celebrate Every Day with you! And by you, we mean families, businesses, educators, and strangers we meet on the street. There's more than one day for everyone.
At National Day Calendar, we discovered the National Days have a way of inspiring us. We're honored to tell the stories behind the days and provide you with informational ways to incorporate the National Days into your business, family, schools, and home!